4th May 2008
The Railway Touring Company
The Devonian Duke
Locos Used
66197, 67006, 67020 & steam: 71000 'Duke of Gloucester'
Stock Used
[1] : 3121+3047+1693+3141+3146+3110+3098+1842+5322+17077
[2] :

17041+3121+3047+1693+3141+3146+3110+3098+1842+5322
Route:
1Z71 London Paddington – Plymouth
1Z72 Plymouth – London Paddington
| | | |
| --- | --- | --- |
| Loco(s) | Stock | Route |
| 67006 | [1] | London Paddington - Bristol Temple Meads |
| 71000 (1) | [2] | Bristol Temple Meads - Taunton - Plymouth Friary |
| 66197 (2) | [2] | Plymouth Friary - Plymouth |
| 71000 (1) | [2] | Plymouth - Bristol Temple Meads |
| 67020 | [1] | Bristol Temple Meads - London Paddington |
Notes :
(1) Due to the failure of the air compressor on 71000, 67006 was coupled behind the loco at all times to provide the necessary braking assistance. It was announced that 67006 would not power the train at any point and just left idling however Nick Watson comments: 71000 stalled on Dainton Bank as they had problems with starting up 67006. They did restart the 67 and gather it assisted train on the banks west of Totnes. On return journey however was in rear coach so cannot be sure. The original load was suppose to be 10 vehicles which is the limit for a single steam locomotive over the banks unassisted. However with the 67 in the consist it did make the load around the 12-13 mark which was too much for the Duke in places.
(2) 71000 + 67006 on rear.
(3) Route & loco confirmation required.
Sources : various including Gordon Jakes & Nick Watson



Photo Review
(all photos: Gordon Jakes)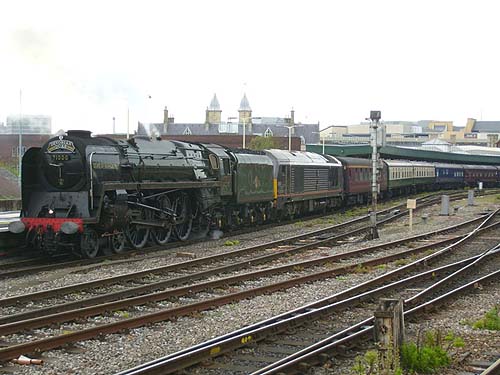 71000 prepares to leave Bristol Temple Meads (with 67006 in tow).