3rd May 2008
The Railway Touring Company
The Southern Irishman
| | |
| --- | --- |
| Locos Used | 66166, 67020 & steam: 71000 'Duke of Gloucester' |
| Stock Used (1) | 17041+17015+3119+3149+1671+3069+3068+3097+1863+5341+5276 |
Route:
1Z71 Birmingham International to Fishguard Harbour
1Z72 Fishguard Harbour to Birmingham International
| | |
| --- | --- |
| Loco(s) | Route |
| 67020 | Birmingham International – Birmingham New Street – Selly Oak – Barnt Green – Worcester Shrub Hill – Cheltenham Spa – Gloucester – Chepstow – Newport |
| 71000 | Newport – Cardiff Central – Port Talbot – Briton Ferry – Swansea District Line – Llangenech – Llanelli – Carmarthen |
| 66166 (2) | Carmarthen – Whitland – Fishguard Harbour |
| 71000 | Fishguard Harbour – Whitland – (via Carmarthen avoiding line) – Llanelli – Kidwelly – (via Swansea avoiding line) – Neath – Port Talbot – Cardiff – Newport – Chepstow – Gloucester |
| 67020 | Gloucester – (reverse of outward route) – Birmingham International |
Notes :
(1) 17041 only in formation when 71000 was on the train.
(2) 71000 on rear.
Source : Gordon Jakes (joined the train at Birmingham New Street, left at Newport)



Tour Review
(by Gordon Jakes)
The outward journey to Carmarthen ran as planned but the layover at Carmarthen was extended by the late arrival of 66 166 which attached to the rear of the train and then hauled the train (including 71000 at the rear) to Fishguard Harbour. Fortunately the lay-over at Fishguard was such that the late arrival was recovered with there was still time available for a leg-stretch. The arrival of the Duke caused much interest amongst the local populace and I doubt that Fishguard Harbour station has seen as many people for a long time.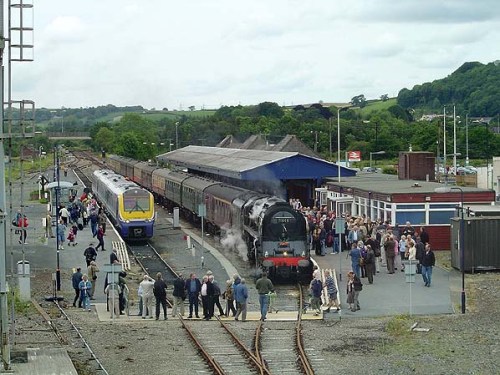 71000 on arrival at Carmarthen (photo: Nick Catford)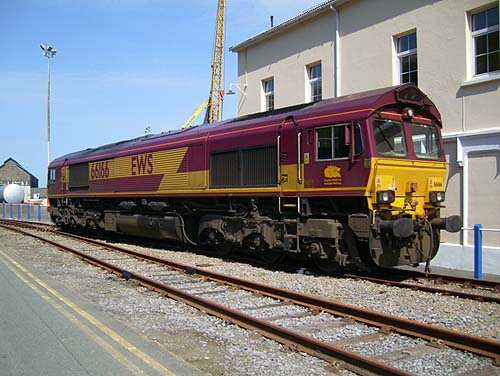 66166 after arrival at Fishguard Harbour (photo: Gordon Jakes)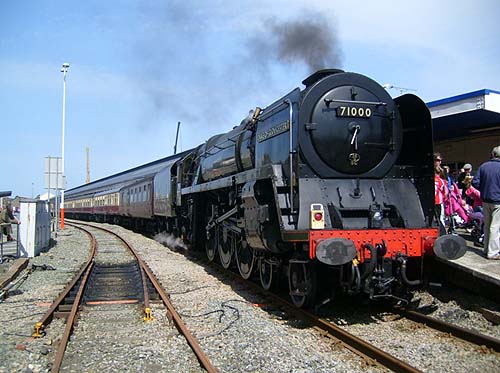 71000 prior to departure from Fishguard Harbour (photo: Gordon Jakes)
The Duke made a sterling effort on the 1 in 50 climb out of Fishguard Harbour with the exhaust beat audible throughout the train and the local neighbourhood. A few minutes were lost before Clarebeston Road but this was recovered with interest before Whitland. The train continued ahead of time until Llanelli whence progress took a turn for the worse.
The day out was spoilt by a signalman's error at Llandeilo Jn which caused significant delay and lost our path east of Swansea. The explanation provided on the train was that the signalman had set an incorrect route for our train and that the delay was caused while the correct route was confirmed. The Duke proceeded on our advertised route via the Swansea avoiding line but further time was lost in waiting for a service train to clear the single line between Duffryn and Cockett and then in waiting for a London bound HST to clear Landore Jn before we were allowed to follow same. Even though Network Rail were responsible for our delay no quarter was given in order to assist us in making up time and by the time we reached Newport nearly 40 minutes behind schedule I had no choice but to transfer to a Cross Country service to Birmingham in order to stand a chance of catching my last train home connection from there - a sad end to a good day out!
Gordon Jakes



Timings (Booked & Actual)
(from Gordon Jakes)
M.C

Location

Booked

Actual

Booked

Actual

M.C

0.00

Birmingham International

06/05d [P2]

?

22/40a [P5]

?

62.61

4.33

Stetchford

06/12

?

22/34

?

58.28

7.41

Proof House Jn

06/18

?

22/30

?

55.20

8.18

Birmingham New Street

06.21a ~ 06.30d

??.?? ~ 06.31 [P12]

22.22a ~ 22.27d [P9]

?

54.43

11.44

Selly Oak

06/39

06/37

22/14

?

51.17

13.58

Kings Norton

06/42

06/40

22/11

?

49.03

16.01

Longbridge

06/45

06/42½

22/08

?

45.60

18.56

Barnt Green

06.48a ~ 06.51d

06.47 ~ 06.51

22.02a ~ 22.04d

?

43.05

22.29

Bromsgrove

06/56

06/55

21/55

?

40.32

24.42

Stoke Works Jn

06/59

06/59

21/53

?

38.19

28.57

Droitwich Spa

07/05

07/04½

21/49

?

34.04

33.69

Worcester Tunnel Jn

07/10

07/10

21/43

?

29.72

34.25

Worcester Shrub Hill

07.12a ~ 07.15d [P2]

07.12 ~ 07.15 [P2]

21.39a ~ 21.41d [P1]

?

28.36

37.41

Norton Jn

07/22

07/19½

21/34½

?

25.20

38.23

Abbotswood Jn

07/26

07/21

21/33

?

24.38

48.79

Ashchurch

07/33

07/29

21/25

?

13.62

56.21

Cheltenham Spa

07.40a ~ 07.42d

07.37 ~ 07.42

21.15a ~ 21.17d

?

6.40

61.64

Barnwood Jn

07/47

07/48½

21/09

?

0.77

62.38

Horton Road Jn

07/48

07/51

21/08

?

0.23

62.61

Gloucester

07.49a ~ 07.51d [P2]

07.53 ~ 07.55 [2]

20L42a ~ 21L07d [P1]

?

0.00
172.42

76.79

Awre (CCTV)

08/03

08/09½

20/25

?

158.24

82.14

Lydney

08/08

08/14½

20/20

?

153.09

90.10

Chepstow

08/19

08/21½

20/12

?

145.13

96.59

Caldicot

?

08/28

?

?

138.44

97.38

Severn Tunnel Junction

08/28 [ML]

08/28½ [ML]

20/04

?

137.65

105.59

East Usk Jn

?

?

19/56

?

129.44

106.02

East Usk Jn. New Yard

?

?

19w26 ~ 19w51

?

129.21

106.51

Maindee East Jn

?

?

[RL] 19X23

?

128.52

106.73

Maindee West Jn

08/36

08/37

19/22

?

128.30

107.27
0.00

Newport

08L38a ~ 08L59d [P1] [RL]

08.39 ~ 09.03½ [P1] [RL]

19.18a ~ 19.21d [P3]

19.56 ~ ??.?? [P3]

127.76

1.37

Ebbw Jn

09/03

09/07

19/15½

19/52½

126.39

5.10

Marshfield

09/07

?

19/12

?

122.66

11.60

Cardiff Central

[RL] 09.16a ~ 09.18d [P3]

[RL] 09.23 ~ 09/25½ [P3]

[ML] 18.58a ~ 19.04d[P1]

[ML] 19.37 ~ 19.40 [P1]

116.16

13.05

Leckwith Loop North Jn

?

?

?

19/31

114.71

22.73

Pontyclun

09/29

09/37½

18/45

19/22½

105.03

28.05

Pencoed

?

09/42

?

19/17½

99.71

31.75

Bridgend

09/42

09/45½

18/35

19/14

96.01

37.70

Pyle

?

09/51

?

19/07

90.06

40.14

Margam Moors Jn

09/53

?

18/24

?

87.62

44.09

Port Talbot Parkway

10w00 ~ 10w50 [DGL]

10.00 ~ 10.46 [DGL]

18/20

18.55 ~ 18.58

83.67

46.08

Baglan

?

10/50½

?

18/51

81.68

47.70

Briton Ferry

?

10/53

?

18/49

80.06

48.08

Court Sart Down Jn

10/56

10/53½

?

18/48

79.68

49.17

Dynevor Jn

10/58

10/56½

52.24

Felin Fran

11/04

?

60.04

Grovesend Colliery Loop Jn

?

11/16

60.63

Morlais Jn East

11/23

11/17

61.32

Llangennech

?

11/18

63.26

Bynea

?

11/20½

-

Neath

18/15

18/46

78.26

-

Skewen

?

18/43

76.20

-

Llansamlet

?

18/40½

74.38

-

Landore Jn

18/06

18/36

71.64

-

Swansea Loop West Jn

18/02

18/28

71.32

-

Cockett West

17/55

?

68.60

-

Gowerton

?

18/19½

67.01

-

Duffryn West

17/50

18/01½ ~ 18/13

63.38

64.33

Llandeilo Jn

11/29

11/23 [slow]

17w16 ~ 17w48

17.21 ~ 17.55

62.77

66.04

Llanelli

11/32

11/28½ [slow]

17/12

17/07

61.26

69.79

Pembrey & Burry Port

11/39

11/38 [slow]

17/07

17/02 [slow]

57.31

75.16

Kidwelly

11/43

11/47

17/02

16/57

52.14

79.35

Ferryside

11/48

11/53

16/53

16/52½

47.75

85.74

Carmarthen Jn

11/56

12/02

16/44

16/43

41.36

86.39
0.00

Carmarthen

11L58a ~ 13L28d [P2]

12.05 ~ 13.42 [P2]

0.44

Carmarthen Bridge Jn

13/30

13/45

16/42

16/41½

41.14

8.30

St Clears (CCTV)

?

13/56½

?

16/31½

33.28

14.06

Whitland

13/48

14/04

16/28

16/25½

27.52

19.34

Clunderwen

?

14/10

?

16/21

22.24

26.03

Clarebeston Road

14t02 ~ 14t09

14.18 ~ 14.242

16t10 ~ 16t14

16/14

15.55

26.21

Clarebeston Road Jn

?

14/25

?

16/13

15.37

36.70

Letterston Junction

?

14/38

?

15/58

4.68

41.58

Fishguard Harbour

14L34a

14.47

15L45d

15.45

0.00