19th January 2008
UK Railtours
The Preston Docker
| | |
| --- | --- |
| Locos Used | 37401 & 67029 'Royal Diamond' |
| Stock Used | 5292+5276+5350+1863+4927+5009+3107+3140+1671+3112+3122+21272 |
Route:
1Z66 : London Euston to Preston Docks
1Z67 : Preston Docks to Heysham Port
1Z68 : Heysham Port to London Euston
| | |
| --- | --- |
| Loco(s) | Route |
| 67029 | London Euston - Watford Junction - Bletchley - Northampton - Rugby - Coventry - Birmingham International - Stechford - Aston - Bescot Stadium - Portobello Jn - Wolverhampton - Bushbury Jn - Stafford - Norton Bridge - Madeley - Crewe - Warrington Bank Quay - Wigan North Western - Preston Ribble Jn - Preston Dock |
| 37401 (1) | Preston Dock - Preston South Jn |
| 67029 (2) | Preston South Jn - Preston - Lancaster - Morecambe South Jn - Bare Lane - Morecambe |
| 37401 (1) | Morecambe - Heysham Port |
| 67029 (2) | Heysham Port - Morecambe |
| 37401 (1) | Morecambe - Bare Lane - Hest Bank Jn - Carnforth Up & Down Goods |
| 67029 | Carnforth Up & Down Goods - Hest Bank Jn - Morecambe South Jn - Lancaster - Preston - Wigan North Western - (reverse of outward route) - Bushbury Jn - Portobello Jn - (reverse of outward route) - London Euston |
Notes :
(1) 67029 on rear.
(2) 37401 on rear.
(3) At Crewe on the return journey the train is confirmed as having stopped on the 'Down Fast'.
Source : Scott Spencer, Richard Pudduck & David Ross



Tour Review
(by Garry Sparks)
This tour was the first to run under a returning UK Railtours operation, I boarded at Watford Junction and following a spirited run up the WCML apart from a stagger past the Rugby building site by "Silver Skip" 67029 we arrived outside Preston for the run into the Preston Docks/Ribble Steam Railway complex. On the way North several rumours about which loco was to haul us back up the steep gradient to Preston were being quoted, so with much excitement from some and groans from others 37401 was waiting to be attached for the "thrash" up the hill. So after a break over just over an hour 37401 started the slow run back past the docks area, after the horn blowing from cars and loco at Strand Road level crossing the noise level was immense as the EE veteran pounded up the 1/29 gradient and past the onlookers on Preston Station.
From Ribble Junction 67029 again took over for the run up to Morecombe and from Heysham Port back to Morecombe, while 37401 handled the Morecombe - Heysham Port and then Morecombe - Carnforth D&UGL via the underused curve from Bare Lane to Hest Bank, from here 67029 headed South and following a brief stop at Preston for 37401 to be removed from the rear the tour again enjoyed some fast running in places on the WCML and slow running again in the Rugby area, we arrived around 20 minutes late into Watford.
Only downside in my opinion on day was the inability to get photos of the railtour locos at the Ribble Railway complex, could of it been not too much trouble for staff to take half a dozen or so people onto the trackside to obtain photographs???
Garry Sparks



Photo Review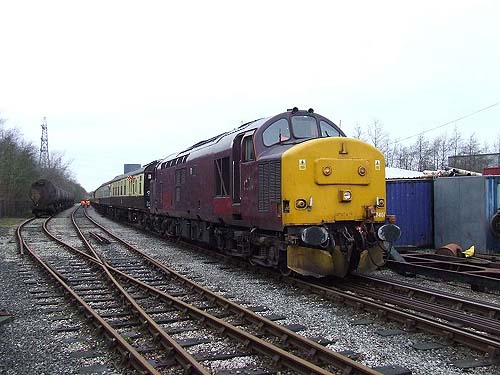 37401 at Preston Dock (photo Andrew Pearson)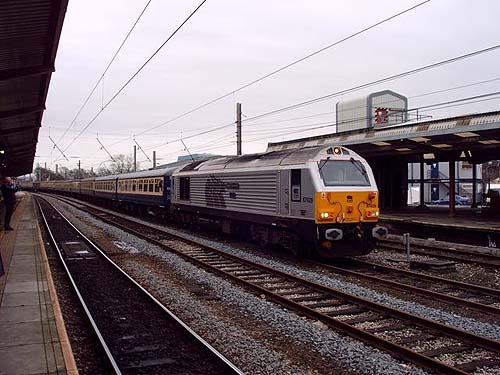 37401 & 67029 passing through Preston (photos: Scott Spencer)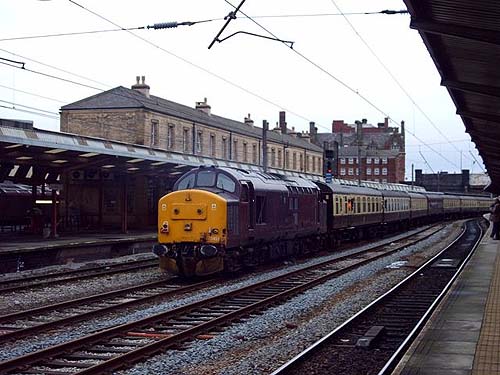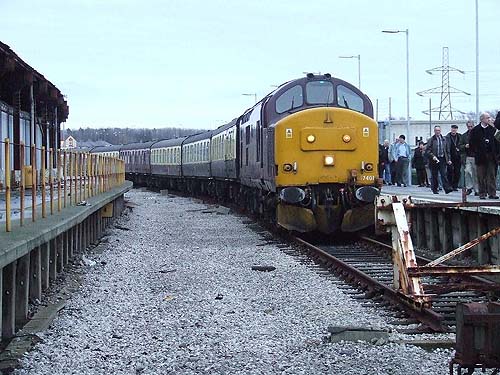 37401 again, this time at Heysham Port (photo: David Ross)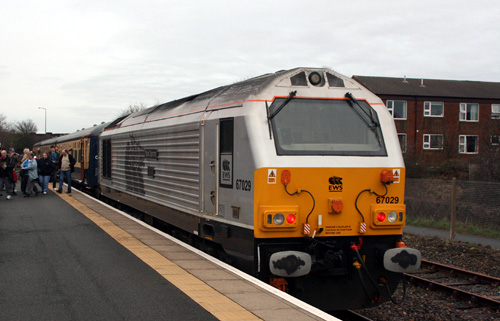 67029 at Morecambe (photo: Garry Sparks)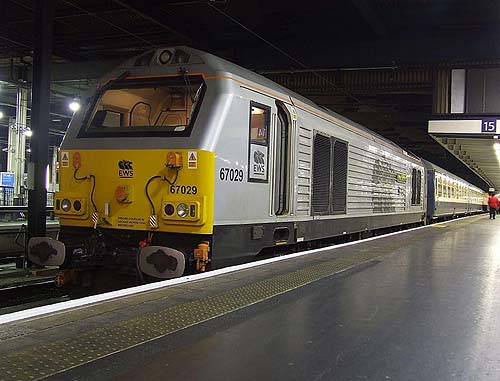 67029 back at Euston (photo: Andrew Pearson)


Timings (Booked & Actual)
(from Richard Pudduck & David Ross)
Location
Booked
Actual
Booked
Actual
London Euston
07.55d
07.57
22.59a
23.19 [P15]
Camden South Jn
07/58
?
22/56
?
Camden Jn
07/59
?
22/55
?
West London Jn
08/02
?
22/52
?
Willesden North Jn
08/03
?
?
?
Wembley Central
08/06
08/06
22/50
23/08
Harrow & Wealdstone
08/12
08/11
22/43
23/06
Watford Junction
08.18a ~ 08.20d
08.18 ~ 08.23
22.34a ~ 22.36d
22.56 ~ 22.57
Bourne End Jn
?
?
22/23
?
Tring
08/44
08/35
22/17
22/34
Ledburn Jn
08/51
?
22/10
?
Bletchley
08/59
08/47
22/03
22/24
Milton Keynes Central
09.03a ~ 09.05d
08.53 ~ 09.05
21.54a ~ 21.56d
22.18 ~ 22.20
Hanslope Jn
09/14
09/12
21/48
?
Northampton
09.26a ~ 09.29d
09.28 ~ 09.30
21.35a ~ 21.37d
21.58 ~ 22.00
Long Buckby
09/41
09/40
21/25
21/46
Hillmorton Jn
09/50
?
21/16
?
Rugby
09/52
??.?? ~ 10.04 [DGL]
21/14
21/35
Rugby Trent Valley Jn
09/53
?
21/13
?
Coventry
10*04a ~ 10*19d
10.23 ~ 10.26
20.59a ~ 21.01d
21.17 ~ 21.20
Birmingham International
10*30 ~ 10*46
10.40 ~ 10.52
20/47
20.56 ~ 21.00
Stechford
10/50
10/59
20/40
20/46
Aston
10/55
11/05
20/36
20/40
Perry Barr North Jn
10/59
?
20/33
?
Bescot Stadium
11/04
11/15
20/25
20/31
Darlaston Jn
11/05
?
20/22
?
Portobello Jn
11/10
11/22
20/19
?
Wolverhampton
11/25
11/27
Wolverhampton North Jn
11/26
?
Bushbury Jn
11/28
11/30
20/14
20/22
Stafford No.4
11/39
?
20/01
?
Stafford
11/39
11/41
20/01
20/03
Stafford No.5
?
?
20/00
?
Norton Bridge
11/44
11/47
19/56
20/00
Madeley
11/53
?
19/47
?
Basford Hall Jn
11/59
?
19/43
?
Crewe
12/01
12/05
19/38
19.39 ~ 19.41 [DF]
Crewe Coal Yard
12/01
?
19/37
?
Winsford SB
12/07
12/13
19/30
19/23
Weaver Jn
12/14
12/19
19/23
?
Acton Grange Jn
12/21
?
19/19
?
Warrington Bank Quay
12c23 ~ 12c25
12.27 ~ 12.28
19c13 ~ 19c15
19.03 ~ 19.07
Dallam Jn
12/28
?
19/11
?
Winwick Jn
12/30
12/32
19/01
?
Golborne Jn
12/33
?
?
?
Bamfurlong Jn
12/37
?
?
?
Springs Branch
12/38
?
18/55
?
Wigan South Jn
12/39
?
18/54
?
Wigan North Western
12/40
12/39
18/53
18/54
Balshaw Lane Jn
12/47
12/46
18/45
18/47
Euxton Jn
12/51
12/48
18/43
?
Farington Curve Jn
12/55
?
18/39
?
Preston Ribble Jn
12/57
13/00
?
?
Preston Dock
13L07a ~ 14L26d
13.28 ~ 14.26
Preston South Jn
14.36 ~ 14.48
14.46 ~ 14.50
Preston
14*51 ~ 15*13
14.57 ~ 14.57 [DG]
18*21 ~ 18*36
18.15 ~ 18.38
Lancaster
15/32
15.17 ~ 15.26 [DF]
17/59
17/56
Morecambe South Jn
15/34
?
17/57
?
Carnforth Up & Down Goods Loop
17.33 ~ 17.50
17.37 ~ 17.48
Hest Bank Jn
17/27
17.23 ~ 17.28
Bare Lane
15.36 ~ 15.38
15.34 ~ 15.36
17.21 ~ 17.23
17.21 ~ 17.23
Morecambe
15.42a ~ 15.54d
15.39 ~ 15.54
17.04 ~ 17.16
17.04 ~ 17.16
Morecambe Jn GF
15.55 ~ 15.57
?
?
?
Heysham Port
16.09a
16.08
16.51d
16.51