16th December 2007
London Transport Museum
1938 Tube Stock East London Line Rail Tour
| | |
| --- | --- |
| Tube Stock Used | 10012+012256+12048+11012 |
Route: T170 throughout
| | |
| --- | --- |
| Leading Car | Route |
| 11012 | Ealing Broadway - Ealing Common - Acton Town - Turnham Green - Hammersmith - West Kensington - Earl's Court - Gloucester Road - Victoria - Embankment - Tower Hill - Minories Jn - Aldgate East - St Mary's Jn - (via St Mary's Curve) - Whitechapel Jn - Shadwell - Canada Water - Canal Jn - New Cross Gate |
| 10012 | New Cross Gate - Canal Jn - Canada Water - Shadwell - Whitechapel Jn - Whitechapel |
| 11012 | Whitechapel - Whitechapel Jn - Shadwell - Canada Water - Canal Jn - New Cross |
| 10012 | New Cross - Canal Jn - Canada Water - Shadwell - Whitechapel Jn - Whitechapel |
| 11012 | Whitechapel - Whitechapel Jn - Shadwell - Canada Water - Canal Jn - New Cross Gate |
| 10012 | New Cross Gate - Canal Jn - Canada Water - Shadwell - Whitechapel Jn - Whitechapel |
| 11012 | Whitechapel - Whitechapel Jn - Shadwell - Canada Water - Canal Jn - New Cross |
| 10012 | New Cross - Canal Jn - Canada Water - Shadwell - Whitechapel Jn - (via St Mary's Curve) - (reverse of outward route) - Ealing Broadway |
Notes :
(1) Neil Edwards comments: Organised via London's Transport Museum, to commemorate the closing of the East London Line on the 22nd December, prior to it's conversion to London Overground, the preserved 1938 tube stock was used to operate a railtour over the system. It was also an opportunity to allow passengers to traverse St Mary's Curve, which is normally only used for stock transfers. A very well organised event.
Sources : Neil Edwards (on the train throughout) & Alan Sheppard (joined/left the train at Whitechapel).



Photo Review
(all photos: Neil Edwards)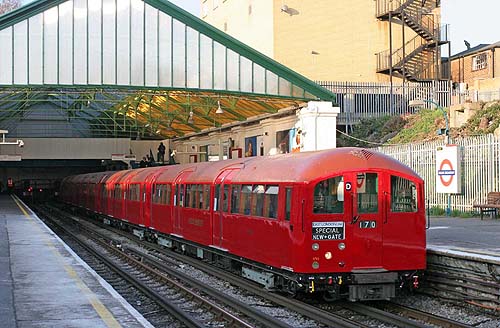 Two shots of the train, above at Ealing Broadway and below at Whitechapel.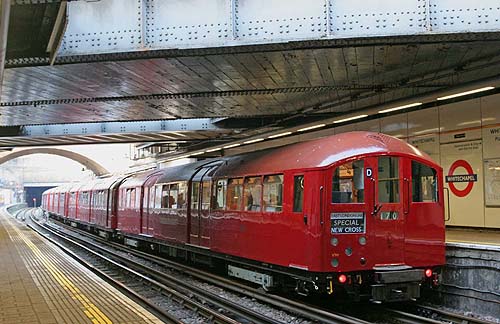 Timings (Booked & Actual)
(from Neil Edwards & Alan Sheppard)
Location

Booked

Actual

Booked

Actual

Ealing Broadway

10.22d [P9]

10.22

15.21a [P9]

15.10

Ealing Common

10/25

10/25

15/16½

15/05

Acton Town

10/27 [P4]

10/27

15/14½

15/03

Turnham Green

10/31

?

15/10½

?

Hammersmith

10/36

10/39

15/05

14/55

West Kensington

10/39½

10.43½ ~ 10.45

15/03

14/53

Earl's Court

10/42½ [P1]

10.47½ ~ 10.51½

15/01½ [P3]

14/51

Gloucester Road

10/45

?

14/59 [P1]

14/48½

South Kensington

10/46½

10/56

14/57

14/37

Embankment

10/56

?

14/47½

14/35½

Mansion House

11/01½

?

14/42½

14/29½

Tower Hill

11/06½

?

14/38½

14/27

Aldgate East

11/08½

11.22 ~ 11.22½

14/34

14.25 ~ 14.25½

Whitechapel Jn

11/17½

?

14/19½

?

Shadwell

11/19

11/32

14/18

14/19

Wapping

11/20½

?

14/17

?

Rotherhithe

11/22

?

14/15½

?

Canada Water

11/23

?

14/14½

?

Surrey Quays

11/25

?

14/13½

?

Canal Jn

11/28

?

14/12

?

New Cross Gate

11.33½ ~ 11.36

11.46 ~ 11.47½

Staff Platform

14/10½

?

New Cross

14.09 ~ 14.10

14.09 ~ 14.11

Staff Platform

14/07½

?

Canal Jn

11/37½

?

14/06

?

Surrey Quays

11/39

?

14/04½

?

Canada Water

11/40

?

14/02½

?

Rotherhithe

11/41

?

14/01½

?

Wapping

11/42½

?

14/00

?

Shadwell

11/44

?

13/58½

?

Whitechapel

11.46a ~ 12.23d [P6]

11.58 ~ 12.36

13.19½a ~ 13.56½d [P6]

13.29½ ~ 13.56

Shadwell

12/25

12/37½

13/17½

13/27

Wapping

12/26½

12/39

13/16

13/26

Rotherhithe

12/28

12/41

13/14½

13/24½

Canada Water

12/29

12.42 ~ 12.42½

13/13½

13/23½

Surrey Quays

12/31

12/43½

13/12½

13/22½

Canal Jn

12/32½

12/45

13/11

13/21

Staff Platform

12/34

12/46½

New Cross

12.35½ ~ 12.36½

12.48 ~ 12.49

Staff Platform

12/37

12/49½

New Cross Gate

13.07 ~ 13.09½

13.18½ ~ 13.20

Canal Jn

12/38½

12/51

13/01½

13/14

Surrey Quays

12/40

12.53 ~ 12.53

12/58½

13.10 ~ 13.12½

Canada Water

12/41

12/54

12/56½

13/09

Rotherhithe

12/42

12/55

12/55½

13/08

Wapping

12/43½

12/56

12/54

13/07

Shadwell

12/45

12/58

12/52½

13/05½

Whitechapel

12.46½a [P6]

13.00

12.50½d [P6]

13.03½