6th December 2007
Hertfordshire Rail Tours
Christmas Circular Tour to Quainton
Pullman Series
| | |
| --- | --- |
| Locos Used | 47802 & 47832 |
| Stock Used | 3278+3285+80047+3408+3359+3360+3362+1657+3143+3136+17159 |
Route:
1Z52 : London Euston to Quainton Road
1Z83 : Quainton Road to London Victoria Kensington Olympia
| | |
| --- | --- |
| Loco(s) | Route |
| 47832 (1) | London Euston - West London Jn - Acton Wells Jn - Acton Main Line - West Ealing Jn - Drayton Green Jn - Greenford South Jn - Greenford West Jn - West Ruislip - High Wycombe - Princes Risborough - Little Kimble - Aylesbury - Quainton Road - Claydon LNE Jn |
| 47802 (2) | Claydon LNE Jn - Bicester Town - Oxford - Didcot North Jn - Didcot Parkway (3) |
| 47832 (1) | Didcot Parkway - Foxhall Jn |
| 47802 (2) | Foxhall Jn - Didcot North Jn |
| 47832 (1) | Didcot North Jn - Didcot Parkway - Cholsey - Reading - (4) - Earley - Wokingham - Ascot - Virginia Water - Staines - Feltham Jn - Hounslow Jn - Brentford - Chiswick - Barnes - Clapham Junction - Kensington Olympia (4) |
Notes :
(1) 47802 on rear.
(2) 47832 on rear.
(3) On arrival at Didcot Parkway 47802 was found to be overheating and was failed. The train was then turned by way of reversals at Foxhall Jn and Didcot North Jn so that 47832 was leading for the remainder of the journey.
(4) Due to late running it was decided the train was to terminate at Clapham Junction with set down at Kensington Olympia. On arrival at Reading the route was again changed to the LSWR line from Reading to Clapham Junction, for set down, and termination at Kensington Olympia. Booked route was: Reading - Acton Main Line - Acton Wells Jn - North Pole Jn - Kensington Olympia - Latchmere Jn - Longhedge Jn - Stewarts Lane Jn - London Victoria.
(5) Richard Pudduck comments: The train was late off of Euston due to late stock arrival. Further delays were encountered at Aylesbury (due to late arrival of refuse train for Calvert and hand over of token subsequently) and Bicester (awaiting late running service train).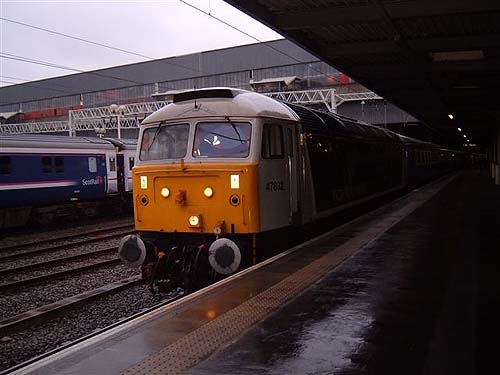 47832 waits for departure time at London Euston (photo: Richard Pudduck)
Source : Richard Pudduck (joined at London Euston, left at Clapham Junction)



Timings (Booked & Actual)
(from Richard Pudduck)
| | | |
| --- | --- | --- |
| Location | Booked | Actual |
| London Euston | 09.30d | 09.52 |
| West London Jn | 09/37 | 10/00 |
| Acton Wells Jn | 09/40 | 10/05 |
| Acton Main Line | 09/42 | 10/10 |
| West Ealing | 09/50 | 10/14 |
| Greenford West Jn | 10/01 | 10/23 |
| West Ruislip | 10/16 | 10/44 |
| High Wycombe | 10/36 | 11/01 |
| Princes Risborough | 10/56 | 11/14 |
| Aylesbury | 11*10 ~ 11*17 | 11.29 ~ 12.00 |
| Quainton Road | 11.40a ~ 13.10d | 12.16 ~ 13.47 |
| Calvert | 13/24 | 13/57 |
| Claydon LNE Jn | 13.38 ~ 14.15 | 14.03 ~ 14.09 |
| Bicester London Road | 14*40 ~ 14*52 | 14.30 ~ 14.52 |
| Oxford North Jn | 15/17 | 15/14 |
| Oxford | 15/24 | 15/17 |
| Kennington Jn | 15/30 | 15/20 |
| Didcot North Jn | 15/39 | 15/27 |
| Didcot Parkway | 15.44a ~ | 15.28 ~ 15.52 |
| Foxhall Jn | DIV | ? |
| Didcot North Jn | DIV | ? |
| Didcot Parkway | ~ 15.49d | 16.15 ~ 16.17 |
| Reading | 16/09 | 16.35 ~ 16.44 |
| West Ealing | 16/37 | DIV |
| Acton Main Line | 16/43 | DIV |
| Acton Wells Jn | 16/45 | DIV |
| North Pole Jn | 16/53 | DIV |
| Kensington Olympia | 16/58 | DIV |
| Stewarts Lane Jn | 17/15 | DIV |
| London Victoria | 17/22 | DIV |
| Wokingham | DIV | 17/02 |
| Ascot | DIV | ? |
| Egham | DIV | 17/34 |
| Staines | DIV | 17/41 |
| Feltham | DIV | 17/49 |
| Kew Bridge | DIV | 18/03 |
| Chiswick | DIV | 18/07 |
| Barnes | DIV | 18/11 |
| Clapham Junction | DIV | 18.21 ~ ??.?? |
| Kensington Olympia | DIV | ??.??a |