1st December 2007
Pathfinder Tours
The Festive Yorkshireman
| | |
| --- | --- |
| Locos Used | 37410 & 37417 |
| Stock Used | ????? |
Route:
1Z37 : Swindon to Leeds
1Z39 : Leeds to Swindon
| | |
| --- | --- |
| Locos | Route |
| 37410 + 37417 | Swindon - Hullavington - Bristol Parkway - Severn Tunnel Junction - Maindee Curve - Pontypool & New Inn - Abergavenny - Hereford - Ludlow - Craven Arms - Shrewsbury - Whitchurch - Crewe - Warrington Bank Quay - Wigan North Western - Preston - Lancaster - Carnforth - Wennington - Hellifield - Skipton - Keighley - Shipley - Leeds |
| 37417 + 37410 | Leeds - (reverse of outward route) - Preston - Chorley - Bolton - Salford Central - Manchester Victoria (1) |
| [37417] + 37410 (2) | Manchester Victoria - Ashton Moss North Jn - Denton Jn - Stockport - Wilmslow - Sandbach - Crewe - Whitchurch - Shrewsbury - Craven Arms - Ludlow - Hereford - Abergavenny - Pontypool & New Inn - Maindee North Jn - Newport (3) |
Notes :
(1) 37417 failed - confirmation exactly where is required, possibly Salford Crescent. Nick Bartlett comments: We were in the platform at Salford Central for a long time, but then moved on to Manchester Victoria. Due to problems with the ETH? John Dawson adds: 417 lost power from Preston according to the relief driver who got on there. They managed to start 417 up again but it wouldn't take power and 417 was just ticking over all the way back to Newport with 410 providing power from the inside.
(2) 37410 (between 37417 & the stock) providing traction, being driven from 37417 leading (not powering).
(3) Booked route after Maindee North Jn was: Maindee East Jn - (reverse of outward route) - Swindon, however the train was diverted and terminated at Newport - passengers being returned home in buses.
(4) Reported running just over 2 hours late at Hereford - Nick Bartlett comments: We arrived at Newport at 01.28 on Sunday morning, and coaches were sent from Birmingham (?) to take us to Bristol Parkway or Swindon (arrived 02.50).
Sources : various including Pathfinder Tours, Nick Bartlett & John Dawson



Photo Review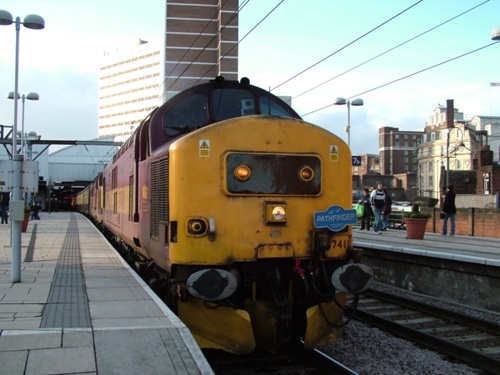 37410 & 37417 at Leeds on the outward leg (photo: Nick Bartlett)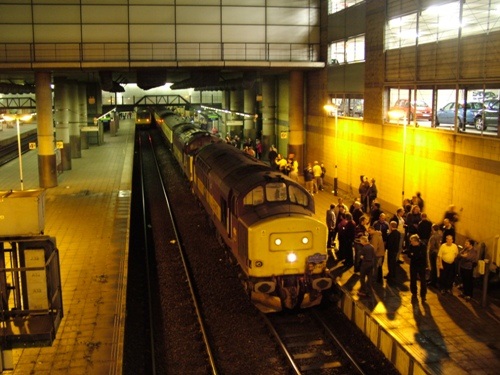 Problems at Manchester Victoria with 37417 leading (photo: Nick Bartlett)


Timings (Booked Only)
(from Pathfinder Tours & Nick Bartlett)
M.C
Location
Booked
Actual
Booked
Actual
M.C
0.00
Swindon
05.30d
?
00.14a
CANC

341.68

5.64
Wootton Bassett Jn
05/36
?
00/07
CANC

336.04

16.67
Hullavington
05/45
?
23/58
CANC

325.01

29.69
Westerleigh Jn
05/57
?
23/47
CANC

311.79

34.39
Bristol Parkway
06.03a ~ 06.05d
?
23.40a ~ 23.42d
CANC

307.29

35.61
Patchway
06/08
?
23/36
CANC

306.07

39.27
Pilning
06/11
?
23/32
CANC

302.41

40.71
Severn Tunnel East
06/13
?
23/30
CANC

300.77

45.13
Severn Tunnel West
06/18
?
23/25
CANC

296.55

46.23
Severn Tunnel Junction
06.20a ~ 06.22d
?
23.22a ~ 23.24d
CANC

295.45

55.36
Maindee East Jn
06/34
?
23/09
CANC

286.32

-
Newport
-
DIV
01.28a
?
55.68
Maindee North Jn
06/36
?
23/07
?

286.00

65.02
Pontypool
06.49a ~ 06.50d
?
22.53a ~ 22.55d
?

276.66

66.49
Little Mill Jn
06/53
?
22/49
?

275.19

74.26
Abergavenny
07.02a ~ 07.03d
?
22.38a ~ 22.40d
?

267.42

86.17
Pontrilas
07/19
?
22/27
?

255.51

91.74
Tram Inn
07/24
?
22/22
?

249.74

98.37
Hereford
07.32a ~ 07.34d
?
22.12a ~ 22.14d
?

243.31

100.04
Shelwick Jn
07/37
?
22/10
?

241.64

102.55
Moreton-on-Lugg
07/40
?
22/05
?

239.13

111.04
Leominster
07/49
?
21/56
?

230.64

117.38
Woofferton
07/54
?
21/51
?

224.30

121.78
Ludlow
08.01a ~ 08.02d
?
21.43a ~ 21.45d
?

219.70

124.20
Bromfield
08/07
?
21/38
?

217.48

129.43
Craven Arms
08.15a ~ 08.16d
?
21.31a ~ 21.33d
?

212.25

134.11
Marsh Brook LC
08/21
?
21/26
?

207.57

143.15
Dorrington
08/29
?
21/17
?

198.53

148.52
Sutton Bridge Jn
08/35
?
21/09
?

193.16

149.36
Shrewsbury
08.39a ~ 08.41d
?
21.02a ~ 21.04d
?

192.32

151.44
Harlescott X
08/46
?
20/57
?

190.24

160.16
Wem
08/57
?
20/49
?

181.52

163.34
Prees
09/00
?
20/46
?

178.34

173.11
Wrenbury
09/08
?
20/36
?

168.57

177.54
Nantwich
09/13
?
20/31
?

164.14

181.40
Crewe Gresty Lane
09/20
?
20/26
?

160.28

182.13
Crewe
09*23 ~ 09*28
?
20c10 ~ 20c24
?

159.55

182.71
Crewe Coal Yard
09/30
?
189.54
Winsford
09/37
?
190.79
Winsford SB
09/47
?
198.54
Weaver Jn
09/56
?
204.37
Acton Grange Jn
09/59
?
206.24
Warrington Bank Quay
10c02 ~ 10c04
?
207.33
Dallam Jn
10/07
?
209.60
Winwick Jn
10/09
?
216.55
Springs Branch Jn
10/15
?
218.04
Wigan North Western
10/17
?
225.55
Balshaw Lane
10/27
?
-
Crewe Sydney Bridge Jn
20/07
?

158.59

-
Sandbach
20/01
?
155.05
-
Alderley Edge
19/48
?
142.34
-
Wilmslow
19/46
?
140.70
-
Cheadle Hulme
19/42
?
136.75
-
Stockport
19/38
?
134.54
-
Heaton Norris Jn
19/36
?
133.79
-
Denton Jn
19/28
?
129.69
-
Ashton Moss North Jn
19/13
?
127.45
-
Baguley Fold Jn
19/09
?
124.43
-
Philips Park West Jn
19/08
?
123.54
-
Miles Platting
19/07
?
123.34
-
Manchester Victoria
19/04
?
122.04
-
Deal Steet
19/02
?
121.46
-
Salford Crescent
18/59
?
120.23
-
Bolton
18/45
?
111.34
-
Lostock Jn
18/41
?
108.45
-
Chorley
18/27
?
99.68
227.58
Euxton Jn
10/29
?
18/22
?
96.54
233.14
Preston
10/36
?
18/16
?
91.18
237.44
Barton & Broughton DPL
10*46 ~ 11*21
?
-
?
86.68
254.12
Lancaster
11/40
?
17/55
?
70.20
256.04
Morecambe South Jn
11/43
?
17/53
?
68.28
260.20
Carnforth North Jn
11/46
?
17/48
?
64.12
260.32
Carnforth
11/48
?
17/47
?
64.00
284.78
Settle Jn
12/27
?
17/12
?
39.34
288.23
Hellifield
12/32
?
17/09
?
36.09
298.17
Skipton
12.51a ~ 12.54d
?
16.56a ~ 16.59d
?
26.15
307.32
Keighley
13.06a ~ 13.09d
?
16.39a ~ 16.42d
?
17.00
313.47
Shipley
13/19
?
16/30
?
10.65
317.39
Apperley Jn
13/24
?
16/25
?
6.73
323.64
Whitehall Jn
13/32
?
16/16
?
0.48
324.32
Leeds
13.35a
?
16.15d
?
0.00