1st December 2007
NENTA Traintours
Christmas in the Yorkshire Dales
Route:
1Z47 : Colchester to Skipton
1Z48 : Skipton to Colchester
| | |
| --- | --- |
| Loco(s) | Route |
| 47828 (2) (5) | Colchester - (via GEML) - Norwich |
| 47813 (3) (5) | Norwich - Wymondham - Thetford - Ely |
| 47828 (2) (5) | Ely - March - Peterborough - (via ECML) - York |
| 47813 (3) | York - Castleford - Keighley - Skipton |
| 47828 (2) (5) | Skipton - Keighley - Castleford - York |
| 47813 (3) (5) | York - (reverse of outward route) - Ely |
| 47828 (2) (5) | Ely (reverse of outward route) - Norwich |
| 47813 (3) (5) | Norwich (reverse of outward route) - Colchester |
Notes :
(1) Early advertising had the train starting/finishing in Norwich.
(2) 47813 on rear.
(3) 47828 on rear.
(4) Off train options;
Option 1: York
Option 2: Keighley (for Haworth's Victorian Christmas Celebrations)
Option 3: Skipton
Option 4: Grassington's Dickensian Festival (by road coach to/from Skipton).
(5) Confirmation required of which loco led this leg (has been assumed from known leg/photo below).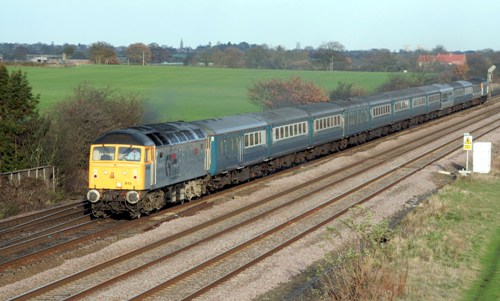 47813 leading in this view leaving York for Skipton (photo: Roger Geach)
Sources : Henry Allum & Gary Thornton



Timings (Advertised Only)
| | | |
| --- | --- | --- |
| Location | Advertised (out) | Advertised (rtn) |
| Norwich | 06.30d | 22.35a |
| Diss | 06.52d | 23.10a |
| Ipswich | 07.30d | 22.30a |
| Stowmarket | 07.45d | 22.15a |
| Bury-St-Edmunds | 08.05d | 21.50a |
| Ely | 08.35d | 21.15a |
| March | 08.55d | 20.50a |
| Peterborough | 09.20d | 20.30a |
| York | 11.00a | 18.45d |
| Keighley | 12.30a | 17.45d |
| Skipton | 12.45a | 17.30d |
| Grassington (road coach) | 13.15a | 16.45d |
Service train connecting times (changing at Ely);
| | | |
| --- | --- | --- |
| Location | Advertised (out) | Advertised (rtn) |
| Thetford | 07.23d | 21.49a |
| Cambridge | 08.02d | 21.53a |