27th October 2007
Patrimoine Ferroviaire Touristique
De Bruxelles a Couvin
| | |
| --- | --- |
| Loco Used | PFT: 210077 (ex-SNCB 6077) & 1603 (ex-CFL 1603) |
| Stock Used | 4 x M2 Coaches |
Route:
Z18822 : Bruxelles Nord to Fleurus
Z18823 : Fleurus to Jemeppe-sur-Sambre
Z18824 : Jemeppe-sur-Sambre to Tamines
Z18825 : Tamines to Aisemont
Z18826 : Aisemont to Couvin
Z18827 : Couvin to Bruxelles Nord
| | |
| --- | --- |
| Loco(s) | Route |
| 210077 (1) | Bruxelles Nord - Bruxelles Central - Bruxelles Midi - Line 124 - Waterloo - Nivelles - Luttre - Monceau Yard - Line 260 - Charleroi Ouest - Fleurus |
| 1603 (2) | Fleurus - Line 147 - Auvelais - Jemeppe sur Sambre |
| 210077 (1) | Jemeppe sur Sambre - Tamines |
| 1603 (2) | Tamines - Line 150 - Aisemont |
| 210077 (1) | Aisemont - Line 150 - Charleroi Sud - Walcourt - Mariembourg - Couvin |
| 1603 (2) | Couvin - Mariembourg - Walcourt - Marchienne au Pont - Line 124 - Luttre - Nivelles - Waterloo - Bruxelles Midi - Bruxelles Central - Bruxelles Nord |
Notes :
(1) 1603 on rear.
(2) 210077 on rear.
Sources : Pete Drury & Stuart Smith



Tour Review
(by Stuart Smith)
This tour was a late addition to "our 2007 programme". It was only following the cancellation of the Mercia tour the same day, "The Fallen Heroes", that we opted to do this and save a wasted day in Belgium.
So I started the day at Nord, and despite a late platform change, we left on time at 8.06am. As I was the only one from our group that had opted to do Nord rather than Midi, I decided to choose the rear coach on departure, and also the one nearest 1603 for the 'noise' later.
With the other 8 or 9 boarded at Midi, we were handed our itinerary's........
The first horror to present itself was the photo stop sheet. Oh my god.......... 27 photo stops during the next 11 hours.
The first part of the route was straight down Line 124 to Luttre. The only notable part being our wrong line manoeuvre (due to engineering work) which was done with effortless ease. A far cry from what we have to endure back in the UK at weekends.
Shock horror......... the first "Photo-Halt" was cancelled......... no explanation was given either. Oh well, just another 26 to do then.
After Luttre, we turned off right, and into the start of Monceau Yard. I seem to remember us stopping fairly close to the main works building, but on exactly which track, I do not recall.
Here we were allowed to disembark and wander the depot area taking numbers and amassing yet more photos. The majority of interest was the many rows of stored locos, which are now well hidden in the old buildings and ever-increasing trees and undergrowth. At least 5x Class 51, 6x Class 62/63, 36x Class 73, 11x Class 77/78 and 2x Class 84 were all noted in the half hour we had.
Back on board and we traversed Line 260, which climbs up and over the main line, before curving around the industrial areas, and joining Line 140 at Charleroi-Ouest. From here it is only a short run to Fleurus, which was our first reversal. After the photos, we traversed Line 147 in it's entirety, and continued on a short distance further to Jemeppe. (We reversed on the northbound branch platform for Line 144). Our next destination was Aisemont on the freight only Line 150. In order to do this, we had to make a further reversal at Tamines, before taking the branch. We made it as far as the exchange sidings, although it was noticed the the track did continue further in to distance..... How far though, I do not know?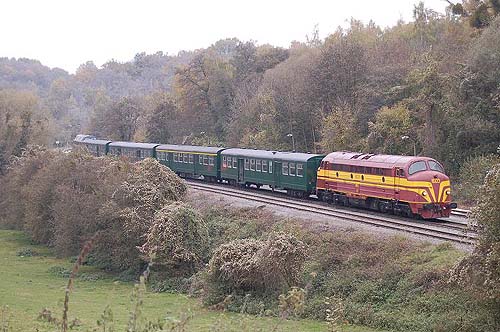 1603 at Aisemont (photo: Stuart Smith)
Back up Line 150, and we rejoined the mainline towards Charleroi-Sud. A slight detour was made through Chatelet Yard, where several stored Class 23's were parked. Beyond here we headed through the main Charleroi station and then on to Line 132 down to Couvin. At least a dozen stops were made on this line for photos, the best being at Ham-sur-Heure, which had a backdrop of the hills and tunnel.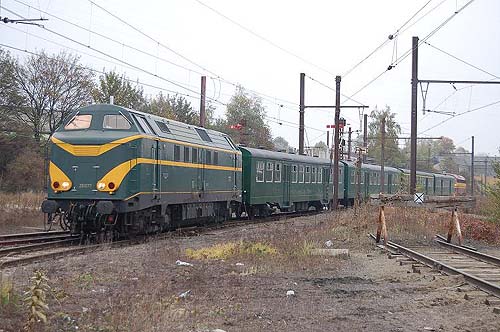 210 077 and 1603 at Charleroi (photo: Stuart Smith)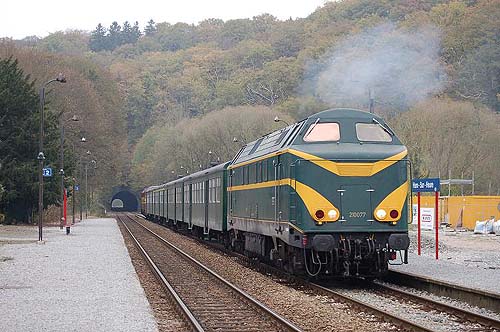 210 077 leads at Ham-sur-Heure (photo: Stuart Smith)
From Couvin, our return to Brussels was direct, via the avoiding line to Marchienne-au-Pont and then back up Line 124.
So that was that......Despite the initial disappointment of losing the "Mercia", I had still gained two new locos for haulage and also managed two freight only lines this weekend.
Stuart Smith



Timings (Booked & Actual)
(from Pete Drury)
Location
Booked
Actual
Booked
Actual
Bruxelles Nord
08.06d
08.07
19.30a
?
Bruxelles Central
?
08/11
?
?
Bruxelles Midi
08.14a ~ 08.25d
08.15 ~ 08.26
19.18a ~ 19.22d
19.33 ~ ??.??
Linkebeek
?
08/37
?
19/26
De Hoek
?
08/46
?
19/23
Waterloo
?
08/50
?
19/20
Braine-L'Alleud
?
08/55
?
19/17
Lillois
?
08/59
?
?
Baulers
08p57 ~ 09p12
09/04
?
?
Nivelles
?
09/05
?
19.07 ~ 19.08
Luttre
09p27 ~ 09p42
09.16 ~ 09.40
18.45a ~ 18.46d
18.53 ~ 18.55
Roux
?
09/48
?
?
Monceau Yard
09p52 ~ 10p22
09.50 ~ 10.22
Line 260 BK 3.070 (Adjacent to coal discharge hopper)
??p?? ~ ??p??
10.25 ~ 10.37
Line 260 BK 3.800 (Adjacent to coking plant)
??p?? ~ ??p??
10.39 ~ 11.00
Line 260 BK 4.500 (Sidings near steel works)
??p?? ~ ??p??
11p04 ~ 11p16
Charleroi Ouest
?
11/17
Fleurus
11p42 ~ 11p55
11.31 ~ 11.38
Moignelee
??p?? ~ ??p??
??.?? ~ ??.??
Auvelais
?
12.00 ~ 12.05
Jemeppe-sur-Sambre
12p36 ~ 12p50
12.09 ~ 12.26
Auvelais
?
12/30
Tamines
12p56 ~ 13p02
12.33 ~ 12.37
Falisolle
??p?? ~ ??p??
12.46 ~ 13.09
Aisemont Sidings
13p30 ~ 13p41
13.24 ~ 13.50
Falisolle
?
14/00
Tamines
?
14.08 ~ 14.09
Le-Campinaire
?
14.18 ~ 14.24
Chatelet (East end of yard)
14p15 ~ 14p25
14.25 ~ 14.38
Chatelet
?
14.40 ~ 14.44
Charleroi-Sud
?
14.53 ~ 14.54
Marchienne-au-Pont
18.33a ~ 18.34d
18.42 ~ 18.43
Ham-sur-Heure
??p?? ~ ??p??
15.09 ~ 15.21
?
18/27
Cour-sur-Heure
??p?? ~ ??p??
15/24
?
18/26
Berzée
?
15/26
?
18/24
Walcourt
15p31 ~ 15p46
15.30 ~ 15.48
?? ~ ??
18.10 ~ 18.20
BK 94 (Quarry south of Yves-Gomezée)
??p?? ~ ??p??
15.56 ~ 16.08
?
18/03
Philippeville
??p?? ~ ??p??
16.16 ~ 16.46
?
17/56
Neuville
??p?? ~ ??p??
16.50 ~ 17.08
?
?
Mariembourg
17p09a ~ 17p18d
17.18 ~ 17.21
?
17/44
Couvin
17.26a
17.29
17.33d
17.37