24th October 2007
UK Railtours
The Thames Irwell
| | |
| --- | --- |
| Locos Used | 67001 & 67026 |
| Stock Used | 21272+3122+3112+1671+3140+3107+3098+1842+5009+4927+5040+5350 |
Route:
1Z51 : London Euston to Rawtenstall
1Z52 : Rawtenstall to London Euston
| | |
| --- | --- |
| Loco(s) | Route |
| 67026 (1) | London Euston - Wembley Central - Watford Junction - Milton Keynes Central - Northampton - Rugby - Nuneaton - Lichfield TV - Rugeley TV - Colwich Jn - Stone Jn - Stoke-on-Trent - Kidsgrove - Macclesfield - Cheadle Hulme - Stockport - Heaton Norris Jn - Denton Jn - Ashton Moss North Jn - Baguley Fold Jn - Philips Park West Jn - Brewery Jn - Thorpes Bridge Jn - Castleton South Jn - Castleton East Jn |
| 67001 (2) | Castleton East Jn - Castleton North Jn - Heywood - Bury Bolton Street - Ramsbottom - Rawtenstall |
| 67026 (1) | Rawtenstall - (reverse of outward route) - Castleton North Jn - Castleton South Jn - (reverse of outward route) - Thorpes Bridge Jn - Brewery Jn UPL (3) |
| 67026 | Brewery Jn UPL - Philips Park West Jn - (reverse of outward route) - London Euston |
Notes :
(1) 67001 on rear.
(2) 67026 on rear.
(3) 67001 removed at Brewery Jn UPL as it was required at Arpley to work the following day's VSOE (Northern Belle).
(4) This was the last UK Railtours organised charter.
Sources : LASERman (on the train throughout) & Alan Sheppard (joined/left the train at Northampton)



Photo Review
(all photos: Alan Sheppard)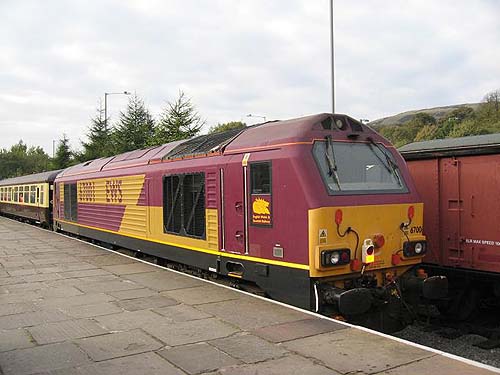 67001 (above) & 67026 (below) at Rawtenstall.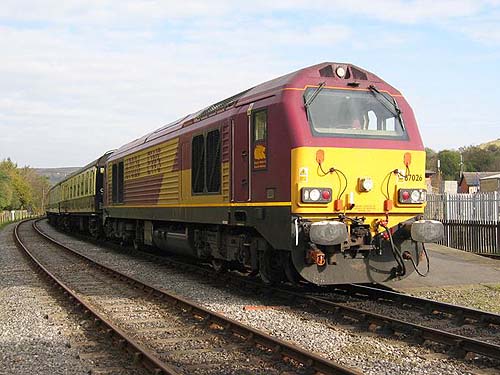 Timings (Booked & Actual)
(from LASERman & Alan Sheppard)
M.C
Location
Booked
Actual
Booked
Actual
M.C
0.00
London Euston
07.25d
08.15 [P2] [Line X]
21.28a
21.27½ [P16]
425.12
-
Camden South Jn
07/29
08/19
21/25
21/23½ [Line D]
-
1.54
Camden Jn
07/29
08/19½
21/24
21/23
423.38
5.65
Willesden West London Jn
07/32
08/23½
21/21
21/19½
419.27
8.04
Wembley Central
07/35
08/26
21/19
21/17½
417.08
11.30
Harrow & Wealdstone
07/37
08/28½
21/15
21/15½
413.62
-
Watford South Jn
07/45
08/38 [DS]
??
??
-
17.35
Watford Junction
07.47a ~ 07.49d
08.36 ~ 08.44½
21.06a ~ 21.08d
21.07 ~ 21.09½
407.57
-
Bourne End Jn
07/57
??
20/59
21/01
-
31.53
Tring
08/05
08/58
20/55
20/57½
393.39
38.16
Ledburn Jn
08/12
09/08
20/50
20/53½
386.76
46.46
Bletchley
08/18
09/12
20/43
20/47
378.46
49.65
Milton Keynes Central
08.21a ~ 08.24d
09.16½ ~ 09.17½ [P3]
20.33a ~ 20.36d
20.40 ~ 20.43
375.27
56.47
Hanslope Jn
08/32
09/24½
20/27
20/34½
368.45
65.68
Northampton
08.41a ~ 08.43d
09.36 ~ 09.37½ [P1]
20.13a ~ 20.16d
20.20½ ~ 20.24½ [P2]
359.24
75.37
Long Buckby
08/55
09/50
20/03
20/08
349.55
-
Hillmorton Jn
09/04
09/58
19/54
19/56
-
84.67
Rugby
09*06 ~ 09*11
10/00 [U+D S]
19/52
19/54 [UF]
340.25
-
Rugby Trent Valley Jn
09/13
10/02½
19/49
19/53 [UF]
-
-
Brinklow
09*20 ~ 09*33 [DPL]
10/05½ [DM]
-
Attleborough Jn
09/41
10/14 [DS]
99.37
Nuneaton
09.44a ~ 09.47d
10.18 ~ 10.20½ [P2]
19.32a ~ 19.34d
19.34 ~ 19.35 [P5] [US]
325.55

112.39

Tamworth Low Level
09/59
10/35 [P2]
19/20
19/22 [UF]
312.53

118.50

Lichfield TV Low Level
10/04
10/43½ [P1]
19/16
19/18 [UF]
306.42

123.58

Armitage Jn
10/08
10/49½ [DF]
19/12
19.08½ ~ 19.12
301.34

129.35

Colwich Jn
10*17 ~ 10*33
10/53
19/01
19/03 [US]
295.57

141.16

Stone Jn
10/43
11/04
18/52
18/54
283.76
-
Stoke Jn
10/51
11/09½
18/44
18/47½
-

148.16

Stoke-on-Trent
10/53
11/10½ [P2]
18/43
18/46½ [UM]
276.76

154.47

Kidsgrove
11/00
11/17
18/35
18/36
270.45

160.21

Congleton
11/05
11/21½
18/30
18/31
264.71

168.13

Macclesfield
11/12
11/28
18/21
18/23
256.79

177.69

Cheadle Hulme
11/22
11/38
18/10
18/13½
247.23
-
Adswood Road
11/23
11/39 [DF]
18/09
18/12
-

179.68

Edgeley Jn No.1
11/24
11/41
18/07
18/09½
245.24

180.10

Stockport
11/25
11/42 [P3]
18/06
18/08 [P2]
245.02

180.65

Heaton Norris Jn
11/28
11/43½
18/04
17.56½ ~ 18.05 [UF]
244.27
-
Ash Bridge Jn
11/30
11/46
17/53
17/54½
-

184.75

Denton Jn
11/35
11.50½ ~ 11.51
17/48
17/49
240.17

188.16

Ashton Moss North Jn
11/41
11/59
17/42
17/43½
236.76

191.18

Baguley Fold Jn
11/45
12/02½
17/38
17/35½
233.74

192.01

Philips Park West Jn
11/48
12/04
17/36
17.28 ~ 17.32
233.11

192.31

Brewery Jn
11/55
12/06 [DPL]
17/31
17L16 ~ 17L24½
232.61

192.73

Thorpes Bridge Jn
11*59 ~ 12*12
12.08½ ~ 12.10
17/29
17/15 [UPL]
232.19

195.36

Vitriol Works SB
12/18
12/18
17/25
17/10½
229.56
-
Castleton South Jn
??
12/25½
17/21
17.04 ~ 17.04½
226.19

199.25

Castleton East Jn
12.25 ~ 12.30
12.27½ ~ 12.37

199.62

Castleton North Jn
12t35 ~ 12t37
12/41
17t16 ~ 17t18
16.57 ~ 17.00½
225.70

200.37

Hopwood G.F.
12*40 ~ 12*50
12.44 ~ 12.52
17*03 ~ 17*13
16.45½ ~ 16.55
225.15

200.51

Heywood
12t58 ~ 13t03
12.54 ~ 12.56
16t43 ~ 16t58
16/44
225.01

204.66

Bury Bolton Street
13/23
13/11½ [P3]
15.25a ~ 16.30d
15.17½ ~ 16.31 [P3]
220.66

208.63

Ramsbottom
13t37 ~ 13t39
13/28 [P2]
15t04 ~ 15t06
15/04½ [P1]
216.69

212.66

Rawtenstall
14.10a
13.43½
14.50d
14.52
212.66