12th - 15th October 2007
Hertfordshire Rail Tours
The Autumn West Highlander
| | |
| --- | --- |
| Locos Used | 37410, 37417, 67021 & 90028 |
| Stock Used | 17105+3390+3348+1692+3397+3426+3330+3356+1671+3345+2834 |
Route:
1Z71 : London Euston to Penrith: North Lakes
1Z72 : Penrith: North Lakes to Dumbarton Central
1Z21 : Dumbarton Central to Oban
1Z22 : Oban to Dumbarton Central
1Z23 : Barrhead to Ayr
1Z24 : Ayr to Stranraer
1Z25 : Stranraer to Barrhead
1Z62 : Dumbarton Central to Carstairs
1Z36 : Carstairs to London Euston
| | | |
| --- | --- | --- |
| Date | Loco(s) | Route |
| 12/10 | 90028 | London Euston - Watford Junction - Bletchley - Northampton - Rugby - Nuneaton - Tamworth Low Level - Stafford - Crewe - Warrington Bank Quay - Wigan North Western - Preston - Lancaster - Penrith - Carlisle - Lockerbie - Carstairs - Law Jn - Motherwell - Braidhurst Down Loop |
| 12/10 | 67021 | Braidhurst Down Loop - Mossend North Jn - Coatbridge Central - Gartcosh Jn - Springburn - Cowlairs North Jn - Westerton - Dalmuir - Dumbarton Central |
| 13/10 | 37410 + 37417 | Dumbarton Central - Craigendoran Jn - Helensburgh Upper - Ardlui - Crianlarich - Oban |
| 13/10 | 37417 + 37410 | Oban - (reverse of outward route) - Dumbarton Central |
| 14/10 | 37410 (1) | Barrhead - Lugton - Kilmarnock |
| 14/10 | 37417 (2) | Kilmarnock - Barassie Jn - Ayr - Girvan - Stranraer |
| 14/10 | 37410 (1) | Stranraer - (reverse of outward route) - Kilmarnock |
| 14/10 | 37417 (2) | Kilmarnock - (reverse of outward route) - Barrhead |
| 15/10 | 37417 + 37410 | Dumbarton Central - (reverse of outward route) - Mossend North Jn - Mossend East Jn - Holytown Jn - Law Jn - Carstairs |
| 15/10 | 90028 | Carstairs - (reverse of outward route) - London Euston |
Notes:
(1) 37417 on rear.
(2) 37410 on rear.
Richard Pudduck (joined/left the train at Watford Junction)



Photo Review
(all photos: Richard Pudduck)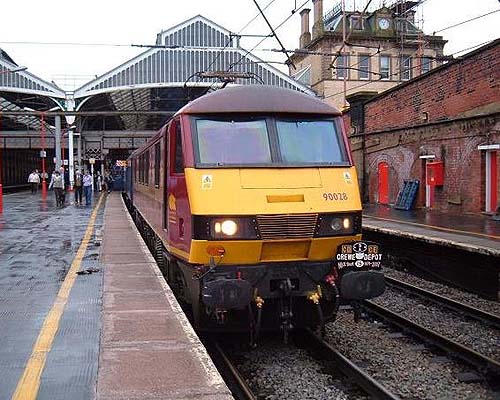 90028 on the outward journey at Preston on October 12th.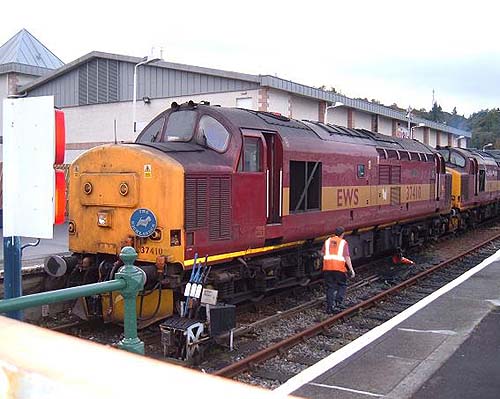 37410 and 37417 on arrival into Oban on October 13th.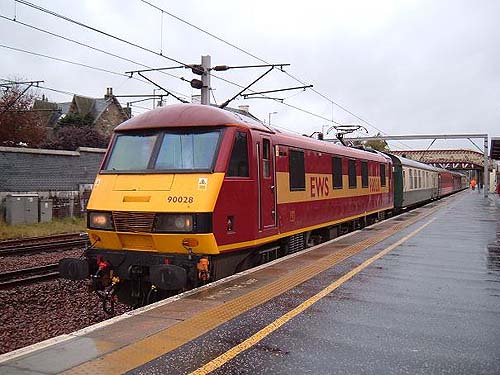 90028 ready to depart Carstairs on October 15th.


Timings (Booked & Actual)
(from various including Richard Pudduck)
12/10/07 & 15/10/07
Location
Booked
Actual
Booked
Actual
London Euston
07.25d
07.24
20.26a
20.26
Camden South Jn
07/28
?
20.23
?
Camden Jn
07/28
?
20/22
?
West London Jn
07/32
07/35
20/20
20/18
Wembley Central
07/37
?
20/18
?
Harrow & Wealdstone
07/42
07/39
20/14
20/09
Watford Junction
07.47a ~ 07.50d
07.44 ~ 07.50
20.04a ~ 20.07d
20.02 ~ 20.04
Bourne End Jn
07/58
?
19/57
?
Tring
08/04
08/01
19/52
19/51
Ledburn Jn
08/11
?
19/44
?
Bletchley
08/18
08/11
19/36
19/41
Milton Keynes Central
08.21a ~ 08.24d
08.16 ~ 08.24
19.29a ~ 19.32d
19.34 ~ 19.37
Hanslope Jn
08/30
?
19/22
?
Northampton
08.39a ~ 08.42d
08.37 ~ 08.42
19.08a ~ 19.11d
??.?? ~ ??.??
Long Buckby
08/53
?
18/54
?
Hillmorton Jn
09/11
?
18/45
?
Rugby
09/13
09/12
18/44
18/51
Trent Valley Jn
09/14
?
18/42
?
Brinklow
09/19
?
?
?
Attleborough Jn
09/24
?
?
?
Nuneaton
09.26 ~ 09.28
09.26 ~ ??.??
18.29 ~ 18.31
18.36 ~ 18.37
Tamworth Low Level
09/37
?
18/20
18/27
Lichfield Trent Valley
09/41
09/39
18/16
18/23
Armitage Jn
09/44
?
18/13
?
Colwich Jn
09/47
09/47
18/09
18/16
Stafford No.4
09/56
?
?
?
Stafford
09/57
09/52
18/00
18/11
Norton Bridge
10/02
09/58
17/57
18/08
Madeley
10/09
?
17/46
?
Basford Hall Jn
10/13
?
17/42
?
Crewe
10c17 ~ 10c19
10.14 ~ 10.19
17/39
17/54
Crewe Coal Yard
10/21
?
17/38
?
Winsford SB
10/26
?
17/27
?
Weaver Jn
10/32
10/34
17*12 ~ 17*20
17/31
Acton Grange Jn
10/36
?
17/08
?
Warrington Bank Quay
10/38
10/38
17/03
17/23
Dallam Jn
10/39
?
17/02
?
Winwick Jn
10/41
10/41
17/00
17/20
Springs Branch Jn
10/45
?
16/56
?
Wigan South Jn
10/46
?
16/55
?
Wigan North Western
10/47
10/47
16/55
17/14
Balshaw Lane Jn
10/52
?
16/50
?
Euxton Jn
11/00
10/55
16/49
17/06
Preston
11*05 ~ 11*22
11.01 ~ 11.28
16c41 ~ 16c43
17.00 ~ 17.01
Lancaster
11/40
11/47
16/21
16/43
Morecambe South Jn
11/41
11/49
16/18
16/41
Carnforth UPL
16*03 ~ 16*12
?
Carnforth North Jn
11/44
11/53
16/01
16/39
Oxenholme: Lake District
11/52
12/01
15/52
16/31
Tebay
12/05
?
15/43
?
Shap Summit
?
12/16
?
16/15
Penrith: North Lakes
12.20a ~ 16.00d
12.26 ~ 16.00
15/30
16/06
Carlisle
16*15 ~ 16*28
16.16 ~ 16.19
14*50 ~ 15*15
15.30 ~ 15.34
Gretna Jn
16/42
16/27
14/39
15/22
Cove LC / Sig. MC862/863
16/45
?
?
?
Lockerbie
16/56
16/38
14/21
15/11
Beattock
17*09 ~ 17*22
?
14/11
?
Beattock Summit
17/36
16/57
14/05
14/57
Abington
17/44
?
14/00
?
Carstairs South Jn
17/58
?
13/50
?
Carstairs
17/59
17/19
10L50a ~ 13L48d
11.09 ~ 14.37
Lanark Jn
18/03
?
10/47
?
Law Jn UPL
10*22 ~ 10*34
??.?? ~ 10.35
Law Jn
18/16
17/27
10/20
?
Shieldmuir Jn
18/18
?
Motherwell
18/23
17/49
Braidhurst Down Loop
18L25 ~ 18L51
17.50 ~ 18.52
Mossend South Jn
18/58
?
Holytown Jn
10/11
10/09
Mossend East Jn
10/09
10/08
Mossend North Jn
18/59
?
10/08
?
Mossend Yard ML
19/00
?
10/07
?
Whifflet South Jn
19/08
?
10/05
?
Coatbridge Central
19/10
19/10
10/02
10/02
Gartsherrie South Jn
19/11
?
09/59
?
Gartcosh Jn
19/18
19/16
09/56
?
Springburn
19/27
19/29
09/45
09/42
Cowlairs West Jn
19/38
?
09/43
?
Cowlairs North Jn
19/40
?
09/42
?
Westerton
19/47
19/48
09/32
09/31
Dalmuir
19/58
19/59
09/23
09/22
Dumbarton Central
20.06a
20.14
09.13d
09.08
13/10/07
| | | | | | |
| --- | --- | --- | --- | --- | --- |
| Location | Booked | Actual | | Booked | Actual |
| Dumbarton Central | 07.26d | 07.34 | | 22.07a | 22.12 |
| Dalreoch | 07/28 | 07/38 | | 22/05 | 22/05 |
| Craigendoran Jn | 07/40 | 07/46 | | 21/50 | 22/03 |
| Helensburgh Upper | 07.45a ~ 07.50d | 07.51 ~ 07.55 | | 21.35a ~ 21.40d | ??.?? ~ ??.?? |
| Garelochhead | 08.02 ~ 08.04 | 08.08 ~ 08.10 | | 21.20 ~ 21.22 | 21.42 ~ 21.43 |
| Glen Douglas | 08/21 | ? | | 21/07 | ? |
| Arrochar & Tarbet | 08.30 ~ 08.32 | 08.30 ~ 09.00 | | 20.50 ~ 20.52 | 21/14 |
| Ardlui | 08.46 ~ 08.56 | ? | | 20.31 ~ 20.33 | ? |
| Crianlarich | 09.20 ~ 09.25 | 09.36 ~ 09.39 | | 20.09 ~ 20.13 | 20.31 ~ 20.32 |
| Tyndrum Lower | 09.33 ~ 09.35 | 09.48 ~ 09.50 | | 19.58 ~ 20.00 | 20.20 ~ 20.22 |
| Dalmally | 09.53 ~ 09.55 | ? | | 19.35 ~ 19.37 | 19/50 |
| Taynuilt | 10.14 ~ 10.16 | 10.28 ~ 10.30 | | 19.14 ~ 19.16 | 19.25 ~ 19.26 |
| Oban | 10.44a | 10.57 | | 18.45d | 18.45 |
14/10/07
| | | | | | |
| --- | --- | --- | --- | --- | --- |
| Location | Booked | Actual | | Booked | Actual |
| Barrhead | 08.40d | 08.50 | | 22.32a | 22.32 |
| Lugton | 08/51 | 09/01 | | 22*14 ~ 22*24 | 22.19 ~ 22.23 |
| Kilmarnock | 09.01 ~ 09.06 | 09.13 ~ 09.17 | | 21.43 ~ 22.01 | 21.38 ~ 22.01 |
| Barassie Jn | 09/17 | 09.29 ~ 09.29 | | ? | 21/25 |
| Prestwick International | 09/22 | 09/35 | | ? | 21/16 |
| Newton-on-Ayr | 09/25 | ? | | ? | ? |
| Ayr | 09.32a ~ 13.18d | 09.43 ~ 13.18 | | 20.48a ~ 21.13d | 20.16 ~ 21.07 |
| Maybole | 13.31 ~ 13.41 | 13/37 | | ? | 20/04 |
| Kilkerran | 13.51 ~ 13.53 | ? | | 20.25 ~ 20.27 | ? |
| Girvan | 14.12 ~ 14.14 | 13.51 ~ 13.57 | | 20.10 ~ 20.12 | 19.46 ~ 19.47 |
| Barrhill | 14.39 ~ 14.41 | 14/23 | | 19.46 ~ 19.48 | 19/24 |
| Glenwhilly | 14*55 ~ 15*07 | 14.36 ~ 15.07 | | 19.31 ~ 19.33 | 19/05 |
| Dunragit | 15*17 ~ 15*37 | 15.22 ~ 15.23 | | 18*51 ~ 19*13 | 18/51 |
| Stranraer | 15.48a | 15.34 | | 18.40d | 18.40 |