6th October 2007
(Private Charter)
Alan Spencer's 60th Birthday
| | |
| --- | --- |
| Loco Used | 31128 'Charybdis' , 31452 'Minotaur' & 31454 'The Heart of Wessex' |
| Stock Used | 'Queen of Scots set' : 35+86+9004+159+807+41 |
Route:
1Z51 : 08.28 Kensington Olympia to Derby
1Z53 : 16.48 Derby to Kensington Olympia
| | |
| --- | --- |
| Loco(s) | Route |
| 31452 + 31454 (1) | Kensington Olympia [P2] - Mitre Bridge Jn - Down Willesden Relief - Wembley Central - Harrow & Wealdstone - Watford Junction [P8] - Northampton [P2] - Up & Down Slow - Mill Lane Jn - Rugby - Coventry - Birmingham International [P2] - Stetchford - Aston - Perry Barr West Jn - Soho North Jn - Smethwick West - Stourbridge Junction - Kidderminster - Tunnel Jn - Worcester Shrub Hill [P2] |
| 31128 (2) | Worcester Shrub Hill [P2] - Worcester Foregate Street [P1] |
| 31452 + 31454 (1) | Worcester Foregate Street [P2] - Tunnel Jn - Droitwich Spa - Bromsgrove - Barnt Green - Kings Norton - St Andrews Jn - Water Orton - Kingsbury Jn - Wichnor Jn - Burton on Trent - Derby [P1] |
| 31452 (3) | Derby [P6] - Long Eaton - Trent South Jn - Ratcliffe Jn (Up Fast to Up Slow) - Loughborough - Syston South Jn (Up Slow to Up Fast) - Leicester [P3] - Kettering - Wellingborough - Bedford North Jn (Up Fast to Up Slow) - Bedford [P1] - Ridgmont - Bletchley [P6] - (reverse of outward route) - Kensington Olympia [P1] |
Notes:
(1) 31128 on rear.
(2) 31454 & 31452 on rear.
(3) 31454 on rear.
Source : Stuart Smith (on the train throughout)



Tour Review
(by Stuart Smith, including photos except where stated)
Alan Spencer is a life-long railway man. He is a driver through and through, although he has since held many other positions, including his current post for Victa-Westlink. (This tour was planned to cover many of the routes he used to work over in his career).
The day started at Kensington Olympia, and shortly after 8.20am the Queen of Scots set rolled into Platform 2, accompanied by 3 Class 31's. The expected motive power was to have been 47237 and 47832, but problems prior to the Saturday had led to the 'ped' substitution.
Our first decision was to choose which coach to sit in. Being a Western Region driver, I should have gone for the Great Western Saloon, but instead we settled for the comfy armchairs of the Great Northern vehicle, although during the day, I did try out the other 5 vehicles to see what they had to offer. The coaches are passed for 75mph and ride very bumpy and rough at that speed. However, it's worth remembering that the vehicles do date from as far back as 1892, so perhaps it was not that bad considering!
At 08.30, we set off towards Mitre Bridge and the WCML, we trundled past Wembley Yard and headed north towards Watford and the Northampton Loop. Breakfast bacon and sausage rolls were served at our seats during this section, accompanied by endless amounts of tea, coffee and orange juice.
This weekend saw the main lines to Rugby closed; so all services were going via Northampton too.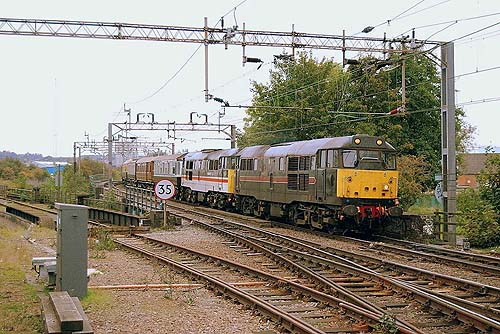 The train approaches Northampton (photos: Andy Hoare)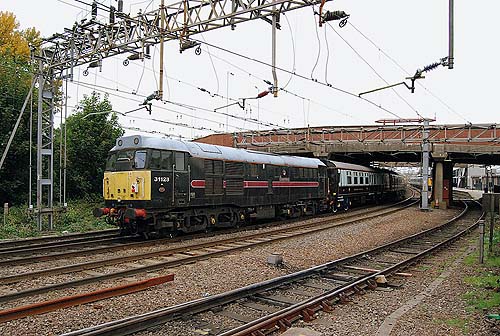 Just beyond the station we were held on the slow line to allow a Pendolino and 350 to pass in front. Once these had cleared we set off again. Stabled at Daventry were 66405, 66419 and 66429. At Rugby, we passed through the new track formation and then on towards Coventry and Birmingham.
A short 'leg stretching' break was taken at International. This also enabled Alan's friends and family from 'up North' to join the days celebration. We departed on time and shortly after took the Stetchford to Aston route, before traversing the little used curves at Perry Barr and Soho Jcts.
Again, more food was served, this time pastries and croissants with drinks.
From here it was a straight-forward journey down to Kidderminster and Worcester Shrub Hill.
The plan had been to reverse straight back, but for some reason it was decided to turn the set via Foregate Street. However, this was less than simple, as we all had to detrain whilst the stock was shunted from Platform 1 to 2. This enabled more photo opportunities, but did cost us around 25 minutes in delays.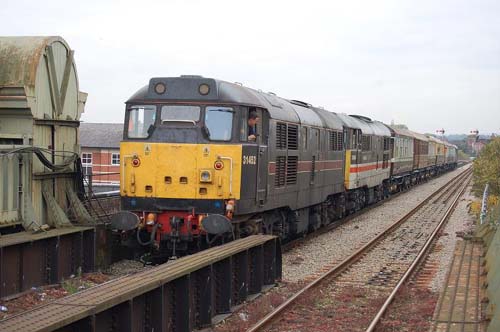 31452 & 31454 bring up the rear at Worcester Foregate Street.
Once on the move again, we returned to Droitwich and then turned right towards Bromsgrove and the Lickey Incline…… No worries, we made it to the top in fine style with plenty of clag and credibly without a huge reduction in speed.
We had an 'additional' stop at Barnt Green to drop off an extra passenger who had wrongly boarded at Worcester…. Quite how he confused a six carriage vintage train with 3 locomotives for the usual 2-car bright green plastic unit, I will never know. But hey, you know what the general public are like!
On the move again we turned right at King's Norton and took the Camp Hill line, eventually emerging at the redundant Saltley Depot. From here it was a direct run via Water Orton and Burton on Trent to reach Derby.
Lunch had been provided at the nearby Brunswick Arms, which by great coincidence, was hosting a beer festival that weekend. So not only was curry and stew available to eat, but it could be accompanied with fine ales too. Around 2 hours was available to sample the 'brews'.
During the lunch break, Alan was presented with various gifts and presents from friends and colleagues, including two paintings of his 'favourite' locomotives.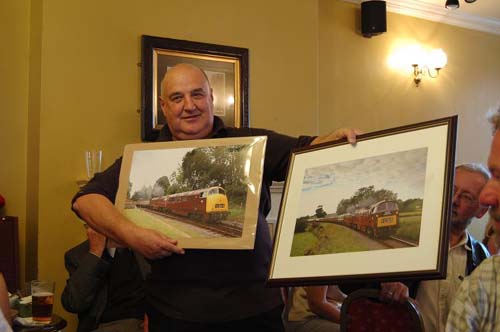 So, suitably refreshed, we were back on board and duly set off homeward. Our routing took us over to Trent, before taking the Midland Mainline down to Loughborough and Leicester. A brief crewe change was made before continuing down to Bedford. Here we swung left and onto the Bletchley line. Passing the virtual quarry at Stewartby, several class 66's were noted being prepared for their next departures. Just prior to Bletchley station, we passed the Silverlink depot and of note was the resident gronk, 08874.
Late evening snacks and nibbles, again with plenty of drink, were served as we headed along this secondary route.
Re-joining the WCML, we took the Up Relief as far Wembley, before retracing our steps down to Olympia.
So that was that, a completely different type of railtour to normal, but a thoroughly enjoyable day out nonetheless. Most importantly though, it was a pleasure to be in Alan's company on his special day and I was grateful for the invitation.