5th - 8th October 2007
Railway Touring Company
The Autumn Highlander
[incorporating Beaver Sports (Yorkshire) Ltd's 'Deltic Autumn Weekender']
| | |
| --- | --- |
| Locos Used | 40145 'East Lancashire Railway', 50049 'Defiance' & 55022 'Royal Scots Grey' |
| Stock Used | 17015+3120+1671+3066+3069+3149+3119+1696+3121+2834 |
Route:
1Z50 : London Kings Cross to Inverness
1Z21 : Inverness to Strathcarron
1Z31 : Strathcarron to Inverness
1Z23 : Inverness to Thurso
1Z24 : Thurso to Inverness
1Z55 : Inverness to London Kings Cross
Date
Loco(s)
Route
05/10
55022 (1) (3)
London Kings Cross - Stevenage - Peterborough - Doncaster - Temple Hirst Jn - Hambleton South Jn - Hambleton North Jn - Colton Jn - York - Newcastle - Edinburgh Waverley - Kirkcaldy - Perth
05/10
40145+50049
Perth - Pitlochry - Aviemore - Inverness
06/10
(4)
06/10
50049 (2)
Inverness - Millburn Jn
06/10
40145 (1)
Millburn Jn - Strathcarron (5)
06/10
50049 (2)
Strathcarron - Millburn Jn
06/10
40145 (1)
Millburn Jn - Inverness
07/10
50049 (2)
Inverness - Millburn Jn
07/10
40145 (1)
Millburn Jn - Dunrobin (6) - Wick
07/10
50049 (2)
Wick - Thurso
07/10
40145 (1)
Thurso - Georgemas Junction
07/10
50049 (2)
Georgemas Junction - Millburn Jn
07/10
40145 (1)
Millburn Jn - Inverness
08/10
50049 (7)
Inverness - (reverse of outward route) - Perth
08/10
55022+50049 (2)
Perth - (reverse of outward route) - Colton Jn - Church Fenton - Gascoigne Wood Jn - Hambleton West Jn - Hambleton South Jn - (reverse of outward route) - London Kings Cross
Notes :
(1) 50049 on rear.
(2) 40145 on rear.
(3) 50049 was powered up north of Newcastle to provide occasional assistance to 55022 which had developed a minor fault later rectified at Bo'ness before working to Oban on the 6th.
(4) 6th October started with an off train excursion to Aviemore for a steam hauled return trip to Broomhill run round loop on the Strathspey Railway.
(5) Short notice engineering work preventing the train reaching Kyle of Lochalsh. Permission was given by the organiser for people to remain on the train and travel to Achnasheen and return on the otherwise empty stock move if they so wished (required to get out of the way of the services starting from and terminating at Strathcarron whilst the coach tour was in progress). 50049 appeared to provide some assistance from the back of the train on the outward climb to Ravens Rock. Off-train options offered at Strathcarron were;
a) Portree - because of the engineering work there was only a twenty minute stop at the destination
b) Eillen Donan Castle, Loch Duig, Kyleakin and Kyle of Lochalsh
c) Armadale
(6) 50049 was used to assist positioning the train at the Dunrobin stop for passengers to visit the castle.
(7) Plus 40145 dead-in-tow ('for operational reasons').
(8) Over the same weekend Beaver Sports (Yorkshire) Ltd advertised their 'Deltic Autumn Weekender' which used the RTC tour between London and Perth on the 5th and 8th October. Road coaches were then to transfer participants to Dundee for three nights stay in a local hotel. On Saturday 6th participants were to travel on a S.R.P.S. Railtours outing from Dundee to Oban using 55022 throughout (did it run? Confirmation and details are required). Sunday 7th was designated as a 'free day' (allowing participants to make their own entertainment as they saw fit). Road coaches on the Monday were to return participants to Perth to rejoin this tour homwewards.
Sources : David Ross & Andy Pullar



Photo Review
(all photos: David Ross)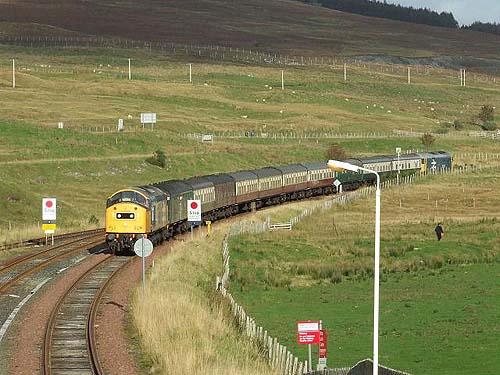 40145 & 50049 at Achnasheen.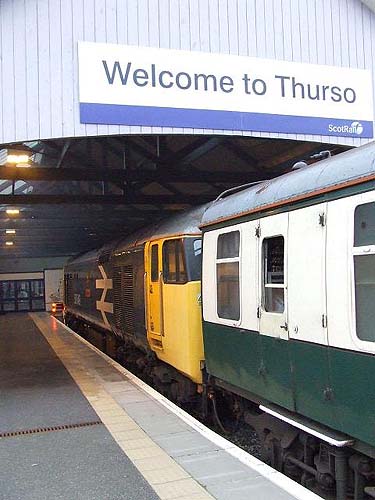 50049 at the stops, Thurso.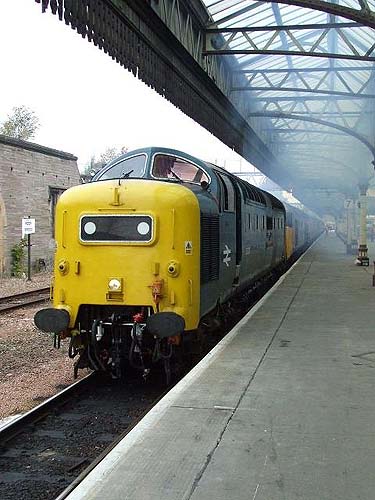 55022 & 50049 at Perth.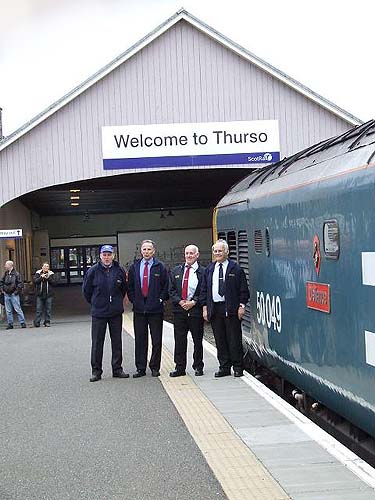 WCRC lads : The crew left to right:
Fletch, John Hunt, Danny Forbes & Bob Duncan


Timings (Booked & Actual)
(from David Ross)
05/10/07 & 08/10/07
Location
Booked
Actual
Booked
Actual
London Kings Cross
07.20d
07.21 [P8]
21.23a
21.22 [P6]
Belle Isle
07/22
07/22
21/18
21/19
Finsbury Park
07/28
07/26
21/13
21/17
Alexandra Palace
07/34
07/29
21/11
21/15
Potters Bar
07/45
07/44
21/05
21/08
Welwyn Garden City
07/54
07/55
20/56
21/00
Woolmer Green Jn
07/58
07/57
20/51
20/55
Stevenage
08.02a ~ 08.04d
08.01 ~ 08.07
20.45a ~ 20.47d
20.47 ~ 20.51
Hitchin
08/10
08/11
20/39
20/43
Sandy
08/19
08/21
20/29
20/33
Huntingdon
08.32a ~ 08.34d
08.34 ~ 08.38
20.12a ~ 20.14d
20.15 ~ 20.19
Holme LC
08/45
08/50
?
?
Peterborough
08.52a ~ 08.54d
09.01 ~ 09.05
19.51a ~ 19.53d
19.54 ~ 19.58
Tallington Jn
09/03
09/14
19/22
19/20
Stoke Tunnel
09/19
09/25
19/03
19/03
Grantham
09.26a ~ 09.28d
09.30 ~ 09.33
18.54a ~ 18.56d
18.55 ~ 18.57
Claypole Loops
09*39 ~ 09*49
?
18*27 ~ 18*43
?
Newark North Gate
09/53
09/54
18/21
18/18
Newark Crossing
09/54
?
18/20
?
Retford
10/07
10/07
18/07
18/06
Loversall Carr Jn
10/17
10/16
17/57
17/56
Doncaster
10/22
10/26
17/49
17/53
Arksey Loop
10*28 ~ 10*43
?
Shaftholme Jn
10/47
10/43
17/46
17/50
Temple Hirst Jn
10/54
10/50
17/39
17/43
Hambleton North Jn
10/58
10/54
Gascoigne Wood Jn
17/31
17/34
Church Fenton
17/25
17/24
Colton Jn
11/04
11/00
17/19
17/20
York
11.12a ~ 11.14d
11.06 ~ 11.14 [P5]
17.09a ~ 17.12d
17.07 ~ 17.14
Skelton Jn
11/17
11/17
17/06
17/03
Tollerton
11/24
11/24
16/59
16/56
Thirsk
11/34
11/32
16/49
16/49
Northallerton
11/41
11/37
16/44
16/44
Darlington
11*54 ~ 12*07
??.?? ~ 12.03
16/34
16/33
Ferryhill South Jn
12/20
12/15
16/22
16/21
Durham
12/28
12/26 [DF]
16/14
16/13
Birtley Jn
12/38
12/36
16/06
16/06
Low Fell Jn
13/04
?
?
?
King Edward Bridge Jns
13/07
13/03
16/02
16/01
Newcastle
13/10
13/07
16/00
15/59
Heaton South Jn
13/16
13/10
15/55
15/42
Morpeth
13/32
13/28
15/36
15/29
Morpeth North Jn
13*34 ~ 14*11
??.?? ~ ??.??
?
?
Alnmouth
14/28
14/27
15/20
15/15
Belford
14/47
14/40
15/06
15/02
Berwick
15/02
15/09 [DGL]
14/54
14/50
Marshall Meadows
15/05
15/13
14/52
14/46
Grantshouse
15/18
15/24
14*14 ~ 14*35
13.59 ~ 14.35
Dunbar
15/30
15/33
14/00
13/50
Drem DPL
15*44 ~ 15*56
??.?? ~ ??.??
Drem
15/58
16/01
13/52
13/41
Monktonhall Jn
16/11
16/12
13/39
13/33
Portobello Jn
16/16
16/14
13/36
13/30
Edinburgh Waverley
16/23
16/26
13/33
13/26
Haymarket
16/27
16/30
13/30
13/18
Haymarket West Jn
16/29
16/32
13/28
13/16
Dalmeny Jn
16/43
16/41
13/09
13/07
Inverkeithing
16/48
16/52
12/59
13/00
Burntisland
16/57
17/02
12/47
12/51
Kirkcaldy
17/05
17/09
12/38
12/43
Thornton South Jn
17/09
17/14
12/33
12/36
Ladybank
17/19
17/23
12/23
12/27
Newburgh
17/40
17/32
12/12
12/16
Perth
18L07 ~ 19L16
18.03 ~ 1916
11L24 ~ 11L56 [P7]
11.26 ~ 12.02
Stanley Jn
19/26
?
11/12
?
Dunkeld & Birnam
19/36
?
11/02
?
Pitlochry
19/49
19/50
10*45 ~ 10*49
10.48 ~ 10.48
Blair Atholl
19/59
?
10/35
?
Dalwhinnie
20/36
20/35
09/54
09/51
Kingussie
20*49 ~ 21*08
20.55 ~ 21.08
09*26 ~ 09*36
09.26 ~ 09.33
Aviemore
21*21 ~ 21*24
21.25 ~ 21.28
09/11
09/11
Carrbridge
21/34
?
09/06
?
Culloden
21/59
?
08/34
?
Inverness
22.09a
22.10
08.20d [P1]
08.20
06/10/07
| | | |
| --- | --- | --- |
| Location | Booked (out) | Booked (rtn) |
| Inverness | 12.30d [P2] | 21.37a [P1] |
| Millburn Jn | 12.33 ~ 12.37 | 21.29 ~ 21.34 |
| Muir of Ord | 12.57 ~ 12.59 | 20*39 ~ 21*02 |
| Dingwall | 13.07 ~ 13.09 | 20.30 ~ 20.32 |
| Garve | 13*33 ~ 13*38 | 20.08 ~ 20.10 |
| Achnasheen | 14.08 ~ 14.10 | 19*25 ~ 19*38 |
| Strathcarron | 14.41a | 18.55d |
07/10/07
| | | |
| --- | --- | --- |
| Location | Booked (out) | Booked (rtn) |
| Inverness | 08.10d [P1] | 22.52a [P1] |
| Millburn Jn | 08.13 ~ 08.18 | 22.44 ~ 22.49 |
| Muir of Ord | 08.38 ~ 08.40 | 21.58 ~ 22.00 |
| Dingwall | 08.48 ~ 08.50 | 21.45 ~ 21.47 |
| Invergordon | 09.10 ~ 09.12 | 21.25 ~ 21.27 |
| Tain | 09.31 ~ 09.33 | 21.05 ~ 21.07 |
| Ardgay | 09.53 ~ 09.55 | 20.44 ~ 20.46 |
| Lairg | 10.19 ~ 10.21 | 20.25 ~ 20.27 |
| Rogart | 10*40 ~ 10*50 | 19*52 ~ 20*00 |
| Dunrobin Castle | 11.07a ~ 13.07d | ? |
| Brora | 13.15 ~ 13.17 | 19.28 ~ 19.30 |
| Helmsdale | 13*33 ~ 13*41 | 19.11 ~ 19.13 |
| Forsinard | 14.23 ~ 14.25 | 18.33 ~ 18.35 |
| Georgemas Junction | 15.00 ~ 15.02 | 17.45 ~ 17.55 |
| Wick | 15.21a ~ 15.31d | - |
| Georgemas Junction | 15.51 ~ 15.53 | - |
| Thurso | 16.08a | 17.30d |