16th September 2007
London Underground Operational Apprentices
1938 Tube Stock Tours on Jubilee Line
| | |
| --- | --- |
| Tube Stock Used | 10012+012256+12048+11012 |
Route:
Trip 1: 374 : Ealing Common to Stanmore
Trip 2: 374 : Canons Park to Wembley Park
Trip 3: 374 : Neasden to Ealing Common
| | | |
| --- | --- | --- |
| Trip | Leading Car | Route |
| 1 | 10012 | Ealing Common - Sudbury Town - Rayners Lane |
| 1 | 11012 | Rayners Lane - (cross via 14 points WB - EB Uxbridge) - West Harrow - Harrow North Jn (cross via 206 points SB L - SB F) - Harrow South Jn (cross via 204 points SB F - SB L) - Wembley Park - Neasden North Jn (cross via 21 points SB Met - SB Jub) - Finchley Road - Baker Street - Green Park - Charing Cross |
| 1 | 10012 | Charing Cross - Green Park - (via normal Jubilee Line route) - Stanmore (1) |
| 2 | 11012 | Canons Park - (via normal Jubilee Line route) - Green Park - Charing Cross |
| 2 | 10012 | Charing Cross - Green Park - (via normal Jubilee Line route) - Stanmore |
| 2/3 | 11012 | Stanmore - Wembley Park - (2) - Neasden - (via normal Jubilee Line route) - Green Park - Charing Cross |
| 3 | 10012 | Charing Cross - Green Park - Baker Street - Neasden North Jn (cross via 27 points NB Jub - NB Met) - Wembley Park (cross via 52 points NB F - NB L) - Rayners Lane |
| 3 | 11012 | Rayners Lane - (cross via 13 points WB - EB Picc) - Sudbury Town - Ealing Common |
Notes :
(1) Stock went to Stamore depot during lunch break, then travelled ECS to Canons Park to start Trip 2.
(2) Passengers holding tickets for Trips 2 AND 3 were allowed to remain on board between Wembley Park & Neasden, as this was the only way to be on both trips.
Taken from information letter :
Russell Priest organised this trip along with the help of Seth Anderson-Crook. They are both currently Apprentices working for London Underground & working alongside the London transport museum to make this event happen! In February 2008, London Underground's Operational Apprentices are hoping to travel to Eskdale in Cumbria to carry out restoration work in aid of the Outward Bound Trust. The Outward Bound Trust is an educational charity that inspires young people to fulfil their potential through challenging outdoor experiences, raising self-esteem and preparing them to face the future with confidence. In order to raise a significant proportion of the money required for the apprentices to travel to Eskdale and carry out this work, we are organising special train trips using the London Transport Museum's 1938 stock unit. By running these special trains, the Apprentices will have raised a large amount of the money required in order for us to visit Eskdale and carry out our work. In addition It will also raise more awareness of the Operational Apprentice scheme and demonstrate the ability of London Underground's young people to organise and deliver high profile events, and demonstrate London Underground's fulfilment of its corporate responsibility. The London Transport Museum will also benefit because it will raise public awareness of their restoration work of heritage trains, as well as gaining publicity for the 1938 stock unit. Importantly, it will also serve as a fun day out for families and enthusiasts alike, who will be able to travel on a working piece of London Underground's history and visit a part of the network which is no longer regularly accessible to passengers.
Sources : PRAR, Alan Sheppard & Dave Sheppard (all on all three trips)



Photo Review
(all photos: Alan Sheppard)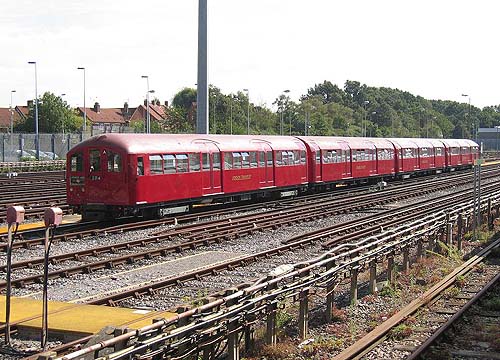 Lunchbreak at Stanmore.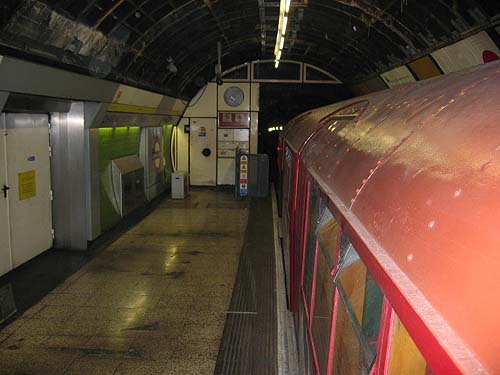 The train at the now disused Charing Cross P3 (above) & P4 (below)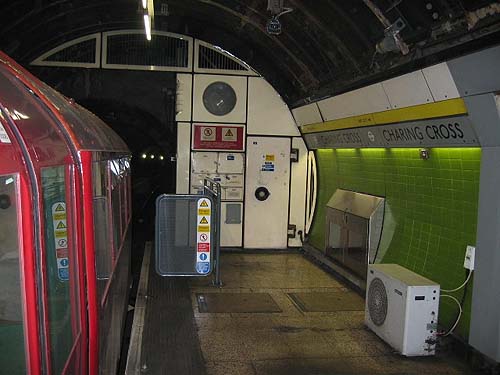 Timings (Booked & Actual)
(from PRAR, Alan Sheppard & Dave Sheppard)
Trip 1
| | | |
| --- | --- | --- |
| Location | Booked | Actual |
| Ealing Common | 10.39d [P1] | 10.40˝ |
| Alperton | 10/45 | 10/46 |
| South Harrow | 10/52 | 10/52 |
| Rayners Lane | 10.55 ~ 10.56 [P1] | 10.55 ~ 10.56 |
| Harrow-on-the-Hill | 11/02 [P5] [LL] | 11.01˝ ~ 11.02 [P6] |
| Northwick Park | 11/04 | 11/03˝ |
| Preston Road | 11/06 | 11/05˝ |
| Wembley Park | 11/08˝ [P5] | 11.08˝ ~ 11.09 |
| Neasden | 11/13 [P3] | 11/13˝ |
| Dollis Hill | 11/14˝ | 11/15 |
| Willesden Green | 11/16˝ | 11/16˝ |
| Kilburn | 11/18˝ | 11/18 |
| West Hampstead | 11/20˝ | 11.20˝ ~ 11.20˝ |
| Finchley Road | 11/22 [P3] | 11/22 |
| Swiss Cottage | 11/23˝ | 11.23˝ ~ 11.24 |
| St. Johns Wood | 11/25˝ | 11.25˝ ~ 11.25˝ |
| Baker Street | 11/29 [P7] | 11/29 |
| Bond Street | 11/31˝ | 11/31 |
| Green Park | 11/34 | 11.33 ~ 11.33˝ |
| Charing Cross | 11.36˝ ~ 11.41˝ [P3] | 11.36˝ ~ 11.43 |
| Green Park | 11/44 | 11.44˝ ~ 11.45 |
| Bond Street | 11/46˝ | 11/46˝ |
| Baker Street | 11/49 [P10] | 11/49 |
| St. Johns Wood | 11/52˝ | 11/52˝ |
| Swiss Cottage | 11/54 | 11/53˝ |
| Finchley Road | 11/56 [P2] | 11.55˝ ~ 11.56 |
| West Hampstead | 11/57˝ | 11/57˝ |
| Kilburn | 11/59˝ | 11/59 |
| Willesden Green | 12/01˝ | 12/01˝ |
| Dollis Hill | 12/03˝ | 12/03 |
| Neasden | 12/05 | 12/05 |
| Wembley Park | 12/08˝ | 12.08˝ ~ 12.09˝ |
| Kingsbury | 12/12˝ | 12/13 |
| Queensbury | 12/14˝ | 12/14˝ |
| Canons Park | 12/17 | 12/17 |
| Stanmore | 12.20˝a [P1] | 12.20 |
Trip 2
| | | |
| --- | --- | --- |
| Location | Booked | Actual |
| Canons Park | 13.04˝d | 13.05 |
| Queensbury | 13/07 | 13/07 |
| Kingsbury | 13/09 | 13.08 ~ 13..09 |
| Wembley Park | 13/14˝ | 13.14 ~ 13.15˝ |
| Neasden | 13/17˝ [P3] | 13/18˝ |
| Dollis Hill | 13/19 | 13/19˝ |
| Willesden Green | 13/21 | 13.21˝ ~ 13.22 |
| Kilburn | 13/23 | 13/23˝ |
| West Hampstead | 13/25 | 13/26˝ |
| Finchley Road | 13/26˝ [P3] | 13/27˝ |
| Swiss Cottage | 13/28 | 13.29 ~ 13.29 |
| St. Johns Wood | 13/30 | 13.31 ~ 13.31 |
| Baker Street | 13/33˝ [P7] | 13/34˝ |
| Bond Street | 13/36 | 13.37˝ ~ 13.38 |
| Green Park | 13/38˝ | 13/40˝ |
| Charing Cross | 13.41 ~ 13.48 [P4] | 13.43˝ ~ 13.49 |
| Green Park | 13/50˝ | 13.55 ~ 13.55˝ |
| Bond Street | 13/53 | 13/57˝ |
| Baker Street | 13/55˝ [P10] | 14.00 ~ 14.00˝ |
| St. Johns Wood | 13/59˝ | 14/03˝ |
| Swiss Cottage | 14/00˝ | 14/05 |
| Finchley Road | 14/02˝ [P2] | 14.07 ~ 14.07˝ |
| West Hampstead | 14/04 | 14/09 |
| Kilburn | 14/06 | 14.10˝ ~ 14.10˝ |
| Willesden Green | 14/08 | 14.13 ~ 14.13 |
| Dollis Hill | 14/10 | 14/15 |
| Neasden | 14/11˝ | 14.16˝ ~ 14.17 |
| Wembley Park | 14/15˝ | 14/21 |
| Kingsbury | 14/18˝ | 14/24˝ |
| Queensbury | 14/20˝ | 14/25˝ |
| Canons Park | 14/22˝ | 14.29˝ ~ 14.30˝ |
| Stanmore | 14.24˝ ~ 14.25˝ [P2] | 14.33˝ ~ 14.38˝ [P1] |
| Canons Park | 14/27˝ | 14/40 |
| Queensbury | 14/30 | 14/42˝ |
| Kingsbury | 14/32 | 14/48 |
| Wembley Park | 14.36a ~ 14+37 [P4] | 14.49˝ ~ 14.52 |
Trip 3
| | | |
| --- | --- | --- |
| Location | Booked | Actual |
| Neasden | 14+40 ~ 14.41d [P3] | 14.54˝ ~ 14.56˝ |
| Dollis Hill | 14/42˝ | 14/57˝ |
| Willesden Green | 14/44˝ | 14.59˝ ~ 15.00 |
| Kilburn | 14/46˝ | 15/01˝ |
| West Hampstead | 14/48˝ | 15/03 |
| Finchley Road | 14/50 [P3] | 15/04 |
| Swiss Cottage | 14/51˝ | 15.05˝ ~ 15.05˝ |
| St. Johns Wood | 14/53˝ | 15/07˝ |
| Baker Street | 14/57 [P7] | 15.10 ~ 15.10 |
| Bond Street | 14/59˝ | 15.12˝ ~ 15.12˝ |
| Green Park | 15/02 | 15.14 ~ 15.14˝ |
| Charing Cross | 15.04˝ ~ 15.15 [P3] | 15.16˝ ~ 15.21 |
| Green Park | 15/17˝ | 15.27 ~ 15.27˝ |
| Bond Street | 15/20 | 15.29 ~ 15.29˝ |
| Baker Street | 15/22˝ [P10] | 15.31˝ ~ 15.32 |
| St. Johns Wood | 15/26 | 15.36 ~ 15.36˝ |
| Swiss Cottage | 15/27˝ | 15.38 ~ 15.38 |
| Finchley Road | 15/29˝ [P2] | 15/39 |
| West Hampstead | 15/31 | 15/40˝ |
| Kilburn | 15/33 | 15/42 |
| Willesden Green | 15/35 | 15/46 |
| Dollis Hill | 15/37 | 15/47 |
| Neasden | 15/39 [P2] | 15.49˝ ~ 15.50 |
| Wembley Park | 15/43 [P1] [FL] | 15.54˝ ~ 15.55˝ [P2] [LL] |
| Preston Road | 15/45˝ | 15/57 |
| Northwick Park | 15/47˝ | 15/59˝ |
| Harrow-on-the-Hill | 15/50˝ [P.4] | 16/02 |
| Rayners Lane | 15.56 ~ 15.58 [P1] | 16.06˝ ~ 16.09 |
| South Harrow | 16/02 | 16/12 |
| Alperton | 16/07˝ | 16/18˝ |
| North Ealing | 16/10˝ | 16/23 |
| Ealing Common | 16.14a [P2] | 16.25 |