2nd September 2007
Past Time Rail
The Torbay Express
| | |
| --- | --- |
| Loco(s) Used | 37410 & 37417 |
| Stock Used | ????? (2) |
Route:
1Z27 : Bristol Temple Meads to Kingswear
1Z28 : Kingswear to Bristol Temple Meads
| | |
| --- | --- |
| Locos | Route |
| 37410 + 37417 | Bristol Temple Meads - Weston-super-Mare - Taunton - Exeter St Davids - Newton Abbot - Paignton - Kingswear |
| 37417 + 37410 | Kingswear - (reverse of outward route) - Bristol Temple Meads |
Notes:
(1) This was the ninth of a series that was booked to run on the ten Sunday's between 8th July and 9th September 2007. This train was originally booked for haulage by steam: 6024 'King Edward I' but this loco was unavailable due to a piston rod problem.
(2) Stock 'was per previous steam turns with a Virgin MK2 locked out of use as a barrier vehicle'.
(3) Adrian Noel comments: Timings were as booked west - meaning sitting around at prescribed water stops to facilitate pick-up times. On the return these stops were irrelevant so an arrival at Bristol Temple Meads was somewhere around 50mins early.
Sources : Gary Thornton (from contemporary sources) & Adrian Noel



Photo Review
(all photos: Adrian Noel)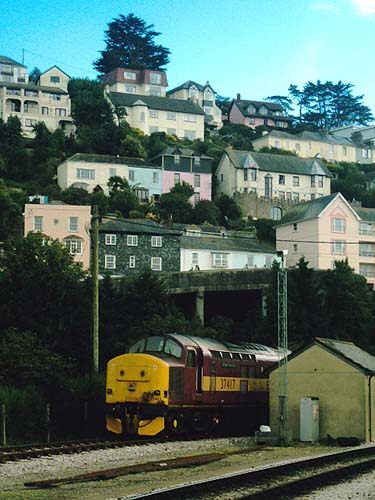 37417 at Kingswear.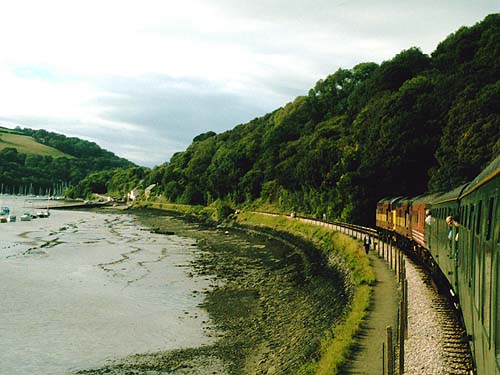 The pair, en-route.


Timings (Booked Only)
(from Adrian Noel)
| | | | | |
| --- | --- | --- | --- | --- |
| Miles | Location | Booked (out) | Booked (rtn) | Miles |
| 0.0 | Bristol Temple Meads | 09.19d | 21.44a | 112.0 |
| 16.8 | Worle Jn | 09/36 | 21/20 | 95.2 |
| 19.1 | Weston-super-Mare | 09.42a ~ 09.44d | 21.10a ~ 21.15d | 92.9 |
| 20.8 | Uphill Jn | 09/49 | 21/06 | 91.2 |
| 28.1 | Highbridge & Burnham | 09/57 | 20/56 | 83.9 |
| 28.5 | Highbridge U/DGL | 09*59 ~ 10*06 | - | - |
| 34.4 | Bridgwater | 10/14 | 20/50 | 77.6 |
| 41.1 | Cogload Jn | 10/22 | ? | ? |
| 45.9 | Taunton | 10w29a ~ 10w54d | 20w17a ~ 20w37d | 66.1 |
| 60.1 | Tiverton Parkway | 11/10 | 19/57 | 51.9 |
| 75.6 | Cowley Bridge Jn | 11/24 | ? | ? |
| 76.6 | Exeter St Davids | 11w27a ~ 11w46d | 18w44a ~ 19w34d | 35.4 |
| 87.1 | Dawlish Warren | 12/00 | 18/29 | 24.9 |
| 96.8 | Newton Abbot | 12/10 | 18/16 | 15.2 |
| 103.4 | Torquay | 12/19 | 18/03 | 8.6 |
| 105.5 | Paignton | 12.29a ~ 12.49d | 17.51a ~ 17.57d | 6.5 |
| 112.0 | Kingswear | 13.16a | 17.17d | 0.0 |