1st September 2007
Pathfinder Tours
The Alliance Cambrian Coast Express
| | |
| --- | --- |
| Loco Used | D1015 'Western Champion' |
| Stock Used | 21272+3120+3121+1699+3112+3140+3107+1863+5009+4927+5350 |
Route: (1)
1Z52 : Swindon to Aberystwyth
1Z53 : Aberystwyth to Swindon
| | |
| --- | --- |
| Loco | Route |
| D1015 | Swindon - Stroud - Standish Jn - Barnwood Jn - Cheltenham Spa - Ashchurch - Abbotswood Jn - Stoke Works Jn - Bromsgrove - Barnt Green - Kings Norton - Bordesley Jn - St Andrews Jn - Proof House Jn - Birmingham New Street - Soho South Jn - Dudley Port - Wolverhampton - Cosford - Abbey Foregate Jn - Sutton Bridge Jn - Wekshpool - Newtown - Machynlleth - Dovey Junction - Borth - Aberystwyth |
| D1015 | Aberystwyth - (reverse of outward route) - Swindon |
Notes:
(1) Train ran as booked ECS between Ealing Broadway and Swindon both ways but as part of 1Z52/1Z53.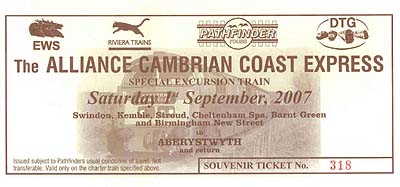 Nigel Benning's ticket.
Source : Nigel Benning (on the train throughout)



Tour Review
(by Jon Littlewood)
After Western Champion's storming performance with the Cornishman in June, and then the cancellation of the Fellsman tour, I was again hungry for more Maybach marauding – destination almost unimportant. So, not having been to Aberystwyth before, this was all the excuse I needed.
From a performance angle it was important to gather more Class 52 data on the Lickey, so an early start was made to get from the Peak District to Cheltenham. Other performance highlights were sure to be Shifnal bank and of course, Talerddig. The Southbound sprint from Barnt Green would provide the day's only real prospect of runaway high speed running and let's face it; we all want some of that from the Champ.
We left Cheltenham a few minutes late with 11 coaches in tow, gathering speed on the down grades to reach a very brief 90 mph in the dip just before Ashchurch. The brakes then came on for a 40 mph TSR, but recovery was good and 88.5mph was reached before another TSR interrupted just north of Droitwich Road. Recovery was difficult against the rising grade and with a speed of only 65mph through Bromsgove, the Lickey was sure to do some serious damage to our summit speed. The minimum of 22.5 mph failed to impress those around me, many of whom had witnessed what must have seemed like a hurricane-assisted assault on the bank in the late evening darkness of June 23rd, but our more humble pace on this day was still a fine effort that would flatter any other Type 4 you might care to mention.
The sun was shining as we approached the foot of Shifnal bank at 65mph. Ian Allen's gradient profile incorrectly shows a grade of 1 in 150 west of Shifnal station, but it is in fact 1 in 100 and this pulled us back into 2nd gear, reducing our speed to 56 mph at the summit. This indicated 2000 HP at the rail over 4.25 miles, which is exactly what Champ was designed to deliver and confirms that power output is now back to a more normal level.
We made swift progress to Welshpool, where a lengthy stop provided a photo opportunity and a leg stretch.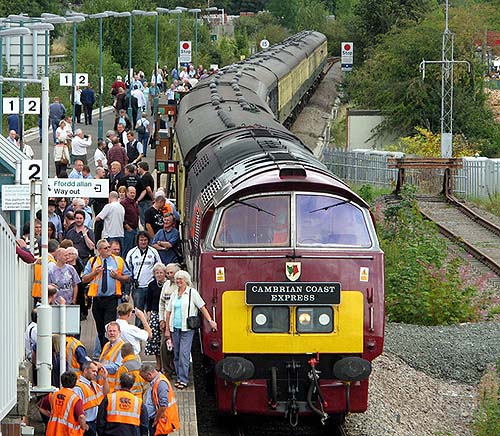 D1015 pauses at Welshpool (photo: Jon Littlewood)
After taking the electronic token at Talerddig we descended to the coast through the tranquil Dovey valley.
There are quite a few wooden bridges on the Aberystwyth branch that have weight restrictions which couldn't be relaxed for the gross weight of the Western. Champ's train heating boiler was deemed as unnecessary weight, so it was removed for this trip and the fuel load was restricted to save another half a ton. The six bridges we taken cautiously at 10 mph, each followed with some satisfyingly filthy exhaust-port action.
Aberystwyth struck me as a pleasant and well-provided-for seaside town that had not been totally ruined by traffic and tourism; way better than Porthmadog or Pwllheli. I would happily go again – behind the right engine. I didn't opt for the trip along the Rheidol railway to Devils Bridge - I needed a walk damit.
I whiled away an hour in a café, lingering longer than I would otherwise due to a slightly lecherous (though not obviously so) interest in the waitress. Then it was time to buy some cheap sunglasses to replace those that blew off my head near Abbots Wood junction. Tip: don't look backwards unless you're wearing diving goggles!
Our schedule back to Dovey Junction was frankly ridiculous given the bridge restrictions. Then we were told that a further delay would greet us at Machynlleth where an unscheduled refueling stop was required. Apparently, the arranged semi-refueling stop at Aberystwyth had not been successful due to an incompatible hose connection.
We left Machynlleth about 45 late and gathered speed on the lower slopes approaching Talerddig bank. From a high of 60mph, the bank steepened and steadily choked our progress. Minimum speed was a sustained 28mph. The climb itself is quite spectacular in parts, especially near the top where the line curves through a deep rocky cutting. I tried to imagine the experience of a fellow recorder who was aboard the Saturdays-only Aberyswyth to London train when one of the pair of Class 25's had failed. The single functioning 'Rat' was doing battle with the top of Talerddig bank at the heroic speed of 9 mph!
We galloped back to Shrewsbury and reduced the arrears, but we then found ourselves behind one of the dreadful units that have for so long been inflicted on the poor people of Shropshire; gone are the days when you could get a decent long distance train from these parts. I hear that feather-weight Class 67 hauled trains will run from Shrewsbury to Marylebone next year, but I suspect the proposed 4 coaches formations are a recipe for overcrowding – airliner style.
After disposal of the Birmingham passengers, we were almost on time, but then a long wait at Northfield was deemed necessary to allow a Voyager to pass. The anticipated sprint south from Barnt Green was as good as could be expected given the need for a little restraint on the falling gradients. 100mph is probably within Champion's capabilities on this stretch, but the risks outweigh the rewards, so I doubt that we will ever see it happen.
All in all, it was another good tour and one that I hope may be repeated some day. Champ is still in blistering form (unlike a certain class 50 I had recently). I hope to be on Champs next tour, but I doubt that I will be tempted to stay aboard all the way to Milford Haven…uggh!
When are we going to Scotland?
Jon Littlewood



Timings (Booked & Actual)
(from Nigel Benning)
| | | | | | |
| --- | --- | --- | --- | --- | --- |
| Location | Booked | Actual | | Booked | Actual |
| Swindon | 06.47d [P3] | 06.47 | | 22.05a [P1] | 22.13 |
| Swindon Loco Yard | 06/50 | ? | | 22/02 | ? |
| Kemble | 07.03a ~ 07.05d | 07.00 ~ 07.05 | | 21.48a ~ 21.50d | 21.56 ~ 21.59 |
| St Mary's LC | 07/16 | ? | | 21/38 | ? |
| Stroud | 07.21a ~ 07.23d | 07.20 ~ 07.23 | | 21.32a ~ 21.34d | 21.33 ~ 21.35 |
| Stonehouse | 07/26 | ? | | 21/29 | ? |
| Standish Jn | 07/28 | 07/29 | | 21/27 | ? |
| Gloucester Yard Jn | 07/33 | 07/35 | | 21/21 | 21/21 |
| Barnwood Jn | 07/34 | 07/36 | | 21/16 | 21/20 |
| Cheltenham Spa | 07.40a ~ 07.42d | 07.43 ~ 07.45 | | 21.07a ~ 21.09d | 21.10 ~ 21.12 |
| Ashchurch | 07/50 | 07/52 | | 20/59 | 21/01 |
| Abbotswood Jn | 07/59 | 08/02 | | 20/52 | ? |
| Stoke Works Jn | 08/09 | 08/11 | | 20/42 | ? |
| Bromsgrove | 08/11 | 08/13 | | 20/40 | 20/43 |
| Barnt Green | 08.20a ~ 08.23d [ML] | 08.19 ~ 08.22 | | 20.32a ~ 20.35d | 20.37 ~ 20.39 |
| Longbridge | 08/27 [FL] | ? | | 20/29 | ? |
| Kings Norton | 08/30 | 08/30 | | 20/12 [SL] | 20/13 |
| Lifford East Jn | 08/32 | ? | | 20/10 | ? |
| Bordesley Jn | 08/40 | 08/37 | | 20/04 | 20/04 |
| St Andrews Jn | 08/41 | 08.39 ~ 08.41 | | 20/03 | 20/03 |
| Grand Jn | 08/43 | ? | | 20/01 | ? |
| Proof House Jn | 08/44 [WL] | 08/46 | | 20/00 | 19/58 |
| Birmingham New Street | 08.46a ~ 08.53d [P6] | 08.50 ~ 08.54 | | 19.48a ~ 19.58d [P2] [WL] | 19.53 ~ 19.56 |
| Soho South Jn | 08/57 | 08/59 | | 19/44 | 19/48 |
| Galton Jn | 08/59 | 09/01 | | 19/41 | 19/46 |
| Dudley Port | 09/02 | 09/04 | | 19/34 | ? |
| Wolverhampton | 09/09 [P2] | 09/11 | | 19*17 ~ 19*27 [P2] | 19.34 ~ 19.35 |
| Wolverhampton North Jn | 09/11 | ? | | 19/14 | ? |
| Oxley SB | 09/12 | ? | | 19/11 | ? |
| Cosford | 09/20 | 09/20 | | 19/00 | 19/18 |
| Madeley Jn | 09/30 | 09/25 | | 18/53 | 19.09 ~ 19.10 |
| Wellington | 09/40 | 09/30 | | 18/44 | 19/02 |
| Abbey Foregate Jn | 09/51 | 09/41 | | 18/32 | 18/51 |
| Sutton Bridge Jn | 10t02 ~ 10t04 | ? | | 18t25 ~ 18t27 | 18.47 ~ 18.48 |
| Welshpool | 10tx24 ~ 10tx59 | 10.28 ~ 11.04 | | 17tx50 ~ 18tx05 | 18.25 ~ 18.26 |
| Newtown | 11t19 ~ 11t20 | 11/23 | | 17t29 ~ 17t30 | 18.07 ~ 18.08 |
| Caersws | 11/27 | 11/33 | | 17/21 | 17/59 |
| Talerdigg | 11t36 ~ 11t37 | 11.45 ~ 11.47 | | 17t10 ~ 17t11 | 17/48 |
| Machynlleth | 11.57 ~ 12.05 | 12.03 ~ 12.04 | | 16x38 ~ 16x48 | 16.56 ~ 17.28 |
| Dovey Junction | 12t11 ~ 12t12 | 12/14 | | 16t31 ~ 16t32 | ? |
| Borth | 12/22 | ? | | 16/22 | ? |
| Aberystwyth | 12.35a | 12.45 | | 16.10d | 16.14 |