29th August 2007
Hertfordshire Rail Tours
The Jolly Fisherman
| | |
| --- | --- |
| Locos Used | at least 20311, 20315 & 47832 |
| Stock Used | load 9 |
Route:
1Z20 : Barrow Hill LIP to Skegness
1Z40 : Skegness to Barrow Hill LIP
| | |
| --- | --- |
| Loco(s) | Route |
| 20311 + 20315 (1) | Barrow Hill platform - headshunt |
| 47832 (2) | headshunt - Barrow Hill South Jn |
| 20311 + 20315 (1) | Barrow Hill South Jn - Barrow Hill North Jn - Beighton Jn - Woodhouse Jn - Woodburn Jn - Nunnery Main Line Jn - Sheffield - Dore Station Jn - Chesterfield - Clay Cross South Jn - Ambergate Jn - Derby |
| 20311 + 20315 | Derby - Long Eaton - Trent - Mansfield Jn - Nottingham - Netherfield Jn - Bottesford West Jn - Allington Jn - Barkston East Jn - Sleaford - Boston - Skegness |
| 20315 + 20311 | Skegness - (reverse of outward route) - Chesterfield - Tapton Jn - Barrow Hill South Jn - headshunt |
| 20315 + 20311 (3) | headshunt - Barrow Hill platform |
Notes :
(1) 47832 on rear.
(2) 20311 + 20315 on rear.
(3) Locos propelling.
Sources : various including Simon Cross, Richard Rooker & Martyn Brailsford



Photo Review
(all photos: Gordon Lacy)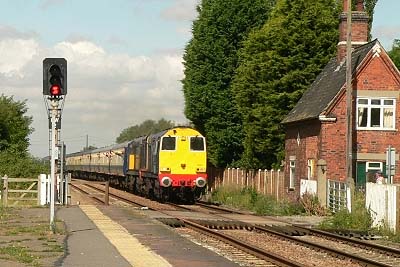 1Z20 approaches Bottesford station on the outward run.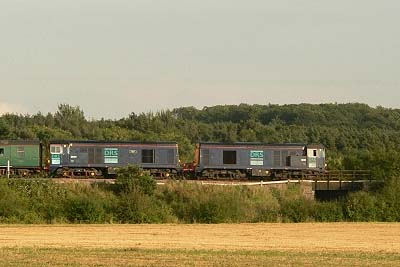 The return leg is seen about to cross the River Witham bridge
(between Barkston & Allington Jn's).


Timings (Booked & Actual)
(from Simon Cross & Martyn Brailsford)
Location

Booked

Actual
Booked
Actual
Barrow Hill Platform
08.03d
08.06
20.52a
20.47
Springwell Headshunt
08.08 ~ 08.15
08.09 ~ 08.12
20.39 ~ 20.47
20.38 ~ 20.41
Barrow Hill South Jn
08.29 ~ 08.32 [GL]
08.15 ~ 08.17
20/30
20/34
Barrow Hill North Jn
08/34
08/26
Beighton Jn
08/40
08/34
Woodhouse Jn
08/44
08/38
Woodburn Jn
08/49
08/49
Nunnery Main Line Jn
08/51
08/52
Sheffield
08*53 ~ 09*01 [P8]
08.54 ~ 09.01 [P8]
Dore Station Jn
09/08
09/09
Tapton Jn
??/??
??/??
20/27
20/27
Chesterfield
09.16a ~ 09.18d [ML]
09.20 ~ 09.22 [P2]
20.23a ~ 20.26d [P1]
20.23 ~ 20.26 [P1]
Clay Cross South Jn
09/23
09/29
20/18 [ML]
20/18
Ambergate Jn
09/32
09/38
20/05
20/07
Derby
09.42a ~ 09.45d [P3]
09.53 ~ 10.10 [P4]
19.45a ~ 19.50d [P1]
19.46 ~ 19.50 [P1]
Spondon
09/50
10/15
19/38
19/37
Long Eaton
09.55a ~ 09.57d
10.20 ~ 10.24 [P1]
19.25a ~ 19.29d
19.29 ~ 19.30 [P2]
Sheet Stores Jn
09/59
10/25
19/23
19/27
Trent
10/01
10/26
19/21
19/24
Mansfield Jn
10/08 [SL]
10/33
19/14
19/12
Nottingham
10.11a ~ 10.14d [P1]
10.43 ~ 10.46 [P1]
19.04a ~ 19.10d [P5] [ML]
18.48 ~ 19.07 [P6]
Netherfield Jn
10/19
10/52
18/59
18/40
Bingham
10/28
11/01
18/47
18/32
Bottesford West Jn
10/34
11/07
18/39
18/26
Allington Jn
10/43
11/14
18/30
18/19
Barkston East Jn
10/51
11/23
18/23
18/12
Ancaster
10/57
11/28
18/15
18/06
Sleaford
11/05 [P1]
11/37
18/03 [P2]
17/58
Heckington
11/13
11/43
17/54
17/50
Hubberts Bridge
11/22
11/53
17/44
17/42
Boston
11/30
12/00
17*29 ~ 17*36
17.26 ~ 17.36
Sibsey SB
11/40
12/11
17/17
17/15
Bellwater Jn SB
11/54
12/24
17/04
17/03
Wainfleet
12.11a ~ 12.13d
12.40 ~ 12.42
16.44a ~ 16.46d
16.44 ~ 16.46
Skegness
12.30a
12.56 [P4]
16.30d
16.31 [P4]