26th August 2007
Kingfisher Railtours
The Dalesman
| | |
| --- | --- |
| Locos Used | steam: 48151 |
| Stock Used | 21266+4984+5035+5032+4905+1860+4994+99350+99127+99993+99128+99312 |
Route:
1Z20 : Hellifield to Carlisle
1Z21 : Carlisle to Hellifield
| | |
| --- | --- |
| Loco | Route |
| 48151 | Hellifield - Settle Jn - Appleby - Petteril Bridge Jn - Carlisle |
| 48151 | Carlisle - (reverse of outward route) - Hellifield |
Notes :
(1) The train was late in leaving Hellifield due to coaches G to K inclusive being positioned off the usable length of Hellifield down platform and all passengers for these coaches having to board through the south end door of coach G.
(2) Water was due to be taken from a road tanker at Appleby in the down direction. In the event the tanker did not arrive and 48151 had to be uncoupled and moved onto the up line to take water from the watering column at the south end of the up platform.
(3) The return journey at Appleby involved 48151 and train being recessed on the access line to the Eden Valley Line (for Warcop) outside Appleby North Junction Signal Box in order to pass a local passenger train. Passengers on 1Z21 were allowed to detrain at Appleby or to remain on the train during the recess maneuver.
(4) Gordon Jakes comments: The loading of 12 coaches was not a problem for 48151 although the performance against booked times particularly on the return journey would appear to indicate the opposite. A good day but not spectacular!
Source : Gordon Jakes (on the train throughout)



Photo Review
(all photos: Gordon Jakes)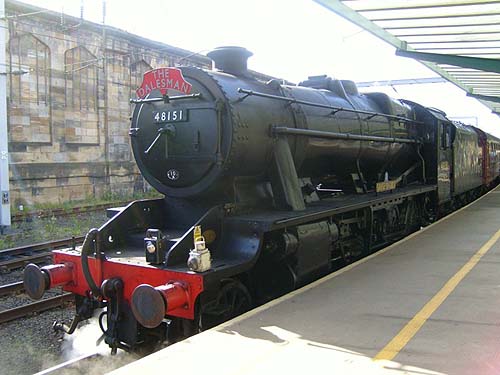 48151 at Carlisle, ready to depart.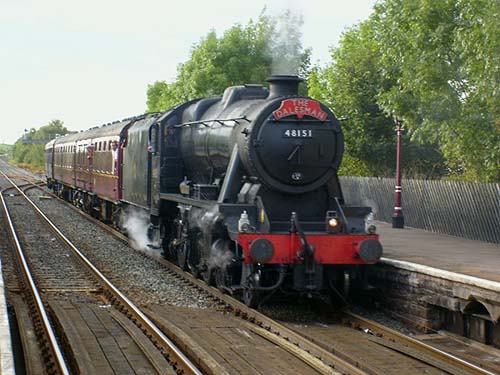 48151 comes off the Warcop branch at Appleby after the pathing-stop break.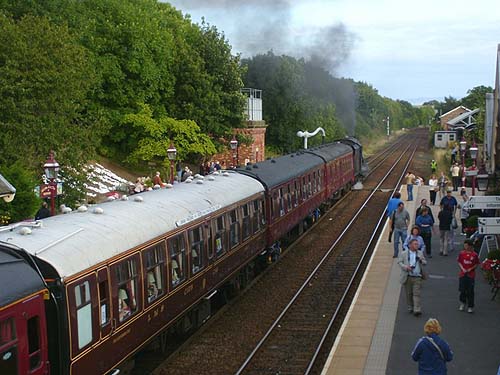 48151 about to take water at Appleby - note the LMS "club car" nearest
camera (coach no. 99993).


Timings (Booked & Actual)
(from Gordon Jakes)
| | | | | | | |
| --- | --- | --- | --- | --- | --- | --- |
| M.C | Location | Booked | Actual | | Booked | Actual |
| 0.00 | Hellifield | 12.10d | 12.18 | | 19.47a | 19.55½ |
| 1.20 | Long Preston | ? | ? | | ? | 19/51 |
| 3.23 | Settle Jn | 12/16 | 12/23½ | | 19/41 | 19/48 |
| 5.19 | Settle | ? | 12/26½ | | ? | 19/45½ |
| 11.21 | Horton-in-Ribblesdale | ? | 12/40 | | ? | 19/38 |
| 15.79 | Ribblehead Station | 12/33 | 12/52½ | | 19/21 | 19/31½ |
| 16.20 | Ribblehead Viaduct | ? | 12/54 | | ? | 19/30½ |
| 17.18 | Blea Moor SB | 12/38 | 12/56 | | 19/18 | 19/29 |
| 22.11 | Dent | ? | 13/05 | | ? | 19/21 |
| 25.32 | Garsdale | 12/54 | 13/10 | | 19/06 | 19/15 |
| 35.26 | Kirkby Stephen | 13/10 | 13/23 | | 18/49 | 18/55½ |
| 46.01 | Appleby | 13w25 ~ 13w45 | 13.35½ ~ 14.07 | | 17w50 ~ 18w29 | 17.51 ~ 18.35 |
| 52.07 | New Biggin | ? | 14/17 | | ? | ? |
| 53.34 | Culgaith | 13/57 | 14/20 | | 17/36 | 17/35 |
| 57.02 | Langwathby | ? | 14/22½ | | ? | 17/29 |
| 61.29 | Lazonby | ? | 14/29½ | | ? | 17/23½ |
| 66.68 | Armathwaite | ? | 14/36 | | ? | 17/17 |
| 68.34 | Low House SB | 14/14 | 14/38 | | 17/11 | 17/14½ |
| 75.71 | Petteril Bridge Jn | ? | 14/48½ | | ? | 16/59½ |
| 76.63 | Carlisle | 14.31a | 14.51½ | | 16.52d | 16.55½ |