25th August 2007
Heartland Rail
The Penzance Flyer
| | |
| --- | --- |
| Locos Used | 47810 'Captain Sensible' & 47813 'John Peel' |
| Stock Used | 11029+11033+5669+3313+3395+10235+3326+3352+1657+3392+9493 |
Route:
1Z59 : Gloucester to Penzance
1Z60 : Penzance to Gloucester
| | |
| --- | --- |
| Loco(s) | Route |
| 47813 (1) | Gloucester - Gloucester Yard Jn - Standish Jn - Yate - Westerleigh Jn - Bristol Parkway - Filton Abbey Wood - Stapleton Road - Bristol Temple Meads - Worle Jn - Uphill Jn - Bridgwater - Taunton - Exeter St Davids - Newton Abbot - Totnes - Plymouth - Liskeard - Par - Truro - Penzance |
| 47810 (2) | Penzance - (reverse of outward route) - Gloucester |
Notes :
(1) 47810 on rear.
(2) 47813 on rear. Loco was reported as having provided some assistance on the South Devon banks.
(3) Off-train options were 'The Eden Project' and 'The Lost Gardens of Heligan'.
Sources : Trevor Cockram (on Bristol Parkway to Par & return) & Adrian Parcell



Tour Review
(from Trevor Cockram)
This trip was originally planned to run on 21st July 2007 hauled by 45112. The day before the tour was changed to a pair of class 33, which were refused by Network Rail, so was due to run with a pair of Cotswold Rail 47's. The extensive flooding on 20th July particularly in the Gloucester area resulted in the train being rescheduled for 25th August.
The day started with a problem with the central locking electrical circuit of the coaching stock, which resulted in a 75-minute delay starting from Gloucester. To Hartland Rail's credit a telephone was manned so that information was passed down to people waiting at stations down the line. After the final pick-up the next schedule stop (other than crew change) was Par allowed Network Rail to path the train omitting the scheduled stops in loops at Yatton and Dawlish Warren and by the time we stopped in the central road at Totnes the booked path was regained.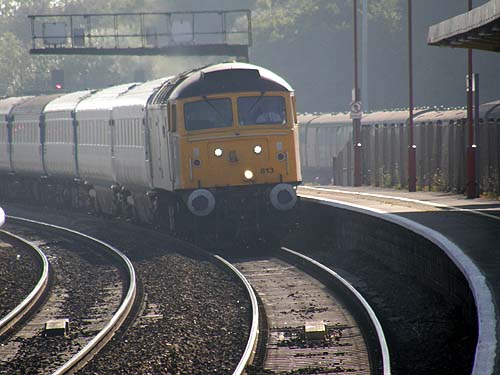 47813 leads the train into Bristol Parkway (photo: Trevor Cockram)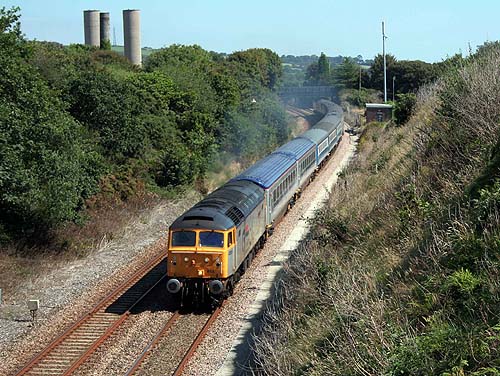 47813 again, this time at Burngullow (photo: Roger Geach)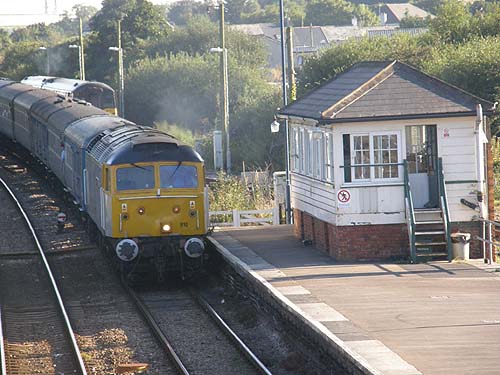 ...and 47810 leads the train into Par on the return (photo: Trevor Cockram)
Travelling with Amanda, Maggie and Ben (no strangers to 5 star service) we tried the "Silver Service" dining option, which provided a very pleasant way of passing the journey particularly on the way home (hence no actual timings). The food was good quality and was more than sufficient even for me!
With only a single standard coach in the consist, its clear that Hartland are concentrating on the First Class and dining options, however, to be fair the first class fare looks to be competitive with the standard class on other day excursions run by other operators and on this trip a complementary coffee and biscuits. It was unfortunate that the tour was so lightly loaded, but given the change in motive power, the fact that many people in the catchment area are still drying out, at least the tour ran on the hottest August Bank Holiday Saturday I can remember.
Trevor Cockram



Timings (Booked & Actual)
(from Adrian Parcell & Trevor Cockram)
| | | | | | |
| --- | --- | --- | --- | --- | --- |
| Location | Booked | Actual | | Booked | Actual |
| Gloucester | 07.20 [P4] | ? | | 23.11a [P4] | ? |
| Horton Road Jn | 07/21 | ? | | 23/10 | ? |
| Gloucester Yard Jn | 07/22 | ? | | 23/09 | ? |
| Standish Jn | 07/28 | ? | | 23/02 | ? |
| Cam & Dursley | 07.35a ~ 07.39d | ? | | 22.51a ~ 22.56d | ? |
| Charfield | 07/47 | ? | | 22/44 | ? |
| Yate | 07.54a ~ 07.58d | ? | | 22.32a ~ 22.37d | ? |
| Westerleigh Jn | 08/03 | ? | | 22/29 | ? |
| Bristol Parkway | 08.09a ~ 08.12d [P2] | 9.20 ~ 09.22 | | 22.20a ~ 22.23d [P3] | ? |
| Filton Abbey Wood | 08.16a ~ 08.21d [P1] | 09.24 ~ 09.27 | | 22.11a ~ 22.16d [P2] | ? |
| Stapleton Road | 08/27 | 09/32 | | 22/07 | ? |
| Dr Days Jn | 08/28 [ML] | ? | | 22/06 | ? |
| Bristol East Jn | 08/29 [DM] | ? | | 22/05 [RL] | ? |
| Bristol Temple Meads | 08.30a ~ 08.33d [P8] | 09.35 ~ 09.40 | | 21.52a ~ 22.04d [P3] | ? |
| Bristol West Jn | 08/34 | ? | | 21/50 [UM] | ? |
| Parson Street | ??/?? | ? | | 21/48 [ML] | ? |
| Yatton Loop | 08*47 ~ 08*55 | 09/50 | | 21*24 ~ 21*38 | ? |
| Worle Jn | 09/01 | ? | | 21/16 | ? |
| Uphill Jn | 09/03 | ? | | 21/12 | ? |
| Highbridge & Burnham | 09/08 | ? | | 21/06 | ? |
| Bridgwater | 09/13 | 10/07 | | 21/00 | ? |
| Cogload Jn | 09/19 | ? | | 20/54 | ? |
| Taunton | 09/24 [P3] | 10/14 | | 20/51 [P4] | ? |
| Tiverton Parkway | 09/38 [P1] | 10/29 | | 20/39 [P2] | ? |
| Tiverton Loop | 09/40 | ? | | 20/38 | ? |
| Cowley Bridge Jn | 09/52 | ? | | 20/25 | ? |
| Exeter St Davids | 09/54 [P4] | 10c42 ~ 10c46 | | 20/23 [P5] | ? |
| Dawlish Warren | 10*12 ~ 10*40 [P1] | 10/54 | | 20/07 | ? |
| Newton Abbot | 10/58 [P2] | 11/06 | | 19/56 [P3] | ? |
| Totnes | 11*13 ~ 11*25 [DM] | 11.14 ~ 11.27 | | 19/45 [UM] | ? |
| Ivybridge | 11/44 | ? | | 19/30 | ? |
| Hemerdon | 11/49 | 11/51 | | 19/26 | ? |
| Lipson Jn | 11/54 | ? | | 19/17 | ? |
| Plymouth | 11/56 [P4] | 11/58 | | 19/14 [P7] | ? |
| St Budeaux Jn | 12/00 | ? | | 19/09 | ? |
| Saltash | 12/04 | 12/07 | | 19/05 | ? |
| St Germans | 12/11 | 12/13 | | 18/58 | ? |
| Liskeard | 12/22 | 12/25 | | 18/49 | ? |
| St Pinnock Viaduct East | 12/28 | 12/30 | | 18/43 | ? |
| Largin | 12/31 | 12/32 | | 18/42 | ? |
| Lostwithiel | 12/39 | 12/38 | | 18/30 | ? |
| Par | 12.46a ~ 12.50d | 12.45 ~ ??.?? | | 18.08a ~ 18.18d | ? |
| St Austell | 12.58a ~ 13.02d | ? | | 17.53a ~ 17.59d | ? |
| Burngullow Jn | 13/06 | ? | | 17/49 | ? |
| Probus | 13/13 | ? | | 17/39 | ? |
| Truro | 13/21 | ? | | 17/31 | ? |
| Penwithers Jn | 13/22 | ? | | ? | ? |
| Baldhu | 13/26 | ? | | 17/31 | ? |
| Camborne | 13/37 | ? | | 17/17 | ? |
| St Erth | 13/45 [P1] | ? | | 17/07 [P2] | ? |
| Long Rock | 13/52 | ? | | 17/03 | ? |
| Penzance | 13.55a | ? | | 17.00d | ? |