9th July 2007
Russell Sedgewick
The Bohemian 751 Rhapsody
| | |
| --- | --- |
| Loco Used | 751 053-0 |
| Stock Used | 3 coaches (1x FK, 1x BSK, 1x SK) |
Route:
| | |
| --- | --- |
| Loco | Route |
| 751 053-0 | Letohrad - Usti Nad Orlici |
| 751 053-0 | Usti Nad Orlici – Ceska Trebova - Svitavy |
| 751 053-0 | Svitavy - Zd'arec u Skutce – Chrudim Mesto |
| 751 053-0 | Chrudim Mesto - Prachovice |
| 751 053-0 | Prachovice - Chrudim Mesto – Moravany - Tyniste Nad Orlici |
| 751 053-0 | Tyniste Nad Orlici – Chochen - Ustil Nad Orlici – Letohrad |
Notes :
(1) Train ran roughly to time throughout the day.
Source : Pete Callaghan (on the train throughout)



Tour review
(by Pete Callaghan)
Welcome to this review of a charter that took place in the Czech Republic. Although this charter didn't take place on British shores, it was organised by Russell Sedgewick from Bristol, so special thanks to him for his efforts in organising it. The spec for the tour was for an unsilenced "Zamracene" without heating (ie. a class 751) to haul the train throughout (many of the type were built with silencers, many more have had them fitted since, and during the mid 90s 60 of the type were fitted with ETH replacing steam heating or in some cases not having been fitted with heating at all).
The route to be covered by the charter was track that doesn't see any diesel hauled passenger trains, mainly DMU routes, and in parts routes that are available on hauled trains but usually only with electric traction.
The day of the tour dawned overcast and unfortunately that's how it stayed for most of the day, with occasional showers just for good measure, welcome to summer! The vast majority of the tour participants were from the UK (approx 50) many of whom had been in Czech for a few days and had spent some time during the past couple of days travelling behind prototype "Zamracene" 751 001 – 9 in a different part of the country where it was having a rare outing on some service trains in connection with a Czech bank holiday. There were also a few Czechs on board, most of whom were connected to the Kanec Brewery from the town of Zamberk (including the head brewer) who were supplying the beer for today's charter, in total 3 barrels and 50 bottles, the bottles came with a special label to commemorate the charter and there were similar larger size window stickers provided as well by the brewery and displayed throughout the train. As an extra bonus, the beer was complimentary (on a help yourself from the barrel basis) having been paid for by the charter organiser with the small profit he made on running the tour, and that was on top of a small refund received by all tour participants as well. Hats off to you Russ, a superb gesture, you worked hard to organise the day so I doubt anybody would have minded you making a few quid.
Anyway, to the charter. Arriving at Letohrad station I was pleased to see the rather worn out looking 751 053-0 at the head of the train.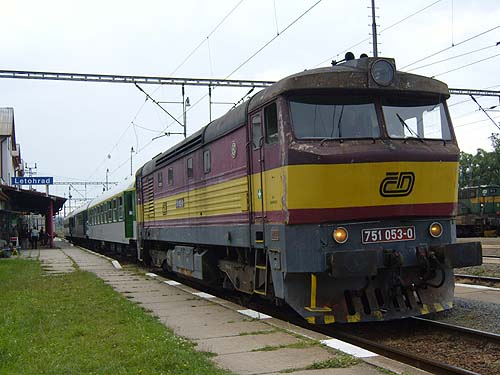 751 053-0 at the start of the day at Letohrad (photo: Pete Callaghan)
Although it wasn't a surprise (out of the available locos this was the 1st choice specified by the organiser and we knew the previous evening that the loco was in position) it was still good to see, a new engine for me and many of the other participants, and one of the few machines of the type still carrying red and yellow livery. The loco was requested due to the fact that it was considered a rare performer on passenger trains when it was boiler fitted, and even rarer since then, although it did manage a passenger outing just prior to this charter.
The timings for the train were excellent with a sociable start and finish time, along with various stops for run rounds and pathing meaning plenty of opportunities for stretching the legs and taking photo's, indeed most of the stops we took had everybody out taking photo's, usually our train guard was amongst the first out for his pictures and the driver was quite often seen pointing his camera at the loco as well. During our pathing stop at Zd'arec u Skutce we were treated to a violin performance from the head brewer and another guy (his brother I think) who stood alongside the loco performing a couple of tunes. They then moved down to alongside the open door of the brake van and performed tunes around anybody who happened to be in the vicinity getting beer from the barrel that was positioned in there. During the prolonged stop at Chrudim Mesto many of the tour participants elected to head into the town for lunch, although some found their way to an "adult interest" shop and came back with an inflatable female friend which soon after posed for pictures on the loco front and then in the cab! (Incidentally, during the time at Chrudim Mesto, the loco cabs and engine room were available for inspection by anybody who wanted to have a look round). After departure from Chrudim Mesto we were treated to the best part of the tour, the climb to Prachovice, a quite steeply graded branch which had the loco working hard thrashing its way up the hill (the last 8km saw a climb of 145 metres) obviously inflatable female must have rated it as she was seen bellowing from the front window most of the way. During the layover at Moravany we got some bonus stationary thrash when the fuel racks were opened for our entertainment to run the engine up a couple of times, good stuff indeed!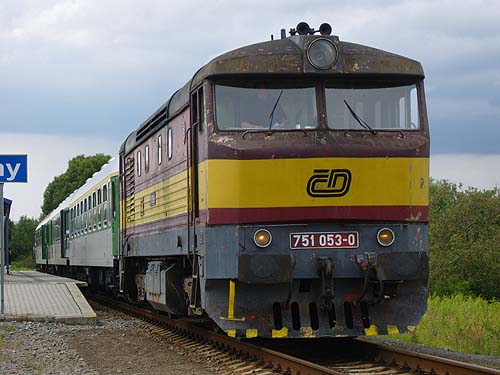 751 053-0 during the break at Morovany (photo: Pete Callaghan)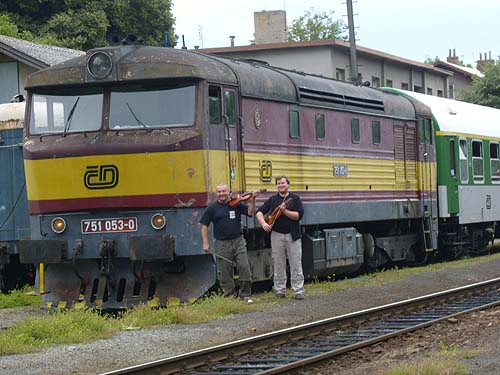 The violins are out for 751 053-0 ... (photo: Pete Callaghan)
Upon departure from Moravany we found ourselves with an extra passenger on board, some elderly fella had got on by mistake, not sure where he was going but he was seen flicking through his pocket timetable with a worried look on his face, he soon cheered up though when somebody handed him a beer, I presume he got off at Tyniste Nad Orlici. Back at Usti Nad Orlici soon after that, we said farewell to quite a few tour participants, some of whom were taking connecting trains to elsewhere in the country, and some who were staying there due to the only hotel in Letohrad already being booked out by tour participants.
Back at Letohrad those who had taken the charter "to the blocks" stood round and watched as the loco shunted the empty stock after a truly excellent day out. Whilst most of us had drank quite a bit of beer during the day we all seemed to be in quite good condition, the person most worse for wear had to be the head brewer who seemed to be well out of it, maybe he'd had a few extra beers to celebrate his healthy sales of brewery related merchandise (hats, beer glasses, T-shirts etc) during the trip, who knows? After the train had been put away a few of us made our way to a nearby restaurant for a meal (including the attractive female the brewery people had brought along to act as a translator for us) and after eating we watched a slide show of today's and a few of the previous days photo's courtesy of a lap top computer (cheers Beccles). About 8 hardcore then made our way to a pub in the picturesque square near our hotel for beers with the last 4 (myself included) leaving at about 03.45am. (Cost of 39 beers on our bill was about Ł16!). I'm glad I did have to get up early after that.
CONCLUSION:
A superb day out, good beer and good company, charter ran to time throughout with the correct loco and no Network Rail type blunders, no problems with waiting for guards or drivers or ECS, or anything else which can (and often does) go wrong in the UK. Weather was a bit of a let down but obviously beyond everyone's control - except God, so I blame him. Some of the Czechs we met on the day seemed a bit bemused but all took it in good spirit, especially the guard who appeared to have the time of his life! A big thanks to Russell for all the work and organisation he did to make this tour happen.
Pete Callaghan



Timings (Booked Only)
(from Pete Callaghan)
| | |
| --- | --- |
| Location | Booked |
| Letohrad | 08.42d |
| Lansperk | 08/51 |
| Usti nad Orlici | 09.01 ~ 09.13 |
| Dlouha Trebova | 09/17 |
| Odb Parnik | 09/19 |
| Ceska Trebova | 09/23 |
| Odb Zadulka | 09/27 |
| Opatov | 09/31 |
| Svitavy | 09.37 ~ 09.48 |
| Vendoli Zastavka | 09/55 |
| Kvetna | 10/01 |
| Pomezi | 10/07 |
| Policka | 10/13 |
| Borava u Policky | 10/26 |
| Cachnov | 10.38 ~ 10.45 |
| Skutec | 11/04 |
| Zd'arec u Skutce | 11.08 ~ 11.49 |
| Chrast u Chrudimi | 12/04 |
| Slatinany | 12/14 |
| Chrudim | 12/19 |
| Chrudim Mesto | 12.24 ~ 13.39 |
| Hermanuv Mestce | 14/07 |
| Kostelec u Her.Mestce | 14.13 ~ 14.16 |
| Prachovice | 14.22 ~ 14.40 |
| Kostelec u Her.Mestce | 14/46 |
| Hermanuv Mestce | 14.51 ~ 15.22 |
| Chrudim Mesto | 15.41 ~ 15.46 |
| Hrochuv Tynec | 16/02 |
| Moravany | 16.11 ~ 16.44 |
| Holice | 16.58 ~ 17.01 |
| Borohradek | 17.12 ~ 17.21 |
| Tyniste nad Orlici | 17.29 ~ 18.00 |
| Borohradek | 18/07 |
| Cermna nad Orlici | 18/12 |
| Ujezd u Chocne | 18/17 |
| Chocen | 18/23 |
| Brandys nad Orlici | 18/27 |
| Usti nad Orlici | 18.36 ~ 18.45 |
| Lansperk | 18.54 ~ 18.59 |
| Letohrad | 19.08a |