7th July 2007
Steam Dreams
The Southern Phoenix
| | |
| --- | --- |
| Locos Used | D6593 (33208), 37248 'Loch Arkaig' & steam: 34007 'Wadebridge', 34067 'Tangmere' & 35005 'Canadian Pacific' |
| Stock Used | 35518(1)+5236+1961+5237+9392+13440+5200+1840+5216+5222 |
Route:
1Z82 : London Victoria to Alresford
1Z83 : Alresford to London Waterloo
| | |
| --- | --- |
| Loco(s) | Route |
| 34067 | London Victoria - Brixton - Herne Hill - Tulse Hill - Streatham - Streatham Common - Selhurst - East Croydon - Redhill - Deepdene - Guildford |
| 37248 | Guildford - Aldershot - Alton |
| 34007 + D6593 | Alton - Alresford |
| 35005 | Alresford - Alton Loop |
| 37248 | Alton Loop - Aldershot - Ash Vale - Woking |
| 34067 | Woking - Basingstoke - Winchester - Eastleigh - Botley - Fareham - Cosham - Havant - Haslemere - Guildford - Woking - Surbiton - Wimbledon - Earlsfield - Clapham Junction - London Waterloo |
Notes :
(1) 35518 only in consist when 34067 hauling train.
(2) Banked by 37248 London Victoria to Grosvenor Bridge.
(3) This was a tour to commemorate the 40th anniversary of the end of Southern steam.
Source : John Clifford (on the train throughout)



Photo Review
(all photos: Gordon Jakes)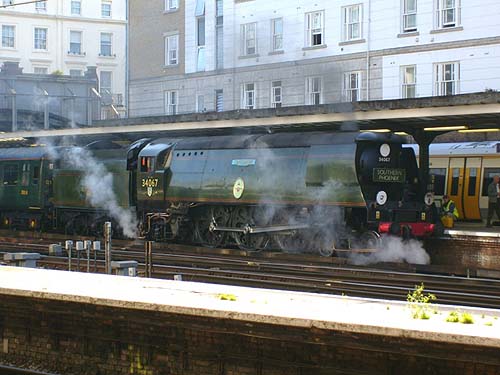 Two shots at London Victoria - at opposite ends of the trip.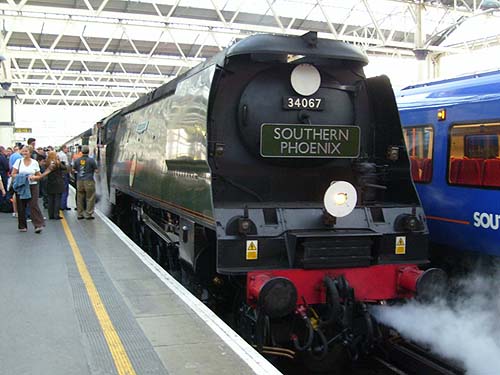 Timings (Booked & Actual)
(from John Clifford, LASERman & Gordon Jakes)
Miles
Location
Booked
Actual
0.0
London Victoria
09.05d [P2] [FL]
09.05
2.0
Voltaire Road Jn
09/10½
09/10½
3.1
Brixton
09/12½
09/12
3.9
Herne Hill
09/14½ [P3]
09.17 ~ 09.19
5.0
Tulse Hill
09/22½ [P2]
09/24½
6.5
Streatham
09/29½
09/29
7.1
Streatham Common
09/39 [SL]
09/34½
9.9
Selhurst
09/47 [P1]
09/44½
10.6
Windmill Lane Jn
09/52
09/47
11.1
East Croydon
09.54a ~ 09.56d [P5]
09.49 ~ 09.57
12.0
South Croydon
09/59
10/00
14.1
Purley
10/04 [P4]
10/05
15.0
Stoats Nest Jn
10/05
10/07
21.5
Redhill
10*13 ~ 10*19 [P3]
10.18 ~ 10.20
23.5
Reigate
10/26
10/25
28.8
Dorking (Deepdene)
10.34a ~ 10.36d
10.34½ ~ 10.36
34.2
Gomshall
10/44
10/47
40.0
Shalford
10/53
10/53
40.7
Shalford Jn
10/56
10.55 ~ 10.55½
41.9
Guildford
10L59a ~ 11L20d [P6]
11.02 ~ 11.28
48.2
Ash
11/29
11/40½
49.0
Aldershot South Jn
11/30
11/43
49.5
Aldershot North Jn
11/32
11/45
51.0
Aldershot
11/34 [P2]
11/49
54.1
Farnham
11/41
11/55
58.0
Bentley
11*47 ~ 11*52 [P2]
12/02
62.9
0.0
Alton
12L00a ~ 12L10d [P2]
12.09½ ~ 12.28½
4.4
Medstead
12/26
12/43
7.5
Ropley
12/40
12/52
10.1
0.0
Alresford
12L48a ~ 14L40d
13.01 ~ 14.40½
2.6
Ropley
14/48
14/50
5.7
Medstead
14/58
15*00 ~ 15*10
9.9
Alton Loop
??
15L25½ ~ 15L47½
10.1
0.0
Alton
15.45a ~ 15.52d [P2]
15.49½ ~ 15.52
4.9
Bentley
16*00 ~ 16*04 [P1]
16.01½ ~ 16.03
8.8
Farnham
16/11
16/09
11.9
Aldershot
16/16 [P1]
16/15
12.4
Aldershot North Jn
16/18
16/17
13.4
Ash Vale
16/20
16/19
16.5
Pirbright Jn
16/24 [SL]
16/24½
17.9
Brookwood
??
16/27
21.1
Woking Jn
16/27½
16/30½
21.5
0.0
Woking
16L28½a ~ 16L40½d [P1]
16.32 ~ 16.47½
0.4
Woking Jn
16/42½ [FL]
16/50
8.5
Farnborough London End Jn
16/51½ [SL]
??
8.9
Farnborough (Main)
16/53
17/03½
12.2
Fleet
17/00
17/07
23.5
Basingstoke
17/13 [P1]
17/18
26.0
Worting Jn
17/22
17/22
42.2
Winchester
17/40
17/37
44.7
Shawford Jn
17/43 [FL]
17/39
47.6
Allbrook
??
17/44
49.2
Eastleigh
17/48 [P2]
17/47
49.8
Eastleigh South Jn
17/50
17/49½
54.7
Botley
17w58 ~ 18w30
17.56½ ~ 18.28
59.5
Fareham North Jn
18/37
18/38
60.0
Fareham
18/39
18/39
65.8
Cosham
18/48
18/47
66.3
Cosham Jn
18/49
18/47½
66.8
Farlington Jn
18/50
18/48½
69.8
Havant
18/56
18/54
81.3
Petersfield
19/10
19/10½
93.2
Haslemere
19/24
19/25
102.7
Farncombe
19/37
19/37½
104.7
Shalford Jn
19/41½
19/42
105.9
Guildford
19*44a ~ 19*52d [P6]
19.46 ~ 19.53½
111.5
Woking Jn
20/03
20/04
111.9
Woking
20*04½a ~ 20*14d [P1] [FL]
20.05½ ~ 20.14
122.8
Hampton Court Jn
20/26
20/25½
124.2
Surbiton
20/27½ [P2]
20/26½
126.5
New Malden
20/29½
20/28½
128.0
Wimbledon
20/33 [P6]
20/31½
131.3
Clapham Junction
20/37½ [P7] [MFL]
20/38½
136.2
London Waterloo
20.47a [P11]
20.47½