7th July 2007
Mercia Charters Limited
That Which Survives
Locos Used
ACTS: 1251(ex-NS 1215), 5814 (ex-EWS 58038) & 6703 (ex-SNCB 6391)
VSM: 661 (ex-NS 661)
Stock Used
ex-SNCB: 29126+21036+21019+51 84 88-80 217-5+21003+21027
Route:
38000 : Rotterdam CS (via Oosterhout) to Lage Zwaluwe
38001 : Lage Zwaluwe to Utrecht CS
38002 : Utrecht CS to Dieren
????? : Dieren to Apeldoorn
38003 : Apeldoorn to Rotterdam CS
| | |
| --- | --- |
| Loco(s) | Route |
| 5814 (1) | Rotterdam CS - Barendrecht - Zwijndrecht - Dordrecht - Lage Zwaluwe |
| 6703 | Lage Zwaluwe - (2) - Moerdijk - run-round loop by Dr. W. Kolb factory |
| 6703 | run-round loop by Dr. W. Kolb factory - Moerdijk - just beyond points for Cronifer track complex |
| 6703 (3) | just beyond points for Cronifer track complex - Moerdijk |
| 6703 | Moerdijk - Lage Zwaluwe - Oosterhout |
| 6703 | Oosterhout - Lage Zwaluwe (km post 15.6, to just north of station) |
| 6703 (3) | km post 15.6 - Lage Zwaluwe |
| 5814 (1) | Lage Zwaluwe - Breda - Gilze Rijn - Tilburg - 's-Hertogenbosch - Geldermalsen - Utrecht CS |
| 1251 (4) | Utrecht CS - Ede-Wageningen - Arnhem - Rheden - Dieren |
| (5) | operational movements at Dieren |
| 6703 (6) | Dieren - Eerbeek |
| 661 (7) | Eerbeek - Beekbergen |
| 6703 (6) | Beekbergen - Apeldoorn |
| 1251 + 6703 (8) | Apeldoorn - Amersfoort (9) - Baarn - Hilversum - Weesp - Amsterdam Diemen Zuid - Amsterdam Bijlmer - Abcoude - Breukelen - (9) Harmelen Jn - Woerden - Gouda - Rotterdam Alexander - Rotterdam Noord - Rotterdam CS |
Notes :
(1) plus 1251 dead-in-tow & 6703 on rear.
(2) Photo-stop held where the Moerdijk line passed under the mainline just after leaving Lage Zwaluwe (approx km post 1.5). After dropping passengers at km post 1.2 the following movements took place before the passengers rejoined:
a) train set-back (loco propelling) to km post 0.7
b) photo run-past, train stopping at km post 1.9
c) train set-back (loco propelling) to km post 1.2 for passengers to rejoin. Train then continued to Moerdijk.
(3) Loco propelling.
(4) plus 5814 & 6703 dead-in-tow.
(5) At Dieren the following train movements took place:
a) train stopped at crossing immediately before station. From here 5814 powered the train into the VSM platform loop (1251 could not as it was not an electrified line).
b) train stopped in VSM platform loop, but fouling the points both ends. 5814 propelled 1251 off the train (leaving it just short of the level crossing beyond the station, then 5814 dropped back into the track adjacent to the tour train).
c) 6703 drew the train forward (approx two coach lengths) to clear the loop rear points.
d) 5814 coupled to the rear of the train.
e) On departure, 6703 drew the train forward to 1251 which was then re-attached to the front.
(6) 1251, leading, was in multi with 6703 thus the train was being driven from 1251 however, being a non-electrified line, traction was being provided by 6703.
(7) plus 1251 & 6703 dead-in-tow & 5814 on rear.
(8) 1251 & 6703 in multi and both powering, 5814 dead-on-rear.
(9) Train was diverted due to a power failure in the Utrecht area and an attempt to regain some lost time. Booked route had been: Amersfoort - Den Dolder - Bilthoven - (either via Utrecht CS or the direct line avoiding Utrecht CS) - Utrecht Sidings (or Lunetten) [REV] - Utrecht CS - Harmelen Jn - Woerden.
Source : Gary Thornton (on the train throughout)



Photo Review
(all photos: Gary Thornton)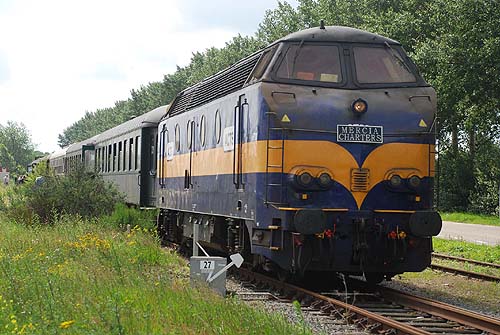 6703 waits to depart from Oosterhout back to Lage Zwaluwe.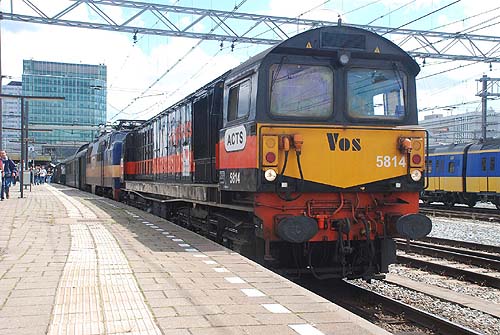 5814 and 1251 about to run-round the train at Utrecht CS.

661 leads 1251 & 6703 at Beekbergen on the VSM. 44 1085 is alongside.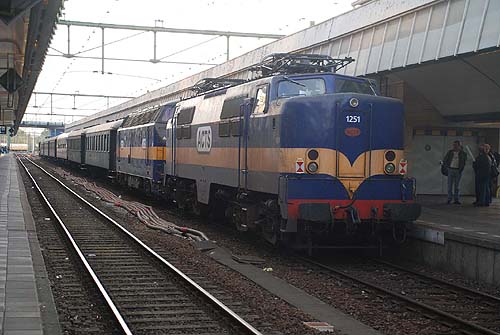 Tour over - 1251 & 6703 at Rotterdam CS. 5814 is about to take the ECS
back to the depot in the Rotterdam suburbs where it is stabled.


Timings (Booked & Actual)
(from Gary Thornton)
km
Location
Booked
Actual
0.00
Rotterdam CS
08.51d
08.55 [P3]
10.10
Barendrecht
09/00
09/04
18.05
Zwijndrecht
09/05
09/08
20.05
Dordrecht
09/07
09/10
34.30
0.00
Lage Zwaluwe
09L20 ~ 09L40
09.24 ~ 09.37
[track adjacent to P4]
?
km post 1.2
?
??.?? ~ ??.??
?
km post 0.7
?
09.50a ~ 09.55d
?
km post 1.9
?
09.58 ~ 09.58½
?
km post 1.2
?
10.01a ~ 10.10d
(7.65)
Moerdijk
09.45a
10/24
?
RR Loop (by Dr. W. Korb)
?
10.39 ~ 10.48
?
Moerdijk
?
10.57 ~ 11.00
?
just past connection to Cronifer
?
11.12 ~ 11.14
0.00
Moerdijk
10.40d
11.28 ~ 11.34
(7.65)
Lage Zwaluwe
10/45
11/50
[2nd track across from P4]
(25.65)
Oosterhout
11p15a ~ 11p45d
12.32 ~ 12.44
(18.10)
Lage Zwaluwe
12L12
13/25
[2nd track across from P4]
?
MP 15.6 (just north of station)
-
13.26 ~ 13.26½
0.00
Lage Zwaluwe
12L33
13.29 ~ 13.34
[track adjacent to P4]
14.85
Breda
12/44
13/46
25.00
Gilze-Rijn
12/51
13/52
36.35
Tilburg
13/01
14/00
58.75
's-Hertogenbosch
13*21 ~ 13*28
14/30
81.90
Geldermalsen
13/45
14/45
106.65
0.00
Utrecht CS
14.03a ~ 14.26d
15.06 ~ 15.24 [P4]
40.15
Ede-Wageningen
14/54
15/50
56.70
Arnhem
15/07
16.03 ~ 16.06 [track 5]
63.35
Velp
15/11
16/10½
67.20
Rheden
15/16
16/15
73.50
0.00
Dieren
15*21 ~ 15*30
16.20 ~ 16.56
[VSM platform]
?
Eerbeek
?
17L19 ~ 17L25
?
Beekbergen
??.??a ~ ??.??d
18.05 ~ 18.26
21.35
0.00
Apeldoorn
17.15 ~ 17.30
18.50 ~ 19.07
[VSM platform]
43.55
Amersfoort
18/02
19/44 [Track 8]
52.80
Den Dolder
18/10
DIV
55.55
Bilthoven
18/13
DIV
61.60
Utrecht Overdrecht
18/19
DIV
64.60
Utrecht CS
18/22
DIV
65.00
0.00
Utrecht Sidings
18*21 ~ 19*24
DIV
0.40
Utrecht CS
19/22
DIV
?
Baarn
DIV
19/52
?
Hilversum
DIV
19/57
?
Weesp
DIV
20.09 ~ 20.10½ [track 4]
?
Diemen Zuid
DIV
20/16
?
Ajax platform
DIV
20.19 ~ 20.21
?
Amsterdam Bijlmer
DIV
20/22½
?
Breukelen
DIV
20/33
?
Harmelen Jn
??/??
20/37½
16.40
Woerden
19*36 ~ 19*43
20/45
32.70
Gouda
19/57
20/55
41.80
Nieuwerkerk
20/03
21/01
46.65
Rotterdam Alexander
20/07
21/05
51.65
Rotterdam Noord
20/10
21/09
56.55
Rottersam CS
20.17a
21.15 [P8]