7th July 2007
Railtourer / Green Express Railtours
Steaming Round the Humber
| | |
| --- | --- |
| Locos Used | 47245 & steam : 48151 'Gauge O' Guild' |
| Stock Used | 99312+4905+4940+5035+5032+4994+1861+99350+99125+99304 |
Route:
1Z51 : Hull to Cleethorpes
1Z52 : Cleethorpes to Hull
| | |
| --- | --- |
| Loco(s) | Route |
| 48151 (1) | Hull - Brough - Gilberdyke - Goole - Goole Goods Loop - Thorne North - Hatfield & Stainforth - Doncaster - Doncaster R.M.T. - Bessacarr Jn - Gainsborough Lea Road - Saxilby - Pyewipe Jn - West Holmes Jn - Holmes Goods Loops - East Holmes Jn - Lincoln - Market Rasen - Barnetby - Brocklesby Jn - Habrough Jn - Grimsby Town - Cleethorpes |
| 47245 (2) | Cleethorpes - Grimsby Town - Habrough Jn - Ulceby |
| 48151 (1) | Ulceby - Brocklesby Jn - (reverse of outward route) - Thorne North - Goole - (reverse of outward route) - Hull |
Notes :
(1) 47245 on rear.
(2) 48151 on rear.
(3) Also marketed as "The Humber Steamer" & "The Lincoln & Seaside Steamer".
(4) Delay, ½m North of Moortown, due to sticking brakes.
(5) Regarding the booked timings Alan Sheppard comments: original return timings had been deemed unsuitable for families so were sent back. When the final timings arrived, the Cleethorpes break was cut to one hour, which meant the train did not have time to be turned ECS, so the return was diesel hauled to Ulceby for a reversal. The final set of timings also included a 1½ hr water stop at Doncaster R.M.T., thankfully however we did not have to wait time.
Sources : Alan & Lisa Sheppard (on the train throughout)



Photo Review
(all photos: Alan Sheppard)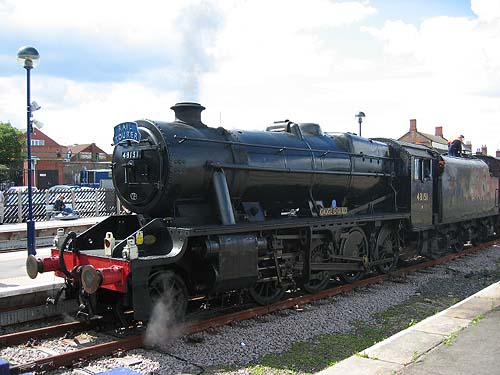 48151 caught on camera at Cleethorpes.

47245 on the train, seen at Hull.


Timings (Booked & Actual)
(from Alan & Lisa Sheppard)
Miles
Location
Booked
Actual
Booked
Actual
0
Hull
08.12d
08.13 [P7]
21.36a
20.54 [P7]
1.9625
Hessle Road Jn
08/18
08/18½
21/32
20/47
10.4750
Brough
08.31a ~ 08.33d
08.32 ~ 08.34
21.15a ~ 21.17d
20.32 ~ 20.33
16.9500
Gilberdyke
08/44
08/45½
21/04
20/20½
23.6625
Goole
08.56a ~ 08.58d
09.00½ ~ 09.02
20.50a ~ 20.52d
19.57½ ~ 19.58½
?
Goole Goods Loop
09*01 ~ 09*09
09.04½ ~ 09.09
31.1125
Thorne North
09.23a ~ 09.25d
09.25½ ~ 09.26½
20.35a ~ 20.37d
19.43 ~ 19.44
32.4125
Thorne Jn
09/30
09/31½ [DS]
20/32
19.36 ~ 19.37½
34.0000
Hatfield & Stainforth
09/42
09/36 [DS]
20/30
19/33 [UF]
?
Hatfield Lane
?
09.43½ ~ 09.55 [DS-DF]
?
?
37.2000
Kirk Sandall Jn
09/53
09/58
?
19/29½
39.4500
Bentley Jn
09/56
10/02½
20/21
19/26
40.8375
Doncaster
10.04a ~ 10.09d
10.09 ~ 10.12 [P4]
20.14a ~ 20.16d
19.17½ ~ 19.22 [P4]
42.6375
Decoy North Jn
10/15
10/18
20/09
19/09 [DF]
?
Doncaster R.M.T.
10w18 ~ 10w48
10.20 ~ 10.43½
18w40 ~ 20w06
18.40 ~ 19.07
44.3125
Bessacarr Jn
10/55
10/50
18/35
18/34½
61.5125
Trent Jn
11/23
11/14
18/07
18/12
62.1000
Gainsborough Lea Road
11/25
11/16½
18/05
18/10
71.5750
Saxilby
11/39
11/30½
17/51
17/57
76.0500
Pyewipe Jn
11/46
11/39
17/43
17/49½
76.8500
West Holmes Jn
11/48
11/41½ [UGL]
17w05 ~ 17w40
17.33 ~ 17.45
?
East Holmes SB
11w52 ~ 12w30
11.44½ ~ 12.27½
17/01
17/30 [DGL]
77.7000
Lincoln
12.35a ~ 12.37d
12.31 ~ 12.35½ [P5]
16.55a ~ 16.57d
17.22½ ~ 17.28½ [P6]
77.8500
Pelham Street SB
12/40
12/36½
16/53
17/21
83.8625
Langworth SB
12/50
12/45
16/41
17/11
88.5125
Wickenby
12/57
12/52
16/33
17/04½
92.5000
Market Rasen
13/03
12/57½
16/27
17/00
98.0375
Holton-le-Moor SB
13/12
13/06
16/19
16/52½
?
Holton Gatehouse (No.18)
?
13.09 ~ 13.12½
?
?
?
½m North of Moortown
?
?
?
16.26½ ~ 16.47
?
Sig. WJ 101
?
?
?
16.05 ~ 16.07
106.4875
Wrawby Jn
13/25
13/31½
16/06
16/02
107.0375
Barnetby
13/28
13/33½ [P2]
16/04
15/59½ [P3]
111.7250
Brocklesby Jn
13/36
13/39
15/55
15/50 [DM]
-
Ulceby
15.39 ~ 15.51
15.39½ ~ 15.43
113.5000
Habrough
13/40
13/41
15/31
13/52½
121.5875
Grimsby Town
13/55
13/52½
15/18
15/19
124.8375
Cleethorpes
14.03a
14.01 [P3]
15.10d
15.11 [P3]