23rd June 2007
Pathfinder Tours
(in association with the D.T.G.)
The Cornishman
| | |
| --- | --- |
| Loco Used | D1015 'Western Champion' |
| Stock Used | 21272+3107+3140+1699+3112+3122+3098+1863+5040+4927+5009+4902+5350 |
Route:
1Z52 : Birmingham International to Penzance
1Z53 : Penzance to Birmingham International
| | |
| --- | --- |
| Loco | Route |
| D1015 | Birmingham International - Stechford - Proof House Jn - Birmingham New Street - Selly Oak - Kings Norton - Barnt Green - Stoke Works Jn - Abbotswood Jn - Cheltenham Spa - Gloucester Yard Jn - Standish Jn - Yate - Westerleigh Jn - Bristol Parkway - Filton Abbey Wood - Stapleton Road - Dr Days Jn - Bristol Temple Meads - Worle Jn - Uphill Jn - Bridgwater - Taunton - Tiverton Parkway - Exeter St Davids - Dawlish - Newton Abbot - Totnes - Plymouth - St Germans - Liskeard - Par - St Erth - Penzance |
| D1015 | Penzance - (reverse of outward route) - Birmingham International |
Notes :
(1) Also sold under the names 'Truro & Penzance' and 'Penzance Excursion'. Off train non-railway options were: 'The Eden Project', 'The Lost Gardens of Heligan' and 'The River Fal Cruise'.
Source : Gary Thornton (on the train throughout)



Tour Review
(by Jon Littlewood)
D1015 to Penzance …always very appealing, but having done it twice before, did I really need to do it again? As it happens, I'm very glad I did. Nice one Pathfinder.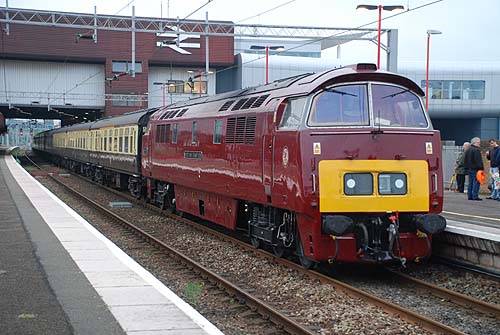 D1015 ready to leave Birmingham International (photo: Gary Thornton)
The schedule southbound didn't have much fat in it and a 7 late departure from Barnt Green gave the driver some incentive to get on with it, not that this individual seemed to need extra incentive. Our speed stayed firmly on the entertaining side of 90mph from Stoke Works junction to within a few miles of Cheltenham – not bad with a hefty 13 coach load. A rock-steady balancing speed on Wickwar bank gave an indication of Champ's 'grunt-factor' and made an interesting comparison with an identical scenario involving 45112 in 2006; Champ had the edge this time.
The running over the Somerset levels deserves special mention because it illustrated a particular strength of the Western class that is rarely brought into sharp focus. From a stand at signals with nothing but level track ahead, Champ dragged its massive train up to about 85mph in normal Type 4 fashion, but then as 90mph came and went, its ability to very nearly flat-line its power output at the rail like a Deltic, put Champ in a different league as it muscled it's way up to 93mph. Only a good 50 could stay with Champ in this form.
I wondered if we would blast through Taunton at 85 mph again, as on a previous occasion with 12 on, but I was not expecting 88 mph, which I didn't think was possible given the rising gradient. It involved a fair bit of commitment from the driver – so nice one that man. I have never seen a record of a diesel-hauled charter or service train go through Taunton faster in this direction, so whilst I am sure it is a record for the load, it may well be one for lighter loads also. It surely rates as a load record all the way to Whiteball summit, or to Tiverton Parkway for that matter.
Dainton, Rattery and the Cornish climbs came and went without drama. 505 tons could embarrass a lesser loco over this terrain in steady rain, but Champ had plenty in reserve.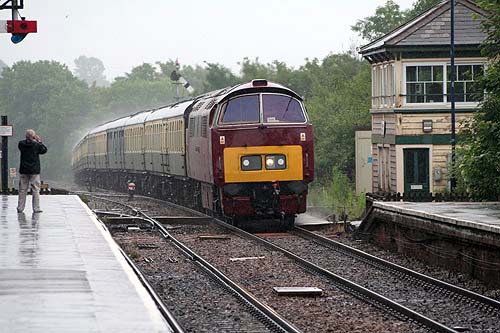 D1015 runs through Liskeard in the rain (photo: Roger Geach)
Any thoughts of alighting at Truro for a change were dismissed as I studied the rods of water coming down from a leaden sky. Just as well, because it was sunny in Penzance.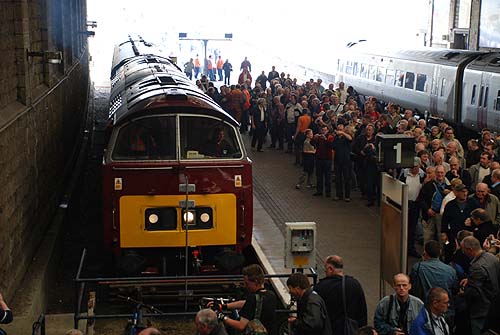 After 305¼ miles, at the stops of Penzance station (photo: Gary Thornton)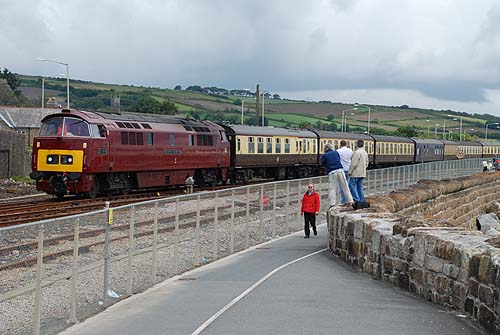 D1015 pushes the coaches back out of the platform (photo: Gary Thornton)
Mazey day sounded way too festive for grump like me, but I gradually warmed to it. Basically, they take the cars out of the town centre and wedge the streets with crafty Cornish folk in party mode. The scale of the thing, including the large effigies that were floated up the packed streets, plus the infectious local vibe, seemed to lift it from the quaint and tedious to something of a spectacle. No doubt the rest of the train was in some pub, but with the early start and all, I wanted to stay alert for the journey back.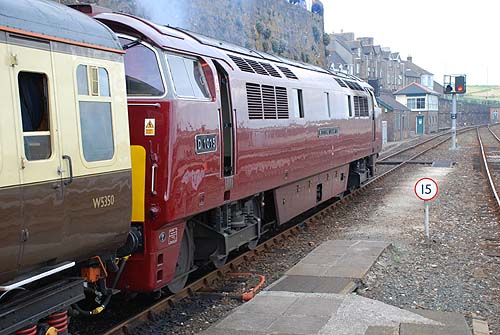 With Wimbledon just a week away, how about: '15-all' ?
Waiting departure time for the trip home (photo: Gary Thornton)
Cornwall was bathing in the late afternoon sun as we ventured east, but this was followed by an altogether dimmer reality at Plymouth where the big talking point was the decision to let a late running class 159 'stopper' go in front of us. This wasn't fair because we were on time and had we been sent through first, we would have cost the stopper's three passengers only a few minutes. But this disastrous piece of traffic regulation was to cost both us and the following London-bound HST, 35 minutes a piece. The option to let us pass at Totnes or Dawlish Warren was denied, which brought us into further conflict with another stopper from Paignton. This was madness, but to make matters worse the Exeter signalers joined in, looping us at Tiverton junction like a freight train. The following HST had to brake for this procedure, so gained very little advantage and of course we then had to wait outside Taunton for it.
Who was the moron at Plymouth that master-minded this pointless delay to at least 800 people? He should be singled-out and sent back to signaling school for re-examination. I still can't believe it… He should be lashed to the front of a class 159 for some extra-curricular route learning. Then some time cleaning its toilets might be fitting.
Still, although the malicious fool brought us to a stand at the foot of Hemerdon bank, he probably didn't bargain on us enjoying the subsequent 'vunderthrash' at a sustained 21mph! A brief respite from 'stopper' delay was eventually experienced after Taunton, during which I could observe the drivers stubborn reluctance to go above 88mph. I think I have come across him before and whilst it's difficult to criticise when running to time, I take a dimmer view when we are late.
Fast forward to the thrash out of Cheltenham (37 late): The same driver then, easing before Ashchurch to avoid going over…that's right…88mph!. Note to the next driver who does this section with 13 coaches: - momentum is all; it even counts for something 20 miles from Bromsgove with this sort of load, and there's no real danger of going too fast on this section with 13 on, so for best results, don't stop 'clogging' it 'till you get the top of the Lickey.
Whinging aside, this was a great assault of a legendary bank and I don't reckon a Type 4 has been recorded going faster at the top; nothing that has been published anyway, and I'm a scholar of that sort of thing. The 50's did most of the regular 13 coach trains but they weren't in their comfort zone on this bank. A particularly good 47 is capable of it I suppose, but until we see recorded evidence, Champ's 28.5 mph minimum (GPS with roof-mounted aerial) must head the table, and don't forget that we are talking 485-490 tons of heavy mk1 metal. Another measure of this climb is the 156 seconds from Bromsgrove to Milepost 53¼, which I'm sure is a record. Good old Champ!
Jon Littlewood



Timings (Booked & Actual)
(from Gary Thornton)
| | | | | | | | |
| --- | --- | --- | --- | --- | --- | --- | --- |
| M.C | Location | Booked | Actual | | Booked | Actual | M.C |
| 0.00 | Birmingham International | 06.05d | 06.08 [P1] | | 23.28a | 23.46 [P2] | 305.23 |
| ? | Stechford | 06/12 | 06/13½ | | 23/22 | 23/40 | ? |
| 8.18 | Birmingham New Street | 06.18a ~ 16.21d | 06.23 ~ 06.30 [P9] | | 23.07a ~ 23.12d | 23.28½ ~ 23.32 [P8] | 297.05 |
| ? | Selly Oak | 06/28 | 06/44 | | 22/57 | 23/21 | ? |
| ? | Kings Norton | 06/34 | 06/46½ | | 22/52 | 23/18 | ? |
| ? | Longbridge | 06/40 | 06/49½ | | 22/48 | 23/15½ | ? |
| 18.71 | Barnt Green | 06.45a ~ 06.47d | 06.52½ ~ 06.54½ | | 22.38a ~ 22.42d | 23.10½ ~ 23.12 | 286.32 |
| ? | Bromsgrove | 06/52 | 06/59 | | 22/31 | 23/05 | ? |
| ? | Stoke Works Jn | 06/54 | 07/01 | | 22/29 | 23/03½ | ? |
| ? | Abbotswood Jn | 07/02 | 07/07½ | | 22/20 | 22/55½ | ? |
| ? | Ashchurch | 07/10 | 07/14½ | | 22/12 | 22/48 | ? |
| 53.62 | Cheltenham Spa | 07.18a ~ 07.20d | 07.21 ~ 07.23 | | 22.01a ~ 22.04d | 22.37 ~ 22.41 | 251.41 |
| ? | Gloucester Yard Jn | 07/27 | 07/30½ | | 21/52 | 22/30 | ? |
| ? | Standish Jn | 07/33 | 07/37 | | 21/47 | ? | ? |
| 71.64 | Cam & Dursley | 07.38a ~ 07.40d | 07.41½ ~ 07.43½ | | 21.38a ~ 21.41d | 22.14 ~ 22.17½ | 233.39 |
| ? | Charfield | 07/48 | 07/51½ | | 21/31 | ? | ? |
| ? | Westerleigh Jn | 07/56 | 07/59½ | | 21/23 | 21/59½ | ? |
| 92.30 | Bristol Parkway | 08.02a ~ 08.04d | 08.05 ~ 08.08 | | 21.15a ~ 21.17d | 21.50½ ~ 21.52 | 212.73 |
| ? | Filton Abbey Wood | 08/06 | 08/11 | | 21/11 | 21/48 | ? |
| ? | Dr Days Jn | 08/09 | 08/16 | | 21/06 | 21/42½ | ? |
| 98.12 | Bristol Temple Meads | 08.12a ~ 08.15d | 08.18 ~ 08.23 | | 21.01a ~ 21.04d | 21.36 ~ 21.40 | 207.11 |
| ? | Worle Jn | 08/38 | 08/43 | | 20/46 | 21/13½ | ? |
| ? | Uphill Jn | 08/40 | 08/45½ | | 20/44 | 21/11½ | ? |
| ? | Bridgwater | 08/50 | ? | | 20/30 | 21/02½ | ? |
| ? | Cogload Jn | 08/56 | 09/00 | | 20/23 | 20/57½ | ? |
| ? | Taunton | 09/00 | 09/02½ | | 20/20 | 20/53½ | ? |
| ? | Tiverton Parkway | 09/13 | 09/14 | | 20/08 | 20/35½ | ? |
| ? | Tiverton Junction | ? | ? | | ? | 20.28½ ~ 20.32 [UPL] | ? |
| ? | Exeter St Davids | 09/28 | 09/28 [P6] | | 19/50 | 20/12½ [P5] | ? |
| ? | Dawlish Warren | 09/37 | 09/38½ | | 19/40 | 20/00 | ? |
| ? | Newton Abbot | 09/54 | 09.55 ~ 10.01½ | | 19/27 | 19/38½ | ? |
| ? | Totnes | 10/08 | 10/14 | | 19/16 | 19/28½ | ? |
| ? | Ivybridge | 10/28 | 10/33 | | 19/03 | 19/13 | ? |
| 225.61 | Plymouth | 10*39 ~ 10*52 | 10.45½ ~ 10.51 | | 18*45 ~ 18*48 | 18.45½ ~ 18.51½ [P8] | 79.42 |
| ? | Saltash | 11/01 | 11/01 | | 18/36 | 18/37½ | ? |
| ? | St Germans | 11/07 | 11/07 | | 18/31 | 18/31½ | ? |
| ? | Liskeard | 11/18 | 11/16½ | | 18/20 | 18/23 | ? |
| ? | Largin | 11/24 | 11/24 | | 18/13 | 18/16 | ? |
| ? | Lostwithiel | 11/32 | 11/31 | | 18/02 | 18/06 | ? |
| ? | Par | 11/38 | 11/37 | | 17/57 | 18/00½ | ? |
| 264.79 | St Austell | 11.44a ~ 11.49d | 11.43 ~ 11.47 | | 17.48a ~ 17.52d | 17.53½ ~ 17.55 | 40.24 |
| ? | Probus | 12/00 | 11/58 | | 17/38 | (17/42) | ? |
| 279.30 | Truro | 12.08a ~ 12.13d | 12.08 ~ 12.12½ | | 17.26a ~ 17.30d | 17.34 ~ 17.36 | ? |
| ? | Camborne | 12/30 | 12/30 | | 17/12 | 17.16 ~ 17.18 | ? |
| ? | St Erth | 12/38 | 12/38 | | 17/02 | 17/04½ | ? |
| 305.23 | Penzance | 12.48a | 12.47½ | | 16.55d | 16.56½ | 0.00 |