Billed as a trip to Alnwick, capital of the North and The Holy Island of Lindisfarne, this Hertfordshire Rail Tours Pullman excursion appealed to me firstly, as I had never been to this part of England before and secondly, because all track north of York was new to me. Myself and my wife boarded the train at Potters Bar, the train being just a few minutes late. Many expected it to be top and tailed with class 47's but instead it was pulled by a single class 87 electric locomotive, 87022, Cock o'the North. Well it made sense, with the route going all the way up the electrified East Coast Main Line. After picking up more passengers at Stevenage, we arrived on time at Peterborough but left a minute early. For this part of the journey the driver must have put his foot down so to speak as we shot through Grantham about twenty minutes early. In spite of speed restrictions between Newark and Retford, where floodwater was perilously close to the track, we still were twenty minutes up at Doncaster.
North of Doncaster you would expect it to be a very industrial landscape, but in fact the scenery is more wide-open fields, punctuated by the odd coal fired power station, including the massive Drax power station, which we can see in the distance on the right hand side. Maintaining the speed, we arrived at York for a driver change a full half hour early. Surely we must have to wait here for a bit to let some of the faster trains overtake us? The problem we had was we were so early that the replacement diver hadn't even arrived from Durham! In fact we still pulled away past the large Norwich Union wheel a full fifteen minutes early. We sped on past Darlington and Durham, before coming to a crawl at Newcastle, where the trackside was covered in graffiti, the most I have ever seen outside London. One humorous graffiti artist had even scrawled "Welcome to the Toon" for the benefit of passengers going past.
We picked up speed again once we were clear of Newcastle station, but came to a complete stop at Cramlington, which started to cut into the good work of the previous driver. By the time we arrived at Alnmouth we were about five minutes behind schedule. About half the train emptied here for visits to Alnwick town and Castle. From the brochure on the train, I learnt that it is actually pronounced "Annick". We sped on to Berwick but had to stop again about ten miles south of the town to let one GNER and one Cross-country Virgin Trains unit go past. So by the time we arrived at Berwick we are actually about ten minutes late!
We all poured off the train and onto the four waiting coaches to take us the half hour journey to Lindisfarne. The weather had been pretty dull all morning and then it started to rain, but by the time we arrived at the already full coach park, it had stopped. We then had about two and half hours to explore the island, where there is a castle, an abbey, the abbey ruins, two pubs, numerous gift shops and a wine factory where you were able to taste the famous Lindisfarne mead.
We had been told that we needed to be back at the coach park by 3.20pm to catch the coaches back and if anyone wasn't there by that time, they would be left behind. We made it with five minutes to go only to find that three other coaches have already left! The journey back to Berwick seemed much quicker than when we came and we passed through the town centre in the pouring rain. It was interesting to see teenagers in England shirts, this being the most northern English town, yet Berwick still has a football team in the Scottish league!
We arrived back at the station with at least half an hour to spare before we were due to depart on the return journey, so most of us got a cup of tea from the buffet. However there wasn't a waiting room on the platform - apart from the Virgin 1st Class waiting room on the platform - which was closed, so we all ended up drinking our tea on the platform. Then came a longer wait than expected as we heard that our 16.20 departure had been delayed at its turn-around at Craigentinny depot, near Edinburgh. There were rumours that we would have to let the 16.40 London train through first, but in the end our train came in about ten minutes late and we all piled on.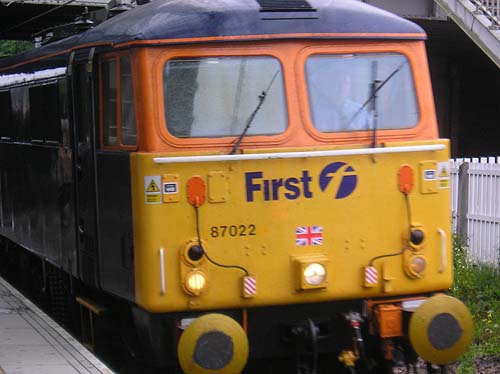 87022 arrives into Berwick-upon-Tweed (photo: Mark Chatterton)
I felt sorry for those who had got off at Alnmouth as it was pouring down there and there was only a tiny waiting room for shelter. The scheduled stop at Newcastle for a crew stop was abandoned and we made good time back to York where there was a crew change. By now the sun was shining as we let the London train go past us. We slowed down at Doncaster, presumably to let the 18.40 Leeds to London train through, but no that had to wait for us. I'm not sure what time we arrived back at Potters Bar, but I know we weren't that far behind schedule. So all in all despite the wet weather, an enjoyable day out.