13th June 2007
Steam Dreams
Sunny South Special
| | |
| --- | --- |
| Locos Used | 37248 & steam : E850 'Lord Nelson' |
| Stock Used | 35317(1)+5249+5236+1961+5237+9392+13440+5200+1840+5216+5222 |
Route:
1Z82 : London Waterloo to Yeovil Junction
1Z83 : Yeovil Junction to London Waterloo
| | |
| --- | --- |
| Loco(s) | Route |
| E850 (2) | London Victoria - Stewarts Lane - Clapham Junction - Richmond - Staines - Chertsey - Woking - Basingstoke - Andover - Salisbury - Gillingham - Yeovil Junction |
| 37248 | Yeovil Junction - Yeovil Pen Mill |
| 37248 | Yeovil Pen Mill - Maiden Newton - Dorchester West - Weymouth |
| E850 (2) | Weymouth - Dorchester West - Maiden Newton - Yeovil Pen Mill - Castle Cary - Frome avoiding line - Westbury |
| 37248 (3) | Westbury - Warminster - Salisbury - Laverstock South Jn |
| E850 (2) | Laverstock South Jn - Andover - (reverse of outward route) - London Victoria |
Notes :
(1) 35317 only in consist when E850 was hauling or on the rear of the train.
(2) 37248 on rear.
(3) E850 on rear.
(4) This tour was originally advertised as returning the same way it went out. However, the track at the A30 bridge between Milborne Port & Sherborne had moved laterally so the engine was out of gauge. Hence the detour via Westbury. The same problem affected "The Cuneo Centennial" on 28th April 2007.
(5) John Clifford comments: On the day a points failure at Yeovil Junction caused a delay in E850 getting into the Yeovil Steam Centre for servicing. This delayed the engine getting to Weymouth which, in turn caused the 14.00 Cardiff - Weymouth to be late at Weymouth. The 14.00 forms the 17.21 Weymouth - Bristol which left about 20 late. We followed it & were further delayed waiting for it to clear the single line sections. There was a delay at Yeovil Pen Mill to pass 17.48 Bristol - Weymouth which we should have seen before it got to Castle Cary. There was an option to get off at Woking & get to London by service train for an earlier arrival. Such are the joys of railtouring!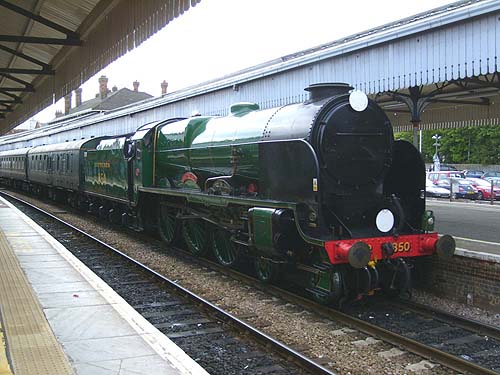 E850 at Salisbury prior to watering (photo: Gordon Jakes)
Source : John Clifford (joined at London Victoria, left at Woking on the return)



Timings (Booked & Actual)
(from John Clifford)
Miles
Location
Booked
Actual
Booked
Actual
Miles
0.0
London Victoria
08.38d
08.41½
23.29a
?
90.1
0.9
Battersea Pier Jn
08/43
08/45
23/26
?
89.2
1.4
Stewarts Lane Jn
08/49
08/46½
23/23
?
88.7
1.7
Longhedge Jn
08/55
08/48
23/21
?
88.4
2.9
Clapham Junction
09.01a ~ 09.02½d
09.03½ ~ 09.05
23.12a ~ 23.16d
?
87.2
6.1
Barnes
09/09
09/11½
23/06
?
84.0
8.7
Richmond
09/14
09/16½
23/01
?
81.4
?
St Margarets
?
?
22/58
?
80.3
10.3
Twickenham
09/19½
09/21½
22/57
?
79.8
12.1
Twickenham Jn
?
?
22/56
?
79.4
?
Whitton Jn
09/23
09/26
22/53½
?
78.0
12.5
Feltham Jn
09/24
09/28
22/53
?
77.6
13.9
Feltham
09/26
09/30
22/51
?
76.2
18.1
Staines
09/34
09/35½
22/44
?
72.0
22.2
Virginia Water
09/42
09/44
22/36
?
67.9
27.1
Addlestone Jn
09/50
09/52½
22/26
?
63.0
28.1
Byfleet & New Haw
09/53
09/54
22/24
?
62.0
32.0
Woking
10.04a ~ 10.06d
10.04 ~ 10.07
22.16½a ~ 22.18½d
22.59½ ~ 23.00½
58.1
32.4
Woking Jn
10/07½
10/09
22/15½
22/58
57.7
37.3
Pirbright Jn
?
?
22/10
22/53½
52.8
40.9
Farnborough
10w20a ~ 10w28d
10.21 ~ 10.32
22.03a ~ 22.04½d
22.46 ~ 22.47
52.8
44.2
Fleet
10/34
10/38
?
?
49.2
55.5
Basingstoke
10/46
10/49½
21w37½ ~ 21w44½
22.19 ~ 22.28
34.7
58.0
Worting Jn
10/50
10/56
21/35
22/13
32.2
74.0
Andover Jn
11/10
11/13½
21/15
21/54
16.2
?
Laverstock North Jn
?
?
20/55
21/34
0.4
-
Laverstock South Jn
20.49 ~ 20.52
21.26½ ~ 21.31
0.0
26.0
90.2
Salisbury Tunnel Jn
11/26
11/29
20/47
21/25
25.7
91.3
Salisbury
11w30 ~ 12w08
11.31 ~ 12.07½
20w23 ~ 20w43
21.00 ~ 21.20½
24.6
93.2
Wilton Jn
12/12
12/14
20/19
20/55
22.7
93.9
Wilton South
12/14
12/16
103.6
Tisbury Loop
12/25
12/29
113.0
Gillingham
12*37 ~ 12*43
12/44½
119.8
Templecombe
12/52
12/55
125.9
Sherborne
13.02 ~ 13.05
13.08 ~ 13.10
130.4
0.00
Yeovil Junction
13L14 ~ 13L26
13.19 ~ 13.36
-
Wylye AHB
20/05
20/43½
15.4
-
Upton Lovell
19/57
20/37
10.1
-
Warminster
19/49
20/29
4.7
-
Westbury
19.30 ~ 19.37
20.14 ~ 20.18
0.0
58.7
-
Fairwood Jn
19/27
20/02
57.3
-
Clink Road Jn
19/23
19/58½
54.0
-
Blatchbridge Jn
19/21
19/57
52.1
-
East Somerset Jn
19/15
19/53½
48.2
-
Castle Cary
19/02
19/43
39.2
1.8
0.0
Yeovil Pen Mill
13.44 ~ 14.04
13.48 ~ 14.08
18w31 ~ 18w43
18.54 ~ 19.23
27.4
12.8
Maiden Newton
14/24
14/37
18/07
18.21 ~ 18.32½
14.6
20.4
Dorchester West
14/33
14/49½
17/53
18.01½ ~ 18.05½
7.0
20.8
Dorchester South
14/34
14/50½
17/51
17/59
6.6
27.4
Weymouth
14.43a
15.02
17.36d
17.47
0.0