9th - 11th June 2007
SBB / Railaway
Switzerland on Branch Lines 2007
Locos Used
SBB: 11134, 11195, 11210 & 18451
RhB: 32, 215, 611, 619, 629 & 643
IRR: 'ELFI'
ÖBB: 1116 155
Gonzen Mine Railway: Deutz 56507
EMU Used
Montafonerbahn: ET 10.109
Works Train Used
Sedrun NEAT Site Construction Railway: 5022 & 5023
Funiculars Used
Las Rueras Funicular: Car 1
Forsch Hydro Funicular: Car 1
Stock Used
????
Route:
33042 : Sargans to Salez-Sennwald
33045 : Salez-Sennwald to Zizers
33062 : Zizers to Landquart
33065 : Landquart via Domat/Ems to Chur
IC566 : Chur to Sargans
IC169 : Sargans to Feldkirch
18810 : Feldkirch to Lustenau Markt
RE3827 : St Margrethen to Chur
RE1212 : Chur to Disentis/Muster
1429 : Disentis/Muster to Las Rueras
RE1257 : Disentis/Muster to Chur
RE1453 : Chur to Forsch
RE1456 : Forsch to Chur
| | | |
| --- | --- | --- |
| Date | Traction | Route |
| 09/06 | 56507 | Gonzen Mine Underground Railway |
| 09/06 | 18451 | Sargans - via Eastern Loop - Buchs SG - Salez-Sennwald - Agip |
| 09/06 | 18451 (1) | shunt at Agip (oil terminal gates) |
| 09/06 | 18451 | Agip (oil terminal gates) - Salez-Sennwald - Buchs SG - (via Western Loop) - Sargans - Landquart - Zizers - Untervaz - Holcim Cement (to loading platform) |
| 09/06 | 18451 (1) | Holcim Cement - Kieswerk/Catram (buffer stops beyond factory) |
| 09/06 | 18451 | Kieswerk/Catram - Holcim Cement GF |
| 09/06 | 18451 (1) | Holcim Cement GF - Untervaz Yard |
| 09/06 | 18451 | Untervaz Yard - Gevag (to headshunt) |
| 09/06 | 18451 (1) | Gevag - Untervaz Yard - Lanquart |
| 09/06 | 18451 | Landquart - Chur [through road] - Domat/Ems - Ubergabebf Werk - Stallinger (5) |
| 09/06 | 18451 (1) | Stallinger - Ubergabebf Werk |
| 09/06 | 18451 | Ubergabebf Werk - Chur Yard |
| 09/06 | 18451 (1) | Chur Yard - Prodega (end of line, through loading building) |
| 09/06 | 18451 | Prodega - Swisscom Branch GF |
| 09/06 | 18451 (1) | Swisscom Branch GF - Vogele Recycling (gates of crusher compound) |
| 09/06 | 18451 | Vogele Recycling - Chur |
| 10/06 | 11210 (3) | Chur - Landquart - Sargans |
| 10/06 | 11195 (3) | Sargans - Buchs SG |
| 10/06 | 1116 155 (3) | Buchs SG - Schaan-Vaduz - Feldkirch |
| 10/06 | ET 10.109 | Feldkirch - Altach - Dornbirn - Wolfurt Yard - Lauterach - Lustenau Markt |
| 10/06 | 'ELFI' | Lustenau (IRR) [end of line on right hand side of Rhine (North)] - Lustenau (IRR) [end of line track on right hand side of Rhine (South)] |
| 10/06 | 'ELFI' | Lustenau (IRR) [end of line track on right hand side of Rhine (South)] - Widnau Old Works [end of line on left hand side of Rhine (North)] |
| 10/06 | 'ELFI' | Widnau Old Works [end of line on left hand side of Rhine (North)] - St Margrethen Camp Site (2) |
| 10/06 | 11134 (3) | St Margrethen - Altstatten - Buchs SG - via Western Loop - Sargans - Landquart - Chur |
| 11/06 | 629 (4) | Chur - Domat/Ems - Rueun - Disentis/Muster |
| 11/06 | 32 | Disentis/Muster - Las Rueras |
| 11/06 | 5022/5023 | Las Rueras Site - Sedrun Tunnel Base (Underground Construction Railway) |
| 11/06 | Car 1 | Las Rueras - Mira (Funicular) |
| 11/06 | 643 (4) | Disentis/Muster - Rueun - Domat/Ems - Chur |
| 11/06 | 611 (3) | Chur - Forsch |
| 11/06 | Car 1 | Forsch Hydro (Funicular) |
| 11/06 | 619 (3) | Forsch - Chur |
| 11/06 | 215 | Chur [P2] - (via crossover into platform 1 & connecting line from Arosa track to RhB mainline) - Chur North |
| 11/06 | 215 (1) | Chur North - Chur [P14] |
Notes :
(1) Loco propelling.
(2) Underneath Bregenz - St Margrethen Mainline.
(3) Service train used due to lack of paths.
(4) Service train used with Pullman SalonWagen added to rear of formation.
(5) Unable to reach buffer stops, due to 4 timber wagons stabled.
Source : Stuart Smith (on the train throughout)



Tour Review & Photos
(by Stuart Smith)
I had first seen this tour advertised back in December last year. (Somehow I had missed all knowledge of the 2006 trip). Despite its high cost (just under £550) it took little persuasion to see that this would be a great way to bash numerous freight branches and even a few obscure oddities as well. The tour was three days of special trains and charters, but I opted to spend a few extra days either side doing my own track bashing and number crunching.
As the tour approached, and final timings were circulated, news came from SBB that due to only 24 bookings, the itinerary would be subject to change due to financial restrictions and some service trains would therefore be substituted on certain aspects of the tour, rather than using special trains throughout (all in all SBB had considered cancelling, but decided to honour those that had booked and thus by using the service trains could reduce the costs and still make the tour viable).

And so to the trip itself......

Saturday 9th June
The Saturday arrived and we were all due to meet at Sargans station for 9am. A quick group meeting (many familiar faces here) and we set off for the first event. A rubber tyre vehicle was sat on the station forecourt. Our group, along with a party of walkers, packed aboard (possibly the busiest this bus has ever been). Fortunately we only had to endure 5 minutes on this bus, whereby we reached Gonzen Mine.

We were met outside the entrance (sections of the old mine railway are visible from outside. The track used to stretch across two bridges towards the processing buildings some distance away) and shown inside to a type of lecture room. Here we were shown a short film on the history of the mine, along with its demise and current state. After this, we were all given "Bob the Builder" hard hats and boarded the little yellow train for the ride. Around 2km of track remains usable inside Mount Gonzen. We rode to the far end of the line, and were given a short talk and tour of the caverns, including a demonstration of an old excavator which had recently been found after 40 years and which was still in working condition. We then rode back in the train, had time for some photos of the other rolling stock, then made our way outside to join the next bus back into Sargans.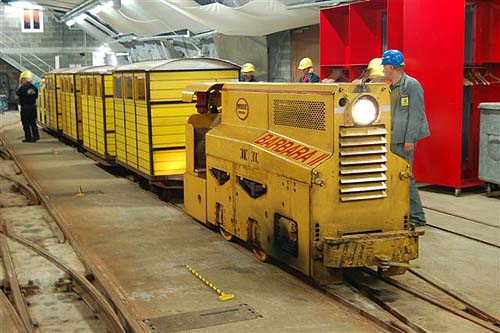 Deutz Loco 56507 at the Gonzen Mine Railway.
Shortly before 11.45am our special train arrived. It consisted of SBB "Historic Lok" 18451 and one coach. This was our home for the remainder of the day.

First we headed around the eastern side of the Sargans loop and up towards Buchs and Salez-Sennwald. From here we turned right and on to the branch to Agip, which is used solely for the oil terminal. Our train ran virtually up to the gates, before the loco ran around, then pushed the coach back to complete the line. As is usual with most foreign railtours, alighting was possible at "non-platformed" locations to photograph the proceedings.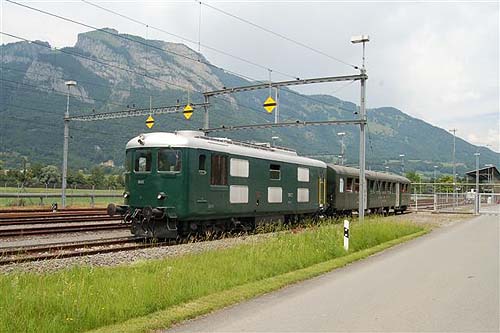 18451 at the Agip Oil Terminal.

Back on board we retraced our route to Buchs, this time though, taking the western loop into Sargans. We continued down to Landquart and then onto Untervaz which has a yard and connections to the next three branches we would be doing. We ran initially into the Holcim cement terminal, stopping just prior to the loading facilities. Here two of the internal shunters were stabled. The train then propelled along the 'rather grassy' line to Catram/Kieswerk. We went beyond the main loading point here and right up to the buffers, which appeared to be disappearing into the long grass of the field.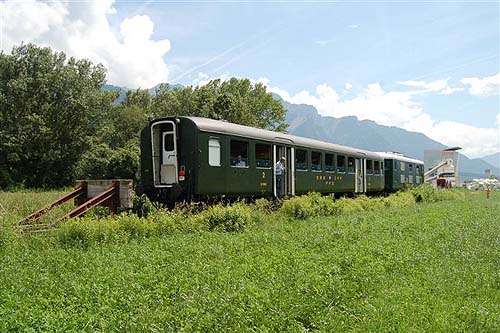 Right to the buffers on the Catram/Kieswerk Branch.
The use of the opposite side of the run-round loop was prevented by some stabled wagons, so we headed back towards the Holcim branch, reversing at the ground frame. Back over the Rhein into Untervaz yard again, before traversing the Gevag branch. (Actually more like a spur running close to the main RhB line towards Chur).

Again we propelled back in to Untervaz yard, where I think, we all expected the loco to run round before heading to Landquart. What actually happened, is that the loco propelled the whole way along the SBB mainline. A distance of some 6 kilometres, and with no reduction in speed. Truly amazing by British standards..... Health and Safety go jump off the nearest cliff.

From Landquart, we were held slightly, for no real reason it seemed. Although this did give another unusual occurrence, as our special, along with an SBB Intercity service to Chur, both headed out at similar times in the same direction on a two track section of line. Our lighter, quicker train was leading for some distance, before the speed of the class 460 electric won, and it sped past. We arrived in Chur, only a few minutes behind the express, but unlike it, we continued through the station (centre road) and forward to Domat/Ems. Here we turned off into Ubergabebf Werk and then into Ems Chemicals. Well that was the plan I thought. However it turned out that the track into the chemical plant had been refused, and so we traversed the brand new (open less than 1 month) into Stallinger. This turned out to be a timber processing and loading site.
We surely must have claim to be the first passengers to do this track, although four empty timber wagons prevented us reaching the buffers and claiming the entire track.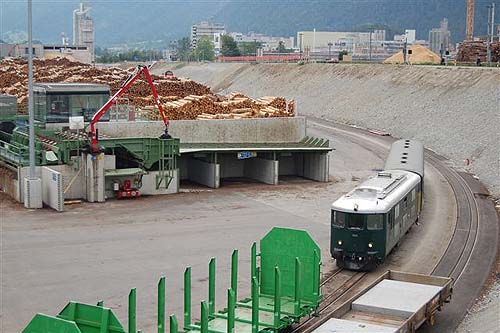 The first passenger train to traverse the Stallinger Timber Branch.

Another propelling move back to Ubergabebf Werk, the loco ran round again, and then we set off back into Chur yard. Here we reversed (More propelling, this time downhill and even across several open level crossings). The first branch was to the Prodega Co-Op/Kuoni loading factory. Some very tight clearances were noticed as we propelled through the loading building, which was full of pallets of foodstuff, waiting the next train out. Just out of arms reach, were crates of wine, slabs of beer, tinned foods, and boxes of fruit. There was even a set of toilet seats waiting for dispatch. The train exited the far side of the building, and into the road vehicle loading area. Some very strange looks were seen on the drivers faces. We came to within a coach length of the buffers, this being blocked by some metal fencing.

Another Foto-halt (Oops, photo stop) was followed by the traversal of the Vogele Recycling branch. The train on this occasion stopping just short of the gates into the crusher compound.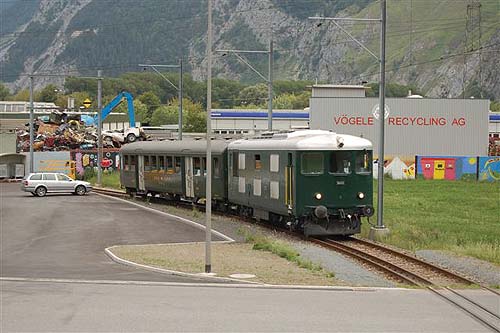 Getting to the gates at Vogele Recycling.

And so that was it, day one virtually complete. All that was left was the quick run back up the branch and into Chur station.

Sunday 10th June
Today started with two service trains. First was IC 566 from Chur to Sargans (SBB loco 11210) and then connecting into IC 169 (SBB loco 11195 to Buchs, with OBB 1116 155 forward to Feldkirch). This was the second time in as many years that I had done the line from Switzerland to Austria through Liechtenstein.

At Feldkirch we transferred into our charter service, which consisted of Montafonerbahn electric unit ET 10 109. We headed North to Dornbirn (note to self. Do not confuse with Doomben, as done on recent trip to Brisbane) and shortly afterwards into the yard at Wolfurt. Here we alighted from the unit, and were shown around the "elevated" signal cabin, which controls not only the yard, but also the main line on which we had just arrived from Feldkirch. Some opted to use the toilets here as none were provided on our unit.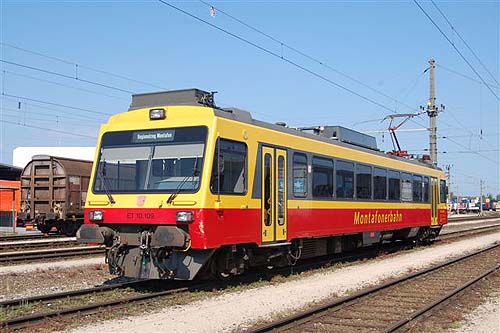 ET 10.109 During the photo stop in Wolfurt Yard.

Back inside the unit, and we left the yard via one of the northern exit roads. We continued passed Lauterach before turning sharp left and doing the freight only curve which joins on to the St.Margrethen to Bregenz/Lindau line. Once off the curve we continued the short distance to Lustenau Markt, where we alighted and were able to photo the unit as it departed over the bridge across the Rhein.
Leaving the platform, we only had a short walk to the Internationale Rheinregulierung (IRR) station.

Here our private charter train was waiting, and would be hauled by ELFI. A loco capable of running on the 750 Volt DC overheads or on diesel power for the sections without wires. We had been told that, time permitting, we should be able to reach all the extremities of the "open lines". However, no one seemed exactly sure where these locations were. So first we headed North, and after 3.4km we lost the overheads. It was a further 2.4km until we reached the buffers. Some splendid views were had across the Bodensee of Bregenz and Lindau.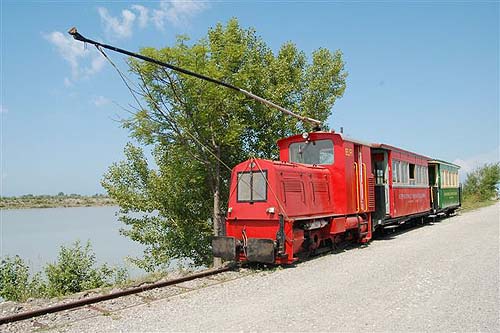 ELFI at the Northern end of the IRR (Bodensee).

We then retraced our steps back to the starting station at Lustenau. Lunch was provided here, and a guided tour of the museum and loco sheds also. After lunch we continued South, the wires ran out after approx. 6km and sadly the track finished only another 400 yards after this. Numerous people had decided to watch a local football match from the embankment upon which the track was located and they seemed most perplexed that we should require them to move whilst they loco ran round.
We then crossed the Rhein via the impressive bridge at Widnau and continued South on the opposite bank of the river for a further 1.2km to the old site of Widnau Works. The buildings of which are below the embankment, although now in non-railway use. The tracks did continue further than this, although it was deemed that they were no longer fit for use. We then headed back North, but this time kept to the Swiss side of the Rhein, and ran for 7.8km until the end of the overheads. Again it was noted that the tracks continued from here, (although in what state they were was unsure), but it was deemed that time was against us on this occasion. We returned to the SBB/OBB rail bridge at St Margrethen and had a "staged photo stop" with an OBB EMU passing above.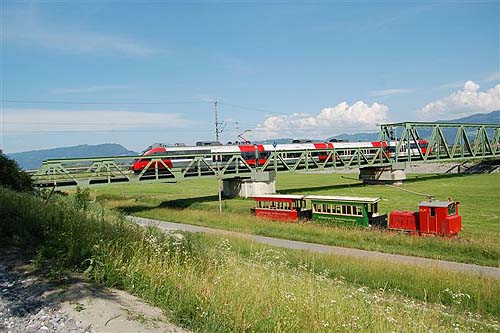 The IRR & OBB overbridge at St Margrethen.
In total we had spent nearly 5 hours aboard this little train, in fairly hot, cramped conditions. However, we had completed approx. 30.2km of track in that time.

After this, we walked to the nearby camp site, and had an afternoon Bratwurst, Beer or Ice Cream (take your pick, or take them all if your hungry) whilst waiting for our chartered bus to the SBB station. From here it was a service train (RE 3827, hauled by 11134) back via Buchs and Sargans to Chur.

Monday 11th June
And so to the final day.....

We met at Chur around 7.45am, in readiness for the 7.56am departure to Disentis/Muster (RE 1212, loco 629 for haulage). For most of today we would be using service trains, however, unlike previous days, we had our own "private" coach attached to the rear of the formation. The route to Disentis follows the Rhein initially out of Chur, and then the Vorderrhein River for the rest of the way. Several 'classic' shots of rail and river were available on the curves during this section, especially from the rear of the train as we were.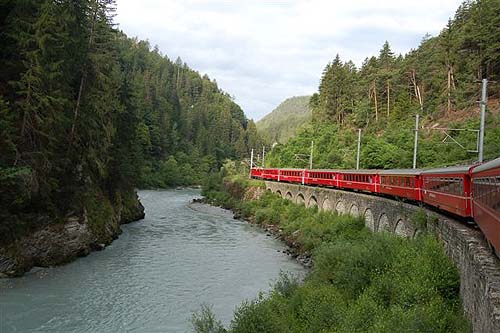 RhB loco 629 on the run from Chur to Disentis.
At Disentis the main train terminated (a connection was available for the public who were travelling forward to Andermatt and Brig). The loco ran round, then detached our coach, and shunted it between platforms. Most stayed aboard to "do the crossovers". After this, ex-FO Croc, number 32, backed on and waited for our departure time. Whilst this was happening, we were allowed to cross the tracks and wander though the small depot that was there. A snowblower, small shunt loco and spare coach were the only items of stock present though. Back at the main station the 'Croc' was now positioned nicely for photos.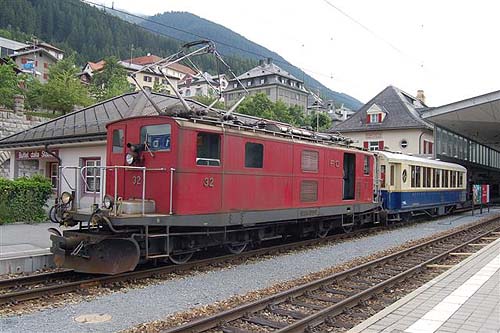 ex-FO Croc, number 32, at Disentis.
Due to the single lines, we had to wait for an eastbound arrival before departing. We were now heading for Las Rueras, a short branch off the main MGB-FO route just prior to Sedrun. This line drops sharply away from the mainline and uses several viaducts to snake it's way down the valley. The line is used solely for construction traffic to/from the work site at Sedrun, in connection with the new Gotthard-BasisTunnel being built through The Alps. When complete this tunnel will be the worlds longest, at 57km in length.
Once off the train. we were able to photo some of the Tunnel Works shunters, which were busily moving spoil and construction materials around the site. From here we were escorted into a set of porta-cabins and asked to "dress for action". Namely hard hats, protective overcoats, safety goggles and ear protection/head sets. Some of us were also equipped with lamps. (Another chance for a "Bob the Builder" style photo shoot).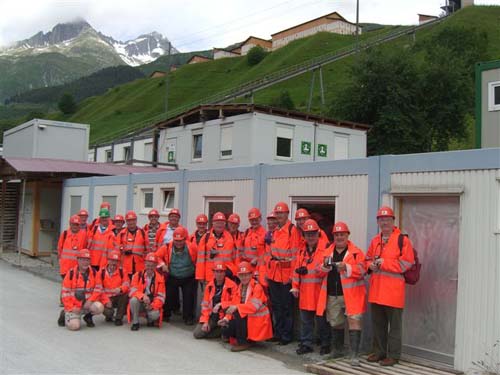 Bob the Builder photo shoot at the Las Rueras Site.

We were then shown to our train (5022 and 5023 dating from 1989) which took us on a short (probably around 1 - 1.5km) underground journey to the tunnelling station.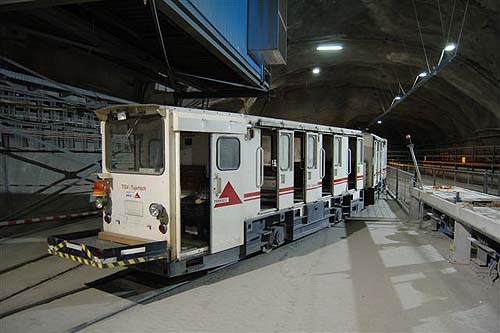 5022 & 5023 at the Sedrun Construction site.
At this point the workers use the lift shafts giving access to the main tunnelling sites. Whilst we were underground, we watched the lift shafts raise wagons full of waste spoil, whilst locos were on hand to remove them back to the surface. In reverse, the locos brought in empty wagons and the lifts lowered them down for the next cycle. This process it seemed was never-ending. We also given a history of the work so far, work happening now, and future projects being undertaken here.

After around an hour underground, we rode the train back to Las Rueras, and then "de-robed" back into our normal clothing for a ride on the Las Rueras - Mira Funicular. This was built solely for the use of workers to gain access to their accommodation and also site buildings etc.
Up at the top, we were shown a film on the construction process and some freebies were offered too.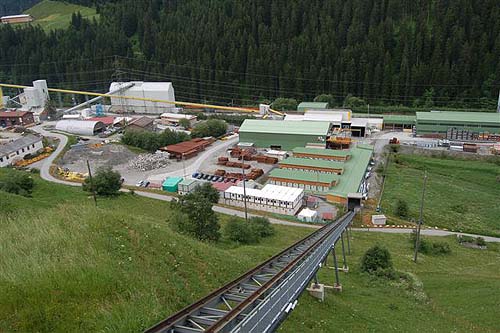 Las Rueras - Mira Funicular.

From here it was a short walk to Sedrun itself, and lunch in the nearby hotel. After lunch, we had a chartered bus back to Disentis station.

Once back, we found our "private" coach had been attached to the rear of the next available eastbound service (RE 1257, with RhB loco 643 at the front), and we duly set off. This was a straight repeat of our outward journey from Chur in the morning, so nothing new to see or report. In fact many people used the time for sleep as I seem to remember. We were slightly late on arrival into Chur, so we had a quick dash from platform 14 to platform 2 (Platforms 1 & 2 are actually street running platforms, located on the station forecourt). This again was a service train (RE 1453, destination Arosa, loco 611) , but the connection had been held (none of this rubbish about missed connections and different companies like we have in Britain today). We rode in our reserved coach as far as Forsch, just over 8km from Chur, where we alighted at the "Hydro" request stop. This it seems is to solely serve the ArosaEnergie Hydro Plant located several hundred feet below at the river level. We rode the funicular in three groups down to river level giving all a chance to take photos of the car ascending/descending.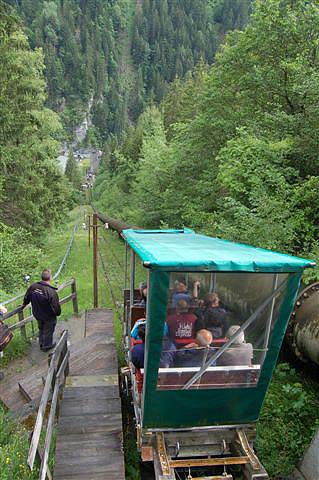 Forsch Hydro Funicular.
A short time spent at the bottom, before riding back up and onto another service train (RE1456, ex-Arosa, loco 619 propelling) back to Chur. The final twist in the weekends rail journeys, was to traverse the RhB connecting track. This is used by Arosa line trains to reach the RhB depot and main system. No passenger services use this line. The line crosses over the SBB mainline on a series of diamonds crossings North of Chur station. For this move we used shunt loco 215, and a spare coach which had come from the depot.
Final fling. RhB 215 prepares to shunt across the SBB lines at Chur

So that was that, three excellent days with plenty of new track and locos too. Thanks must go to our two guides, Peter Huber and Henri Heizmann, both of whom made it all possible, especially when cancelling the whole tour would have been an option. I hope the other 23 people aboard enjoyed it as much as me, and got as much satisfaction too. Roll on the next event......