8th - 11th June 2007
Pathfinder Tours
The Orcadian
| | |
| --- | --- |
| Locos Used | 37406 'The Saltire Society', 37410 'Aluminium 100' & 67018 |
| Stock Used | ???? |
Route:
1Z?? : Swindon to Inverness
1Z29 : Inverness to Kyle of Lochalsh
1Z30 : Kyle of Lochalsh to Inverness
1Z31 : Inverness to Georgemas Junction
1Z32 : Georgemas Junction to Wick
1Z33 : Wick to Inverness
1Z34 : Inverness to Swindon
| | | |
| --- | --- | --- |
| Date | Loco(s) | Route |
| 08/06 | 67018 | Swindon - Chippenham - Bath Spa - Bristol Parkway - Cheltenham Spa - Worcester Shrub Hill - Bromsgrove - Longbridge - Birmingham New Street - Bescot - Darlaston Jn - Portobello Jn - Bushbury Jn - Stafford - Crewe - Wigan North Western - Preston |
| 08/06 | 37410+37406 | Preston - Penrith : North Lakes - Carlisle - Lockerbie - Carstairs - Motherwell - Braidhurst Loops - Coatbridge Central - Perth - Blair Atholl - Inverness |
| 09/06 | 37410+37406 (1) | Inverness - Welsh's Bridge Jn |
| 09/06 | 37410+37406 | Welsh's Bridge Jn - Muir of Ord - Dingwall - Strathcarron - Kyle of Lochalsh |
| 09/06 | 37410+37406 | Kyle of Lochalsh - (reverse of outward route) - Welsh's Bridge Jn |
| 09/06 | 37410+37406 (1) | Welsh's Bridge Jn - Inverness |
| 10/06 | 37410+37406 (1) | Inverness - Welsh's Bridge Jn |
| 10/06 | 37410+37406 | Welsh's Bridge Jn - Muir of Ord - Dingwall - Invergordon - Lairg - Georgemas Junction |
| 10/06 | 37406 (2) | Georgemas Junction - Thurso |
| 10/06 | 37410 (3) | Thurso - Wick |
| 10/06 | 37410+37406 | Wick - Georgemas Junction - (reverse of outward route) - Welsh's Bridge Jn |
| 10/06 | 37410+37406 (1) | Welsh's Bridge Jn - Inverness |
| 11/06 | 37410+37406 | Inverness - (reverse of outward route) - Preston |
| 11/06 | 67018 | Preston - (reverse of outward route) - Swindon |
Notes :
(1) Locos propelling.
(2) 37410 on rear.
(3) 37406 on rear.
(4) 37410 led much of the time as 37406 was considered 'suspect'.
(5) Off train options offered were;
A (Sat) : Morning in Inverness and afternoon rail trip to Kyle of Lochalsh & back
B (Sat) : Coach tour via Loch Ness, Glen Morrison and Eileann Donan Castle (visit) to Kyle of Lochalsh; returning to Inverness on the train
C (Sat) : by road coach to the beautiful Inverewe Gardens (no rail travel involved)
D (Sun) : Rail trip as above, then by coach and ferry for afternoon tour of the Orkney Islands
E (Sun) : Rail trip as above, followed by a coach tour to Dunnet Head, Castle of Mey, John O'Groats and Wick
(6) Original advertising had this tour running in association with the Class 50 Alliance and was to have featured the use of class 50 locomotives 50044 & 50049.
Sources : David Ross & Gary Thornton



Photo Review
(all photos: David Ross)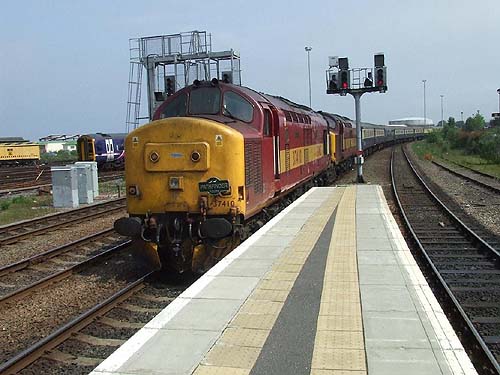 37410 & 37406 arrive at Inverness on 9th June.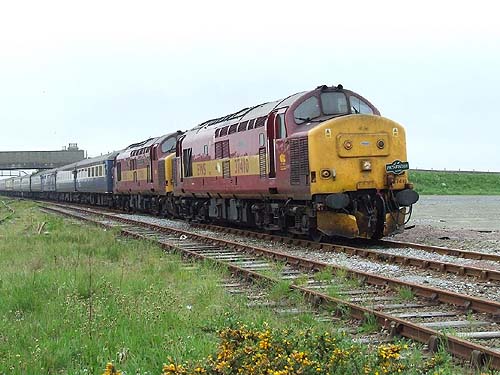 37410 & 37406 at Georgemas Junction on 10th June.


Timings (Booked & Actual)
(from David Ross)
08/06 & 11/06 :
| | | | | | |
| --- | --- | --- | --- | --- | --- |
| Location | Booked | Actual | | Booked | Actual |
| Swindon | 06.12d | 06.10 | | 23.19a | 23.29 |
| Chippenham | 06.28a ~ 06.31d | 06.24 ~ 06.31 | | 22.59a ~ 23.02d | 23.02 ~ 23.04 |
| Bath Spa | 06.44a ~ 06.47d | 06.43 ~ 06.47 | | 22.42a ~ 22.45d | 22.46 ~ 22.49 |
| Filton Abbey Wood | 07/10 | 07/10 | | 22/20 | 22/29 |
| Bristol Parkway | 07.12a ~ 07.14d | 07.12 ~ 07.14 | | 22.15a ~ 22.17d | 22.24 ~ 22.26 |
| Yate | 07/22 | 07/23 | | 22/02 | 22/15 |
| Cheltenham Spa | 07.48a ~ 07.50d | 07.47 ~ 07.50 | | 21.31a ~ 21.34d | 21.44 ~ 21.47 |
| Ashchurch | 07/57 | 07/57 | | 21/23 | 21/37 |
| Worcester Shrub Hill | 08.19a ~ 08.35d | 08.17 ~ 08.38 | | 21.06a ~ 21.09d | 21.19 ~ 21.21 |
| Stoke Works Jn | ? | ? | | 20/25 | ? |
| Bromsgrove | 09/05 | 09/06 | | ? | ? |
| Barnt Green | 09/13 | 09/13 | | 20/19 | 20/27 |
| Longbridge | 09/15 | 09/15 | | 20/15 | 20/24 |
| Kings Norton | 09/22 | 09/23 | | 20/12 | 20/21 |
| Birmingham New Street | 09.38a ~ 09.52d | 09.41 ~ 09.53 | | 19.53a ~ 19.57d | 20.00 ~ 20.05 |
| Bescot Stadium | 10/05 | 10/06 | | 19/27 | 19/38 |
| Stafford | 10.29a ~ 10.36d | 10.27 ~ 10.36 | | 18.53a ~ 19.01d | 19.07 ~ 19.10 |
| Norton Bridge | 10/42 | 10/42 | | 18/48 | 19/02 |
| Crewe | 10.59a ~ 11.04d | 10.58 ~ 11.04 | | 18.02a ~ 18.27d | 18.41 ~ 18.44 |
| Weaver Jn | ? | ? | | 17/43 | ? |
| Warrington Bank Quay | 11/23 | 11/26 | | 17/38 | 18/18 |
| Wigan North Western | 11/35 | 11/50 | | 17/27 | 18/06 |
| Preston | 11L56a ~ 12L23d | 12.05 ~ 12.53 | | 16L39a ~ 17L11d | 17.05 ~ 17.44 |
| Lancaster | 12/41 | 13/14 | | 16/21 | 16/42 |
| Carnforth South Jn | ? | ? | | 15*53 [UPL] 16*12 | ? |
| Oxenholme : Lake District | 12/56 | 13/34 | | 15/40 | 16/06 |
| Tebay | ? | ? | | 15/31 | ? |
| Penrith : North Lakes | 13/24 | 14/08 | | 15/02 | 15/22 |
| Carlisle | 13.40a ~ 13.54d | 14.24 ~ 14.32 | | 14/45 | 14/54 |
| Lockerbie | 14*17 ~ 14*26 | 14/57 | | 14/19 | 14/22 |
| Beattock Summit | ? | ? | | 13/55 | ? |
| Abington | ? | ? | | 13/46 | ? |
| Carstairs | 15*17 ~ 15*44 | 15.42 ~ 15.42½ | | 13/30 | 13/32 |
| Motherwell | 16/01 | 15/57 | | 13/11 | 13/07 |
| Braidhurst Loops | 16*03 [DGL] 17*04 | 15.58 ~ 17.03 | | 12*41 [UGL] 13*09 | 12.40 ~ 13.05 |
| Whifflet | 17/11 | 17/11 | | ? | ? |
| Coatbridge Central | 17/13 | 17/12 | | 12/29 | 12/30 |
| Cumbernauld | 17/24 | 17/23 | | 12/19 | 12/22 |
| Stirling | ? | ? | | 11*53 ~ 11*58 | 11.59 ~ 12.00 |
| Dunblane | 17/59 | 18/02 | | 11/48 | 11/54 |
| Perth | 18*32 ~ 19*12 | 18.30 ~ 19.25 | | 10*58 ~ 11*22 | 10.58 ~ 11.22 |
| Dunkeld & Birnam | 19/31 | ? | | ? | ? |
| Pitlochry | ? | ? | | 10*21 ~ 10*26 | 10.27 ~ 10.27½ |
| Blair Atholl | 19/53 | ? | | 10/12 | ? |
| Kingussie | 20*37 ~ 21*09 | 20.55 ~ 21.08 | | 09*19 ~ 09*34 | 09.24 ~ 09.33 |
| Aviemore | 21*20 ~ 21*25 | 21.20 ~ 21.28 | | 09/06 | ? |
| Carrbridge | ? | ? | | 09/00 | ? |
| Moy | ? | ? | | 08/46 | ? |
| Inverness | 22.05a | 22.15 | | 08.20d | 08.20 |
09/06 :
| | | | | | |
| --- | --- | --- | --- | --- | --- |
| Location | Booked | Actual | | Booked | Actual |
| Inverness | 13.15d | 13.15 [P2] | | 21.36a | 21.32 |
| Welsh's Bridge Jn | 13.18 ~ 13.23 | ? | | 21.29 ~ 21.33 | ? |
| Rose Street Jn | 13/27 | ? | | ? | ? |
| Muir of Ord | 13.42 ~ 13.45 | ? | | 20*55 ~ 21*02 | ? |
| Dingwall | 13*53 ~ 14*02 | 14.05 ~ 14.07 | | 20*36 ~ 20*46 | 20.36 ~ 20.38 |
| Garve | 14.24 ~ 14.27 | ? | | 20.06 ~ 20.10 | ? |
| Achnasheen | 14.56 ~ 14.59 | 15.08 ~ 15.11 | | 19*33 ~ 19*38 | 19.33 ~ 19.38 |
| Strathcarron | 15*27 ~ 16*01 | 15.39 ~ 16.07 | | 19.00 ~ 19.03 | 19.00 ~ 19.03 |
| Kyle of Lochalsh | 16.43a | 16.46 | | 18.15d | 18.20 |
10/06 :
Location

Booked

Actual

Booked

Actual

Inverness

06.00d

06.10 [P2]

23.48a

23.43

Welsh's Bridge Jn

06.03 ~ 06.08

?

23.40 ~ 23.45

?

Rose Street Jn

?

?

?

?

Muir of Ord

06.35 ~ 06.36

?

23.08 ~ 23.10

?

Dingwall

06.46 ~ 06.47

06.48 ~ 06.50

22.55 ~ 22.57

23.05 ~ 23.06

Invergordon

07.07 ~ 07.08

07.09 . 07.10

22.36 ~ 22.37

22.46 ~ 22.47

Tain

07.26 ~ 07.27

07.24 ~ 07.27

22.17 ~ 22.18

22.26 ~ 22.27

Ardgay

07.46 ~ 07.47

?

21.57 ~ 21.58

?

Lairg

08.10 ~ 08.11

08.10 ~ 08.11

21.39 ~ 21.40

21.48 ~ 21.49

Rogart

08.29 ~ 08.30

?

21.13 ~ 21.14

?

Brora

08.53 ~ 08.54

08.50 ~ 08.51

20.50 ~ 20.51

21.02 ~ 21.03

Helmsdale

09.10 ~ 09.11

09.07 ~ 09.08

20.31 ~ 20.35

20.41 ~ 20.44

Forsinard

09.53 ~ 09.54

?

19.53 ~ 19.55

?

Georgemas Junction

10.31a ~ 13.00d

10.21 ~ 12.44

19*05 ~ 19*15

19.24 ~ 19.27

Thurso

13.15a ~ 13.25d

12.59 ~ 13.25

Georgemas Junction

13*40 ~ 13*45

13.40 ~ 13.45

Wick

14.05a

14.05

18.40d

19.05