5th May 2007
S.R.P.S. Railtours
The Lochalsh Special
| | |
| --- | --- |
| Locos Used | 47245 & 47851 |
| Stock Used | ???? |
Route:
1Z64 : North Berwick to Kyle of Lochalsh
1Z65 : Kyle of Lochalsh to North Berwick
| | |
| --- | --- |
| Loco(s) | Route |
| 47245 (1) | North Berwick - Edinburgh Waverley - Haymarket - Dalmeny - Inverkeithing - Kirkcaldy - Thornton North Jn - Ladybank - Hilton Jn - Perth - Aviemore - Welsh's Bridge Jn - Rose Street Jn - Dingwall - Achnasheen - Kyle of Lochalsh |
| 47851 (2) | Kyle of Lochalsh - (reverse of outward route) - North Berwick |
Notes :
(1) 47851 on rear.
(2) 47245 on rear.
(3) 47851 had a load regulator problem on the return journey and was assisted from the rear by 47245 pushing from Raven's Rock Summit to Pitlochry. Because of the delays with 47851 and subsequent pathing issues on single line sections north of Inverness, we were 120 minutes late leaving Pitlochry, but this was halved after Perth because of a 61 minute pathing stop and reduced to only 15 minutes at North Berwick after removing another pathing stop to allow the last unit of the day into and out of North Berwick.
Source : David Moorcraft



Photo Review
(all photos: David Moorcraft)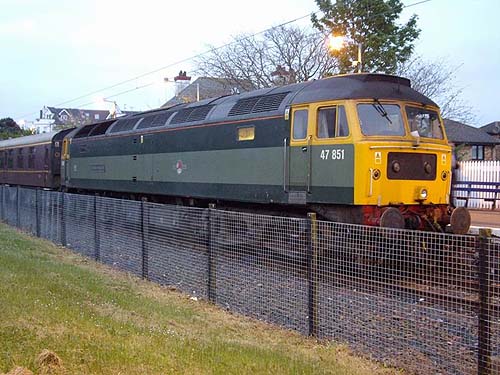 47851 arrives with the ECS at North Berwick.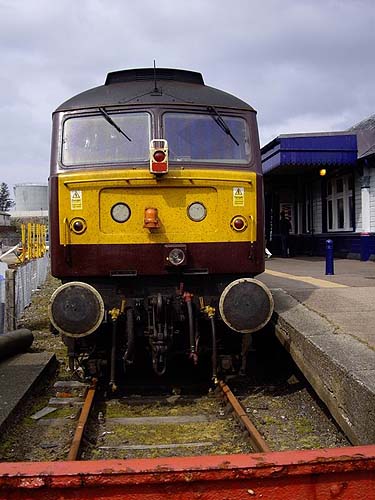 47245 at the buffer stops at Kyle of Lochalsh.


Timings (Booked Only)
| | | | | |
| --- | --- | --- | --- | --- |
| Miles | Location | Booked (out) | Booked (rtn) | Miles |
| 0.0 | North Berwick | 05.28d | 00.16a | 559.5 |
| 4.6 | Drem | 05/37 | 00/07 | 554.9 |
| 9.1 | Longniddry | ??.??a ~ 05.43d | 23.41a ~ ??.??d | 550.4 |
| - | Prestonpans UPL | - | 23*14 ~ 23*35 | 547.1 |
| 14.6 | Wallyford | ??.??a ~ 05.54d | 23.05a ~ ??.??d | 544.9 |
| 16.3 | Monktonhall Jn | 05/57 | 23/02 | 543.1 |
| 18.9 | Portobello Jn | 05/59 | 22/59 | 540.5 |
| 22.3 | Edinburgh Waverley | 06/03 | 22/48 | 537.2 |
| 23.6 | Haymarket | 06/06 | 22/44 | 535.9 |
| 24.7 | Haymarket West Jn | 06/07 | 22/42 | 534.8 |
| 31.3 | Dalmeny Jn | 06/15 | 22/34 | 528.1 |
| 31.8 | Dalmeny | ??.??a ~ 06.18d | 22.31a ~ ??.??d | 527.7 |
| 35.5 | Inverkeithing | 06/24 | 22/22 | 524.0 |
| 37.1 | Dalgety Bay | ??.??a ~ 06.30d | 22.17a ~ ??.??d | 522.4 |
| 39.9 | Aberdour | 06/35 | 22/12 | 519.6 |
| 42.6 | Burntisland | 06/38 | 22/08 | 516.9 |
| 48.3 | Kirkcaldy | ??.??a ~ 06.47d | 21.58a ~ ??.??d | 511.2 |
| 52.7 | Thornton South Jn | 06/52 | 21/53 | 506.8 |
| 53.2 | Thornton North Jn | 06/53 | 21/52 | 506.3 |
| 55.7 | Markinch | ??.??a ~ 06.59d | 21.46a ~ ??.??d | 503.8 |
| 61.5 | Ladybank | ??.??a ~ 07.09d | 21.36a ~ ??.??d | 498.0 |
| 69.3 | Newburgh | 07/24 | 21/25 | 490.2 |
| 77.3 | Hilton Jn | 07/39 | 21/15 | 482.2 |
| 79.3 | Perth | 07.43a ~ 08.05d | 20*09a ~ 21*10d | 480.2 |
| 86.5 | Stanley Jn | 08/15 | 19/59 | 473.0 |
| 94.8 | Dunkeld & Birnam | 08*26 ~ 08*31 | 19/49 | 464.7 |
| 107.7 | Pitlochry | ??.??a ~ 08.52d | 19.33a ~ ??.??d | 451.8 |
| 114.6 | Blair Atholl | 09/03 | 19/24 | 444.9 |
| 138.0 | Dalwhinnie | 09/40 | 19/00 | 421.5 |
| 151.0 | Kingussie | 09/59 | 18/48 | 408.5 |
| 156.9 | Kincraig | 10*07 ~ 10*12 | 18/43 | 402.6 |
| 163.0 | Aviemore | 10/19 | 18/36 | 396.5 |
| 169.4 | Carrbridge | 10*29 ~ 10*50 | 18/30 | 390.0 |
| 174.8 | Slochd Summit | 11/02 | 18/25 | 384.7 |
| 178.4 | Tomatin | 11/08 | 18/19 | 381.1 |
| 182.5 | Moy | 11*10 ~ 11*16 | 18/15 | 377.0 |
| 190.9 | Culloden Moor | 11/24 | 18/02 | 368.7 |
| 196.6 | Millburn Jn | 11/32 | 17/52 | 362.6 |
| 197.4 | Rose Street Jn | ??*?? ~ 11*36 | ??*?? ~ 17*50 | 362.0 |
| 198.8 | Clachnaharry | 11/40 | 17/43 | 360.7 |
| 204.6 | Clunes | 11/46 | 17/35 | 354.9 |
| 210.3 | Muir of Ord | 11*55 ~ 12*00 | 17*24 ~ 17*27 | 349.2 |
| 215.9 | Dingwall | 12t10 | 17t14 | 343.6 |
| 227.8 | Garve | 12t36 | 16t48 | 331.7 |
| 243.8 | Achnasheen | 13*06 ~ 13*11 | 16t16 | 315.6 |
| 261.7 | Strathcarron | 13t44 | 15t43 | 297.7 |
| 274.2 | Plockton | 14.10a ~ ??.??d | ??.??a ~ 15.13d | 285.3 |
| 279.7 | Kyle of Lochalsh | 14.30a | 14.55d | 279.7 |