26th March 2007
Past Time Rail
(The Devon & Cornwall Branch Week - Day 2)
| | |
| --- | --- |
| Locos Used | 37410 'Aluminium 100' & steam: 45407 'The Lancashire Fusilier' |
| Stock Used | 35517+4986+4998+1813+5008+4949+35469 |
Route:
'The Harbour Master'
1Z20 : Plymouth to St Blazey Signal Box
1Z21 : St Blazey Signal Box - St Blazey
1Z22 : St Blazey to Par (via Par Harbour)
'The Atlantic Coast Flyer'
1Z23 : Par to Newquay
1Z24 : Newquay to Plymouth
| | |
| --- | --- |
| Loco(s) | Route |
| 45407 (1) | Plymouth - Saltash - Liskeard - Lostwithiel - Par - St Blazey SB |
| 37410 (2) | St Blazey SB - St Blazey - Par Harbour (3) |
| 45407 (1) | Par Harbour - St Blazey - St Blazey SB - Sig.SB2 Middleway (onto single track) |
| 37410 (2) | Sig.SB2 Middleway - St Blazey SB - Par |
| 45407 | Par - St Blazey SB - Pontsmill Viaduct(mp 283½) (4) |
| 45407 (1) | Pontsmill Viaduct (mp 283½) - Goonbarrow - Newquay |
| 37410 (2) | Newquay - Goonbarrow - Par - Lostwithiel - Liskeard - Saltash - Plymouth |
Notes :
(1) 37410 on rear.
(2) 45407 on rear.
(3) Train stopped at the Network Rail stop board which meant the diesel at the front just went under the GWR main line.
(4) Due to a 10mph TSR on leaving Par, 45407 stalled at mp 283½ (Pontsmill Viaduct) & didn't attempt to restart. 37410, which was booked to follow the train to Newquay, coupled to the rear and both locos were needed for the restart. From there to Newquay, the Class 37 was noted only working on one further occasion.
(5) Train ran with various tour names, as listed in the breakdown of headcodes. Originally planned to run in October 2006, this was day two of five days of tours under the banner "The Cornish & Devon Branch Week" and using multiple tour names over the period. Tickets were sold for individual named trains, for a whole day or for the complete five days (£225).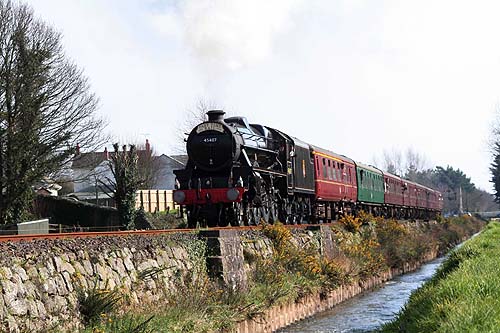 45407 passes along by the canal at St Blazey (photo: Roger Geach)
Sources : various including Neil Edwards (on the train throughout) & John Clifford



Timings (Booked & Actual)
(from Neil Edwards & John Clifford)
Location
Booked
Actual
Booked
Actual
Plymouth
13.42d
13.42
20.48a
20.39
St Budeaux Ferry Road East Jn
13/50
13/50
20/43
20/33
Saltash
13/54
13/53½
20/39
20/29½
St Germans
14/01
14/00½
20/21
20/23
Liskeard
14/14
14/13
20/12
20/12
St Pinnick
14/22
14/20
20/05
20/04
Largin
14/23
14/21½
20/04
20/02
Lostwithiel
14/32
14/31
19/50
19/49
Par
14.44a ~ 14.49d
14.42 ~ 14.46
19.38a ~ 19.41d
19.34 ~ 19.39
St Blazey SB
14.54 ~ 15.00
14.50 ~ 14.52
19*19 ~ 19*32
19.31 ~ 19.31½
St Blazey
15.03 ~ 15.10
14.53 ~ 14.55
Par Harbour Branch (NR Limit)
?
14.59½ ~ 15.13
St Blazey SB
15.38 ~ 15.43
15.16½ ~ 15.46
Sig. SB2 Middleway
?
15.50 ~ 15.53
Par
15L49a ~ 16L00d
15.57½ ~ 16.04
St Blazey SB
16.05 ~ 16.07
16/08
mp283½ (approx Pontsmill Viaduct)
?
16L17 ~ 16L41
Goonbarrow
16.22 ~ 16.24
16.55½ ~ 16.56½
19.00 ~ 19.02
18.59 ~ 18.59½
Newquay
17.09a
17.40
18.15d
18.18½