24th February 2007
Past Time Rail
Western South-Western
| | |
| --- | --- |
| Loco Used | D1015 'Western Champion' (1) |
| Stock Used | 5482+4949+5008+4998+3146+3141+1671+3147+3121+35469 |
Route:
1Z52 : London Waterloo to Okehampton
1Z53 : Okehampton to London Waterloo
| | |
| --- | --- |
| Loco | Route |
| D1015 | London Waterloo - Queenstown Road - Clapham Junction - Wimbledon - Surbiton - Woking - Farnborough (Main) - Basingstoke - Winchester - Eastleigh - Northam Jn - Southampton Central - Redbridge - Romsey - Dean - Salisbury - Wilton - Templecombe - Yeovil Junction - Honiton - Exeter Central - Exeter St Davids - Cowley bridge Jn - Crediton - Okehampton |
| D1015 | Okehampton - (reverse of outward route) - London Waterloo |
Notes :
(1) Running numbered/named as D1046 'Western Marquis' on one side.
Sources : Steve Kemp, John Clifford & LASERman



Photo Review
(from Steve Kemp)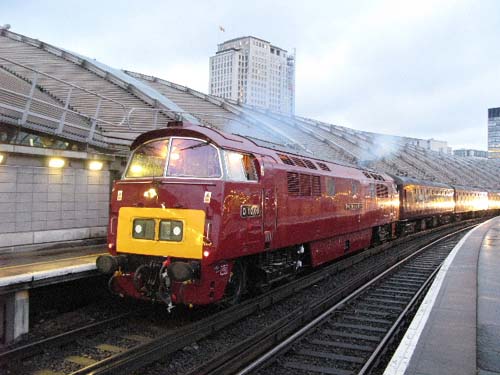 'D1046 Western Marquis' waits to leave Waterloo (photo: LASERman)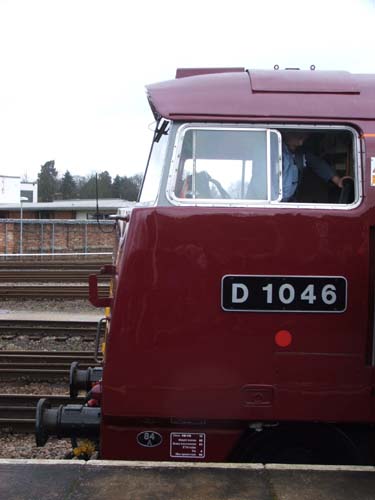 Memories of Westerns past....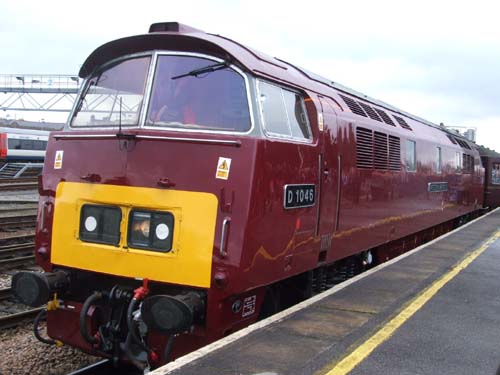 D1015, running on one side as D1046 'Western Marquis', at Salisbury.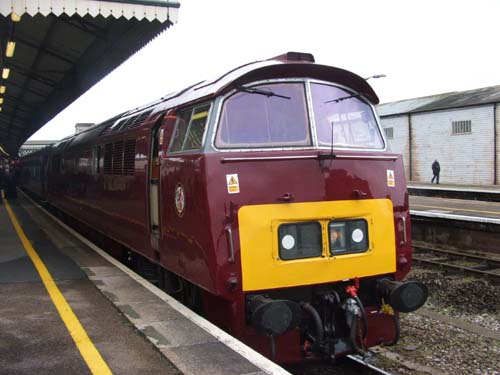 The Wizzo pauses at Exeter St Davids en-route to Okehampton.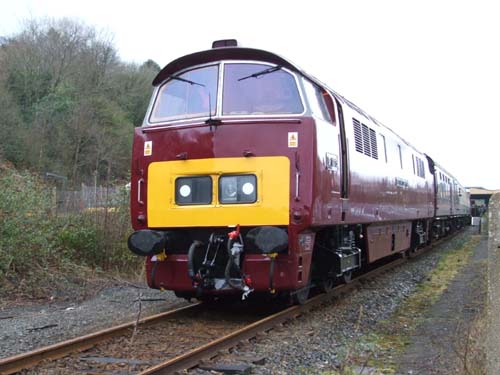 Okehampton.


Timings (Booked & Actual)
(from Steve Kemp & John Clifford)
Location

Booked

Actual

Booked

Actual

Waterloo

07.12d [P15, WFL]

07.19

21.37a [P11]

21.36

Nine Elms Jn

07/19 [WL]

07/28

?

?

Queenstown Road (Battersea)

07/20 [MFL]

07/29

?

?

Clapham Junction

07.25a ~ 07.27d [P9] [FL]

07.33 ~ 07.34

21.23a ~ 21.28d [P7] [MFL]

21.25½ ~ 21.27

Wimbledon

07/32 [P7]

07/40

21/19 [P6]

21/20

New Malden

07/35

07/42½

21/17

21/17½

Surbiton

07/37

07/44½

21/15 [P2]

21/16

Hampton Court Jn

07/41

07/45½

21/14

21/15

Woking

07.50a ~ 07.53d [P4]

07.54½ ~ 07.56

21.02a ~ 21.05d [P2]

21.02 ~ 21.05

Woking Jn

07/54

07/57½

21/01

20/59½

Farnborough (Main)

08/03

08/05½

20/53

20/51

Basingstoke

08/15 [P2]

08/16

20/40 [P3]

20/39½

Worting Jn

08/20

08/19

20/35 [FL]

20/35

Winchester

08/34

08/32

20/21

20/21½

Shawford Jn

08/36 [FL]

08/33½

Shawford

?

?

20/18

20/19

Eastleigh

08/40 [DF]

08/38

20/14 [FL]

20/16

St Denys

08/43 [FL]

08/43½

20/10½ [UF]

20/12

Northam Jn

08/44

08/47

20/08 [FL]

20/11

Southampton Central

08/46 [P4] [FL]

08/50

20/05 [P1]

20/09

Redbridge

08/50

08/54

20/01½ [FL]

20/05

Romsey

08/57

09/01

19/54½

19/58

Dean

09/05

09/08½

19/47½

09/50½

Tunnel Jn

09/13

09/17

19/38½

19/41½

Salisbury

09.16a ~ 09.36d [P4]

09.20 ~ 09.51½

19.33a ~ 19.36d [P3]

19.33 ~ 19.37

Wilton Jn

09/39

09.57½ ~ 10.00

19/29

19/28½

Wilton

09/40

10.04 ~ 10.05

19/27

19/27½

Tisbury Loop

09x59 ~ 10x05

10/20

19/18

19/19

Gillingham

10/15

10/29

19/09

19/10

Templecombe

10/22 [ML]

10/35

19/04

19/05

Sherbourne

10/27

10/41½

18/59½

18/55

Yeovil Junction

10c32 ~ 10c39

10.49 ~ 10.50½

18c28 ~ 18c54 [P1]

18.23½ ~ 18.49½

Chard Jn SB

10x54 ~ 11x05

11.10½ ~ 11.11

18/07

18/06½

Honiton

11x21 ~ 11x32

11/29½

17x28 ~ 17x49

17.36½ ~ 17.52

Pinhoe

11/44

11/41

17/16

17.04 ~ 17.14

Exmouth Jn

11/45½

11/46

17/04

16/58½

Exeter Central

11/47 [P2]

11/49½

17/02 [P3]

16/57

Exeter St Davids

11c50 ~ 12c03 [P1]

11.52½ ~ 12.00½

16c53 ~ 16c59 [P1]

16.51½ ~ 16.54

Cowley Bridge Jn

12/05

12/04

16/51

16/47½

Crediton

12*13 ~ 12*15

12.29 ~ 12.32

16*37 ~ 16*43

16.39½ ~ 16.40

Okehampton

12.50a

13.00½

16.02d

16.05