10th February 2007
Pathfinder Tours
McBuffer-Puffer
| | |
| --- | --- |
| Locos Used | 37406 & 37410 |
| Stock Used | 5376+4902+5040+4927+3122+17015 |
Route:
1Z37 : Glasgow Central to Glasgow Queen Street
1Z74 : Glasgow Queen Street to Glasgow Central
| | |
| --- | --- |
| Loco(s) | Route |
| 37410 (1) | Glasgow Central - Rutherglen West Jn - Rutherglen North Jn - Glasgow Central Low Level - Hyndland East Jn - Hyndland North Jn - Anniesland - Westerton - Milngavie |
| 37406 (2) | Milngavie - Westerton - Anniesland - Hyndland North Jn - Hyndland West Jn - Garscadden - Clydebank - Dalmuir - Dumbarton Central - Craigendoran Jn - Helensburgh Central |
| 37410 (1) | Helensburgh Central - Craigendoran Jn - Dumbarton Central - Dalmuir - Westerton - Maryhill - Cowlairs North Jn - Cowlairs West Jn - Springburn |
| 37406 (2) | Springburn - Cowlairs South Jn - Glasgow Queen Street |
| 37410 (1) | Glasgow Queen Street - Cowlairs South Jn - Cowlairs West Jn - Eastfield Passenger Loop |
| 37406 (2) | Eastfield Passenger Loop - Cowlairs West Jn - Springburn - Bellgrove - High Street Jn - Shields Jn - Paisley Gilmour Street - Port Glasgow - Greenock Central - Gourock |
| 37410 (1) | Gourock - Greenock Central - Port Glasgow - Paisley Gilmour Street - Shields Jn - Terminus Jn - Muirhouse South Jn - Busby Jn - Busby - East Kilbride |
| 37406 (2) | East Kilbride - Busby - Busby Jn - Muirhouse South Jn - Larkfield Jn - Rutherglen East Jn - Newton - Uddingston Jn - Motherwell - Shieldmuir - Wishaw - Law Jn - Lanark Jn - Lanark |
| 37410 (1) | Lanark - Lanark Jn - Law Jn - Wishaw Central Jn - Holytown Jn - Mossend East Jn - Mossend North Jn - Whifflet North Jn - Langloan Jn - Carmyle - Rutherglen East Jn - Larkfield Jn - Terminus Jn - Shields Jn - Paisley Gilmour Street - Port Glasgow - Wemyss Bay |
| 37406 (2) | Wemyss Bay - Port Glasgow - Paisley Gilmour Street - Shields Jn - Terminus Jn - Muirhouse Central Jn - Maxwell Park - Cathcart West Jn - Cathcart - Muirhouse North Jn - Glasgow Central |
Notes :
(1) 37406 on rear.
(2) 37410 on rear.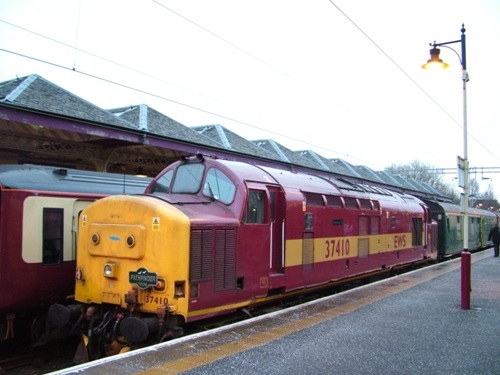 37410 on arrival into Milngavie (photo: Nick Bartlett)
Sources : Martyn Brailsford, David Ross & Ralf Edge



Tour Review
(by Ralf Edge)
A Scottish railtour based on the normally London based 'buffer puffer' format from Pathfinder, to cover plenty of rare curves and indeed lines throughout the Glasgow area and a chance to take a loco hauled passenger train with a pair of EWS 37/4s to some usually multiple unit only destinations, another highlight for many was to be the climb out of Glasgow Queen Street.
The tour ran as advertised and on-time all day, the only slight problem was the lack of photographic opportunities at Glasgow Queen Street, whilst to their credit First Scotrail did allow us into Queen Street on the day (they had refused permission earlier in the week due to additional rugby trains) we were kept on platform 7 by Police and Scotrail staff, therefore passengers couldn't get a view of the 'offside' view of the train. Having said that we were glad to be there, and two extra photostops were allowed at Dumbarton Central and Springburn both of which were only advertised as operational stops.
A super day, and it did what it set out to! Congratulations to all involved.
Ralf Edge



Timings (Booked & Actual)
(from Martyn Brailsford)
| | | |
| --- | --- | --- |
| Location | Booked | Actual |
| Glasgow Central | 07.26d | 07.26 |
| Eglinton Street Jn | 07/30 | 07/29 |
| Shawfield | 07/40 | 07/33 |
| Rutherglen West Jn | 07/43 | 07/35 |
| Rutherglen North Jn | 08/03 | 07.36 ~ 08.01½ |
| Glasgow Central Low Level | 08/11 | 08/12 |
| Finnieston East Jn | 08/18 | 08.17 ~ 08.17½ |
| Hyndland East Jn | 08/24 | 08/23½ |
| Anniesland | 08/26 | 08/24½ |
| Westerton | 08/30 | 08/27 |
| Bearsden | 08/32 | 08/29 |
| Hillfoot | 08/33 | 08/30 |
| Milngavie | 08.36a ~ 08.54d | 08p32 ~ 08p54 |
| Hillfoot | 08/57 | 08/56½ |
| Bearsden | 09/02 | 08.57½ ~ 08.58 |
| Westerton | 09/04 | 09/02½ |
| Anniesland | 09/08 | 09/06 |
| Scotstounhill | 09/14 | 09/09 |
| Garscadden | 09/15 | 09/10 |
| Clydebank | 09/19 | 09/12 |
| Dalmiur | 09/21 | 09/23 |
| Dumbarton Central | 09*35 ~ 09*51 | 09p36 ~ 09p51 [P3] |
| Dalreoch | 09/53 | 09/53 |
| Craigendoran Jn | 10/01 | 10/02 |
| Helensburgh Central | 10.05a ~ 10.27d | 10p07 ~ 10p30 |
| Craigendoran Jn | 10/31 | 10/33 |
| Dalreoch | 10/39 | 10/42½ |
| Dumbarton Central | 10/40 | 10/43 |
| Dalmiur | 10/52 | 10/50 |
| Westerton | 11/02 | 11/02 |
| Maryhill | 11/06 | 11/06 |
| Cowlairs North Jn | 11/12 | 11/10 |
| Cowlairs West Jn | 11/13 | 11/11 |
| Springburn | 11*24 ~ 11*36 | 11p12 ~ 11p36 |
| Cowlairs South Jn | 11/39 | 11/39½ |
| Glasgow Queen Street | 11.48a ~ 12.07d | 11p46 ~ 12p08 [P7] |
| Cowlairs South Jn | 12/12 | 12/12 |
| Cowlairs West Jn | 12/13 | 12/14 |
| Eastfield Passenger Loop | 12.15 ~ 12.35 | 12.15 ~ 12.30 |
| Cowlairs West Jn | 12/36 | 12/31 |
| Springburn | 12/37 | 12/33 |
| Bellgrove | 12/42 | 12/41 |
| High Street Jn | 12/43 | 12/42 |
| Shields Jn | 12/56 | 12.49 ~ 12.55 |
| Arkleston Jn | 13/01 | 13/02 |
| Paisley Gilmour Street | 13/05 | 13/04 |
| Bishopton | 13/13 | 13/12 |
| Port Glasgow | 13/23 | 13/22 |
| Wemyss Bay Jn | 13/24 | 13/23 |
| Greenock Central | 13/29 | 13/25 |
| Greenock West | 13/32 | 13/26 |
| Gourock | 13.40a ~ 13.50d | 13p32 ~ 13p50 [P11] |
| Greenock West | 13/55 | 13/55 |
| Greenock Central | 13/58 | 13/57 |
| Wemyss Bay Jn | 14/02 | 13/59 |
| Port Glasgow | 14/03 | 14/00 |
| Bishopton | 14/12 | 14/09½ |
| Paisley Gilmour Street | 14/19 | 14/16 |
| Arkleston Jn | 14/21 | 14/18 |
| Shields Jn | 14/27 | 14/30 |
| Terminus Jn | 14/32 | 14/32½ |
| Muirhouse Central Jn | ? | 14.35 ~ 14.49 |
| Muirhouse South Jn | 14/53 | 14/52 |
| Busby Jn | 14/58 | 14/58 |
| Busby | 15/13 | 15/11 |
| Hairmyres Loop | 15*19 ~ 15*23 | 15.20 ~ 15.23 |
| East Kilbride | 15.27a ~ 15.34d | 15p27 ~ 15p34 |
| Hairmyres Loop | 15*38 ~ 15*42 | 15.40 ~ 15.43½ |
| Busby | 15/48 | 15/50½ |
| Busby Jn | 15/58 | 15.57 ~ 16.01 |
| Muirhouse South Jn | 16/00 | 16/05 |
| Larkfield Jn | 16/09 | 16/08 |
| Rutherglen East Jn | 16/18 | 16/19 |
| Newton | 16/23 | 16/23 |
| Uddingston Jn | 16/27 | 16/25 |
| Motherwell | 16/30 | 16/30 |
| Shieldmuir | 16/32 | 16/32 |
| Wishaw | 16/35 | 16/36 |
| Law Jn | 16/42 | 16.42 ~ 16.44 |
| Lanark Jn | 16/48 | 16/58 |
| Lanark | 16.52a ~ 17.10d | 17p04 ~ 17p15 [P1] |
| Lanark Jn | 17/14 | 17/20 |
| Law Jn | 17/22 | 17/30 |
| Holytown Jn | 17/28 | 17/36 |
| Mossend East Jn | 17/29 | 17.37½ ~ 17.39 |
| Mossend North Jn | 17/30 | 17.41 ~ 17.43 |
| Mossend | 17/31 | 17/45 |
| Whifflet South Jn | 17/40 | 17/50 |
| Whifflet North Jn | 17/41 | 17/50½ |
| Langloan Jn | 17/45 | 17/53 |
| Carmyle | 17/58 | 18/01 |
| Rutherglen East Jn | 18/06 | 18.05 ~ 18.06 |
| Larkfield Jn | 18/10 | 18/10 |
| Terminus Jn | 18/12 | 18/12 |
| Shields Jn | 18/23 | 18.14 ~ 18.22 |
| Arkleston Jn | 18/30 | 18/29 |
| Paisley Gilmour Street | 18/32 | 18/32 |
| Bishopton | 18/38 | 18/39 |
| Port Glasgow | 18/47 | 18/49 |
| Wemyss Bay Jn | 18/49 | 18/51 |
| Dunrod Loop | 19*00 ~ 19*04 | 19/08 |
| Wemyss Bay | 19.12a ~ 19.22d | 19p16 ~ 19p24 [P2] |
| Dunrod Loop | 19*30 ~ 19*34 | 19.34 ~ 19.42 |
| Wemyss Bay Jn | 19/45 | 19/54 |
| Port Glasgow | 19/46 | 19/55 |
| Bishopton | 19/55 | 20/04 |
| Paisley Gilmour Street | 20/02 | 20/09 |
| Arkleston Jn | 20/04 | 20/11 |
| Shields Jn | 20/11 | 20/20 |
| Terminus Jn | 20/16 | 20/23 |
| Muirhouse Central Jn | 20/19 | 20/26 |
| Cathcart West Jn | 20/27 | 20/33 |
| Cathcart | 20/28 | 20/34 |
| Mount Florida | 20/30 | 20/36 |
| Muirhouse North Jn | 20/41 | 20/40 |
| Glasgow Central | 20.47a | 20.50 |