3rd February 2007
South West Trains
(no tour name)
Route: 1Z42 throughout
| | |
| --- | --- |
| EMU | Route |
| 2412 | London Waterloo – Clapham Junction – Barnes – Richmond – Twickenham – Feltham – Staines – Windsor & Eton Riverside |
| 2412 | Windsor & Eton Riverside – Staines (2) – Feltham - Twickenham |
| 2412 | Twickenham – Strawberry Hill – Fulwell - Shepperton |
| 2412 | Shepperton – Fulwell – Teddington – Kingston – New Malden – Raynes Park – Wimbledon – London Waterloo |
Notes :
(1) Special run as a SWT staff farewell to the class 442 '5-WES' EMU's.
(2) Booked via Staines UGL but omitted due to late running.
Sources : LASERman, John Clifford & Stuart Smith



Tour Review 1
(from LASERman)
This was a short tour arranged at very short notice as today was to be the last day of Class 442 units, more commonly known as Wessex Pigs, in traffic with South West Trains. This small fleet was to have finished service on 13th January but a number soldiered on covering for Desiro units still covering the Juniper fleet being reintroduced after their much publicised withdrawal from service a few months ago.
The start from Waterloo was delayed by the few minutes late arrival of the inward train from Poole. After the unit for the trip was detached and the obligatory photographs taken the train departed from Waterloo towards Windsor via Richmond. Once clear of the Clapham Junction area a fast run was made to Feltham and then the service train to Windsor was followed resulting in stopping at nearly all signals between Staines and Windsor. A prolonged stop was made outside Windsor waiting for a platform to become available as unit 5734 (according to the announcement) had failed in the station.
Reaching platform 1 many cameras were again pointed at the train (and pink fluffy toy pig) before we set off again nearly half an hour late. Between Windsor and Staines a celebratory cake decorated with pigs was cut by the organiser and devoured by many participants. The hoped for diversion via Staines Up Loop did not occur and some time regained to Twickenham where we arrived on the Up Main line. Reversing amongst the Rugby supporters arriving on trains on each side of the special we set off again for a high speed run down the Shepperton line.
Another photo shoot and quick reversal at Shepperton occurred before a competition was held to see how many people could fit into a first class compartment. The answer was 23 and a pig although it was thought that a few more could have squeezed in if they had really tried. Then it was back to Waterloo and the more normal haunts of the much loved units.
Where will they go now? Many rumours but nothing definite yet.
LASERman
---
Tour Review 2
(from Stuart Smith, including photos)
The tour was formed of unit number 2412 'Special Olympics' which had arrived shortly after 11.25am as the rear set on the 09.01 ex-Poole (The other unit being 2410).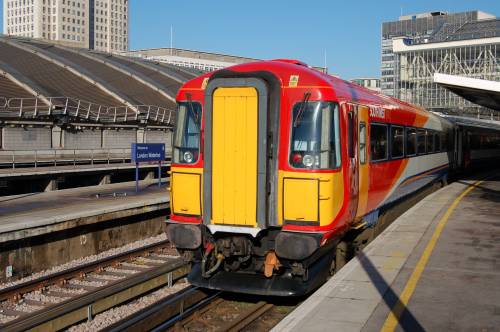 2412 ready to leave London Waterloo.
A quick detachment took place and then it was off via the Windsor Lines.
Good progress was made until Staines, where we seemed to then follow the local service all the way to Windsor. Further delay occurred outside Riverside station whilst a defect was rectified to the next departing service.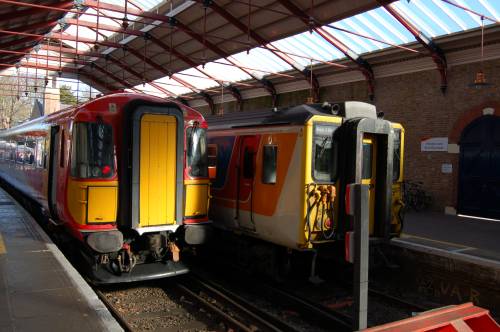 Windsor & Eton Riverside.
A quick photo was taken of the Pig next to a 455 then it was back towards Staines. Here we should have used the Up Goods Loop, but as we were now late, the stop for a path was not required, and so we headed direct to Twickenham.
We reversed in Platform 4 (amongst thousands of rugby supporters hading for the England v Scotland match) and set off towards Strawberry Hill. Here we turned right and took the Shepperton line running just in front of the service train.... Many bewildered looks as the train arrived and punters were told to stand away as it was not in service.
Another quick photo (4 minute turn-around) and we set off back to Fulwell , then another right turn towards Kingston and the main line at New Malden.
We joined the Up Fast at Raynes Park and then headed back through Clapham Junction and on to Waterloo.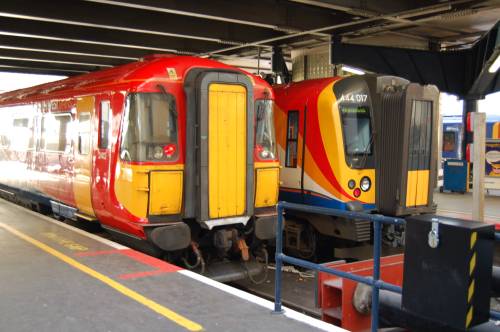 Back at Waterloo - tour over.
The unit was then booked to stay at Waterloo for several hours, until forming the 21.05 to Poole, with 73109 piloting as far as Woking.
Well, that's the plan anyway.....
Stuart Smith



Timings (Booked & Actual)
(from LASERman, John Clifford & Stuart Smith)
| | | |
| --- | --- | --- |
| Location | Booked | Actual |
| London Waterloo | 11.28d | 11.35½d [P14] [WSL] |
| Nine Elms Jn | ? | 11/42 |
| Queenstown Road | ? | 11/43 [WSL] |
| West London Jn. | ? | [WFL] |
| Clapham Junction | 11/35 | 11/46½ [P5] |
| Barnes | 11/39 | 11/50½ [P3] |
| Richmond | ? | 11/54 |
| Twickenham | 11/49 | 11/56 |
| Feltham Jn | 11/52 | 12/00 |
| Feltham | 11/53 | 12/02 |
| Staines | 11/59 | 12/09½ |
| Windsor & Eton Riverside | 12.08a ~ 12.17d | 12.36a ~ 12.43d [P1] |
| Staines | 12/26 | 12/52 |
| Staines UGL | 12*28 ~ 12*42 | DIV |
| Feltham | 12/48 | 12/57½ |
| Feltham Jn | 12/50 | 13/00 |
| Twickenham Jn | ? | 13.08 ~ 13.09 |
| Twickenham | 12.54a – 13.00d | 13.10a – 13.17½d [P4] |
| Strawberry Hill | 13/03 | 13/21 |
| Fulwell | 13/05 | 13/23 |
| Shepperton | 13.16a ~ 13.22d | 13.30½a ~ 13.35d |
| Fulwell | 13/33 | 13/44 |
| Shacklegate Jn. | 13/35 | 13/45½ |
| Teddington | 13/36 | 13/47 |
| Kingston | 13/40 | 13/51 |
| New Malden | 13/44 | 14/02 SL |
| Raynes Park | ? | 14.06a ~ 14.07d [FL] |
| Wimbledon | 13/47 | 14/12 [P6] |
| Clapham Junction | 13/51 | 14.18½a ~ 14.19d [P8] |
| London Waterloo | 13.59a | 14.26½a [P8] |