27th January 2007
Hertfordshire Rail Tours
Tubular Belle Merrymaker
Inter City Merrymaker series
| | |
| --- | --- |
| Locos Used | 45112 & 47847 |
| Stock Used | ????? |
Route:
1Z56 : York to Holyhead
1Z57 : Holyhead to York
| | |
| --- | --- |
| Locos | Route |
| 45112 (1) | York - Doncaster - Mexborough - Thrybergh Jn - Rotherham Masborough - Wincobank Jn - Sheffield - Dore - Chesterfield - Derby - Uttoxeter - Stoke-On-Trent - Alsager - Crewe - Chester - Llandudno Jn - Holyhead |
| 45112 (1) | Holyhead - (reverse of outward route) - York |
Notes :
(1) 47847 on rear.
Sources : David Bellamy & Ralf Edge



Tour Review
(by Ralf Edge)
A final trip with 45112 on the mainline before she was withdrawn due to the cost of OTMR fitment, well it just had to be done. As the day drew nearer notoriously unreliable and seemingly neglected 45112 languished at Long Marston with no maintenance had seemingly been carried out and FM appeared to be in administration, the chances of the tour 'producing' let alone with 45112 looked very slim indeed. Unbearably close to the tour date 45112 was dragged to Gloucester, Crewe and then Derby before surprisingly appearing on a test run on the eve of the tour. This run, and the tour proved many wrong who had been sceptical if 45112 would ever work again... Thankfully the test run went smoothly...
The next morning 47847 dragged the stock and 45112 to York, 47847 being taken along on the rear of the tour to supply the train ETH and act as a back-up loco, which thankfully wasn't needed.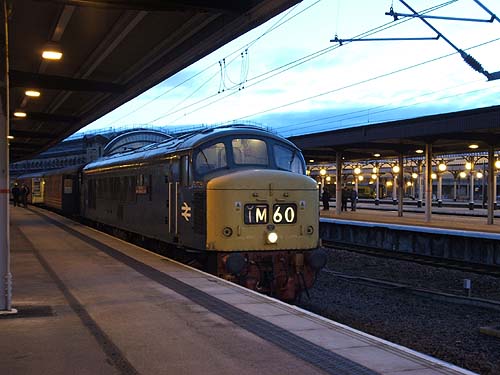 45112 waits to leave York (photo: Steve Kemp)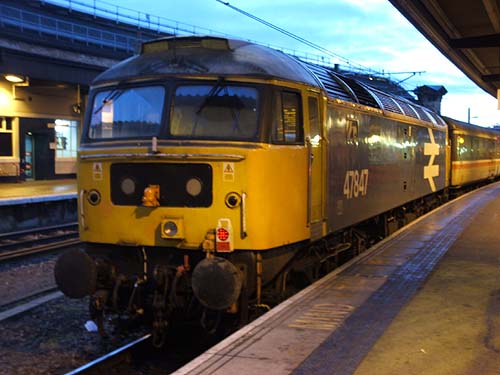 47847 brings up the rear (photo: Steve Kemp)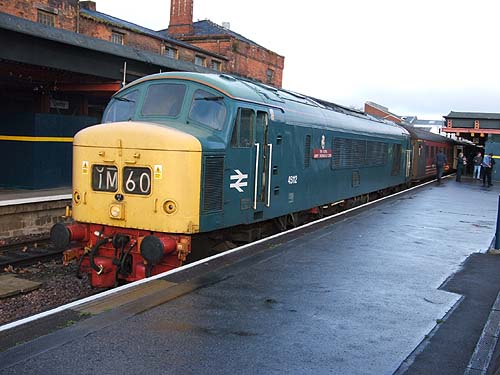 45112 in the morning brightness during the stop at Derby (photo: Steve Kemp)
The day ran very smoothly (so did 45112) and ran to time or early all day, unfortunately the weather wasn't great but you can't have sun all the time in North Wales in January! The only potential hitch was on departure from York the buffet car was bottle opener free (how did they manage that?)!! thankfully Daniel Cramp volunteered the use of his bottle opener by buffet staff for the day, his offer was accepted, so thanks to him for rescuing the day from the jaws of disaster :-)
In the end 45112 and Hertfordshire surprised everyone by getting the 'peak' to Holyhead and back, an achievement. Although it may not be the end of the line for 45112 (as she has worked for Cotswold Rail since) her main line future is still unclear, a super day out!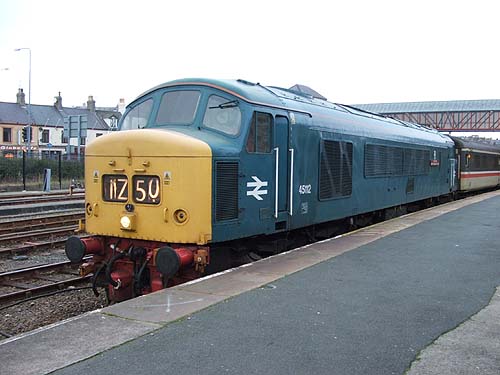 45112 waits time to depart homeward from Holyhead (photo: Steve Kemp)
Ralf Edge



Timings (Booked & Actual)
(from David Bellamy & Ralf Edge)
| | | | | | |
| --- | --- | --- | --- | --- | --- |
| Location | Booked | Actual | | Booked | Actual |
| York | 07.55d | 07.55 | | 22.41a | 22.35 |
| Colton Jn | 08/02 | 08/01 | | 22/34 | 22/29 |
| Hambleton North Jn | 08/08 | 08/07 | | 22/28 | 22/22 |
| Temple Hirst Jn | 08/12 | 08/10 | | 22/24 | 22/18 |
| Shaftholme Jn | 08/20 | 08/16 | | 22/17 | 22/11 |
| Doncaster | 08.28a ~ 08.30d | 08.28 ~ 08.30 | | 22.03 ~ 22.12 | 22.03 ~ 22.07 |
| Hexthorpe Jn | 08/34 | 08/34 | | 21/59 | 21/53 |
| Mexborough | 08/39 | 08/41 | | 21/53 | 21/48 |
| Thrybergh Jn | 08/43 | 08/44 | | 21/46 | 21/31 |
| Aldwarke Jn | 08/49 | 08/50 | | 21/38 | 21/30 |
| Masborough Jn | 08/52 | 08/55 | | 21/31 | ? |
| Wincobank Jn | 08/58 | 09/03 | | 21/27 | 21/20 |
| Nunnery Main Line Jn | 09/02 | 09/07 | | 21/25 | 21/14 |
| Sheffield | 09.04a ~ 09.06d | 09.09 ~ 09.11 | | 21.12a ~ 21.23d | 21.02 ~ 21.13 |
| Dore Station Jn | 09/12 | 09/18 | | 21/06 | 20/53 |
| Tapton Jn | 09/22 | 09/25 | | 20/51 | ? |
| Chesterfield | 09.27a ~ 09.29d | 09.27 ~ 09.29 | | 20.46a ~ 20.48d | 20.14 ~ 20.43 |
| Clay Cross South Jn | 09/34 | 09/34 | | 20/42 | 20/37 |
| Ambergate Jn | 09/42 | 09/42 | | 20/33 | 20/28 |
| Derby | 09.51a ~ 10.00d | 09.52 ~ 10.05 | | 20.19a ~ 20.22d | 20.04 ~ 20.17 |
| Stenson Jn | 10/06 | 10/13 | | 20/13 | 19/53 |
| North Stafford Jn | 10/07 | 10/14 | | 20/07 | 19/51 |
| Tutbury and Hatton | 10/12 | 10/20 | | 19/54 | 19/41 |
| Uttoxeter | 10*21 ~ 10*24 | 10/29 | | 19/39 | 19/32 |
| Caverswell | 10/42 | 10/43 | | 19/26 | 19/20 |
| Longton | 10/45 | 10/46 | | 19/23 | 19/14 |
| Stoke Jn | 10/49 | 10/51 | | 19/20 | 19/09 |
| Stoke | 10/51 | 10/53 | | 19/16 | 19/08 |
| Kidsgrove | 10/58 | 11/00 | | 19/09 | 18/59 |
| Alsager | 11/01 | 11/03 | | 19/06 | 18/56 |
| Barthomley Jn | 11/04 | 11/06 | | 19/03 | ? |
| North Stafford Jn | 11/07 | 11/10 | | 19/00 | ? |
| Crewe | 11.10a ~ 11.18d | 11.13 ~ 11.15 | | 18.48a ~ 18.50d | 18.29 ~ 18.47 |
| Crewe Steelworks Jn | 11/25 | 11/20 | | 18/39 | 18/36 |
| Beeston Castle | 11/34 | ? | | 18/24 | 18/18 |
| Chester | 11/44 | 11/37 | | 18.10a ~ 18.12d | 17.59 ~ 18.06 |
| Chester South Jn | 11/45 | 11/39 | | 18/03 | ? |
| Saltney Jn | 11/50 | 11/41 | | 17/58 | 17/56 |
| Rockcliffe Hall | 12/00 | 11/48 | | 17/52 | ? |
| Holywell Jn | 12/06 | 12/06 | | 17/47 | 17/45 |
| Rhyl | 12/18 | 12/16 | | 17/36 | 17/33 |
| Colwyn Bay | 12/28 | 12/26 | | 17/26 | ? |
| Llandudno Jn | 12.32a ~ 12.42d | 12.31 ~ 12.42 | | 17.08a ~ 17.20d | 17.04 ~ 17.20 |
| Penmaenmawr | 12/51 | 12/48 | | 17/02 | ? |
| Bangor | 13.01a ~ 13.04d | 13.01 ~ 13.04 | | 16.45a ~ 16.48d | 16.45 ~ 16.48 |
| Menai Bridge | 13/08 | 13/07 | | 16/41 | 16/41 |
| Llanfairpwll | 13/10 | 13/09 | | 16/39 | 16/39 |
| Gaerwen | 13/20 | 13/14 | | 16/36 | 16/36 |
| Valley | 13/33 | 13/32 | | 16/23 | ? |
| Holyhead | 13.42a | 13.40 | | 16.17d | 16.17 |