20th January 2007
Past Time Rail
The Leeds & Bradford Residential Express
| | |
| --- | --- |
| Locos Used | 57601 & steam: 45407 |
Route:
Loco(s)
Route
57601

Milton Keynes - Northampton - Rugby - Nuneaton – Lichfield Trent Valley - Stafford – Norton Bridge – Madeley – Crewe – Warrington Bank Quay – Winwick Jn – Earlestown – Newton-le-Willows – Eccles – Manchester Victoria

45407

Manchester Victoria –

just outside station (2)

45407

set-back into Manchester Victoria

45407

Manchester Victoria – Miles Platting – Stalybridge – Huddersfield – Brighouse – Halifax – Bradford Interchange

57601 (1)

Bradford Interchange – New Pudsey - Leeds

45407

Leeds – Dewsbury – Brighouse – Hebden Bridge – Copy Pit – Blackburn – Lostock Hall Jn – Farrington Jn – Euxton Jn – Bolton – Salford Crescent – Manchester Victoria

57601

Manchester Victoria – (reverse of outward journey) – Milton Keynes
Notes :
(1) 45407 on rear.
(2) Gordon Jakes comments: The train was 10 minutes late leaving Manchester Victoria after an abortive departure at the right time of 11.41 which unfortunately took place with the wrong route set! When the error was realized the train had to set back into platform 3 (arrive 11/47) and start again! The rest of the day passed with no time keeping problems. Indeed there were a significant number of signal stops due to early running. Gordon also confirms that 57601 was NOT on the rear of the train when 45407 was powering - it followed in a separate path.
(3) This tour was originally advertised as "The South Yorkshireman" to have run on a previous, unidentified, date. The Past Time Rail Literature described this as "The Leeds & Bradford Residential Express (formerly The South Yorkshireman)" with a footnote: "Train name changed by popular (unpopular) demand".
Source : Gordon Jakes (joined/left the train at Stafford)



Photo Review
(all photos: Gordon Jakes)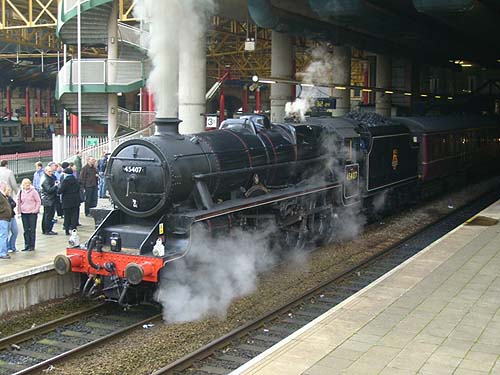 45407 waits to leave Manchester Victoria.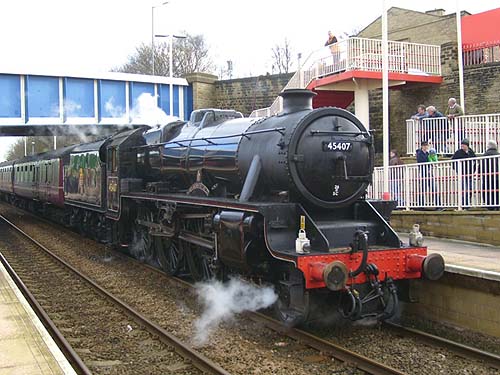 Water-stop at Brighouse (on the outward leg).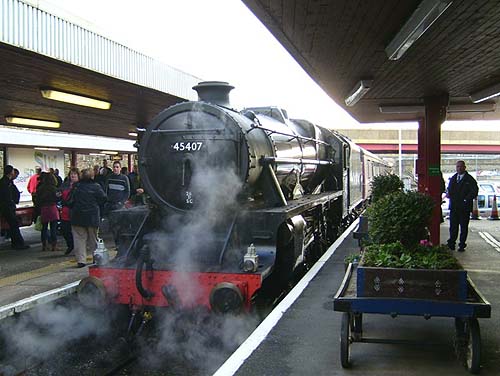 45407 after arrival into Bradford Interchange.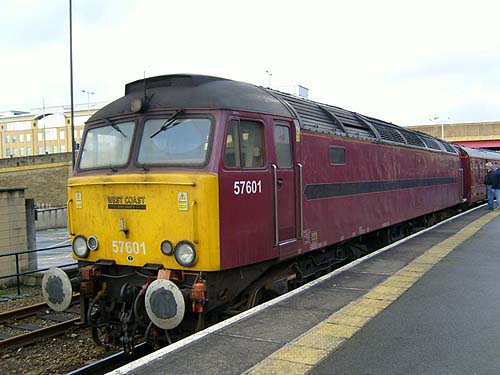 57601 on the other end of the train at Bradford Interchange.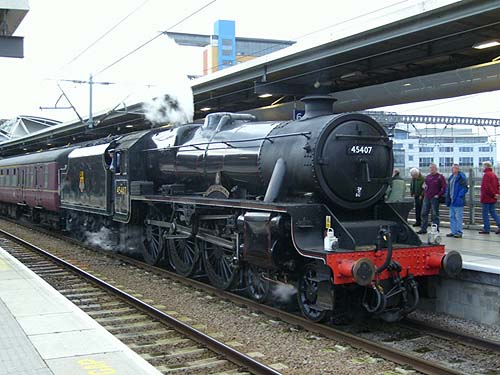 45407 readies to leave Leeds.


Timings (Booked & Actual)
(from Gordon Jakes)
Location
Booked
Actual
Booked
Actual
Milton Keynes Central
07.33d [FL]
?
21.54a
?
Hanslope Jn
07/32 [SL]
?
21/50 [FL]
?
Northampton
07.43a ~ 07.46d [P3]
?
21.35a ~ 21.38d [P3]
?
Long Buckby
07/58
?
21/21
?
Hilmorton Jn
08/06
?
21/12
?
Rugby
08.08a ~ 08.10d [P1]
?
21.08a ~ 21.10d [P2]
?
Trent Valley Jn
08/13
?
21/06
?
Brinklow
08*18 ~ 08*26
?
Attleborough Jn
08/34
?
Nuneaton
08.37a ~ 08.39d [P2]
?
20.51a ~ 20.53d [P5]
?
Tamworth LL
08/51
?
20/38
?
Lichfield TV
08.57a ~ 09.06d
?
20.29a ~ 20.31d
?
Armitage
09/13 [SL]
?
20/23
?
Colwich
09/25 [FL]
?
20/16
?
Stafford
09.38a ~ 09.41d [P3]
??.?? ~ 09.42
20.08a ~ 20.10d [P1]
20.05 ~ ??.??
Norton Bridge
09/49
09/48
20/03
?
Madeley
10/01
?
19/53
?
Basford Hall Jn
10/09
?
19/49
?
Crewe
10.14a ~ 10.21d [P11]
10.05 ~ 10.22
19.40a ~ 19.42d [P5]
19.34 ~ 19.39½
Crewe Coal Yard SB
10/24
?
19/38
?
Winsford SB
10/30
?
19/28
19/19½
Weaver Jn SB
10/35
?
19/22
19/12
Acton Grange Jn
10/39
10/35½
19/17½
19/08
Warrington Bank Quay
10/41
10/42
19/16
19/06½
Dallam Jn
10/42
?
19/15
?
Winwick Jn
10/44
10/46
19/11
19/03
Earlestown
10/47
10/49½
19/05
19/00½
Newton-le-Willows
10/50
10/51½
19/03
18/58
Astley
10/58
?
18/55
?
Eccles
11/03
11/03
18/46
18/44
Ordsall Lane Jn
11/08
11/07½
18/40
?
Deal Street
11/11 [SL]
11/09½
18/38
?
Manchester Victoria
11L13a [P3]
11.12½
18.36d [P3]
18.35
M.C
Location
Booked
Actual
0.00
Manchester Victoria
11.41d [P3]
11.41 & 11.51 (2)
1.36
Miles Platting
11/47
11/56½
1.70
Philips Park No.1 SB
11/49
?
2.39
Baguley Fold Jn
11/50
11/58½
5.52
Ashton Moss North Jn
11/54
12/04
7.62
Stalybridge
11/58½ [P1]
12/09½
12.54
Greenfield
12/05½
12/20
14.59
Diggle Jn SB
12/08
12/23
18.59
Marsden
12/15
12/28
25.60
Huddersfield
12/21 [P8]
12/36
28.39
Bradley Jn
12/27
12/41
29.56
Bradley Wood Jn
12/30
12/43½
31.11
Brighouse
12w35 ~ 13w08
12.47 ~ 13.09
34.38
Greetland Jn
13/15
13/17
35.49
Dryclough Jn
13/22
13/21½
36.41
Halifax
13/25 [P2]
13/23½
44.16
Mill Lane Jn
13/38
13/36
44.40
0.00
Bradford Interchange
13.40a ~ 14.09d [P1]
13.37 ~ 14.09
0.24
Mill Lane Jn
14/11
14/11
3.50
New Pudsey
14/20
14/19½
5.32
Bramley
?
14/22½
8.45
Holbeck Jn
14/29
14/28½
8.65
Whitehall Jn
14/29½
?
9.13
Leeds West Jn
14/30
14/29½
[9.30]
0.00
Leeds
14.31½a ~ 14.58d [P6]
14.31 ~ 14.58
0.17
Leeds West Jn
15/00
?
0.45
Whitehall Jn
15/01
15/00
4.44
Morley
15/08
15/07½
9.06
Dewsbury
15/14
15/13
10.40
Ravensthorpe
?
15/15
10.51
Thornhill LNW Jn
15/17
15/15½
11.21
Mirfield East Jn
15/18 [SL]
15/18½ [SL]
13.25
Heaton Lodge Jn
15/25
15/20½
14.64
Bradley Wood Jn
15/27
15/22½
16.19
Brighouse
15w32a ~ 16w00d
15.25 ~ 15.47½
19.46
Greetland Jn
16/07
15/59½
21.23
Milner Royd Jn
16/10
16/09
21.72
Sowerby Bridge
?
16/10½
26.73
Hebden Bridge
16/17
16/16
30.62
Hall Royd Jn
16/24
16/22
35.16
Copy Pit
16/38
16/31
39.49
Burnley Manchester Road
?
16/38½
40.33
Gannow Jn
16/49
16/40
41.04
Rose Grove
?
16/41
42.43
Hapton
?
16/43
43.75
Huncoat
?
16/45
45.52
Accrington
16/57
16/48
50.27
Daisyfield Jn
17/04
16/55½
50.74
Blackburn
17/05 [P4]
16/57½
53.73
PLeasington
?
17/01
59.07
Bamber Bridge
?
17/07
59.74
Lostock Hall Jn
17/20
17/09½
60.71
Farington Jn
17/26 [FL]
17/14½ [FL]
63.46
Euxton Jn
17/30
17/21
66.57
Chorley
17/34
17/25½
75.38
Lostock Jn
17/43
?
78.27
Bolton
17/46 [P3]
17/44
87.18
Salford Crescent
18/03
17/58
88.18
Deal Street (Salford)
18/07 [SL]
18/01 [SL]
88.77
Manchester Victoria
18L09a [P3]
18.03