9th December 2006
Compass Tours
The Festive Scotsman
| | |
| --- | --- |
| Loco Used | 47703 |
| Stock Used | 2xFM Rail Mk2 + 9xVirgin Mk3 & Virgin DVT 82101 |
Route:
1Z47 : Preston to Aberdeen
1Z48 : Aberdeen to Preston
| | |
| --- | --- |
| Loco | Route |
| 47703 | Preston - Lancaster - Tebay - Carlisle - Lockerbie - Carstairs South Jn - Lanark Jn - Law Jn - Motherwell - Mossend South Jn - Mossend North Jn - Whifflet South Jn - Cumbernauld - Greenhill Lower Jn - Carmuirs West Jn - Falkirk Grahamston - Polmont - Winchburgh Jn - Dalmeny Jn - Inverkeithing - Kirkcaldy - Thornton North Jn - Ladybank - Cupar - Dundee - Arbroath - Montrose - Aberdeen |
| 47703 | Aberdeen - (reverse of outward route) - Preston |
Notes :
"Due to a recent major incident of vandalism and equipment theft occurring at the storage sidings opposite the main Oxley train depot and the subsequent issues created by that, FM Rail were unable to provide an adequate number of MK2 carriages to form this charter to Aberdeen. Virgin Trains, having learned of there being a 'crisis' and the urgent need of a replacement for the set, and with very little time left to spare, very kindly stepped in and provided their last MK3 loco hauled 'cover' set (which is booked to be spare at weekends) for use on this charter.
47703 was then sent overnight on the Friday before the charter with 2 of FM Rail's remaining 'spare' MK2s from Derby (1 MK2 RFO + 1 MK2 FO) and the engine + 2 MK2's were shunted onto the Virgin DVT set at Wembley during the early hours of Saturday morning, creating enough seating capacity to carry every passenger who was booked on the charter (which had been 'full' for a few weeks), then the 47 ran with the 12 vehicles ECS to Preston where it arrived 'just in time' to work the charter.
This all took a great amount of organising, co-operation and effort for all the individuals involved so a massive thank you is owing to them and the team at Virgin Trains who allowed it all to be possible, on behalf of the the train's organisers and the passengers who had booked on the charter".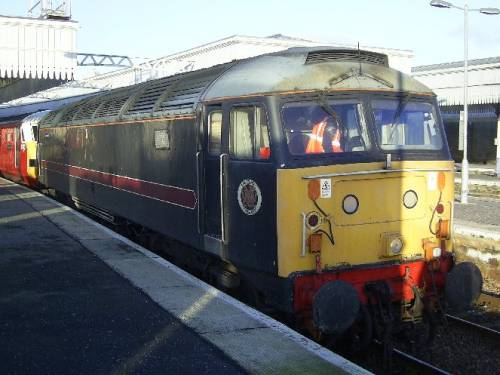 47703 is seen coupled to the DVT at Aberdeen (photo: 'Bigbird')
Source : various including Compass Tours



Timings (Booked Only)
(from Compass Tours)
| | | |
| --- | --- | --- |
| Location | Booked (out) | Booked (rtn) |
| Preston | 04.40d [P2] | 21.20a [P5] |
| Lancaster | 04*58a ~ 05*02d | 20.55a ~ 20.59d [P4] |
| Morecambe South Jn | 05/05½ | 20/53 |
| Carnforth UPL | - | 20*15 ~ 20*48 |
| Carnforth North Jn | 05/08½ | 20/12½ |
| Oxenholme : Lake District | 05*20a ~ 05*24d [P2] | 19.51a ~ 19.53d |
| Tebay | 05/41½ | 19/38 |
| Penrith North Lakes | 06*04a ~ 06*08d [P2] | 19.16a ~ 19.18d |
| Carlisle | 06*29a ~ 06*37d [P1] | 18*51a ~ 18*53d [P4] |
| Gretna Jn | 06/46½ | 18/42 |
| Kirkpatrick Sig. MC 863 | 06/50½ | - |
| Kirkpatrick Sig. MC 862 | - | 18/38½ |
| Lockerbie | 07/02½ | 18/27 |
| Beattock | 07/13½ | 18/17 |
| Beattock Summit | 07/31 | 18/09½ |
| Abington | 07/38 | 18/01 |
| Carstairs South Jn | 07/51 | 17/48½ |
| Carstairs | 07/51½ | 17/48 |
| Lanark Jn | 07/55½ | 17/44 |
| Law Jn | 08/02 | 17/33 |
| Motherwell | 08/06½ | 17/28 |
| Mossend South Jn | 08/10 | 17/25 |
| Mossend North Jn | 08/12 | 17/24½ |
| Mossend | 08/18 | 17/24 |
| Whifflet South Jn | 08/20 | 17/21 |
| Coatbridge Central | 08/23½ | 17/14 |
| Gartsherrie South Jn | 08/25 | 17/12 |
| Garnqueen North Jn | 08/31 | 17/11 |
| Greenfaulds | ? | 17/07½ |
| Cumbernauld | 08/42½ | 17/05½ |
| Greenhill Lower Jn | 08/47½ | 16/58½ |
| Carmuirs West Jn | 08/50 | 16/55½ |
| Carmuirs East Jn | 08/51 | 16/52 |
| Falkirk Grahamston | 08/55½ | 16/49 |
| Grangemouth Jn | 08/58½ | 16/48 |
| Polmont Jn | 09/03 | 16/44 |
| Linlithgow | 09/11 | 16/38 |
| Winchburgh Jn | 09/16 | 16/33 |
| Dalmeny Jn | 09/27 | 16/16 |
| Inverkeithing | 09/32 | 16/05½ |
| Burntisland | 09/42 | 15/56½ |
| Kirkcaldy | 09/49 | 15/48½ |
| Thornton South Jn | 09/55 | 15/44½ |
| Thornton North Jn | 09/56 | 15/43½ |
| Markinch | 09/58½ | 15/42 |
| Ladybank | 10/04 | 15/36 |
| Cupar | 10/12½ | 15/29 |
| Leuchars | 10/20½ | 15/23½ |
| Tay Bridge South | 10/27½ | 15/18½ |
| Dundee Central Jn | 10/33½ | 15/13½ |
| Dundee | 10*34½a ~ 10.38½d [P4] | 15*08a ~ 15*12d [P1] |
| Camperdown Jn | 10/41½ | 15/05 |
| Carnoustie | 10/51½ | 14/58 |
| Arbroath | 10/59½ | 14/53 |
| Usan | 11/09½ | 14/41 |
| Montrose | 11/11 | 14/39 |
| Laurencekirk | 11/22½ | 14/29½ |
| Stonehaven | 11/34 | 14/18 |
| Aberdeen | 11.55a [P7] | 13.43d [P7] |