2nd December 2006
NENTA Traintours
A Dickensian Christmas
| | |
| --- | --- |
| Locos Used | 47145 & 47703 |
| Stock Used | 3385+3352+1657+3326+3278+3366+1254+5958+5797+5866+5906+6046+9497 |
Route:
1Z41 : Sudbury to Skipton
1Z42 : Skipton to Rylstone Quarry
1Z43 : Rylstone Quarry to Skipton
1Z44 : Skipton to Sudbury
| | |
| --- | --- |
| Loco(s) | Route |
| 47703 (1) | Sudbury – Marks Tey – Colchester – Ipswich – Stowmarket – Bury St Edmunds – Ely – March – Peterborough – (via ECML) (6) – York |
| 47145 (2) | York – Church Fenton – Milford Jn – Castleford – Castleford West Jn – Methley Jn – Engine Shed Jn – Whitehall Jn – Keighley (3) – Skipton (4) – North of Skipton |
| 47703 (1) | North of Skipton – Rylstone (7) |
| 47145 (2) | Rylstone - North of Skipton |
| 47703 (1) | North of Skipton – Skipton |
| 47703 (1) | Skipton – (reverse of outward route) - Engine Shed Jn |
| 47145 (2) | Engine Shed Jn – Leeds West Jn – Leeds – Church Fenton – York (5) |
| 47703 (1) | York – (reverse of outward route) - Sudbury |
Notes:
(1) 47145 on rear.
(2) 47703 on rear, providing ETS.
(3) Optional visit to Keighley & Worth Valley Railway.
(4) Optional Coach connection for Grassington Christmas Fair.
(5) Train was booked reverse of outward, (via Castleford), for return but was turned at Engine Shed Jn to keep ETS 47 on the front, saving one of the FM crew having to man 47703 on the rear from York to Sudbury (it has also been suggested it was turned due to the poor condition of 47145, a fact borne out as it failed on the Sunday whilst taking the ECS back to Oxley).
(6) outward train was delayed on ECML due to photographers on the wrong side of fence. (will they never learn?).
(7) At Rylstone Quarry, train reached the Network Rail boundary approx ½ mile from end of line.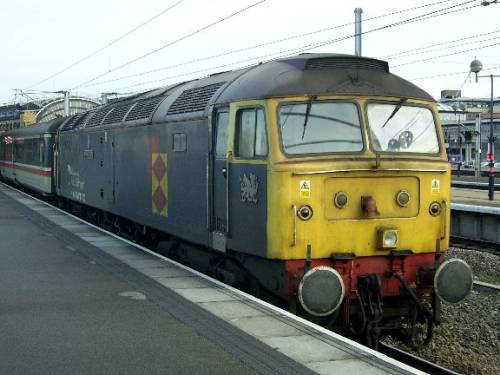 47145 was captured at York (photo: 'Bigbird')
Sources : Alan Chilestone & 'Bigbird'



Timings (Advertised Only)
(from Gary Thornton)
| | | |
| --- | --- | --- |
| Location | Advertised (out) | Advertised (rtn) |
| Sudbury | 05.45d | 23.40a |
| Bures | 06.00d | 23.25a |
| Chappel & Wakes Colne | 06.10d | 23.15a |
| Marks Tey | 06.15d | 23.05a |
| Colchester | 06.26d | 22.53a |
| Manningtree | 06.38d | 22.42a |
| Ipswich | 06.53d | 22.30a |
| Stowmarket | 07.08d | 22.15a |
| Bury St Edmunds | 07.29d | 21.50a |
| Ely | 08.01d | 21.15a |
| York | 11.00a | 18.45d |
| Keighley | 12.30a | 17.45d |
| Skipton | 12.45a | 17.30d |
| Grassington | 13.15a | 17.00d |