18th October 2006
Steam Dreams
Cathedrals Express
| | |
| --- | --- |
| Locos Used | 47851 & steam : 34067 'Tangmere' |
| Stock Used | 35518+4905+4984+99311+4960+99327+3136+99348+99993+99121+99127+99304 |
Route:
1Z82 : London Victoria to Canterbury West
1Z83 : Canterbury West to London Victoria
| | |
| --- | --- |
| Loco(s) | Route |
| 34067 (1) | London Victoria - Stewarts Lane - (via Atlantic line) - Denmark Hill - Catford - Bromley South - Swanley - Otford - Maidstone East - Ashford - Canterbury West - Minster (2) - Ramsgate - Margate - Herne Bay - Faversham - Sittingbourne - Gillingham - Sole Street - Swanley (2) - Bromley South - Catford - Cambria Jn - London Victoria |
Notes :
(1) 47851 on rear.
(2) Between Minster & Bromley South, the booked route was: Minster - Deal - Dover Priory - Folkestone Central - Ashford - Headcorn - Tonbridge - Sevenoaks - Orpington - Bromley South. The train was diverted as the class 47 on the back prevented passage of Shakespeare Tunnel.
Source : John Clifford



Photo Review
(all photos: Gordon Jakes)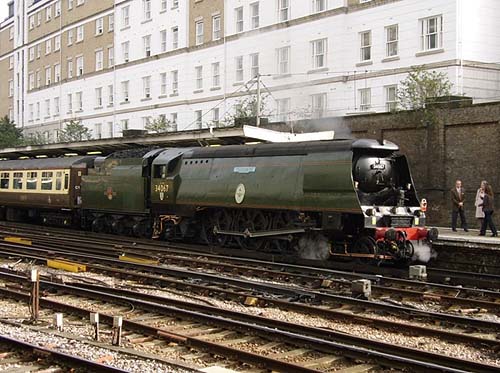 34067 'Tangmere' prior to departure from Victoria.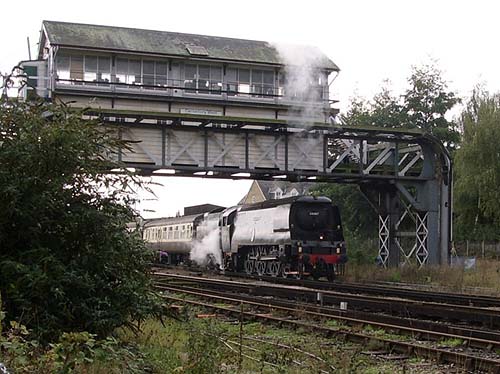 34067 at Canterbury West beneath the elevated signal box and prior to
shunting into the Down Goods Loop behind platform 2.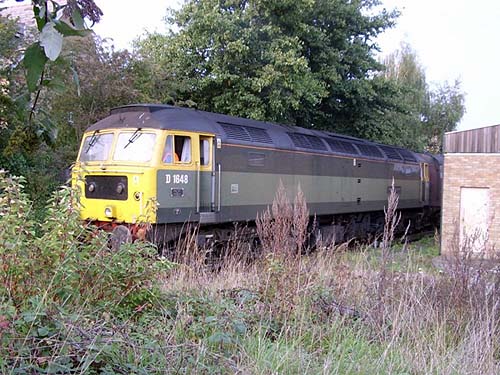 47851/D1648 at the rear of the train stabled in the DG Loop amid the vegetation.


Timings (Booked & Actual)
(from John Clifford & Gordon Jakes)
M.C
Location
Booked
Actual
Booked
Actual
M.C
0.00
London Victoria
11.53d
11.55
20.07a
20.01
95.77
0.71
Battersea Pier Jn
11/56
11/59
?
?
95.06
1.38
Stewarts Lane
11/59
12/00
?
?
94.39
1.61
Factory Jn
12/01
12/01
?
?
94.16
2.05
Voltaire Road Jn
12/02
12/02
20/02
19/55
93.75
3.08
Brixton
?
?
20/01
19.46 ~ 19.51
92.69
3.68
Cambria Jn
?
?
19/59
19/42
92.09
4.22
Denmark Hill
12/06
12/07
?
19/41
91.55
4.67
Crofton Road Jn
12/07
12/09
19/56
19/40
91.10
5.77
Nunhead
12/09
12/12
19/54
19/38
90.00
10.73
Shortlands Jn
12/18
12/20
19/44
19/31
85.04
12.07
Bromley South
12.21a ~ 12.23d
12.22 ~ 12.26
?
19.25 ~ 19.28
83.70
13.56
Bickley Jn
12/27
12/32
19/36
19/22
82.21
14.33
St Mary Cray Jn
12/28
12/33
DIV
19/21
81.44
18.47
Swanley
12/33
12/39
DIV
19/16
77.30
28.70
Otford Jn
12/43
12/48
41.12
Maidstone East
13/02
13/07
50.05
Lenham Down Loop
13w13 ~ 13w48
13.26 ~ 13.46
54.27
Charing
?
13/53
-
Petts Wood Jn
19/30
DIV
-
-
Orpington
19/28
DIV
-
-
Sevenoaks
19/19
DIV
-
-
Tonbridge
19/08
DIV
-
-
Paddock Wood
19/01
DIV
-
-
Headcorn
18/51
DIV
-
60.35
Ashford
14/06
14.03 ~ 14.04
18/41
DIV
-
64.55
Wye
?
14/13
-
Saltwood Jn
18/30
DIV
-
-
Folkestone West
18w10 ~ 18w24
DIV
-
-
Folkestone Central
18/07
DIV
-
-
Dover Priory
17/55
DIV
-
-
Buckland Jn
17/52
DIV
-
-
Deal
17/41
DIV
-
-
Sandwich
17/35
DIV
-
-
Minster 'B' Jn
17/28
DIV
-
-
Fawkham Jn
DIV
19/08
72.11
-
Sole Street
DIV
19/01
67.70
-
Rochester Bridge Jn
DIV
18/53
61.60
-
Gillingham
DIV
18/48
58.66
Rainham
DIV
18/44
55.67
-
Sittingbourne
DIV
18/39
50.02
-
Faversham
DIV
18/30
42.54
-
Whitstable
DIV
18w07 ~ 18w19
35.55
-
Herne Bay
DIV
18/02
32.03
-
Margate
DIV
17/49
20.72
-
Ramsgate
DIV
17/40
15.40
-
Minster East Jn
DIV
17/34
11.70
-
Minster
17/27
17/33
11.37
Canterbury West
14.28a
14.26
17.12d
17.17
0.00