6th - 9th October 2006
Railway Touring Company
Autumn Highlander
| | |
| --- | --- |
| Locos Used | 40145, 47245 & 55022 |
| Stock Used | 17015+3149+1679+3107+3140+3122+3066+1680+3119+17105 |
Route:
1Z55 : Kings Cross to Edinburgh Waverley
1Z56 : Edinburgh Waverley to Inverness
1Z21 : Inverness to Kyle of Lochalsh
1Z22 : Kyle of Lochalsh to Inverness
1Z23 : Inverness to Thurso
1Z24 : Thurso to Inverness
1Z25 : Inverness to Kings Cross
| | | |
| --- | --- | --- |
| Date | Loco(s) | Route |
| 06/10 | 55022 (1) | London Kings Cross - (via ECML) - Doncaster (2) - (via ECML) - Edinburgh Waverley |
| 06/10 | 40145 (1) | Edinburgh Waverley - Haymarket - Dalmeny - Invernkeithing - Burntisland - Ladybank - Perth - Aviemore - Inverness |
| 07/10 | 40145 (1) | Inverness - Dingwall - Achnasheen - Kyle of Lochalsh |
| 07/10 | 47245 (3) | Kyle of Lochalsh - Achnasheen - Dingwall - Inverness |
| 08/10 | 40145 (1) | Inverness - Dingwall - Brora - Georgemas Junction |
| 08/10 | 47245 (3) | Georgemas Junction - Thurso (4) |
| 08/10 | 40145 (1) | Thurso - Georgemas Junction |
| 08/10 | 47245 (3) | Georgemas Junction - Brora - Dingwall - Inverness |
| 09/10 | 40145 (1) | Inverness - Aviemore - Perth |
| 09/10 | 40145 + 55022 (5) | Perth - (reverse of outward route) - York |
| 09/10 | 40145 (6) | York - (reverse of outward route) - London Kings Cross |
Notes :
(1) 47245 on rear.
(2) Somewhere just north of Doncaster 55022 suffered an engine failure whereby a piston was ejected through the engine casing (usually referred to as "putting a leg out of the bed"). This is the first time this has happened to any Deltic post-service days.
(3) 40145 on rear.
(4) Suggested to have been the first visit ever of a class 40 to Thurso however Tony Browne comments: I believe 40143 got there on a fertiliser train of OBA wagons in 1980, which I remember seeing passing through Invergordon. Can't remember the exact date, but it was an August Saturday as I remember. I may be corrected be someone on the finer details, but I assume it went all the way as the resident locos up there at the time were vacuum only Class 26s, i.e. not able to work the above wagons.
(5) (1) 47245 on rear. 55022 was initially dead-in-tow until approx MP37 just south of Ladybank when the remaining good engine was started and 55022 was worked in tandem with 40145 as far as York.
(6) With 55022 dead-in-tow & 47245 on rear - equivalent to about 16 coaches in tow for 40145!
Sources : Rob Fraser & Ralph Barrett



Tour Review
(by Garry Sparks)
Day 1: Due to the late arrival of the ECS from Old Oak Common, 55022 departed Kings Cross 18 minutes late however due to slack timings time had almost been made up by the time the charter departed from Stevenage. Following a few more pick up points we arrived in York almost to time and had a leg stretch before heading on towards Edinburgh, however I soon received a message saying that RSG had suffered some kind of engine problem and would be operating on one engine only to Edinburgh. Despite the problem we arrived in Edinburgh only a couple of minutes behind schedule.
The two hour break enabled the train to be serviced and participants of the train to enjoy a bit of time to explore the delights of the Scottish capital.
40145 was now at the helm as we departed on time from Edinburgh , a spirited run from 40145 up the Highland Mainline meant again we only arrived a couple of minutes late into Inverness.
Day 2: Saturdays itinerary was a simple out and back return to Kyle of Lochalsh, having been on last years trip to Kyle with 40145, the thing that stood out again was the appalling weather which greeted the brave souls out photographing the tour. The early evening departure from Kyle enabled 47245 to haul us back to Milburn Junction before 40145 pulled us back into Inverness.
Day 3: Now the highlight of the weekend, 40145 took us forward from Milburn Junction to Georgemas Junction, the noise from 40145 as we climbed up towards the summit at Lairg was unbelievable and another bit of thrash as we passed through Golspie on the approach to the break at Dunrobin Castle. After a two hour break we headed further north with the climb up to County March Summit to sample, we duly arrived at Georgemas Junction where the customary seminar shot was taken and waited for 47245 to take us onto Thurso. Another break of an hour and a half was undertaken before 40145 hauled us back to Georgemas Junction, then as before 47245 did the honours back to Milburn Junction.
Day 4: Today history would be made, the longest single journey by a class 40!! We departed on time and the gen was that RSG would be attached at Perth, Perth arrived and 40145 was detached to allow RSG to be tucked inside and 40145 to lead, however RSG was switched off, but a few miles south of Ladybank the one operational Napier engine erupted into life, now what a way to finish the weekend, a Whistler and Deltic working in tandem. The booked arrival time into York was met even though we were thirty minutes early passing Durham. This was where RSG adventure ended as she was switched off due to there being no available driver, again we were kept to time and we arrived into the Cross just before 2210.
Thanks must go to the Railway Touring Company, Premier Train Catering Ltd and West Coast Railway for their hard work, but a big thank you to Martin Walker and the CFPS for allowing these two fine machines to work this charter.
Garry Sparks



Photo Review
(courtesy of Rob Fraser)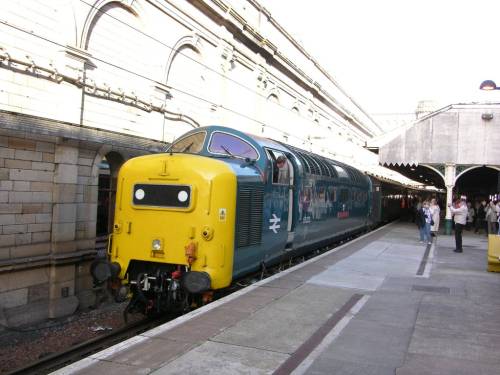 06/10 : 55022 'Royal Scots Grey' at Edinburgh Waverley

09/10 : Ouch!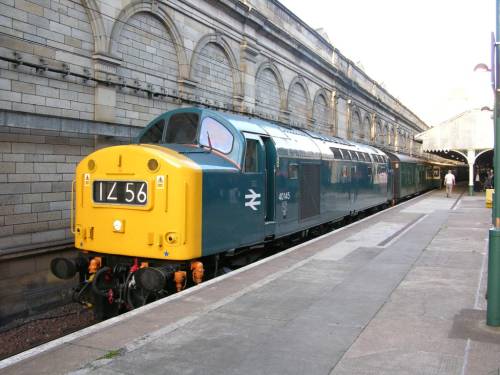 06/10 : 40145 takes over at Edinburgh Waverley, 1Z55 becomes 1Z56.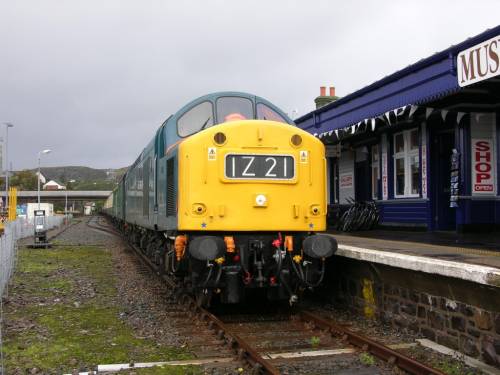 07/10 : 40145 stands proud at Kyle of Lochalsh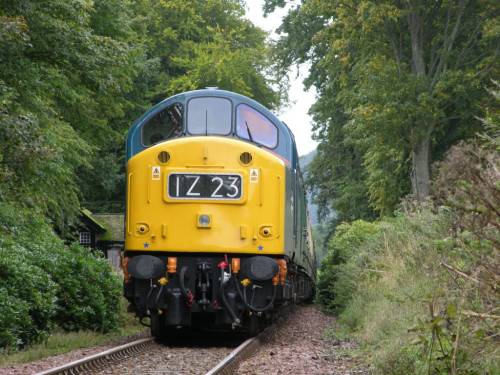 08/10 : 40145 waited whilst the passengers visited Dunrobin Castle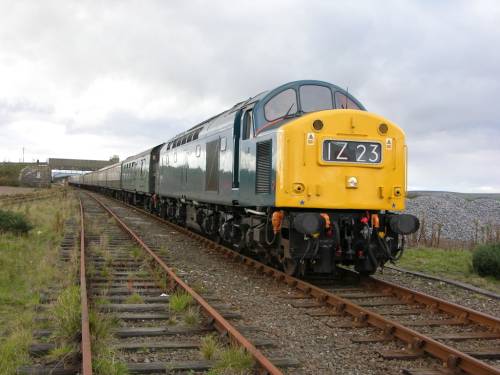 08/10 : 40145 at Georgemas Junction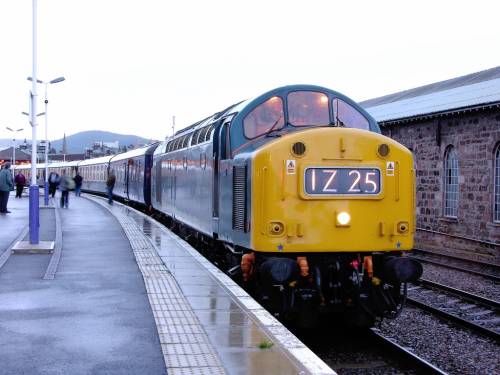 09/10 : 40145 waits to leave Inverness for the run homewards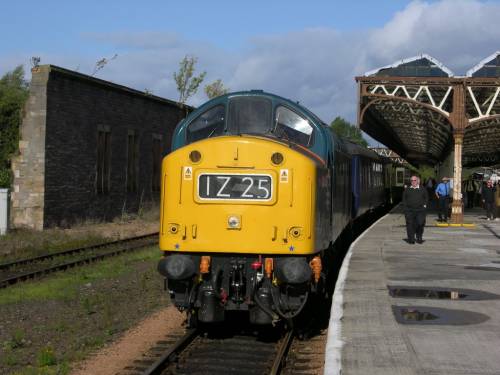 09/10 : Better weather by the time the train got to Perth!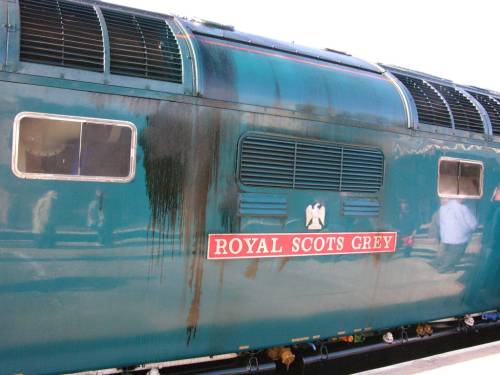 09/10 : 55022 'Royal Scots Grey' shows the scars from Fridays failure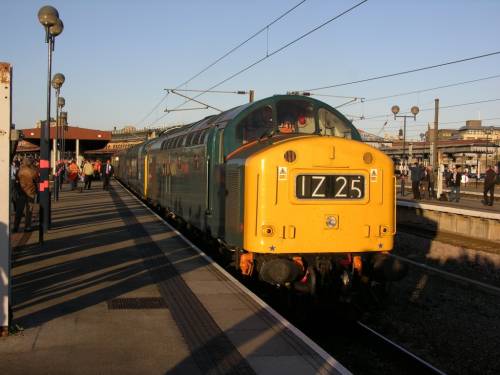 09/10 : 40145 leads 55022 'Royal Scots Grey' at York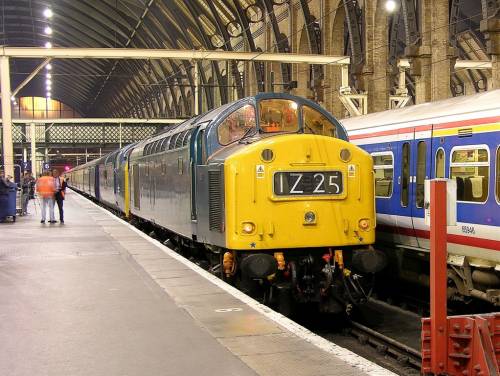 09/10 : 40145 & 55022 'Royal Scots Grey' on arrival into Kings Cross


Timings (Booked & Actual)
(from Rob Fraser)
06/10 & 09/10
| | | | | | |
| --- | --- | --- | --- | --- | --- |
| Location | Booked | Actual | | Booked | Actual |
| Kings Cross | 07.55d | 08.13 | | 21.58a | 22.06 |
| Belle Isle | 07/57 | 08/15 | | 21/54 | 22/01 |
| Finsbury Park | 08/00 | 08/19 | | 21/49½ | 21/59 |
| Alexandra Palace | 08/04 | 08/21 | | 21/47½ | 21/57 |
| Potters Bar | 08/15 | 08/28 | | 21/40½ | 21/50 |
| Welwyn Garden City | 08/25 | 08/33 | | 21/35½ | 21/41 |
| Woolmer Green | 08/29 | 08/35 | | 21/32 | 21/35 |
| Stevenage | 08.38a ~ 08.40d | 08.39 ~ 08.45 | | 21.20a ~ 21.23d | 21.24 ~ 21.30 |
| Hitchin | 08/45 | 08/49 | | 21/14½ | 21/19 |
| Sandy | 08/54½ | 08/59 | | 21/04 | 21/09 |
| Huntingdon | 09.07a ~ 09.10d | 09.12 ~ 09.15 | | 20.46a ~ 20.49d | 20.51 ~ 20.54 |
| Holme LC | 09/30 | 09/26 | | ? | ? |
| Peterborough | 09.37a ~ 09.41d | 09.35 ~ 09.42 | | 20.06a ~ 20.09d | 20.12 ~ 20.18 |
| Tallington Jn | 09/51 | 09/52 | | 19/58 | 20/05 |
| Stoke Tunnel | 10/11 | 10/08 | | 19/47½ | 19/53 |
| Grantham | 10.18a ~ 10.21d | 10.18 ~ 10.23 | | 19.37a ~ 19.40d | 19.41 ~ 19.44 |
| Barkston South Jn | 10/27 | 10/28 | | 19/32 | 19/35 |
| Newark North Gate | 10/34 | 10/35 | | 18/45 | 18/47 |
| Retford | 10/48 | 10/47 | | 18/30 | 18/33 |
| Loversall Carr Jn | 10/58 | 10/56 | | 18/20 | 18/22 |
| Doncaster | 11.03a ~ 11.09d | 11.01 ~ 11.07 | | 18/17 | 18/18 |
| Shaftholme Jn | 11/25 | 11/14 | | 18/11 | 18/14 |
| Templehirst Jn | 11/32 | 11/22 | | 18/02 | 18/06 |
| Hambleton North Jn | 11/36½ | 11/27 | | 17/53½ | 18/01 |
| Colton Jn | 11/42½ | 11/34 | | 17/47 | 17/55 |
| York | 11.49a ~ 11.52d | 11.39 ~ 12.07 | | 17.22a ~ 17.40d | 17.21 ~ 17.47d |
| Skelton Jn | 11/54½ | 12/10 | | 17/19 | 17/18 |
| Tollerton | 12/04 | 12/18 | | 17/13 | 17/10 |
| Thirsk | 12/14 | 12/29 | | 17/01 | 16/59 |
| Northallerton | 12/28 | 12/35 | | 16/54 | 16/52 |
| Darlington | 12/42 | 12/57 | | 16.32a ~ 16.41d | 16.39 ~ 16.40 |
| Ferryhill South Jn | 12/53 | 13/11 | | 16/21 | 16/27 |
| Durham | 13.03a ~ 13.10d | 13/30 | | 16/12 | 15/41 |
| Birtley | 13/21 | 13/38 | | 16/04 | 15/34 |
| Low Fell Jn | 13/34 | ? | | ? | ? |
| King Edward Bridge South Jn | 13/37 | 13/45 | | 16/00 | 15/29 |
| Newcastle | 13/42 | 13/49 | | 15/58 | 15/28 |
| Heaton South Jn | 13/47 | 13/53 | | 15/50½ | 15/24 |
| Morpeth | 14/01 | 14/09 | | 15/32 | 15/11 |
| Morpeth North Jn | 14.04a ~ 14.09d | ? | | ? | ? |
| Alnmouth | 14/25 | 14/38 | | 14/49 | 14/39 |
| Belford | 14/38 | 14/54 | | 14/29 | 14/26 |
| Berwick-upon-Tweed | 14/49½ | 15/09 | | 14/12 | 14/14 |
| Marshall Meadows | 14/52½ | 15/13 | | 14/07½ | 14/12 |
| Grantshouse | 15/05 | 15/27 | | 13/54 | 13/59 |
| Dunbar | 15/14 | 15/36 | | 13/42 | 13/47 |
| Drem | 15/43 | 15/45 | | 13/33 | 13/39 |
| Monktonhall Jn | 15/56 | 15/54 | | 13/23 | 13/31 |
| Portobello Jn | 15/58 | 15/56 | | 13/21 | 13/29 |
| Edinburgh Waverley | 16L03a ~ 18L06d | 16.06 ~ 18.06 | | 13/18 | 13/25 |
| Haymarket | 18/10 | 18/11 | | 13/14 | 13/13 |
| Haymarket West Jn | 18/12 | 18/14 | | 13/13 | 13/10 |
| Dalmeny Jn | 18/18 | 18/21 | | 13/03½ | 13/04 |
| Inverkeithing | 18/23 | 18/28 | | 12/57 | 12/58 |
| Burntisland | 18/33 | 18/39 | | 12/44 | 12/48 |
| Kirkaldy | 18/41 | 18/47 | | 12/35 | 12/40 |
| Thornton South Jn | 18/45 | 18/53 | | 12/28 | 12/37 |
| Ladybank | 18/54½ | 19/02 | | 12/16 | 12/26 |
| Newburgh | 19/05 | 19/12 | | 12/05 | 12/14 |
| Perth | 19/20 | 19/36 | | 11.19a ~ 11.49d | 11L32 ~ 11L58 |
| Pitlochry | 19.50a ~ 20.19d | 20/30 | | 10/47 | 10/52 |
| Dalwhinnie | 21.08a ~ 21.25d | 21.25 ~ 21.28 | | 09/54 | 10/14 |
| Kingussie | 21/40 | ? | | 09.26a ~ 09.36d | ? |
| Aviemore | 21/52 | 21/53 | | 09/13 | 09/30 |
| Inverness | 22.35a | 22.36 | | 08.10d | 08.10 |
07/10
| | | | | | |
| --- | --- | --- | --- | --- | --- |
| Location | Booked | Actual | | Booked | Actual |
| Inverness | 12.30d | 12.30 | | 21.37a | 21.35 |
| Muir of Ord | 12.58a ~ 13.00d | ? | | 20.43a ~ 21.02d | ? |
| Dingwall | 13.08a ~ 13.10d | 13.15 ~ 13.19 | | 20.34a ~ 20.36d | 20.34 ~ 20.36 |
| Garve | 13.34a ~ 13.39d | ? | | 20.10a ~ 20.12d | ? |
| Achnasheen | 14.11a ~ 14.13d | 14.20 ~ 14.22 | | 19.25a ~ 19.38d | 19.25 ~ 19.38 |
| Strathcarron | 14.46a ~ 14.48d | 14.54 ~ 14.56 | | 18.49a ~ 18.51d | 18.46 ~ 18.51 |
| Kyle of Lochalsh | 15.30a | 15.38 | | 18.00d | 18.09 |
08/10
| | | | | | |
| --- | --- | --- | --- | --- | --- |
| Location | Booked | Actual | | Booked | Actual |
| Inverness | 08.05d | 08.05 | | 22.47a | 22.21 |
| Muir of Ord | 08.33a ~ 08.35d | ? | | 22.02a ~ 22.04d | ? |
| Dingwall | 08.43a ~ 08.45d | 08.48 ~ 08.50 | | 21.49a ~ 21.51d | 21.40 ~ 21.41 |
| Invergordon | 09.05a ~ 09.07d | ? | | 21.29a ~ 21.31d | ? |
| Tain | 09.25a ~ 09.27d | 09.30 ~ 09.32 | | 21.09a ~ 21.11d | 20.59 ~ 21.01 |
| Ardgay | 09.46a ~ 09.48d | ? | | 20.43a ~ 20.50d | ? |
| Lairg | 10.11a ~ 10.13d | 10.14 ~ 10.16 | | 20.24a ~ 20.26d | 20.21 ~ 20.24 |
| Dunrobin Castle | 10.50a ~ 12.50d | ? | | ? | ? |
| Brora | 12.58a ~ 13.00d | 13.01 ~ 13.03 | | 19.23a ~ 19.25d | 19.31 ~ 19.34 |
| Helmsdale | 13.16a ~ 13.41d | 13.19 ~ 13.39 | | 19.06a ~ 19.08d | 19.11 ~ 19.13 |
| Georgemas Junction | 14.48a ~ 15.18d | 15.00 ~ 15.18 | | 17.30a ~ 17.50d | 17.30 ~ 17.50 |
| Thurso | 15.33a | 15.33 | | 17.15d | 17.15 |