16th September 2006
V.S.O.E. (Northern Belle)
(Durham)
| | |
| --- | --- |
| Loco Used | 67012 |
| Stock Used | 10734+17167+3174+3275+1953+3182+3267+1566+3273+3247 |
Route:
1Z32 : Birmingham International to Durham
1Z34 : Durham to Birmingham International
| | |
| --- | --- |
| Loco | Route |
| 67012 | Birmingham International - Stechford - Aston - Bescot Stadium - Walsall - Ryecroft Jn - Park Lane Jn - Water Orton - Nuneaton - Hinckley - Leicester - Loughborough - Trent South Jn - Spondon - Derby |
| 67012 | Derby - Spondon - Trent East Jn - Toton - Langley Mill - Clay Cross South Jn - Chesterfield - Dore Station Jn - Sheffield - Meadowhall - Holmes Jn - Aldwarke Jn - Swinton - Mexborough - Doncaster - Temple Hirst Jn - Hambleton North Jn - York - Thirsk - Northallerton - Darlington - Durham |
| 67012 | Durham - (reverse of outward route) - Aldwarke Jn - Rotherham Central - Holmes Jn - (reverse of outward route) - Derby |
| 67012 | Derby - (reverse of outward route) - Birmingham International |
Notes :
(1) The BLS trip on the same day sat alongside this tour twice during the day.
The first time at Tyne Yard, where the ECS from this tour was stabled (11:28a ~ 17:08d).
The second was at York, with 67012 in Platform 11 & 66061 working the BLS tour in Platform 10.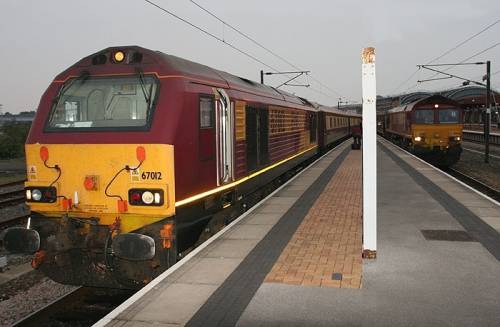 VSOE (left) & BLS (right) meet at York in the evening. (photo: PRAR)
Source : Alan Sheppard



Timings (Booked & Actual)
(from Alan & Roj Fraser)
| | | |
| --- | --- | --- |
| Location | Booked (out) | Booked (rtn) |
| Birmingham International | 05.30d | 00.04a |
| Stechford | 05/34 | 23/58 |
| Aston | 05/42 | 23/53 |
| Perry Barr North Jn | 05/46 | 23/50 |
| Bescot Stadium | 05/53 | 23/45 |
| Pleck Jn | 05/55 | 23/43 |
| Walsall | 05/57 | 23/41 |
| Ryecroft Jn | 05/59 | 23/39 |
| Park Lane Jn | 06/17 | 23/21 |
| Water Orton West Jn | 06/19 | 23/19 |
| Water Orton | 06/21 | 23/18 |
| Whitacre Jn | 06/25 | 23/14 |
| Abbey Jn | 06/36 | 23/02 |
| Nuneaton | 06/39 | 23/00 |
| Hinckley | 06/45 | 22/52 |
| Wigston North Jn | 06/57 | 22/39 |
| Leicester | 07.03a ~ 07.08d [P2] | 22.28a ~ 22.33d [P3] |
| Syston South Jn | 07/14 | 22/22 |
| Sileby Jn | 07/17 | 22/18 |
| Loughborough | 07/21 [P1] | 22/12 [P2] |
| Trent South Jn | 07/26 | 22/04 |
| Sheet Stores Jn | 07/27 | 22/04 |
| Spondon | 07/32 | 21/58 |
| Derby | 07.39a ~ 08.00d [P6] | 21.27a ~ 21.52d [P4] |
| Spondon | 08/06 | 21/22 |
| Sheet Stores Jn | 08/12 | 21/17 |
| Trent East Jn | 08/14 | 21/15 |
| Toton Jn | 08/16 | 21/13 |
| Toton Centre | 08/17 | 21/12 |
| Stapleford & Sandiacre | 08/19 | 21/10 |
| Trowell Jn | 08/21 | 21/07 |
| Langley Mill | 08/25 | 21/03 |
| Pye Bridge Jn | 08/28 | 21/00 |
| Alfreton | 08/30 | 20/58 |
| Clay Cross South Jn | 08/37 | 20/53 |
| Chesterfield | 08/40 | 20/50 |
| Dore Station Jn | 08/51 | 20/42 |
| Sheffield | 08.59a ~ 09.03d [P1] | 20.26a ~ 20.36d [P6] |
| Nunnery Main Line Jn | 09/05 | 20/22 |
| Wincobank Jn | 09/07 | 20/15 |
| Holmes Jn | 09/08 | 20/12 |
| Rotherham Central | - | 20/02 |
| Aldwarke Jn | 09/11 | 19/50 |
| Swinton | 09/14 | 19/47 |
| Mexborough | 09/17 | 19/41 |
| Hexthorpe Jn | 09/24 | 19/34 |
| Doncaster | 09/29 [P.4] | 19/31 [UF] |
| Shaftholme Jn | 09/32 | 19/22 |
| Temple Hirst Jn | 09/39 | 19/14 |
| Hambleton North Jn | 09/43 | 19/09 |
| Colton Jn | 09/49 | 19/02 |
| York | 09.55a ~ 10.06d [P11] | 18.31a ~ 18.55d [P11] |
| Skelton Jn | 10/09 | 18/25 |
| Tollerton Jn | 10/16 | 18/19 |
| Thirsk | 10/24 | 18/10 |
| Northallerton | 10/30 | 18/05 |
| Darlington | 10/43 [DM] | 17/55 [UM] |
| Ferryhill South Jn | 10/55 | 17/46 |
| Tursdale Jn | 10/58 | 17/44 |
| Durham | 11.05a | 17.36d |