28th August 2006
Pathfinder Tours
The Whistling Pixie
Route:
| | |
| --- | --- |
| Loco | Route |
| 40145 | Ealing Broadway - Slough - Reading - Southcote Jn - Newbury - Westbury - Castle Cary - Cogload Jn - Exeter St Davids - Newton Abbot - Totnes - Plymouth - St Germans - Liskeard - Par - Truro - Penzance |
| 40145 | Penzance - (reverse of outward route) - Ealing Broadway |
Sources : various including Mark Honey



Tour Review
(from Mark Honey)
The alarm woke me at the ungodly hour of 03.30 on Bank Holiday Monday. Or rather it stung me – I was so sound asleep that I had to pull myself off the ceiling when the bloody thing went off. So here we go again. Having had 2 days of back to back railways – out on the 20s round Rutland on Saturday and at the Great Central on Sunday, it was off to Penzance with 40145. I was actually in two minds about doing this, mainly because of the 06.50 start from Ealing Broadway and the fact that either way it would be a drive to London and back to avoid an overnight stay in the Smoke. However being advertised as the second 40 to Penzance and the fact that I was on the first one, way back in September 1985 with the Queen of Green, meant that I would be kicking myself if I didn't cover this one.
And didn't cover it I nearly did. Having picked a colleague up from Northampton and headed to Stanmore on a deserted M1, in hindsight, it may have been preferable to drive to Ealing itself and hope we found somewhere to park that didn't cost us a second mortgage and didn't have 'residents only' plastered on every street sign. Stanmore is only a quid to park and having chinged out for a fiver on a travelcard, it seemed ok. But having got to Bond Street to change to the Central line and having 'only' 40 minutes, the next service wasn't due for another 25 minutes! We would, I'm sure, be bowled. Taxi!!!
Legging it up the stairs three at a time and out into the open, we were greeted by a deserted Central London; just a handful of buses and the previous night's drunks – and not a black cab anywhere. It was 06.25 and we were standing despairingly at Oxford Circus, looking at utter failure, wondering if there was any way out. When suddenly a taxi pulled up at the lights. It wasn't for hire, but we both threw ourselves at the mercy of the driver and his customer – who was going to Paddington station. Yes we could share. Result! Now the chase was on. The woman and her suitcase were dispatched as politely as we could hustle her out of the taxi at Paddington and we set off for Ealing Broadway. I have to say the taxi driver was a star, racing between speed cameras and hammering the black cab. To cut a long story short we pulled up at Ealing Broadway at 06.47 – three minutes to spare – and nearly £30 lighter.
Now in the past I have done many 'man of steel' moves, some on a promise of a winner, some moves blind where fortune favoured the brave – sometimes. Standing on Ealing Broadway station and watching 40145 rolling in when 5 minutes ago we had been tearing down the high street, I realised I was simply getting too old for this sort of thing.
So, moving on, we found our seats in Coach A – next to the loco and listened to it open up. As usual it sounded wonderful and we knew we were in for hours of thrash and volume if all went well. One of the first surprises was how lightly loaded the train was – only three standards, the RMB, two firsts and a support coach – and they weren't full. It certainly wouldn't tax 40145 – and didn't. It was a shame the tour wasn't more well loaded as it really is a case of 'use it or lose it' when it comes to mainline heritage traction.
We stopped at Slough and Reading to pick up and headed off over the Berks and Hants route (the 'desert' – and it is!) via a stop at Newbury for a quick photo (and to let a screaming HST flash by). By the time we had picked up at Westbury, many familiar faces were on board and time passed very quickly catching up with people.
A slow crawl through Exeter and the glorious sound of 40145 opening up saw us head along the sea wall at Dawlish and on though Totnes, heading over the banks. 40145 sounded especially superb at full power climbing Rattery – brilliant. We had a few minutes at Plymouth for more pictures, and again at Par and Truro, before a right time arrival at Penzance and the end of a first half of a fantastic performance.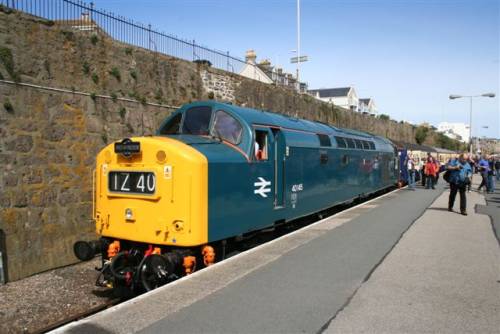 40145 is captured on arrival into Penzance (photo: Mark Honey)
Penzance was warm and sunny and many of us trooped off to the infamous Dolphin pub for a beer and some lunch – very hospitable. The return wasn't until 16.50, so we had a good three hours break. 40145 did not disappoint on the return and treated us to a storming run, especially from Exeter onwards. We were a few minutes early and we stopped briefly to let a Paddington bound HST out in front of us – or so we thought! No so – we were soon on the move; the HST crew standing by their train watching us leave! The ensuing run to Westbury was stunning and the finale into Ealing was nothing short of brilliant. As the ECS stormed out of the station, the Paddington bound HST we had been let out in front of stormed through! There was nothing left but to grab a Paddington bound Turbo, stick two fingers up at the Central Line and head for Stanmore via Baker Street and the Met to Wembley Park. Rolling into Stanmore at 11.30 with the prospect of a drive up the M1 wasn't at all appealing, but it was a clear enough run home and I rolled in at 01.15 – nearly 24 hours after getting up…
Verdict. Superb – in a word! It was a pity that more people chose not to travel, but a good out and back to Penzance like this tour should have wowed the punters? Chatting with a number of people on the way back though, this long haul Class 40–centered day may have put the general public off and I suppose this really was an enthusiasts' tour. Trouble is, you can't fill a train with hundreds of Class 40 diehards – there just aren't that many! It was commented that when D1015 reappears in October, it will be part of a steam tour. It's the age old question of making it worth the while without losing money. It makes you wonder, doesn't it?
Mark Honey



Timings (Booked Only)
| | | |
| --- | --- | --- |
| Location | Booked (out) | Booked (rtn) |
| Ealing Broadway | 07.00d | 22.50a |
| Slough | 07.08a ~ 07.10d | 22.28a ~ 22.32d |
| Reading | 07.28a ~ 07.31d | 22.09a ~ 22.11d |
| Newbury | 07*52a ~ 08*00d | 21/51 |
| Westbury | 08.40a ~ 08.42d | 21/04 |
| Taunton | 09/25 | 20/21 |
| Exeter St Davids | 09/53 | 19/54 |
| Newton Abbot | 10/12 | 19/35 |
| Totnes | 10/30 | 19/20 |
| Plymouth | 11c05a ~ 11c10d | 18c45a ~ 18c49d |
| Liskeard | 11/36 | 18/22 |
| Par | 11p59a ~ 12p19d | 17/59 |
| Truro | 12p45a ~ 13p02d | 17/34 |
| Camborne | 13/18 | 17/18 |
| Penzance | 13.36a | 16.50d |