24th June 2006
Past Time Rail
The Glasgow Flyer
| | |
| --- | --- |
| Loco Used | 90017 |
| Stock Used | 35469+3141+1680+3147+3121+3146+1813+4949+5008+5482 |
Route:
1Z32 : Milton Keynes Central to Glasgow Central
1Z34 : Glasgow Central to Milton Keynes Central
| | |
| --- | --- |
| Loco | Route |
| 90017 | Milton Keynes Central - Northampton - Rugby - Nuneaton - Lichfield Trent Valley - Stafford - Norton Bridge - Madeley - Crewe - Warrington Bank Quay - Winwick Jn (1) - Earlstown - Newton-le-Willows - (1) Golborne Jn - Wigan North Western - Preston - Lancaster - Carlisle - Carstairs - Motherwell - Uddinsgton Jn -Rutherglen East Jn - Eglington Jn - Glasgow Central |
| 90017 | Glasgow Central - (reverse of outward route) - Golborne Jn - Winwick Jn - (reverse of outward route) - Milton Keynes Central |
Notes :
(1) Booked route was direct on WCML. Train was delayed at Newton-le-Willows due to being given the road towards Manchester rather than Golborne Jn.
Source : Gary Thornton (joined/left the train at Northampton)



Tour Review
(by Gary Thornton)
As some of you will be aware, this year has proven to be a somewhat busy one for me...so much so that I have had to reign-in much of my activities as much of my spare time has been spent addressing issues outside of the hobby. It is nonetheless quite a surprise to find myself here at the end of June only now travelling on my first "public" railtour since late 2005! Each year Past Time Rail normally runs in late June to Edinburgh however this years tour was to Glasgow which was not a bad thing as, in railway terms, there is quite a bit to do there.
I walked down to Northampton station in plenty of time to see the train arrive, meeting my family there who were also coming for the day out. 90017 arrived a couple of minutes early so plenty of time to walk to our coach and get settled before we set off. Got a good look at the new "Kings Heath Maintenance Facility" as we departed Northampton - the new class 350 'Desiro' depot being custom-built on the former Spencer Bridge Yard for maintaining the Silverlink/Centro fleet. 350101 was present on the almost-complete depot, presumably there to assist with the commissioning?
The run northwards was pretty straightforward and relaxing, just a diversion via Earlestown & Newton-le-Willows (off-booked route) to add any real interest...that came when the brakes came on hard as we ran through Newton-le-Willows station - after a pause of a few minutes we set off again. Being towards the back of the train I wasn't aware the cause but later heard the driver found the road was set for Manchester not Golborne Jn - oops - especially with an electric on the front!
At Glasgow I had no preconceived idea what I was going to to for the 5½ hours we had though the recently opened curve into Anniesland station was in my sights as was a Turbostar spotting session at Queen Street. I'd forgotten about the new Larkhall branch so in the end I went down to Larkhall as well as having a run over the new curve. Having caught a Lanark service as far as Hamilton Central, whilst waiting for the Larkhall train I was caught unprepared for 67009 coming through hauling our tour stock (complete with 90017 on the back) - seems EWS decided to use the Hamilton circle to simply reverse the stock rather than run 90017 round. I finished off the afternoon with a bit of a spin on the Glasgow Underground before walking back to Central station (have been pretty inactive recently so a good walk was called for!).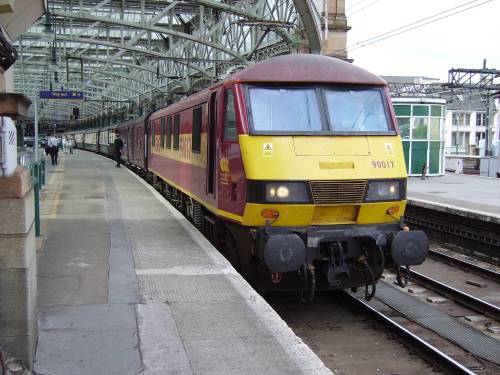 90017 waits to leave Glasgow Central in the evening (photo: Gary Thornton)
It was a very straightforward run home, booked route all the way. We were early until Crewe then we lost 15 minutes - a combination of waiting the driver then, when he arrived, losing the road to a Pendolino! We arrived back into Northampton 10 minutes late but I don't think anyone cared particularly as it had been a good day out.
Gary Thornton.



Timings (Booked & Actual)
(from Past Time Rail & Gary Thornton)
Location
Booked
Actual
Booked
Actual
Milton Keynes Central
06.12d [P5] [FL]
?
23.43a [P2]
?
Hanslope Jn
06/33
?
23/37½ [SL]
?
Northampton
06.45a [P2] 06.48d
06.43 [P2] 06.48
23.25a [P1] 23.28d
23.35 [P2] 23.38
Long Buckby
06/57
06/58
23/16
23/24
Hilmorton Jn
07/05 [DNL]
07/06
23/07
23/16
Rugby
07.07a [P1] 07.09d [FL]
07.08 [P1] 07.10 [FL]
23.02a [P2] 23.05d
23.13 [P2] 23.14
Trent Valley Jn
07/12
07/11
23/00
23/09
Nuneaton
07.30a [P2] 07.34d [SL]
07.24 ~ 07.34 [SL]
22.44a [P4] 22.47d
22.56 [P4] 22.59
Tamworth LL
07/52 [FL]
07/47
22/35
22/47
Lichfield TV LL
07.57a [P1] 08.04d
07.54 ~ 08.04
22.26a {p2] 22.29d
22.39 [P2] 22.41
Armitage
08/09 [SL]
?
22/21½
?
Colwich
08/21 [FL]
?
22/18
?
Milford & Brocton
08/25 [SL]
?
?
?
Stafford No.4
08/30
08/22
?
?
Stafford
08.31a [P3] 08.42d
08.23 ~ 08.42 [FL]
22.09a [P1] 22.12d
22.21 ~ 22.24
Norton Bridge
08/54
08/47
22/04½
22/16
Madeley
09/03
08/53
21/57
22/10
Basford Hall Jn
09/10
09/01 [SL]
21/53
22/06 [FL]
Crewe
09.14a [P6] 09.20d
09.10 [P11] 09.20
21.46a [P6] 21.49d
21.45 [P6] 22.06
Crewe Coal Yard
09/23
09/22
21/44
21/42
Winsford SB
09/29
09/30
21/37
?
Weaver Jn SB
09/36½
09/34
21/32
21/29
Acton Grange Jn
09/43
09/37
21/27½
21/24
Warrington Bank Quay
09/45 [P3]
09/39 [P3]
21/25 [P2]
21/22 [P2]
Dallam Jn
09/45
09/40
21/22
21/20
Winwick Jn
09/48
09/44
21/18½
21/18
Earlstown
DIV
09/47
Newton-le-Willows
DIV
09/48
Newton-le-Willows Jn
DIV
09.48½a ~ 09.54d
Golborne Jn
?
09/56
?
?
Springs Branch Jn
09/58
09/01
21/14
21/12
Wigan South Jn
09/58½
09/02
21/13½
21/11
Wigan North Western
09/59 [P5]
10/02
21/13 [P4]
21/11
Balshaw Lane
10/05
10/07 [FL]
21/08
21/09
Euxton Jn
10/06
10/08
21/06
21/05
Preston
10/14½ [P5]
10/15 [P3]
20/59 [P4]
21/00 [P4] [FL]
Lancaster
10/35 [DFL]
10/31 [DFL]
20/43 {UFL]
20/43 [UFL]
Morecambe South Jn
10/38
10/33
20/41½
20/42
Carnforth North Jn
10/42½
10/35
20/39
20/38
Oxenholme Lake District
10/50½
10/43
10/29
10/31
Tebay
11/02
10/52
20/20
20/22
Penrith North Lakes
11/15
11/06
20/07
20/08
Carlisle
11.31a [P3] 11.33d
11.19 [P3] 11.25
19.50a [P4] 19.52d
19.51 [P4] 19.53
Gretna Jn
11/40½
11/35
19/43
19/37
Kirkpatrick Signal
MC863 (out) / M862 (rtn)
11/43
?
19/41
?
Lockerbie
11/51
11/46
19/32
19/24
Beattock
11/59½
11/55
19/23½
19/16
Beattock Summit
12/07
12/01
19/17½
19/10
Abington
12/12½
12/07
19/12
19/04
Carstairs South Jn
12/21½
12/17
19/02½
18/55
Carstairs
12/22
12/17
19/02
18/55
Lanark Jn
12/24
12/19
18/59½
?
Law Jn
12/31
12/25
18/54
18/48
Motherwell
12/38 [P2]
12/30
18/50 [P1]
18/42 [P1]
Uddingston Jn
12/40½
12/34
18/41
18/38
Newton
12/42
12/35
18/37
18/37
Rutherglen East Jn
12/47 [FL]
12/39
18/35
18/34
Eglinton Street Jn
12/54
12/42
18/31 [FL]
18/32
Glasgow Central
12.57a [P11]
12.53 [P11]
18.28d [P11]
18.28 [P11]