21st June 2006
Timken Rail Services
(no tour name)
Route:
| | |
| --- | --- |
| DMU | Route |
| Árpád 23 | Budapest Nyugati - Budapest-Rákosrendező - Budapest Railway Museum (1) |
| Árpád 23 | Budapest Railway Museum - (reverse of outward route) - Budapest Nyugati |
This was a privately organised special train which was chartered to get attendees of a sales conference from central Budapest to the Budapest Railway Museum for a guided tour and evening meal.
Notes :
(1) Ran up to turntable of main roundhouse.
Source : Gary Thornton (on the train throughout)



Tour Review
(by Gary Thornton)
One of the rarer trains to be featured on this Website are the private charters for works or company outings. Working for the part of my company that sells to the rail industry it is always our preferred option to include a railway theme in any events organised around group meetings or conferences. Such was the case on this occasion when our European sales group met for three days in Budapest towards the end of June...
Wednesdays evening entertainment was a guided tour and meal at the Budapest Railway Museum (well worth a visit - for more information here's a link to their Website). The plan had been to use the Budapest Metro to get from our hotel (on the Buda side of the river) to Nyugati station but there were disruptions due to engineering works so we all piled into taxi's instead.
We met our two guides at the station and headed for platform 8 where our train awaited. It was a 1935-built single-car DMU, 'Árpád 23', originally used between Budapest and Vienna on a schedule which is only 2 minutes faster today! Internally it was basic by today's standards but I dare say in 1935 it was quite luxurious for the passengers that took it between the two cities. This particular DMU has an interesting history as it is said it was used by the highest military commander of the Hungarian army to escape when the Russians invaded during WW2.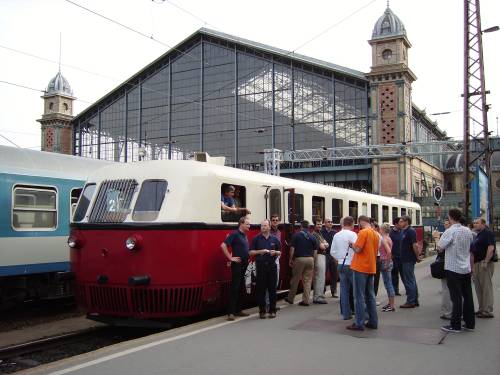 Time for a chat and photos before departing Nyugati (photo: Gary Thornton)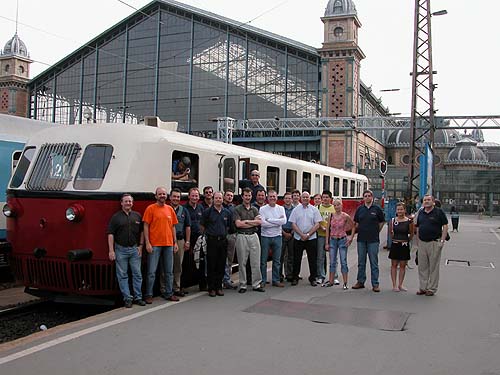 Time for a seminar photo before departure - I'm on the extreme left.
Not much to say about the journey really, being as it only took 11 minutes! Full wind-down windows were good as it was a very warm evening so having a bit of a "bellow" en-route was perfectly acceptable. A short mainline run brought us to Budapest-Rákosrendező where we branched off left onto what appeared to be a line just serving some sidings and the rail museum.
Though not really relevant for this Website, as the museum was quite interesting I've included a separate Page of photos for anyone interested in seeing more.
After a guided tour, some races using 'draisines' and completing our meal in a historic ex-Orient Express dining carriage we headed back the short distance to Nyugati in "Árpád 23", the journey taking longer than the outward due to waiting the road onto the mainline at Budapest-Rákosrendező. At that point it was bask to the hotel in a fleet of taxi's at the end of a good evening out.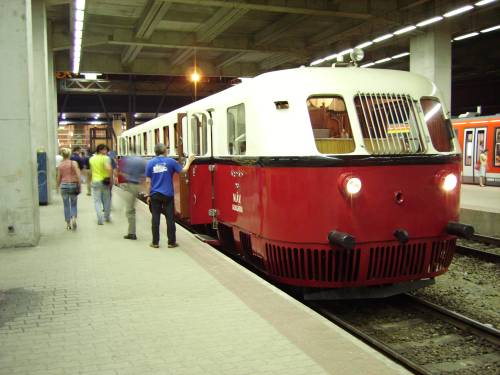 Preserved DMU Árpád 23 is seen back at Nyugati (photo: Gary Thornton)
Gary Thornton.



Timings (Actual Only)
(Gary Thornton)
| | | | | | |
| --- | --- | --- | --- | --- | --- |
| Location | Booked | Actual | | Booked | Actual |
| Budapest Nyugati | 18.10d | 17.52 [P8] | | ??.??a | 22.08 [P3] |
| Budapest-Rákosrendező | ??/?? | 17/57 | | ??/?? | 21.55a ~ 22.02d |
| Budapest Railway Museum | ??.??a | 18.03 | | ??.??d | 21.50d |