30th May 2006
Past Time Rail
The China Clay Pony
| | |
| --- | --- |
| Locos Used | 37411 'Caerphilly Castle' & steam : 76079 |
| Stock Used | 35517+5023+4986+1813+4998+5008+4949+35469 |
Route:
1Z23 : Plymouth to Parkandillack
1Z24 : Parkandillack to Plymouth
| | |
| --- | --- |
| Loco(s) | Route |
| 76079 (1) | Plymouth - Saltash - Liskeard - Lostwithiel - Burngullow Jn - Parkandillack |
| 37411 (2) | Parkandillack - (reverse of outward route) - Plymouth |
Notes :
(1) 37411 on rear.
(2) 76079 on rear.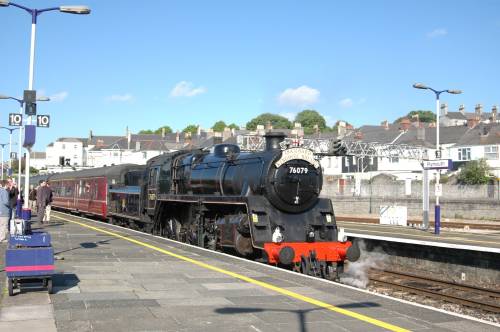 76079 waits to leave Plymouth for Parkandillack (photo: Paul Brankin)
The headboard reads "Isambard Kingdom Brunel".
Source : Justin Edwards



Tour Review
(by Justin Edwards)
This tour took place on a beautiful sunny evening. The train arrived at Plymouth about 30 minutes before departure led by 76079 with 37411 at the rear and a mix of maroon, green and blue grey coaches sandwiched in between. Departure was on time and once clear of the station it was obvious the steam crew weren't going to hang around. Sitting in coach A it was great to hear 76079 hammering away, though judging by the black smoke and ash and soot coming through the open window there was a fair bit of incomplete combustion.
After Lostwithiel I went in search of a door to lean out of to get some pictures of the train, this took me to the far end of the last TSO and revealed the train to be about two thirds full.
It was also apparent that 37411 was contributing where necessary in particular on the long climb to St Austell where the satisfying grunt of the English Electric could be heard on much of the gradient as well as 76079 at the front.
Pulling off the main line at Burngullow we waited a few minutes opposite Blackpool Driers before starting on to the Parkandillack line. 76079 pulled off unassisted but the line almost immediately climbs steeply on a tight curve passed Crugwallins Sidings and 37411 could be heard giving a shove at this point as she did again at Lanjeth Crossing where the train briefly stopped before proceeding across it. We passed the Drinnick Mill where the rail connection is severed with piles of rail and sleepers lying in heaps and carried on passing Treviscoe Siding which is still used but had no wagons present. The line twists and turns along the whole route and 37411 continued to contribute where necessary as we travelled through a mix of barren clay mine waste and luxuriant Cornish countryside. Arriving at Parkandillack with the buffer stops at the end of the line in sight we seemed to cause some surprise to the Imerys employees there, who recovered themselves enough to record the event on their cameraphones. A single bogie cargowagon was present at Parkandillack. We departed a little early but were then held at Blackpool Driers until our booked time to allow a northbound voyager through. The run back to Plymouth was more of an amble for much of the journey, presumably because of the Voyager just in front of us having to stop everywhere. This rather deprived those who had decanted from coach A to the previously empty coach F of the anticipated class 37 thrash though the last few miles to Plymouth were covered at a good speed and final arrival time was a few minutes early.
Justin Edwards



Timings (Booked & Actual)
(from John Clifford)
| | | | | | |
| --- | --- | --- | --- | --- | --- |
| Location | Booked | Actual | | Booked | Actual |
| Plymouth | 18.00d | 18.01 | | 22.18a | 22.12 |
| St Budeaux Jn | 18/06 | 18/07 | | 22/11 | 22/06 |
| Saltash | 18/10 | 18/12 | | 22/07 | 22/03 |
| St Germans | 18/21 | 18/23 | | 22/01 | 21/56 |
| Liskeard | 18/33 | 18/37 | | 21/52 | 21/46 |
| St Pinnock Viaduct East | 18/39 | 18/44 | | 21/35 | 21/36 |
| Largin | 18/40 | 18/45 | | 21/34 | 21/34 |
| Lostwithiel | 18/48 | 18/53 | | 21/22 | 21/23 |
| Par | 18/55 | 19/00 | | 21/14 | 21.11 ~ 21.11 |
| St Austell | 18/59 | 19/08 | | 21/06 | 21/00 |
| Burngullow Jn | 19*08 ~ 19*10 | 19.15 ~ 19.22 | | 20*54 ~ 20*56 | 20.38 ~ 20.50 |
| Parkandillack | 19.47a | 19.48 | | 20.15d | 20.08 |