20th May 2006
Pathfinder Tours
The Snowdonian
| | |
| --- | --- |
| Locos Used | 37411 & 37417 |
| Stock Used | 5376+5350+4902+5040+5009+1863+3097+3144+3110+17015 |
Route:
1Z48 : Sheffield to Pwllheli
1Z49 : Pwllheli to Sheffield
| | |
| --- | --- |
| Loco(s) | Route |
| 37411 | Sheffield - Chesterfield - Derby - Burton-on-Trent - Tamworth High Level - Kingsbury Jn - Whitacre Jn - Water Orton - Birmingham New Street |
| 37417 + 37411 | Birmingham New Street - Dudley Port - Wolverhampton - Telford Central - Wellington - Abbey Foregate Curve - Sutton Bridge Jn - Welshpool - Talerddig - Machynlleth North |
| 37411 | Machynlleth North - Machynlleth - Dovey Junction - Tywyn - Fairbourne - Barmouth - Minffordd - Porthmadog - Pwllheli |
| 37411 | Pwllheli - (reverse of outward route) - Machynlleth |
| 37417 + 37411 (2) | Machynlleth - (reverse of outward route) - Birmingham New Street |
| 37411 | Birmingham New Street - (reverse of outward route) - Water Orton - Kingsbury Jn - (reverse of outward route) - Sheffield |
Notes :
(1) Re-run of the failed attempt to reach Pwllheli on 18/06/05.
(2) Locos were not in multiple but in tandem owing to problem with the multiple working.
(3) Chros Magner comments "this was the first green liveried class 37 to reach Pwllheli".
Source : Alan Sheppard (on the train throughout)



Photo Review
(all photos: Steve Kemp)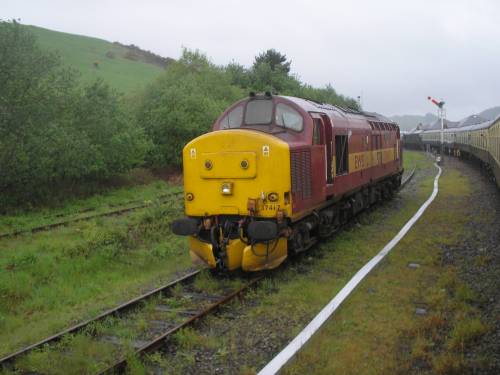 37417 stayed behind at Machynlleth.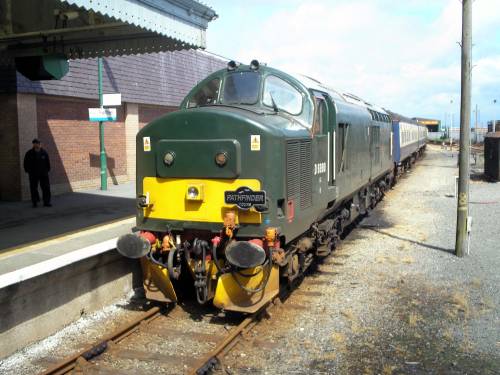 37411 in the sunshine at Pwllheli.


Timings (Booked & Actual)
| | | | | | | | |
| --- | --- | --- | --- | --- | --- | --- | --- |
| M.C | Location | Booked | Actual | | Booked | Actual | M.C |
| 0.00 | Sheffield | 06.41d | 06.42 [P2] | | 23.47a | 23.42 [P2] | 238.38 |
| 3.70 | Dore Station Jn | 06/48 | 06/50 | | 23/43 | 23/36 | 234.48 |
| 12.20 | Chesterfield | 06.58a ~ 07.01d | 07.01 ~ 07.02 | | 23.29a ~ 23.32d | 23.21 ~ 23.23 | 226.18 |
| 16.30 | Clay Cross South Jn | 07/06 | 07/09 | | 23/24 | ? | 222.08 |
| 26.38 | Ambergate Jn | 07/20 | 07/18 | | 23/14 | ? | 212.00 |
| 36.31 | Derby | 07.33a ~ 07.36d | 07.29 ~ 07.38 [P6] | | 22.59a ~ 23.02d | 22.51 ~ 22.53 [P3] | 202.07 |
| 41.15 | Stenson Jn | 07/48 | 07/45 | | 22/53 | 22/43 | 197.23 |
| 41.59 | North Stafford Jn | 07/49 | 07/45 | | 22/52 | 22/43 | 196.59 |
| 47.32 | Burton-on-Trent | 07.55a ~ 07.57d | 07.51 ~ 07.58 | | 22.43a ~ 22.46d | 22.35 ~ 23.37 | 191.06 |
| 52.75 | Wichnor Jn | 08/03 | 08/05 | | 22/36 | 22/30 | 185.43 |
| 60.23 | Tamworth High Level | 08.11a ~ 08.13d | 08.13 ~ 08.15 | | 22.21a ~ 22.23d | 22.20 ~ 22.22 | 178.15 |
| 66.04 | Kingsbury Jn | 08/20 | 08/21 | | 22/12 | 22/13 | 172.34 |
| 69.79 | Water Orton | 08/24 | 08/32 | | 22/08 | 22/10 | 168.39 |
| 76.05 | Landor Street Jn | 08/30 | 08/40 | | 22/02 | 22/04 | 162.33 |
| 76.76 | Proof House Jn | 08/32 | 08/42 | | 22/00 | 22/01 | 161.42 |
| 77.50 | Birmingham New Street | 08.35a ~ 08.43d | 08L46 ~ 09L03 [P10] | | 21.50a ~ 21.57d | 21.50 ~ 21.57 [P3] | 160.68 |
| 79.51 | Soho South Jn | 08/48 | 09/08 | | 21/45 | 21/45 | 158.67 |
| 81.29 | Galton Jn | 08/50 | 09/10 | | 21/41 | 21/44 | 157.09 |
| 84.74 | Dudley Port | 08/54 | 09/13 | | 21/38 | 21/40 | 153.44 |
| 90.34 | Wolverhampton | 09.02a ~ 09.05d | 09.21 ~ 09.23 | | 21.28a ~ 21.31d | 21.32 ~ 21.33 | 148.04 |
| 90.77 | Wolverhampton North Jn | 09/07 | 09/25 | | 21/26 | 21/31 | 147.41 |
| 91.50 | Oxley SB | 09/09 | 09/26 | | 21/25 | 21/28 | 146.68 |
| 99.37 | Cosford | 09/17 | 09/42 | | 21/16 | 21/21 | 139.01 |
| 104.74 | Madeley Jn | 09/26 | 09/50 | | 21/10 | 21/17 | 133.44 |
| 106.08 | Telford Central | 09.30a ~ 09.33d | 09.53 ~ 09.54 | | 21.05a ~ 21.08d | 21.13 ~ 21.14 | 132.30 |
| 109.69 | Wellington | 09/39 | 09/59 [DM] | | 21/00 | 21/06 [UPL/P1] | 128.49 |
| 119.63 | Abbey Foregate Jn | 09/50 | 10/09 | | 20/49 | 20/55 | 118.55 |
| 120.48 | Sutton Bridge Jn | 09t55 ~ 09t57 | 10/14 | | 20t43 ~ 20t45 | 20.51 ~ 20.51 | 117.70 |
| 139.38 | Welshpool | 10t21 ~ 10t23 | 10/35 | | 20t25 ~ 20t27 | 20/31 | 99.00 |
| 153.26 | Newtown | 10t40 ~ 10t44 | 10.52 ~ 10.54 | | 20t07 ~ 20t09 | 20.11 ~ 20.16 | 85.12 |
| 158.79 | Caersws | ? | 11/03 | | ? | 20/02 | 79.39 |
| 166.74 | Talerddig | 11t03 ~ 11t05 | 11/15 | | 19t40 ~ 19t42 | 19/53 | 71.44 |
| ? | Machynlleth North | ? | 11L32 ~ 11L41 | | 18L50 ~ 19L20 | ? | 57.66 |
| 180.52 | Machynlleth | 11L25 ~ 11L50 | 11.43 ~ 12.05 | | 18L50 ~ 19L20 | 18.55 ~ 19.31 | 57.66 |
| 184.51 | Dovey Junction | 11t55 ~ 11t58 | 12.12 ~ 12.12 | | 18t43 ~ 18t45 | 18/46 | 53.67 |
| 190.50 | Aberdovey | 12/10 | 12/26 | | 18/31 | 18/33 | 47.68 |
| 194.24 | Tywyn | 12t17 ~ 12t21 | 12.32 ~ 12.33 | | 18t24 ~ 18t26 | 18/23 | 44.14 |
| 200.67 | Llwyngwril | 12/33 | 12/43 | | 18/14 | 18/18 | 37.51 |
| 203.40 | Fairbourne | 12/41 | 12/55 | | 18/06 | 18.11 ~ 18.11 | 34.78 |
| 206.11 | Barmouth | 12t47 ~ 12t52 | 12.58 ~ 13.01 | | 17t54 ~ 17t58 | 17.38 ~ 18.02 | 32.27 |
| 207.61 | Llanaber | 12t55 ~ 12t57 | 13/05 | | 17t45 ~ 17t47 | 17/35 | 30.57 |
| 216.55 | Harlech | 13t14 ~ 13t16 | 13/20 | | 17t22 ~ 17t24 | 17.19 ~ 17.19 | 21.63 |
| 220.10 | Talsarnau | 13/24 | 13/32 | | 17/12 | 17/11 | 18.28 |
| 222.15 | Penrhyndeudraeth | 13/31 | 13/36 | | 17/02 | 17/06 | 16.23 |
| 223.26 | Minffordd | 13t34a ~ 13t37d | 13.40 ~ 13.41 | | 16t53a ~ 16t56d | 17.02 ~ 17.03 | 15.12 |
| 225.41 | Porthmadog | 13.42a ~ 13.45d | 13.48 ~ 13.51 | | 16t43a ~ 16t46d | 16.42 ~ 16.56 | 12.77 |
| 230.42 | Criccieth | ? | 13/59 | | ? | 16/34 | 7.76 |
| 234.77 | Penychain | 13t57 ~ 13t59 | 14/04 | | 16t28 ~ 16t30 | 16/29 | 3.41 |
| 238.38 | Pwllheli | 14.05a | 14.10 | | 16.22d | 16.23 | 0.00 |