30th April 2006
Railway Touring Company
Norfolk Steam Weekend (Bittern Line Shuttles)
| | |
| --- | --- |
| Locos Used | 33025 & steam: 61264 |
Route: (three identical round trips made)
| | |
| --- | --- |
| Loco(s) | Route |
| 61264 (1) | Norwich - Whitlingham Jn - North Walsham - Cromer |
| 33025 (2) | Cromer - Sheringham |
| 61264 (1) | Sheringham - Cromer |
| 33025 (2) | Cromer - North Walsham - Whitlingham Jn - Norwich |
Notes :
(1) 33025 on rear.
(2) 61264 on rear.
Source : Nick Blyth



Day Comments
(by Mike Harries)
This weekend was originally planned for October 2005, but during September it was announced that the whole series of events was postponed until April-May: "The Easterling" was run on Saturday 29th April, the shuttles to Sheringham on Sunday 30th April, and "The Lincolnshire Explorer" was to be run on Monday 1st May.
There were to be three "Bittern line Shuttles". According to the letter which accompanied the tickets, the first two were to be Diesel hauled TO Cromer, and the last one was to be Steam hauled in that direction; the trains operated in top-and-tail mode with the diesel loco 33025 on one end and steam loco 61264 on the other throughout.
I travelled on the second of the three runs, and I noted that the first run returned to Norwich about 13:20 – the second train should have departed at 13:01, so I was waiting at the station.
Train 2 was BOOKED to pass a service train at Cromer, but ran through the platform at North Walsham and then waited at the end of the passing loop, so that the service train was not delayed but the charter incurred a few more minutes delay. The reversals at Cromer – and at Sheringham – were achieved rather quicker than allowed, but the charter was still later leaving Sheringham than it had been leaving Norwich. It was then held at Cromer to await the next service train to Sheringham, but did not then have to stop at North Walsham. Nevertheless, it was still 40 minutes late on arrival back at Norwich.
Whether the train was actually turned before the final run I do not know.


Photo Review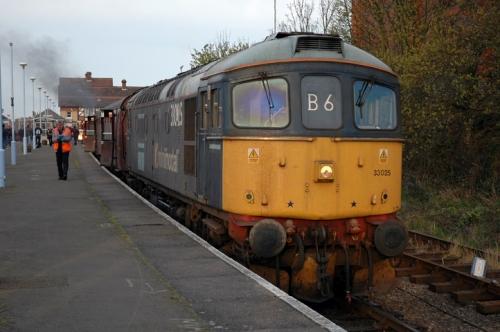 33025 at Cromer (photo: Nick Blyth)

61264 at Norwich (photo: Nick Blyth)


Timings (Booked & Actual)
(from Nick Blyth & Mike Harries)
| | | | | | | | | | | |
| --- | --- | --- | --- | --- | --- | --- | --- | --- | --- | --- |
| Miles | Location | Booked (out) | Booked (rtn) | Actual | | Booked (out) | Actual | | Booked (rtn) | Actual |
| 0 | Norwich | 10.08d [P4] | 12.23a [P4] | (13.20) | | 13.01d [P4] | 13.29 | | 15.42 [P1] | 16.22 |
| ? | Whitlingham Jn | 10/13 | 12/17 | ? | | 13/06 | 13/35 | | 15/36 | 16/16 |
| 8¼ | Hoveton & Wroxham | 10/26 | 12/05 | ? | | 13/19 | 13/49 | | 15/24 | 16/04 |
| 16 | North Walsham | 10/40 [P1] | 11/52 [P1] | ? | | 13/33 [P1] | 14.06 ~ 14.10 | | 14x58 ~ 15x08 [P1] | 15/51 |
| 26½ | Cromer | 10.57a ~ 11.02d [P1] | 11.24a ~ 11.34d [P2] | ? | | 13.50a ~ 14.00d [P1] | 14.33 ~ 14.40 | | 14.28a ~ 14.38d [P1] | 15.05 ~ 15.31 |
| 30¼ | Sheringham | 11.11a | 11.15d | ? | | 14.09a | 14.50 | | 14.19d | 14.56 |
| | | | |
| --- | --- | --- | --- |
| Miles | Location | Booked (out) | Booked (rtn) |
| 0 | Norwich | 17.30d [P4] | 20.15 [P4] |
| ? | Whitlingham Jn | 17/35 | 20/09 |
| 8¼ | Hoveton & Wroxham | 17/48 | 19/57 |
| | North Walsham | 18x04 ~ 18x14 [P1] | 19/47 [P1] |
| | Cromer | 18.34a ~ 18.44d [P1] | 19x17 ~ 17x29 [P1] |
| | Sheringham | 18.53a | 19.08d |