1st April 2006
Hertfordshire Railtours
The Blueberry Fool
| | |
| --- | --- |
| Locos Used | 73107 + 73136 'Perseverance' |
| Stock Used | 5330+5276+5341+5366+5322+1683+3069+3066+3097+17105 |
Route:
1Z73 : London Cannon Street to Littlehampton
1Z74 : Littlehampton to London Bridge
| | |
| --- | --- |
| Loco(s) | Route |
| 73136 (1) | London Cannon Street - London Bridge - New Cross - Hither Green - Orpington- Sevenoaks - Tonbridge - Tunbridge Wells - Wadhurst - Battle - Hastings |
| 73107 (2) | Hastings - Bexhill - Eastbourne |
| 73136 (1) | Eastbourne - Polegate - Southerham Jn - Lewes |
| 73107 (2) | Lewes - Southerham Jn - Newhaven Town - Newhaven Marine |
| 73136 (1) | Newhaven Marine - Newhaven Town - Southerham Jn - Lewes - Brighton |
| 73107 (2) | Brighton - Preston Park |
| 73136 (1) | Preston Park - Hove - Worthing - Arundel Jn - Littlehampton |
| 73107 (2) | Littlehampton - Ford - Barnham - Bognor Regis |
| 73136 (1) | Bognor Regis - Barnham - Ford - Arundel Jn - Pulborough - Horsham - Dorking - Leatherhead - Epsom - Sutton - West Croydon - Norwood Junction - New Cross Gate - London Bridge |
Notes :
(1) 73107 on rear.
(2) 73136 on rear.
(3) Late start from London Cannon Street was due to the late arrival of the E.C.S.
Sources : Martin Haywood, Southern Electric Group & 'James'



Photo Review
(all photos: Steve Kemp)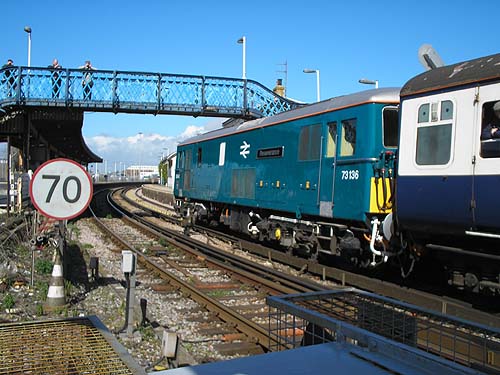 Two photos of the locos, taken during the day, 73136 above, 73107 below.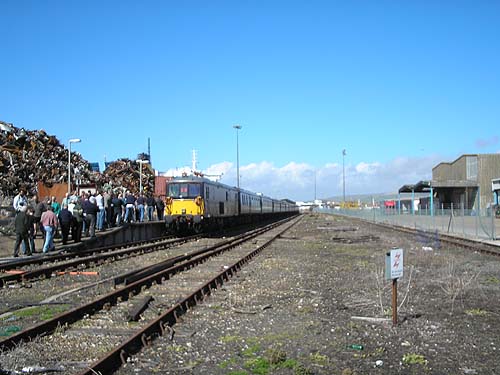 Timings (Booked & Actual)
(from Martin Haywood)
| | | |
| --- | --- | --- |
| Location | Booked | Actual |
| London Cannon Street | 09.35d | 09.50 |
| Borough Market Jn | 09/37 | 09/52 |
| London Bridge | 09.39a ~ 09.42d [P1] | 09.56 ~ 09.58 |
| New Cross | 09/49 | 10/04 |
| St Johns | 09/51 | 10/05 |
| Parks Bridge Jn | 09/52 | 10/06 |
| Hither Green | 09/55 | 10/09 |
| Grove Park | 10/00 | 10/11 |
| Chislehurst | 10/06 | 10/13 |
| Petts Wood | 10/10 | ? |
| Orpington | 10/18 [P5] | 10/17 |
| Sevenoaks | 10/28 [P3] | 10/25 |
| Tonbridge | 10/41 [DML] | 10.36 ~ 10.44 |
| Somerhill Tunnel | 10/49 | ? |
| Wells Tunnel Jn | 10/54 | 10/55 |
| Tunbridge Wells Central | 10/56 [P2] | 10/56 |
| Frant | 11/00 | 11/00 |
| Wadhurst | 11/05 | 11/03 |
| Robertsbridge | 11/14 | 11/12 |
| Mountfield Sidings GF | 11/17 | 11/16 |
| Battle | 11/21 | 11/19 |
| Bo Peep Jn SB | 11/30 | 11/26 |
| Hastings | 11.35a ~ 11.45d [P3] | 11.30 ~ 11.45 |
| Bo Peep Jn SB | 11/49 | 11/54 |
| Bexhill | 11/53 | 11/58 |
| Pevensey & Westham | 11/59 | 12/05 |
| Willingdon Jn | 12/04 | 12/08 |
| Eastbourne | 12.09a ~ 12.34d [P1] | 12.13 ~ 12.38 |
| Willingdon Jn | 12/40 | 12/45 |
| Polegate | 12/43 | 12/50 |
| Southerham Jn | 12/58 | 13/02 |
| Lewes | 13.01 ~ 13.12 [P2] | 13.05 ~ 13.11 [P2] |
| Southerham Jn | 13/18 | ? |
| Newhaven Town | 13/24 | 13/25 |
| Newhaven Marine | 13.26a ~ 13.42d | 13.28 ~ 13.43 |
| Newhaven Town | 13/44 | 13/46 |
| Southerham Jn | 13/50 | 13/53 |
| Lewes | 13/52 [P4] | 13/55 |
| Brighton | 14.06a ~ 14.14d [P7] | ? ~ ? |
| Preston Park | 14.18a ~ 14.26d [P1] | 14.22 ~ 14.28 |
| Hove | 14/39 [P3] | 14.37 |
| Shoreham-by-Sea | 14/46 | 14/45 |
| Worthing | 14/54 [P3] | 14/52 |
| West Worthing | 14/56 | 14/54 |
| Arundel Jn | 15/07 | 15/09 |
| Littlehampton | 15.12a ~ 16.18d [P1] | 15.14 ~ 16.18 |
| Ford | 16/22 | ? |
| Barnham | 16*28 ~ 16*32 [P2] | 16/29 |
| Bognor Regis | 16.38a ~ 16.51d [P2] | 16.39 ~ 16.50 |
| Barnham | 16/57 [P3] | 16/58 |
| Ford | 17/01 | 17/02 |
| Arundel Jn | 17/03 | 17/04 |
| Pulborough | 17/15 | 17/22 |
| Christ's Hospital | ? | 17/34 |
| Horsham | 17/28 [P2] | 17/39 |
| Dorking | 17/45 [P1] | 17/55 |
| Leatherhead | 17/50 | 18/00 |
| Epsom | 17/59 [P3] | 18/07 |
| Sutton | 18/06 | 18/14 |
| Wallington | 18/12 | 18/16 |
| West Croydon | 18/21 | 18/22 |
| Norwood Junction | 18/32 [P1] | 18/32 |
| Sydenham | 18/36 | 18/37 |
| New Cross Gate | 18/41 | 18/42 |
| Spa Road Jn | 18/48 | ? |
| London Bridge | 18.52a [P10] | 18.52 |