18th March 2006
Pathfinder Tours
Humber Haulier
| | |
| --- | --- |
| Locos Used | 37059, 37218, 60034, 66032, 66063, 66560 & 92037 |
| Stock Used | 6310+3066+3069+3107+1863+6051+5322+5009+4902+5350+5376 |
Route: 1Z55 throughout
| | |
| --- | --- |
| Loco(s) | Route |
| 66032 | Gloucester - Cheltenham Spa - Bromsgrove - Barnt Green - Selly Oak - Birmingham New Street - Stechford - Birmingham International |
| 92037 | Birmingham International - Stechford - Aston - Bescot - Darlaston Jn - Bushbury Jn - Stafford - Crewe |
| 37218 + 37059 | Crewe - Warrington Bank Quay - Earlestown - Eccles - Deal Street Jn (Up Chat Moss - Down Salford Fast) - Manchester Victoria West Jn (Down Salford Fast - Up Salford Fast) - Manchester Victoria - Mills Hill - Rochdale - Hebden Bridge - Sowerby Bridge - Greetland Jn - Brighouse - Heaton Lodge East Jn - Mirfield - Thornhill L.N.W. Jn - Healey Mills - Wakefield Kirkgate - Calder Bridge Jn (Down Goole - Up Goole) - Calder Bridge Up Goods Loop |
| 60034 | Calder Bridge Up Goods Loop - Crofton West Jn - Pontefract Monkhill - Knottingley - Snaith - Goole - Gilberdyke - Brough - Hessle - Hessle Road Jn - Boothferry Park - Springbank North Jn - Walton Street Jn - West Parade North Jn - Anlaby Road Jn - Hessle Road Jn - Hessle - Brough - Gilberdyke - Goole - Thorne North - Hatfield & Stainforth - Applehurst Jn - Skellow Jn - Carcroft Jn - Bentley - Doncaster Two-Way Goods No.2 |
| 66560 | Doncaster Two-Way Goods No.2 - Hexthorpe Jn - Mexborough - Thrybergh Jn - Adwarke Jn - Masborough Jn - Treeton Jn - Beighton Jn - Tapton Jn - Chesterfield - Clay Cross South Jn - Ambergate - Derby |
| 66063 | Derby - Stenson Jn - Burton-on-Trent - Wichnor Jn - Tamworth High Level - Kingsbury Jn - Water Orton - Birmingham New Street - (reverse of outward route) - Gloucester |
Sources : Alan Sheppard & Alan Vickers



Tour Review 1
(by Dan Augood)
Firstly - a bit of background - This tour was a 'last minuter' for me - I'd been due to row this weekend and the next, but a cycling accident in training last weekend left me with painfully bruised ribs - which led to a painfully bruised ego as the coach declared me unfit to race, and dropped me. Well, "Life throws you a lemon - make lemonade", I thought, as I started to review alternative ways to spend the Saturday, adding - "There's a pair of DRS tractors working up north on that day, and a couple of my mates are on the tour already". The late hour of this decision, coupled with a stupendously busy week at work, precluded actually contacting Pathfinder/FM/Riviera/whatever about availability - but these tours never sell-out - do they?
Well, apparently, they do. More or less. I have to confess at this point that Spin and Wins aren't really my scene. I'd rather spend a day out with a quality bit of heritage traction like D1015, 55019 or 45112 than chase around after Bricks and sheds, which tend to leave me a little cold. So my original plan was not to do the whole thing, but just hang around for the DRS tractors. I never had enough tractors first-time round, and the DRS fleet is almost entirely required, and besides, they're just adorable, and I haven't had any since the Solent Syphons last year. So the obvious move was to pick up at Brum, and bale at Wakefield or Goole for a zoom down the East Coast Main Line and home in time for tea and medals. This has the added bonus of making the whole thing seem a little less artificial, and more like an old fashioned 'move' from my salad days in the early eighties. Again, though, the inability to book the necessary advance cheap single tickets bowled this move for financial reasons. So I was on for the whole day, assuming I'd be able to get a seat.
So, having failed to secure a one way ticket to Hull and back, the next problem was getting to the start. A little too much Sancerre with a Chinese meal on the Friday night, made for a distinctly wobbly start, and too much kitchen related faffage, saw the 06:47 to Waterloo come and go. Finally made it to Surbiton for the 6:57 stopper and thence, more luck than I deserved delivered me to Euston for the 07:40 Brumwards. The journey time - 37 Minutes, a personal best. Thence, some horrible claustrophobic bit of plastic delivered me to International, where an urgent call from a friend on board informed me the tour (with 66032 on the front at this point) was as good as full, and I was to 'charm my way on board' - Ha, Charm? Me? As if.
A dash to the bank, and a lunge for the stewards as the train drew to a stand, left me with me a stark choice. Buy a second class ticket and risk having to stand for most of the day, or take one of the last three first class seats. I did the latter as insurance, handed over enough money to secure me a life peerage in other circumstances, and set off in search of my mates Paul and Adam in the cheap (sic) seats. 92037 was only my second experience of the class, and I have to admit to being very impressed. They're really very lively, and as we joined the WCML proper at Stafford, the acceleration was a lot like being shot out the barrel of a gun (Look, I spent my formative years in March chasing 31's, so it's all relative!). A good start. And before very long at all we were in Crewe, and the main course. On went a pair of DRS's very nicely presented tractors. I have to admit, my experience with DRS is limited, but what I've seen so far, I like. Firstly their engines are always nicely turned out, with a nice colour scheme. Secondly, I don't know, there's just this vibe - a kind of joie-de-vivre that you don't get with EWS. And they always seem to be up for it, from their 'DRS Crewe - On a Mission' headboard, to the fact that on December 30th last, they didn't have to provide four different machines, but they did anyway. Thanks chaps - If there's anybody from DRS reading this - don't think it's not appreciated - it is. DRS - nice people - and if I've ever got any bulk freight lying around that needs moving by rail, I'm totally coming to you guys.
The first bit of tractorage was spent in in my posh seat at the back of the train, washing my BLT down with a bucket of tea. Then, at Warrington, it was back up to the business end. Turning east, the landscape became more and more 'Pennine' and the lovely scenery was matched by some lovely noise wafting in from the wide open windows, open not just for the noise, but because Riviera seem to be cultivating cacti under the seats. Or maybe railtour participants are being used as guinea pigs in some government trial to test people's reactions to extremes of temperature - given most tour operators' determination to experiment with the very limits of thermostatic control, I wouldn't be surprised. A good run though, Lots of thrash, lots of fun. Short, but sweet. Let's do it all day next time.
So, we lost the tractors - and quite a few tractor bashers - at Wakefield (I shouldn't be scornful, as mentioned above, I'd have done the same given half a chance). As it happens, I'm glad I stayed on though. Next was the brick (60034), past a succession of well known power stations, including the wonderfully named Drax (I'm sure there was an alien race in Dr Who many years ago called the Drax, I'm also sure somebody out there can set me right on that one!). I did the Goole thing for an hour and a half, not being much of a track man, and nursed a pint in the Wetherspoons before picking up the fish and chips and heading for the station, and an annoying wait in freezing conditions for a late DMU to get out of the way, comforting an increasingly agitated Pizza delivery boy, who was becoming more and more convinced he was the victim of an expensive practical joke.
Presently the brick dropped, and we were back in the sauna for some distinctly congealed fish and chips. Thereafter, the tour sank into that kind of late-afternoon torpor that's familiar to all of us who have had a couple of lunchtime cold drinks on a tour. Into Doncaster, and the tour went a little Arthur Jackson as first 66560 and then, at Derby, 66063 did the honours. Timekeeping was generally good all day (I haven't had a decent farce-factor on a railtour for a while now). It did have a bit of a Jubilee Line moment outside Chesterfield for a while [Could have been a Jubilee Line moment, could have been half an hour - it's not as if anybody connected with the said line could tell the difference], but there was so much slack, most of the time was made up at the Loco change in Derby, and we were more or less on time into Brum, where I bade the train good night. Anything that happened after that, I know nothing about (Nobody can prove anything, If anything happened after this, I didn't do it, and nobody saw me do whatever it is I didn't do. So there).
The only other thing I have to say about this tour is the splendid atmosphere in the south-end of coach D for the duration. Your neighbours on a tour are a lottery, sometimes (Like last year with D1015 to Penzance) you can get a bunch of Daily Mail reading killjoys who would rather the whole trip was conducted with all the humour and spontaneity of a Calvinist funeral. But yesterday, a party atmosphere persisted throughout, to the extent that my posh seat was left largely unoccupied for the day. The two chaps opposite Paul and Adam in the cheap seats were especially up for it and much mirth ensued. A good time was had by all. And yes, I did buy a first class ticket to avoid having to stand all day, and ended up, er, standing all day. It's a free country!
And so to the tricky business of getting home. Adam ran me down the M1 and very considerately dropped me at Watford Junction (Thanks again Adam) where I was able to rendezvous with the very fortuitous 23:13 to Clapham Junction, dovetailing seamlessly with the 23:56 to Basingstoke. Home by 00:10, in bed by 00:12. Very nice, and saving me the living hell of having to take the Northern Line across town at kicking-out time. A useful train, that. But anyway, I digress, top fun all round, and thanks again to DRS for letting us play with their toys. Let's do it again - real soon.
Dan Augood



Tour Review 2
(by Brillo, including photos)
It had been 3 months since I last did a Pathfinder Spinner and I was looking forward to this trip, although no track was required I was just hoping that I would score the 60 and 92.
There was great danger that this tour would be cancelled in the weeks leading up to it as gen from Pathfinder Towers suggested that bookings were low (the Class 20 Tour the week before had already been postponed due to low bookings). I think that part of the reason was that there was uncertainty about the new regime at Pathfinder after being taken over by FM Rail and Riviera trains. Luckily bookings picked up and I received my ticket two days before the tour.
We did a booked car change at Tingley to enable us to travel down in one group and arrived at Birmingham International with plenty of time to spare. As we entered the concourse we observed some sad, misguided prospective railtourers walking towards the new(ish) shuttle system to get it in the book. We bought our tickets to New Street and waited on the platform for the 350. It was the first time I had seen one and whilst it was functional to get from A to B it was still plastic and soulless but that is the future!
As forecast 66032 rolled into the platform and we hopped on to take us back to Birmingham International for an engine change. 92037, again as forecast, was coupled up and I baled on for the second winning engine of the day. The tea urn produced at this point as it was a very cold day and we spent the next fifteen minutes reading the tour brochure and discussing what we would do when we reached Goole.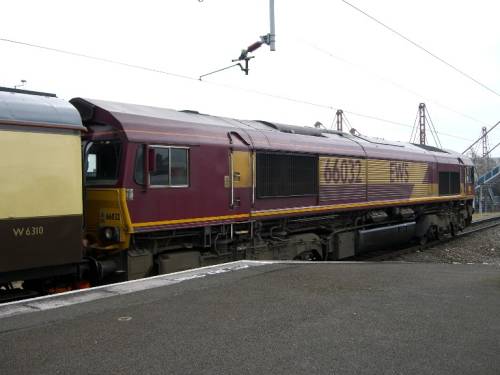 66032 after arrival into Birmingham International station.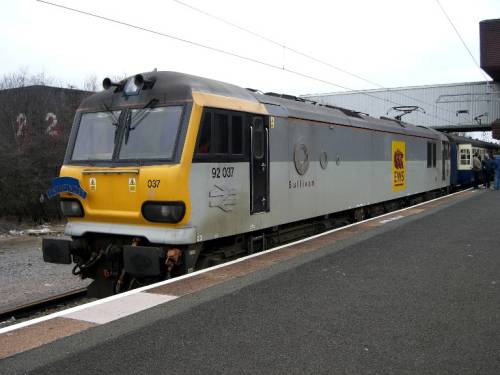 92037 takes over the other end of the train at Birmingham International.
At Crewe the 92 was booked to come off and be replaced by a pair of DRS tractors. Gen the night before suggested 37610 and 37059 but when we approached Crewe 37218 and 37059 were coupled up ready to take over. I wasn't too bothered as I only need 37602 from the DRS tractors and that had gone back to Sellafield yesterday. 37059 was a big winner for some people though. Although I was nearly at the back of the train the thrash was superb and it was pleasing to note that EWS had changed their policy and were keeping some of these fine engines to work future service trains.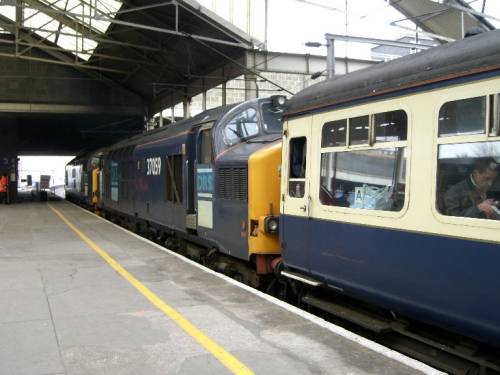 The DRS tractors are seen at Crewe prior to departure.
We went through Warrington and Earlestown curve to reach the suburbs of Manchester. Victoria bank was no match for this pair even though they had a heavy load on.
At this point some of us in our party had their lunch. One of our party (who shall be nameless to save him much embarrassment) did his regular, booked 'Father Jack' party trick.
He opened his flask containing soup (a quite simple operation I believe!) but ended up with soup all down his trousers and new coat. He also found out that the pasta in sauce that he had brought had overturned at some point and the bottom of his bag was covered in pasta sauce!! He took the bag to the toilet to clean it off and another member of the party went to assist. Much merriment was heard coming from the toilet and I went to investigate. The merriment was due to a 'two men in a toilet with a banana' incident of which I'll say no more.
The original tour spec indicated that we would change engines at Wakefield Kirkgate however this was changed to Healey Mills yard at a later time. I know some BLS track bashers had booked this tour just for the Healey Mills goods line and they were very disappointed when we passed straight through. Their grief turned to joy however when it was announced that the engine change would now be in Calder Bridge Goods Loop. One of my BLS friends told me that he scored the line along with two bonus crossovers. The tractors came off and 60034 went on, very disappointing as I had had this engine previously on another Pathfinder tour but you pays your money and takes your chance!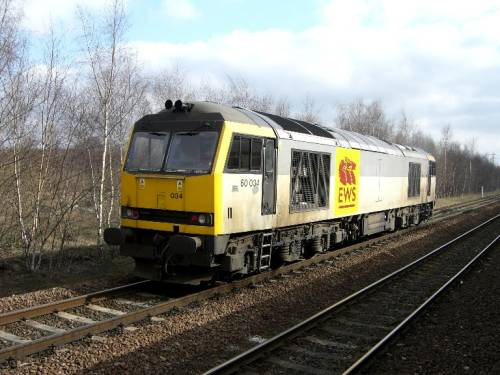 66034 waits to go on the train at Calder Bridge.
Goole was eventually reached and I decided to stay on for the mini-tour round Hull just to traverse the very rare Springburn North Junction – Walton Street Junction line again. I viewed the line then I dossed out at this point and woke up just before Doncaster. The engine change was booked to be done on the two-way goods line so no chance of a leg stretch or photos.
Indeed it was and the 60 came off and 66560 came on (someone had put a message on Rail-Gen that 66952 (dud) would take the charter forward but this was a big wind up).
66560 tooted and we departed. We traversed the 'Old Road' via Beighton however we were held just before Chesterfield for a time to allow a number of shiny, silver, tin contraptions to clear the main line.
After a period waiting we eventually got the road and arrived at Derby. Here 66560 came off and 66063 was bolted on.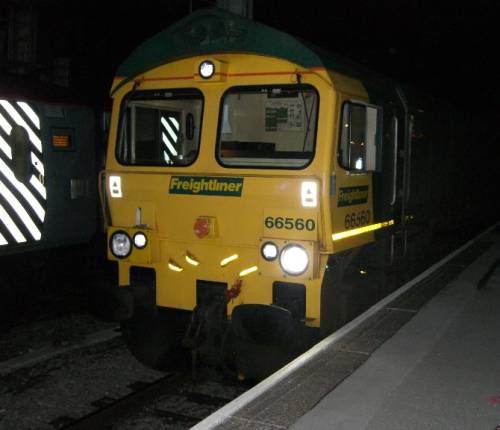 66560 & 66063 are both seen at Derby.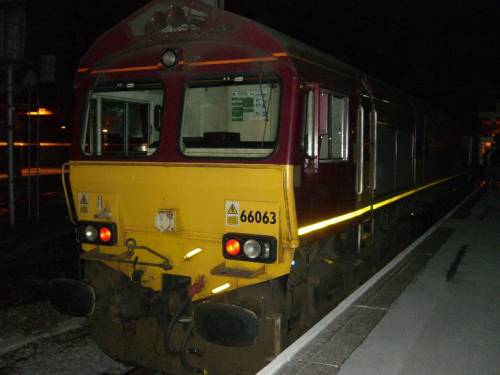 The morning EWS shed was booked to do the evening duty also but it looked as if palms had been greased to send 66032 out on another train so we got a fresh one. We departed and a steady run to Birmingham ensued. Chris Brooks announced that a special stop was to be made at Burton to enable passengers who had come by train the chance of an earlier journey home. Some people took advantage of this and baled off and we continued onto Birmingham. We had picked up time and were early just before Birmingham so it was very annoying to be held outside 'the black hole' until time however we eventually reached Birmingham a few minutes late and it was now just a case of saying goodbyes and a short journey to Birmingham International to pick up the car.
Verdict
A top notch railtour with no apparent farces or problems and a good variety of engines. It was pleasing to note that the train was full (or almost full) and that everyone had had a good day out. Chris Brooks announced over the tannoy that Pathfinder would continue to run spinner tours because there had been much speculation on the tour by some punters that today's spinner would be the last, due to FMRail taking over Pathfinder some months previously and not wanting to run complicated tours
Brillo



Timings (Booked & Actual)
(from Alan Sheppard & Alan Vickers)
| | | | | | | | |
| --- | --- | --- | --- | --- | --- | --- | --- |
| M.C | Location | Booked | Actual | | Booked | Actual | M.C |
| 0.00 | Gloucester | 07.13d [P4] | 07.37 | | 22.21a [P1] | 22.24 | 93.23 |
| ? | Horton Road Jn | 07/15 | ? | | 22/19 | ? | ? |
| ? | Barnwood Jn | 07/16 | 07/40 | | 22/18 | 22/25 | ? |
| 6.40 | Cheltenham Spa | 07.24a ~ 07.26d | 07.47 ~ 07.50 | | 22.08a ~ 22.10d | 22.16 ~ 22.17 | 86.63 |
| ? | Ashchurch | 07/35 | 07/57 | | 22/00 | 21/52 | ? |
| ? | Abbotswood Jn | 07/43˝ | 08/07 | | 21/51 | 21/44 | ? |
| ? | Stoke Works Jn | 07/52˝ | 08/16 | | 21/41 | 21/35 | ? |
| ? | Bromsgrove | 07/54˝ | 08/18 | | 21/38 | 21/33 | ? |
| 41.31 | Barnt Green | 08.00a ~ 08.02d | 08.24 ~ 08.26 | | 21.31a ~ 21.33d | 21.28 ~ 21.29 | 51.72 |
| ? | Longbridge | 08/08 | ? | | 21/25 | ? | ? |
| ? | Kings Norton | 08/12 | 08/33 | | 21/22 | 21/22 | ? |
| ? | Selly Oak | 08/18 | 08/38 | | 21/18 | 21/19 | ? |
| 52.04 | Birmingham New Street | 08.27a [P9] 08.39d | 08.47a [P10] 08.51d | | 21.05a [P8] 21.10d | 21.07a [P8] ??.??d | 41.19 |
| ? | Proof House Jn | 08/42 | 08/53 | | 21/02˝ | 21/03 | ? |
M.C
Location
Booked
Actual
?
Stechford
08/51
08/57
60.22
0.00
Birmingham International
09L00a [P5] 09L44d
09L04a [P5] 09L44d
?
Stechford
09/48˝
09/50
?
Aston
09/56
09/56
?
Perry Barr North Jn
10/00˝
09/59
?
Bescot Stadium
10/06
10/03
?
Darlaston Jn
10/09
10/04
?
Portobello Jn
10/13
10/07
?
Bushbury Jn
10/18
10.11 ~ 10.14
?
Stafford No.4
10/29˝
10/27
?
Stafford
10/30 [P5]
10/28 [P5]
?
Norton Bridge
10/35
10/32
?
Madeley
10/44
10/41
?
Crewe Basford Hall Jn
10/53
10/47
59.04
0.00
Crewe
10L59a [P12] 11L34d
10L58a [P12] 11L35d
?
Crewe Coal Yard
11/37˝
11/37
?
Winsford S.B.
11/44˝
11/45
?
Weaver Jn S.B.
11/50
11/50
?
Acton Grange Jn
11/57
11/55
?
Warrington Bank Quay
12/02 [P3]
11/58 [P4]
?
Dallam Jn
12/03
11/59
?
Winwick Jn
12/06
12/05
?
Earlestown
12/11
12/07
?
Newton-le-Willows
12/12
12/09
?
Astley
12/18
12/15
?
Eccles
12/27
12/20
?
Ordsall Lane Jn
12/32
12/23
?
Deal Street
12/35
12/26
?
Manchester Victoria
12/37 [P4]
12/28 [P6]
?
Miles Platting
12/41
12/30
?
Thorpes Bridge Jn
12/42˝
12/31
?
Vitriol Works
12/47
12/34
?
Castleton East Jn
13/02
12/43
?
Rochdale
13/05
12/47
?
Rochdale East Jn
13/06
12/48
?
Littleborough
13/10
12/51
?
Hall Royd Jn
13/16
13/02
?
Hebden Bridge
13/22
13/08
?
Milner Royd Jn
13/28
13/20
?
Greetland Jn
13/32
13/22
?
Bradley Wood Jn
13/39
13/29
?
Heaton Lodge East Jn
13/45
13.31 ~ 13.43
?
Mirfield East Jn
13/48˝
13/49
?
Thornhill L.N.W. Jn
13/49
13/50
88.63
0.00
Healey Mills N.Y.
13L56 ~ 14L36
13/54 [Dn L&Y]
?
Horbury Jn
14/40
13/56
4.78
Wakefield Kirkgate
14/44 [P3]
14.07a [P3] 14.11d
?
Calder Bridge Jn
14/45
14/13
?
Calder Bridge UGL
DIV
14L14 ~ 14L36
?
Crofton West Jn
14/47
14/39
?
Crofton East Jn
14/49
14/40
?
Pontefract Monkhill
15/05
14/48
?
Knottingley
15/15
14/53
?
Hensall
15/25
15/05
?
Snaith
15/30
15/13
?
Rawcliffe
15/35
15/21
32.11
Goole
15.43a ~ 15.47d
15.41a ~ 15.44d
?
Gilberdyke
16/02
16/00
?
Brough
16/09
16/09
?
Hessle East Jn
16/17
16/19
?
Hessle Road Jn
16/30
16/20
?
Springbank South Jn
16/36
16/28
?
Springbank North Jn
16/39
16.30 ~ 16.35
?
Walton Street Jn
16/42
16/38
?
West Parade North Jn
16/43
16/41
?
Analby Road Jn
16/45
16.42 ~ 16.44
?
Hessle East Jn
16/50
16/48
?
Brough
16/56
17/02
?
Gilberdyke
17/03
17/11
79.13
Goole
17.11a ~ 17.13d
17.23a ~ 17.24d
?
Thorne Jn
17/23
17/34
?
Hatfield & Stainforth
17/25
17/40
?
Applehurst Jn
17/32
17/46
?
Skellow Jn
17/38
17/53
?
Carcroft Jn
17/40
17/55
?
Adwick
17/41
17/56
100.65
0.00
Doncaster 2-Way Goods No.2
17L51 ~ 18L13
18L05 ~ 18L22
?
Hexthorpe Jn
18/16
18/26
?
Mexborough
18/22
18/33
?
Thrybergh Jn
18/26
18/37
?
Aldwarke Jn
18/34
18/38
?
Masborough Jn
18/38
18/42
?
Treeton Jn
18/43
18/48
?
Beighton Jn
18/52
18/51
?
Barrow Hill North Jn
19/02
18/59
?
Tapton Jn
19/07
19.04 ~ 19.24
?
Chesterfield
19/09
19/25
?
Clay Cross South Jn
19/13
19/30
?
Ambergate Jn
19/22
19/39
52.69
0.00
Derby
19L36a [P6] 20L13d
19L56a [P4] 20L22d
?
Stenson Jn
20/19˝
20/28
?
North Stafford Jn
20/20
20/28˝
?
Burton-on-Trent
20/25
20.34a ~ 20.36d
?
Wichnor Jn
20/30
20/41
?
Tamworth High Level
20/38˝
20/47
?
Kingsbury Jn
20/49˝
20/52
?
Water Orton
20/55˝
20/55
?
Landor Street Jn
21/00˝
21/01
Timings continue in first table.



Back to "The Railtour Files"