17th December 2005
Past Time Rail
The Christmas Chester Chuffer
| | |
| --- | --- |
| Locos Used | 66130, 90028 & steam : 45407 |
| Stock Used (1) | 35517+35469+4949+4996+4946+3100+1658+3110+3124+1683+3132+3144 |
Route:
1Z49 : London Euston to Chester
1Z50 : Chester to London Euston
| | |
| --- | --- |
| Loco(s) | Route |
| 90028 | London Euston - Watford Junction - Bletchley - Northampton - Rugby - Coventry - Birmingham International |
| 45407 | Birmingham International - Aston - Perry Barr West Jn - approaching Hampstead Tunnel (2) |
| 45407 (3) | approaching Hampstead Tunnel - Soho East Jn - Soho North Jn - Dudley Port - Galton Jn - Wolverhampton |
| 45407 | Wolverhampton - (4) Bushbury Jn - Stafford - Norton Bridge - Madeley - Crewe (4) - Chester |
| 45407 | Chester - Wrexham General - Shrewsbury - Telford Central - Wolverhampton - Darlaston Jn - Aston - Birmingham International |
| 90028 | Birmingham International - (reverse of outward route) - London Euston |
Notes :
Was booked for 60009 'Union of South Africa' but was changed due to gauging problems.
(1) 35517 only in consist when 45407 was on the train.
(2) An hours delay between Perry Barr West Jn - Soho East Jn on the outward is reported on TRUST as been due to adhesion problems and that a banking loco was needed. 66130 attended and assisted in rear as far as Wolverhampton.
(3) Plus 66130 on rear, providing assistance.
(4) Booked outward route was Wolverhampton - Telford Central - Shrewsbury - Wrexham General - Chester but was diverted due to late running and 45407 being low on water.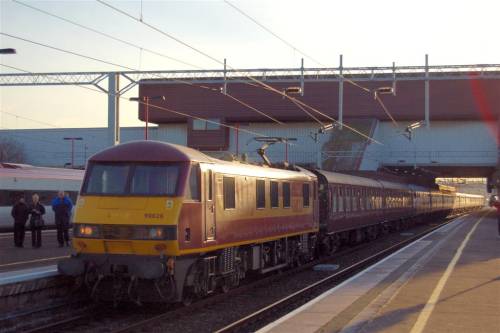 90028 on arrival at Birmingham International (photo: Clive Hanley)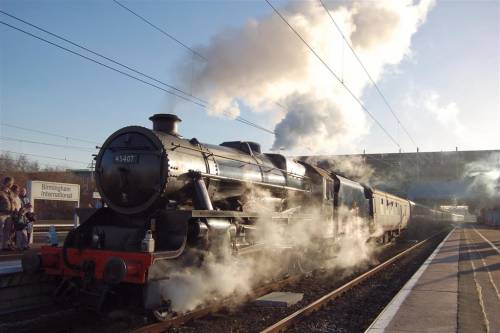 45407 on the train at Birmingham International (photo: Clive Hanley)
Sources : various including Richard Rooker, Nigel Pitt & Janet Cottrell



Timings (Booked & Actual)
Location
Booked
Actual
Booked
Actual
London Euston
07.46d [Line E]
07.45
21.41a
22.21
Camden South Jn
07/49
07/49
21/38
22/17
Camden Jn
07/50 [FL]
07/49½
21/37 [Line D]
22/17
Willesden West London Jn
07/53
07/53
21/34
22/13
Wembley Central
07/55 [SL]
07/57
21/32
22/11
Harrow & Wealdstone
08/00
07/59
21/26
22/08
Watford Junction
08.06a ~ 08.08d [P8]
08.04 ~ 08.09
21.14a ~ 21.20d [P9]
22.01 ~ 22.03
Bourne End Jn
08/16 [FL]
08/16
21/06
21/44
Tring
08/22
08/20
21/01
21/37
Ledburn Jn
08/26
08/26
20/55
21/33
Bletchley
08/31 [SL]
08/37
20/48
21/24
Milton Keynes Central
08.33a ~ 08.36d [P3]
08.42 ~ 08.45
20.43a ~ 20.45d [P2]
21.17 ~ 21.19
Hanslope Jn
08/43
08/51
20/37 [SL]
21/11
Northampton
08.53a ~ 09.04d [P2]
09.00 ~ 09.05
20.25a ~ 20.27d [P4 (?)]
20.59 ~ 21.01
Long Buckby
09/16
09/15
20/17
20/47
Hillmorton Jn
09/23 [FL]
09/21
20/08
20/41
Rugby
09.25a ~ 09.27d
09.24 ~ 09.27
20.04a ~ 20.06d
20.37 ~ 20.38
Trent Valley Jn
09/29
?
20/02 [FL]
?
Coventry
09/37
09/38
19/50
20/24
Birmingham International
09.52a ~ 10.31d [P2]
09.57 ~ 10.32 [P2]
19.05a ~ 19.39d [P5]
19.31 ~ 20.13
Stechford
10/37
10/42
18/58
19/22
Aston
10/43
10/49
18/52
19/14
Perry Barr
10/46
10/53
Perry Barr West Jn
10/48
10/54
Soho East Jn
10/52
11/54
Soho North Jn
10/53
11/55
Galton Jn
10/54
11/59
Dudley Port
10/59
12/03
Perry Barr North Jn
18/47
19/11
Bescot Jn
18/40
19/07
Darlaston Jn
18/38
19/05
Potobello Jn
18/35
19/01
Wolverhampton
11/06
12/16
18/31
18/53
Wolverhampton North Jn
11/08
12/18
18/29
18/51
Cosford
11/20
DIV
18/21
?
Madeley Jn
11/28
DIV
18/15
?
Wellington
11/34
DIV
18/10
18/27
Shrewsbury
11/46 [P4]
DIV
17/58
18/12
Shrewsbury Crewe Jn SB
11/49
DIV
17/56
?
Gobowen
12/09
DIV
17/36
17/49
Chirk
12.14a ~ 12.34d
DIV
16.59a ~ 17.29d
? ~ ?
Ruabon
12/39
DIV
16/53
?
Wrexham General
12/44 [P2]
DIV
16/48
16/55
Saltney Jn
12/57
DIV
16/34
16/37
Chester South Jn
13/01 [UFL]
DIV
16/32
?
Bushbury Jn
DIV
12/20
Stafford
DIV
12/33
Norton Bridge
DIV
12/39
Crewe
DIV
13.23a ~ 13.47d
Chester
13.03a [P4]
14.15
16.30d [P4] [USL]
16.32