25th November 2005
Pathfinder Tours
The Western Yorkian
| | |
| --- | --- |
| Loco Used | D1015 'Western Champion' |
| Stock Used | 5376+5365+4902+5040+1863+3107+3112+3122+1699+3140+3068+6310 |
Route:
1Z52 : West Ruislip (via Harrogate Loop) to York
1Z53 : York to West Ruislip
| | |
| --- | --- |
| Loco | Route |
| D1015 | West Ruislip - Beaconsfield - High Wycombe - Princes Risborough - Bicester North - Aynho Jn - Banbury - Leamington Spa - Kenilworth - Coventry - Birmingham International - Stechford - Aston - Perry Barr North Jn - Bescot Stadium - Walsall - Park Lane Jn - Water Orton - Nuneaton - Hinckley - Leicester - Syston South Jn - Loughborough - Trent East - Toton Centre - Trowell Jn - Clay Cross South Jn - Chesterfield - Barrow Hill North Jn - Beighton Jn - Treeton Jn - Rotherham Masborough Jn - Aldwarke Jn - Swinton - Moorthorpe - Milford SB - Church Fenton - York - Skelton Jn - Knaresborough - Harrogate - Horsforth - Leeds - Cross Gates - Church Fenton - York |
| D1015 | York - Church Fenton - Hambleton North Jn - Shaftholme Jn - Doncaster - Hexthorpe Jn - Mexborough - Swinton - Aldwarke Jn - Holmes Jn - Wincobank Jn - Sheffield - Dore Station Jn - Chesterfield - (reverse of outward route) - Trent East - Sheet Stores Jn - Stenson Jn - North Stafford Jn - Burton-on-Trent - Wichnor Jn - Lichfield Trent Valley HL - Four Oaks - Aston - (reverse of outward route) - West Ruislip |
Notes :
(1) Departure from York in the evening was seriously delayed due to -
[a] a refuelling farce (both loco & generator car) &
[b] a problem coupling the generator coach to the standard class end of the train (attempted to try and minimise delay to departure).
Sources : various including David Russell, Tony Neath & Steve Cassidy



Tour Review
(from Steve Cassidy)
A review from the 'other side'
Being the Pathfinder Steward based in… erm… Hertfordshire, I always like to have a little dig about the lack of tours that we run from the London area…. so I wasn't going to complain about the start point and traction this time!
Compared to the Gloucestershire contingent, I had a less antisocial alarm call at 0445 and having allowed a little extra time for the alleged snow that was meant to bring the country to a standstill, a clear run had me in position half an hour before departure. I soon met up with the rest of the team, and within a few minutes we were lugging boxes of tour brochures and the like onto the footbridge. A quick call to the train brought us the bad news that the train was only just leaving Kensal Green, which equated to a 30 minute late start. As this meant a departure time about the same a the first all-stations unit towards Birmingham, we were pleased to see a single headlight come towards us a while later, as WESTERN CHAMPION rolled in with her 13 coach load, and within a few minutes, we were away.
Having two standard class coaches of my own, and an additional one to cover as far as Banbury, I was kept busy handing out brochures over most of the Chilterns, Saunderton being particularly amusing, as about 90 people boarded there (top shack for Western leaps, obviously!). Certainly the run didn't break any records… despite a little recovery time in the schedule we didn't seem to be able to pick up any of the time. A rather odd diversion was being crossed over to Platform 5 at Birmingham International, which we subsequently found out was due to the freightliner in Platform 1 not being clear of the points at the end of the platform.
As the journey continued at a sedate pace across the Sutton Park line, we commenced 'the grip', ending up in the front coach as we opened up through Leicester. Still, we could not make up any time – we had been told that D1048 would be there to greet us at Pye Bridge had we been on time, but sadly all we had was Mr Chuff. At this point, thoughts were directed to potential issues with getting around the Harrogate Loop, as well as the problem of fuelling the loco - unfortunately the planned refuelling tanker at the NRM had failed on Tuesday, and the best (only?) alternative found was to go to Neville Hill. Again, our arrival time was going to be about the same time as the service train around the loop, though quick check of the timetable revealed that if we could stay behind it, we'd only be 15 minutes adrift, so the decision was made to press on as is, but go for a retime to 1715 on the return.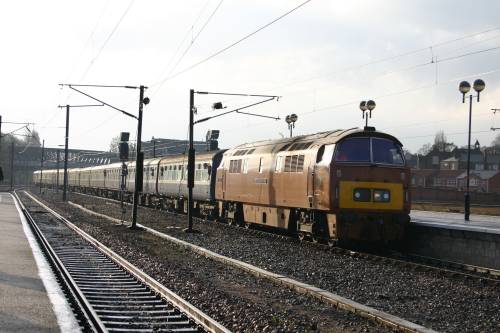 D1015 rolls into York (photo : David Russell)
Arrival at York was a bit of a melee… Normals trying to get off, Cranks trying to get on, GNER staff chivvying people to hurry up. As there was no Pay on the Day coach, the gangways and vestibules soon wedged out, but within a few minutes, we were on our way, and again ahead of the service train – nice result! The next 30 minutes were fairly manic…. more brochures to the booked York joiners, then a group of lager-swilling 'enthusiasts' needing to be asked (nicely of course!) to not lean out quite so far whilst bellowing (that earned me a "F*** You" as I turned away and closed the door!), and then joining the gripping team to sort out the On-days. Amusingly, one of my new friends, on being asked for a ticket, told us that it was down the train. I joined him for a particularly leisurely walk down to the buffet car, where he then decided to phone a friend… about turn, and towards the front again, where he eventually gave up and produced a £20 note…. Maybe you think it was a bit desperate of us, but you've paid, so why shouldn't he??
The remainder of the journey back to York went without any issues, and soon a trainful of people were off to enjoy the various delights of the city, and we were able to do a bit of tidying. It's actually quite amazing how much rubbish you can collect… the paper towels in the toilets represent a sackful on their own, and the remainder of the train produces a whole load more. Once the rubbish was sorted, lights were switched off, windows shut and a group of us bade farewell to those staying on the stock and wandered off for a walk.
This, of course, was where things started to go pear-shaped…. we had a call from someone on the train at 1600 to say that the Loco AND Genny were only just leaving FOR Neville Hill. Thinking was that this would render at least an hour on top of the 1715 retime. Little were we to know how badly wrong we were to be….
Arrival back at the station at around about 1710 found us and a trainful of passengers chilling gently on Platform 9. Unfortunately, we were struggling to get information at that point – phones were either engaged or not connecting. Eventually we managed to get hold of someone with the locomotive who provided the bad news that there had been a delay at Neville Hill due to a queue for the fuel line. I went over to the GNER Service desk, and arranged for an announcement ("Severe operational difficulties", "No timescale at present", "More news when we have it", "Apologies"). As I walked back over the bridge, the announcement was made… yep, sounded OK to me. However, when I got back to everyone else, and asked if what was said was OK, I was just met with "What announcement??" Oh well, Plan B came into force… walk up and down the platform, and talk to people. Unfortunately, as there were six of us, and 400 people, we didn't really make it that far!
Probably at about 1830, the news came through that D1015 was on her way back. This gave us something a little more positive to pass on to those that asked, and subsequently, when she'd arrived at Holgate, we felt confident enough to arrange another announcement. ("Train being prepared for service", "Will arrive in the platform soon"…. and more apologies!!) This time, I was back on the platform when the announcement was made, just as a Voyager departed, drowning out the whole lot. Cheers, then!
News then filtered through of a problem coupling the Genny to the train – just not our day today! I have to say though, as we were passing this information around to the assembled people, I was very impressed at how well people accepted it, and the understanding that the problem was fairly much out of our hands. For those of you that I talked to, consider yourself bestowed with the "Steve Cassidy Vote of Thanks" award!! J
Anyway, spirits improved when D1015 appeared at the end of the platform. Plan was now that the Genny was going back on the First Class end, and everything was in place for the Loco to back onto the Genny, then to the rest of the train, and propel in to the platform. The Station Monitor switched from a departure time of DLY to 2010, and we all cheered up a little. The final twist in the tail was that once the train was fully marshalled, a track circuit failure was declared at the north end of the sidings, and thus the train had to leave to the south, and propel what must have been a fairly considerable distance back in. Soon, all were aboard, and we finally left at 2030, a huge 3hrs 50mins late start on the original times.
Still more work to do… potential blockades ahead of us were the biggest worry. Question was, should we talk to people before we had that info, or should we wait until we were sure? In the end, we went immediately. I ended up covering my two coaches and one other, though in the event, whilst I was in the first of these coaches, an announcement was made to confirm that we would be "booked route" back – that was a relief! Again, most people were very understanding of the predicament once they'd heard the explanation. I think the biggest problem had been the tannoy announcements not being heard by most people on the platform at York. I also started collecting details of people who would have problems getting home… not too bad in the event, a Northampton, couple of New Streets and a cross-London transfer from my people. All information was taken back to the Train manager who was coordinating taxis and the like.
Fortunately, the late running meant that there were less trains in our way, and we did start to recoup some of the deficit. In the end, the people bound for New Street were lucky, as we arrived at International just in time for the last Pendolino in. Once past Banbury, I was reallocated to the front of the train, to ensure all the Premier passengers were able to alight, and that the doors closed behind them. This was probably the only point in the day when I spent much time right behind the loco, and she certainly sounded good! Gradually, the coaches emptied out, a bit of en-route tidying and window-closing completed, and final arrival at West Ruislip was achieved a few minutes before 0200.
So, another day passes in the day of a Steward! Certainly this one was one to remember for the wrong reasons, but then the good ones make up for it. I know that comments have been made in newsgroups about things we did wrongly, some more valid than others. However, as it say in every tour brochure, "if you have a problem … please bring this to our attention as soon as possible since 'if we don't know it's broke, we can't fix it'". I'm sure that as a team, we'd welcome any further (constructive!) criticism, either direct to the office or via me (via Gary!).
One final point, this is a personal view, rather than Pathfinder 'Company Line' though I'm fairly sure 'the lads' will go along with most of my comments!
Steve Cassidy



Timings (Booked & Actual)
(from Janet Cottrell & Richard Rooker)
Location
Booked
Actual
Booked (re-timed)
Actual
West Ruislip
06.25d
06.48
22.50a
01.53
Gerrards Cross
06.33a ~ 06.35d
06.58 ~ 06.59
22.40a ~ 22.42d
01.46 ~ 01.46½
Beaconsfield
06/41
07/06
22/35
01/42
High Wycombe
06.46a ~ 06.48d
07.11 ~ 07.13
22.26a ~ 22.28d
01.34 ~ 01.34½
Saunderton
06.57a ~ 06.59d
07.?? ~ 07.23
22.16a ~ 22.18d
01.?? ~ 01.25
Princes Risborough
07/03
07/29
22/11
01/20
Haddenham & Thame Parkway
07.10a ~ 07.12d
? ~ ?
22.01a ~ 22.03d
? ~ ?
Bicester North
07.25a ~ 07.27d
07.51 ~ 07.54
21.46a ~ 21.48d
00.56 ~ 00.58
Aynho Jn
07/37
08/06
21/32
00/47
Banbury
07.42a ~ 07.44d
08.12 ~ 08.14
21.20a ~ 21.25d
00.39 ~ 00.41
Fenny Compton
07/52
08/24
21/11
00/31
Leamington Spa
08/02
08/36
20/58
00/21
Milverton Jn
08/04
08/38
20/56
00/18
Kenilworth
08/09
08/43
20/47
00/13
Coventry Park Jn
08/14
08/47
20/40
00/09
Coventry
08.17a ~ 08.19d
08.52 ~ 08.54
20.34a ~ 20.37d
00.05 ~ 00.08
Birmingham International
08.29a ~ 08.43d
09.07 ~ 09.15 [P5]
20.06a ~ 20.24d
(20.19a ~ 20.24d)
23.51 ~ 23.53
Stechford
08/48
09/23
20/02 (20/14)
23/45
Aston
08/55
09/30
19/58 (20/10)
23/40
Location
Booked (re-timed)
Actual
Perry Barr North Jn
08/59
09/35
Bescot Stadium
09/04
09/45
Pleck Jn
09/06
09/48
Walsall
09/08
09/51
Ryecroft Jn
09/10
09/53
Park Lane Jn
09/36
10/12
Water Orton West Jn
09/38
?
Water Orton
09/40
10/16
Whitacre Jn
09/44
10/20
Abbey Jn
09/58
10/34
Nuneaton
10/01
10/35
Hinckley
10/09
10/45
Wigston North Jn
10/23
10/57
Leicester
10/29
11/02
Syston South Jn
10/33
11/08
Sileby Jn
10/36
11/10
Loughborough
10/40
11/14
Trent South Jn
10/50
11/22
Trent East Jn
10/51
11/23
Toton Jn
10/53
11/26
Toton Centre
10/54
11/26½
Trowell Jn
10/58
11/30
Langley Mill
11/03
11/34
Pye Bridge Jn
11/06
11/39
Alfreton & Mansfield Parkway
11/10
11/45
Clay Cross South Jn
11/19
11/52
Chesterfield
11/23
11/57
Tapton Jn
11/24
?
Barrow Hill North Jn
11/28
?
Beighton Jn
11/34
12/07
Treeton Jn
11/38
?
Rotherham Masborough Jn
11/42
?
Aldwarke Jn
11/47
12/19
Swinton
11/52
12/24
Moorthorpe
11/58
12/33
Ferrybridge North Jn
12/07
12/07
Milford SB
12/14
12/54
Church Fenton
12/19
12/59
Colton Jn
12/27
13/04
York
12.33a ~ 12.45d
13.09 ~ 13.16
Skelton Jn
12/48
13/19
Poppleton
12.50a ~ 12.51d
?
Hammerton
12.58a ~ 13.00d
?
Cattal
13.03a ~ 13.05d
?
Knaresborough
13.13a ~ 13.18d
13.46 ~ 13.47
Harrogate
13/27
13/56
Rigton
13/37
?
Horsforth
13/47
14/14
Armley Jn
13/55
14/19
Leeds West Jn
13/58
?
Leeds
14.00a ~ 14.08d
14.22 ~ 14.25
Neville Hill West Jn
14/10
14/28
Cross Gates
14/14
14/32
Micklefield
14/18
14/40
Church Fenton
14/22
14/45
Colton Jn
14/31
14/50
York
14.44a ~ 16.40d (17.15d)
14.56 ~ 20.30
Colton Jn
16/47 (17/22)
20/37
Hambleton North Jn
16/53 (17/28)
20/43
Temple Hirst Jn
16/58 (17/33)
20/47
Shaftholme Jn
17/04 (17/39)
20/53
Doncaster
17/08 (17/45)
21/01
Hexthorpe Jn
17/11 (17/48)
21/06
Mexborough
17/19 (17/53)
?
Swinton
17/22 (17/55)
21/15
Aldwarke Jn
17/24 (17/57)
21/17
Holmes Jn
17/27 (18/00)
21/21
Wincobank Jn
17/29 (18/02)
?
Nunnery Main Line Jn
17/32 (18/07)
?
Sheffield
17/34 (18/08)
21/28
Dore Station Jn
17/39 (18/12)
21/36
Chesterfield
17/49 (18/20)
21/44
Clay Cross South Jn
17/55 (18/24)
21/49)
Alfreton & Mansfield Parkway
18/01
(18.30a ~ 18.32d)
21.56 ~ 21.58
Pye Bridge Jn
18/04 (18/35)
22/02
Langley Mill
18/08 (18/39)
22/06
Trowell Jn
18/12 (18/43)
22/11
Toton Centre
18/27 (18/50)
22/14
Toton Jn
18/28 (18/51)
22/15
Trent East
18/30 (18/53)
22/18
Sheet Stores Jn
18/35 (18/55)
22/21
Stenson Jn
18/56 (19/17)
22/45
North Stafford Jn
18/57 (19/18)
22/47
Burton-on-Trent
19/04
(19.25a ~ 19.27d)
22.54a ~ 22.56d
Wichnor Jn
19/17 (19/34)
23/05
Alrewas SB
19/20 (19/36)
?
Lichfield Trent Valley HL
19/27 (19/43)
23/16
Lichfield City
19/33 (19/48)
23/18
Blake Street
19/40 (19/55)
23/26
Four Oaks
19/47 (20/00)
23/30
Timings continue in first table.



Back to "The Railtour Files"