24th September 2005
Past Time Rail
Pembroke Coast Express
| | |
| --- | --- |
| Loco Used | D1015 'Western Champion' |
| Stock Used | ???? |
Route:
1Z37 : Paddington to Fishguard Harbour
1Z38 : Fishguard Harbour to Paddington
| | |
| --- | --- |
| Loco | Route |
| D1015 | London Paddington - Slough - Reading - Didcot Parkway - Swindon - Westerleigh Jn - Bristol Parkway - Pilning - Severn Tunnel Junction - Newport - Cardiff Central - Barry - Bridgend - Court Sart Jn (1) - Neath - Landore Jn - Swansea Loop West Jn - (1) Llandielo Jn - Carmarthen Jn - Carmarthen Bridge Jn - Whitland - Clarbeston Road - Fishguard Harbour |
| D1015 | Fishguard Harbour - (reverse of outward route) - Bridgend - Pontyclun - Cardiff Central - (via Bishton Flyover) - Newport - (reverse of outward route) - London Paddington |
Notes :
(1) Original advertised/booked route was Court Sart Jn - Dynevor Jn - Jersey Marine North Jn - Felin Fran - Morlais Jn East - Morlais Jn - LLandielo Jn.
Sources : Mark Honey & Kevin Prince



Tour Review
(from Mark Honey)
Well here we are again. Three weeks since breaking new ground with D1015, we're off to Fishguard Harbour, which is another old 'Western' haunt that hasn't been visited since 1976. When you get there, you realise why, but more of that later....
Firstly, I should tell you that if you've an early start – don't go out socialising on Friday night…Saturday saw me crawl from my bed at some absurd hour complete with hangover and the benefit of what seemed only a few minutes sleep. At least it was a civilised 08.25 departure from Paddington - but not if you had to get the 06.35 Pendolino from Rugby to Euston. Fortified with the strongest coffee that would keep someone with sleeping sickness awake for weeks and a selection of the morning papers, it should have been a pleasant enough journey - but I dozed off...without touching the coffee. I subsequently passed it over to a maintenance team at Euston who are using it to fill in the cracks in the edging on Platform 18....
Another point - it took us an hour and 14 minutes to cover Rugby to Euston. We crawled all the way to Milton Keynes via Northampton and after that, crossed over to the fast lines at Ledburn Junction where the Pendolino would have taken off if there had been a joystick in the cab; such was the cork from a champagne bottle acceleration. There is nothing wrong with Pendolinos per se (apart from the annoying rattles), but as they probably won't ever cruise at 140mph where the ride really smoothes out so we'll never see what they can really do.
I lurched towards Euston Square and the Blunderground and arrived at Paddington at 08.10 to find the Golden Wonder electing a new Pope at the end of Platform 1. What was bizarre was the total lack of people. Maybe they were on the Bodmin Gala Penzance thingy with the 2 x 50's? Dashing through Reading with a pair of Class 67's? Or speeding to Norwich on 87019? At the Battlefield Line Gala? Perhaps they were all at Minehead with two of Cotswold's 47's? Thumping in Ireland? I think you get the gist that there was a lot going on that weekend...
So down to business. Me and a mate were travelling first class (which is why this tour review is more civilised than the description of the raucous atmosphere on the 'Heights' tours three weeks back) and not far from the front for the trip back which featured the steep climb out of Fishguard and Skewen Bank. Oh, and the climb through the Severn Tunnel - when you hit the bottom. Out the door then, at 08.25 and proceeded to cover every set of crossovers between the fast and slow lines between London and Reading. Those of you with a lifetime membership of the 'Quail Map Appreciation Society' missed a treat. We still managed to stand outside the People's Republic of Reading for ages while our visas were checked - having been given an hour to cover the aforementioned distance.
So off again and via Didcot and Swindon. No stop for the booked crew change, but hey - a bonus. Swindon station is like the proverbial woman of 50 - everyone knows where it is, but no-one wants to go there. Brizzel Parkway, running a few minutes late. So far, so good. A drop into Severn Tunnel and a stop at Newport for a crew change before threading the Vale of Glamorgan line. Hoots were exchanged near Barry with the Class 14 on the Vale of Glamorgan line next to us (is that what's it's called?). It was then on to Swansea where we passed Llandore (a shadow of it's former self and not via the District line like some of us hoped). Through Llanelli and bypassing Carmarthen toward Whitland and Clarbeston Road where we got the token from one of the most painful looking tablet catchers I've ever seen hanging off a signal box, to the eventual destination at Fishguard Harbour where we arrived about 30 minutes down. This was fine as it meant less time at this back end of beyond. It's not the end of the Earth, but you can definitely see from there. And it was shut, apart from a single ferry company representative slowly losing the will to live and truck drivers locked in their cabs, curtains firmly shuttered against the outside world, seemingly trying to forget they were lying over at this outpost. I need to point out here that Fishguard itself is a couple of miles from the harbour, so you can't even wonder round the village.
Anyhow, there was time to watch D1015 being refuelled and scramble up the path on the cliffside for a few shots and back on board. Oh yes, and it rained.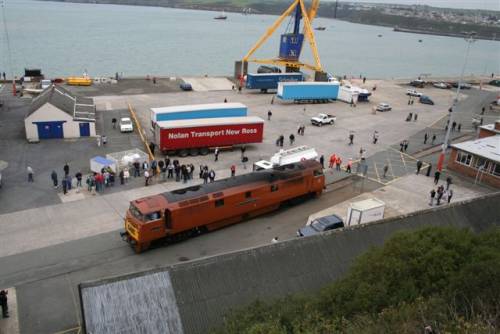 D1015 being fuelled at Fishguard Harbour (photo : Mark Honey)
It was all ears to the front for the climb out of Fishguard and a reverse of the run out. The usual slack timings meant that a 15 minutes early run held us at the Central Wales line junction for a Class 153 to come off in front of us. I don't what happened in this bit, I was staring at the inside of my eyelids at the time. The same happened at Patchway where a 10 minute late start from a crew change at Newport (clag city on the getaway!) saw us 20 minutes early on the approach to Parkway - so we waited....
So - are you getting the thread of all of this? Yes it was OK, yes the Western did what it said on the tin and yes we even saw what I thought was the best performance of the day from the Swindon driver on the way back where we were actually given the fast lines all the way to Paddington to arrive nearly 10 minutes early. And I also have to admit that in the companion stakes, the couple who sat opposite us were the very best in terms of camaraderie. So how come I went away with a sense of, well that's that done, all questions answered with no passes, thank you very much? Maybe it was because I had to leg it for a sluggish Underground back to Euston Square where I made the last train with 5 minutes to spare and decided that I was too old for this? Maybe it was the fact that I'd been up for 20-odd hours by the time I fell through the front door of my house...
I don't know, but the previous run over Ais Gill and Shap was so good, perhaps it couldn't be beaten? Perhaps 'Champion' needs another challenge?
To boldly go where no Western has gone before? As soon as the good old DTG send Champion over Beattock, or along the Plain of York or over Schlod and Druimachdar on the Highland main line, I'll be booking front row seats at the Maybach Temple...
Mark Honey



Wizzo (but no Chips)
(an alternative tour review from Richard Barrick)
So, September 24 dawned with the fine prospect of a run from Paddington to furthest-flung Welsh Wales behind a 'Western' locomotive. To me, the mere presence of an iconic express loco re-treading one of its famous former routes sells itself. But my anticipation was sharpened still further by the day out on the 'Royal Duchy' railtour of July 23 when I had thoroughly enjoyed the company of D1015 'Western Champion' from Paddington to Penzance and return. Then, good driving, sparkling loco performance, the drama of the Devon and Cornwall stretch and with the added bonus of a pleasurable, if breakneck, swoop on the fleshpots of Penzance to refuel, had made it an excellent all-round tour. With apologies to 80s group Musical Youth, could the Pembroke Express surpass the Duchy?
As I say, a feature of July's railtour was the splendid running of D1015, the Golden Ochre engine, clagging a little heavily from one of her Maybach units, was in rumbustuous mood and performed beautifully. So good was this trip, I'd started to see in myself the tell-tale signs of creeping 'Western' addiction (doodling as many of the 74 names as I could in newspaper margins, 'Diesels In Devon' replacing Schott's Miscellany as premier, lavside reading - you know the symptoms).
Even as a child of the East Coast main line, I now knew how those on the Western region in the early 70s developed a "52-a-day Maybach Full Strength" habit they were never quite able to kick. Now, mildly gripped by this Western animal, I was back on the Paddington concourse, gasping for another lungful of The Golden Smochre. And me, a lad whose idea of a reflective draw is on something of the unfiltered Napier variety! (Mind you, it still takes a Deltic before I really light up.)
A period of stooging under Brunel's roof waiting for the stock (and my mate Maybach) to arrive, was spent trying to convince myself that (a) I wasn't really dog-tired and (b) that the West Cornwall Pasty Company wasn't really the best option at this hour. Alright, Wimbledon might not be as distant-a start point as for some, but with the violent mood swings of the District the line to navigate, an 8.25 'right-away' from Padd means you're on the streets of Merton pretty damned early.
Still, there'd be butties on the train and anyway, I'd be able to grab something warm at Fishguard wouldn't I? (Note: At this stage I had no idea that the only warm thing I'd be in danger of grabbing would be the throat of whoever)
decided not to warn any first-time visitors to Fishguard Harbour that (a) Harbour has nothing in the way of catering except a hot drinks machine and is too far from the town to make getting food and drink a possibility during our brief layover and (b), that 40 rounds of sandwiches would satisfy eleven coaches of passengers across 12 hours of travel!!
The stock turned up in platform 1 at Padd which was a waste of a nice bit of early sun with D1015 was parked beyond the extremities of platforms 1 and 2. Mind you, it's rare that railtours are real photographic 'opportunities' in the truest sense. More a chance to take a record shot. Which is why I was travelling light, camera-wise, but doesn't explain why I had decided to travel light food-wise, leaving my 'snap tin' at home. Not as it turned out, one of my better decisions.
Leaving Paddington we had a small false start, finally getting going from a position a few yards further down of platform one than intended. We had a steady departure under caution with the driver unable to give us one of those extravagant 'Western' lift-offs till we were past the old Ranelagh Bridge servicing point. We came down to a crawl after Acton then recovering with speed in the mid 80s before being turned on the Slough at slow (or was the other way round?). We then dawdled along, passing Twyford 12 early, until held outside Reading for no less than 14 and a half minutes.
My travelling colleague Jon Littlewood had booked our two window seats on either side of the train so, for timing purposes, the mileposts would always be in view of one of us. The seats themselves were fine (back to travel outward, facing coming home) but were in a bay with no table – not even one of those small 'window ledge' tables built to accept a Traveller's Fare tea, a 1973 Ian Allan Combined Volume and a quarter of Nuttall's Mintoes. This made capturing two watches-worth of information a bit interesting what with the twisting of neck and body to counteract back-facing seats and with the well-meant questions of two chatty 'normals' to field, who, amused at my steely concentration and spine threatening posture, were full of remarks of the "my, you look busy" and "are we on time then?" variety.
Paddington it turned out, was just a dress rehearsal for the Reading lift-off where, as 'Champion' got her load smartly on the move, some silly, er, fellow, tried to board the steadily accelerating express. Vigilance from the front end soon had us at rest again and after a short delay, we finally got going proper. Westward Ho! (and at a very good pace). On the gently adverse road through the Thames Valley we ran at speeds in the upper 80s, onlookers at Didcot treated to the sight of us barrelling through at all but 90mph. The planned crewing stop at Swindon had been cancelled but we were slowed here anyway. A pws on the downhill near Wootton Bassett Junc thwarted a burst past the 90 barrier but sustained speeds in the low 80s testifying to 1015's rude health on the long climb from Somerford through Alderton Tunnel. And where else but Badminton as 'Western Champion' created some racket?
The road west to Fishguard - sorry, Fishguard Harbour (there's a difference), was via Barry which, for the well-placed lensman must have been a colourful spectacle, as a class 14 ran briefly alongside. After Bridgend, 1015 was put to it on the climb past the wonderfully titled Stormy Ground Frame but that aside, the 3 hours spent going from Barry to Fishy occurred on lines that don't have much in the way of sustained fast running or climbing. In truth, it was short on thrills.
If Fishguard Harbour fails to trouble the 'Dining Out in West Wales' guide compliers, it does take the "highest vantage point from which to 'phot' a loco run-round" award. Here, a steep climb up the cliffside steps gave a seagull's eye view on to D1015 as she re-fuelled by road tanker. Of course, this was the sort of 'no holes barred' angle that soon had the exhaust port perverts salivating and I don't think it's too fanciful to suggest that the shaking hands and steamed-up viewfinders of some of the mob weren't entirely down to the steep ascent of the steps. From on high, lenses scanned every inch of the reposing body of 'Champion' (as bronzed and curvaceous as any Californian porn-queen), as she luxuriated in the attentions of the hoary-handed tanker man and his big hose. (I'm not talking digital when I say some of the gallery didn't even have any film in their cameras...disgraceful.) And a warning for those deviants that do like gazing down the blow holes of unsuspecting diesels. Develop a taste for that my lad and you're half way to being one of those sickos who get off on explicit "oxy-acetylene cutting action" from loco scrapping roads, "Swindon '77: The Full Works" and "Come Play With Me at Canal Sidings, Doncaster, '82" being some of the strongest loco 'snuff' footage on the market. It's a slippery slope....
After a game of dodge the road vehicle, 'Champion' was installed at the London end of the rake before, at 3.59, the rake's progress east, began. With around 4 hours to go just to Bristol Parkway where the faster running starts, and having been on the road about 10 hours, I was feeling a tad peckish. Having been led into the culinary black hole that is Fishguard Harbour, the sight of people coming away from the now lengthy buffet queue with nothing more than bottles of ale, packs of nuts and furrowed brows, was less than uplifting. Yep, six hours of travelling ahead and "sorry, no food left I'm afraid". A few ultra plain cheese sandwiches made a brief appearance later in the journey, oddly enough, just after the cheese course had being tidied up in the 1st class dining section.
For a while, I was doffing my cap to the Past Time Rail marketers as I concluded it was all a laudable attempt to win over the lucrative Asian markets of Slough and Southall by choosing to respect Ramadan and making 'abstention from bodily intake until nightfall' compulsory on this tour. Clever. And "Fast Time" does have a certain ring to it.
Please Past Time, if an itinerary has no 'repast time', give us some warning. Or, if you really must hide the truth about a destination to discourage passengers from bringing their own food (or not travelling) and so maximise business at your on-train buffet counter, try not to forget to actually have the buffet stocked for a good part of its marathon journey. Yes?
No fuel starvation problems for 'Champion' meanwhile. We were more or less 'right time' as we dipped beneath the Severn from Wales into England. Then followed a long stand (20 mins) outside Bristol Parkway. Getting away at 19.54, six minutes in arrears, 'Western Champion' pinned back her ears and, without being overly pushed, gave us a lovely run in the darkness back along the GW main line with a top speed between Bristol and Reading of 91mph. After setting down passengers at Reading just after 9pm, we set off, about 3mins down on the last leg into Paddington. The train was much emptier now and my rumbling gut apart, the on board noise level far lower (any men wrestling in the buffet over a last packet of mini-Cheddars had long gone). Now, with windows open, it was a pleasure just to listen to 'Champ' at work, her smooth engine note reflecting off the buildings as London closed in. The driver wasn't a real 'goer' but with speed in the mid and upper eighties and with fast line all the way, just to be alone in the darkness, behind a 'Western', thundering along the up fast to Paddington, was a magical end to the tour. With no signals checks, we came to a halt at Padd in only 30mins, 58secs start to stop from Reading.
Me? I went directly to Khan's restaurant in Westbourne Grove where a Chicken Mahkani was summoned. A great dish, almost addictively so, with its orangey/brown, even 'golden ochre' colour and with its tandoor meat providing just a hint of smoke....
Richard Barrick



Timings (Booked & Actual)
(from various including David Bellamy)
Location
Booked
Actual
Booked
Actual
Paddington
08.25d
08.25
21.45a
21.37
Ladbroke Grove
08/28
?
21/41
?
Acton West
08/32
?
21/38
?
Southall
08/36
08/41
21/35
21/37
Airport Jn
08/40
?
21/33
?
Slough
08/53
08/47
21/28
21/20
Maidenhead
09/04
?
21/16
?
Twyford
09/12
?
21/10
?
Reading
09.19a ~ 09.22d
09.23 ~ 09.26
21.00a ~ 21.03d
21.03 ~ 21.06
Reading West Jn
09/25
?
20/58
?
Didcot East Jn
09/42
?
?
?
Didcot Parkway
09/43
09/45
20/42
20/49
Foxhall Jn
09/47
?
?
?
Wantage Road
09/54
?
20/36
?
Challow
09/58
09/52
20/34
20/42
Uffington
10/00
?
20/32
?
Swindon
10.11a ~ 10.13d
10.08 ~ ??.??
20.19a~ 20.21d
20.25 ~ 20.30
Wootton Bassett Jn
10/20
?
20/13
?
Hulavington
10/29
?
20/05
?
Westerleigh Jn
10/39
10/33
19/53
19/59
Bristol Parkway
10.44a ~ 10.46d
10.39 ~ 10.46
19.46a ~ 19.48d
19.51 ~ 19.54
Patchway
10/48
?
19/28
?
Pilning
10/51
10/50
19/21
19/20
Severn Tunnel UTG
11/00
?
19/13
?
Severn Tunnel Junction
11/01
10/57
19/12
19/12
Newport
11.18a ~ 11.20d
11.17 ~ 11.23
18.48a ~ 18.55d
18.48 ~ 18.55
Marshfield
11/28
?
18/28
?
Cardiff Central
11.40a ~ 11.43d
11.38 ~ 11.44d
18.15a ~ 18.18d
18.29 ~ 18.33
Cogan Jn
11/49
?
Barry
12/02
12/03
Aberthaw
12/10
?
Pontyclun
18/02
18/16
Bridgend
12/30
12/37
17/54
18/06
Margam Moors Jn
12/39
?
17/46
?
Port Talbot Parkway
12/43
?
17/42
?
Neath
12/48
12/58
17/35
17/46
Landore Jn
12/59
?
17/28
?
Swansea Loop West Jn
13/01
?
17/27
?
Cockett West
13/07
13/34
17/24
?
Duffryn West
13/12
?
17/19
?
Llandeilo Jn
13/13
?
17/18
?
Llanelli
13/15
13/42
17/16
17/08
Pembrey & Burry Port
13/19
?
17/11
?
Kidwelly
13/25
?
17/05
?
Ferryside
13/30
?
16/58
?
Carmarthen Jn
13/38
?
16/47
?
Whitland
13/52
14/24
16/30
16/34
Clarbeston Road
14.05 ~ 14.15
14.38 ~ 14.39
16.10 ~ 16.18
16.22 ~ 16.23
Fishguard Harbour
14.35a
14.59
15.50d
16.02